CHAMPIONS LEAGUE | MANCHESTER UNITED-VALENCIA
Manchester United - Valencia: as it happened, match report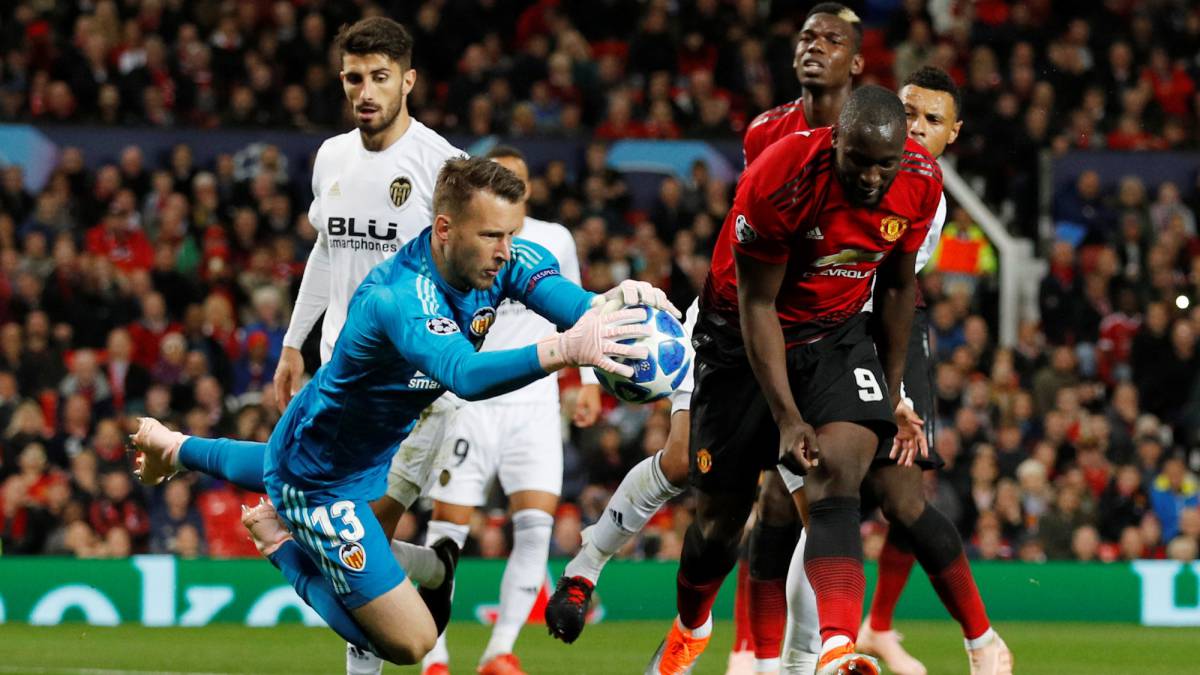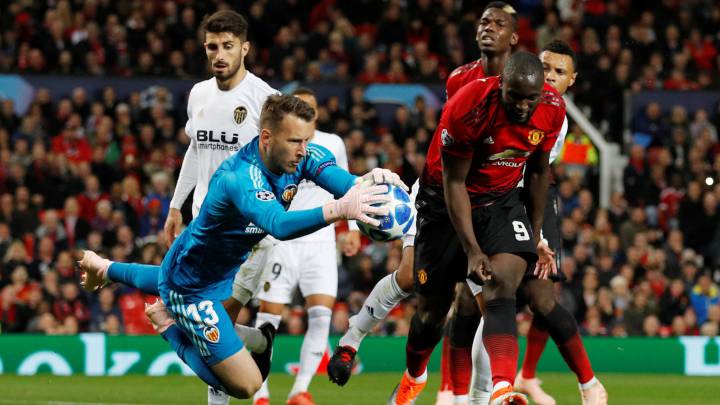 Manchester United could not see their way past a resistant Valencia side in a scrappy affair at Old Trafford that ended 0-0 on Tuesday night.
Manchester United vs Valencia: match report
Manchester United could not see their way past a resistant Valencia side in a scrappy affair at Old Trafford that ended 0-0 on Tuesday night.
Paul Scholes gave a scathing assessment of Jose Mourinho before the game during his punditry duties, and the Portuguese's players will have done very little to change the United legend's view the of under-fire coach. The home side showed plenty of intent and had several chances, but just lacked the quality and imagination up front to make any of them count.
Valencia had to spend a lot of time soaking up United pressure, but the LaLiga side also had a fair share of chances and asked questions of the shaky Old Trafford defence on several occasions. But like United, Valencia have also been struggling to win games in the league and put their chances away, and 0-0 was probably a fair result and fair reflection of a game between two teams whose respective seasons have so far been poor.
With Juventus looking likely to top the group, United and Valencia look set to scrap it out for second place in Group H, and a 0-0 draw at Old Trafford perhaps gives Los Che the slight advantage, with United yet to travel to Mestalla.
If the Red Devils' can somehow find a way past a rampant Juventus, however, in three weeks' time at Old Trafford, that could change everything. But if results so far are anything to go by, that is highly unlikely. It feels like anything less than a win for Mourinho this weekend against Newcastle, and his time could very well be up at Old Trafford.
Manchester United vs Valencia: live updates
93' And that's it. A frustrating and disappointing night for United. They really threw everything at it for last 25 minutes, but they just lacked the quality to put anything passed the Valencia keeper. Valencia also had their fair share of chances and could have left Old Trafford the victors. But 0-0 is probably a fair result and reflection of this game. A night that will be quickly forgotten. Where does this leave Mourinho now? He's probably still got a job until the weekend when his side face Newcastle. But anything less than a win against a struggling Toon Army and the writing could very well be on the wall for the Portguguese coach.
93'   Yet another United corner... ends in the hands of Neto. 
92' Yellow for Kondogbia, United with one last chance from a free kick 35 yards out. 
91'   Three minutes added on here. Valencia in possesion. 
87' 87' Shaw finds Lukaku unmarked from a corner. The Belgian is unmarked but his header is over tha bar. It's just not going to come for United, is it?
86'   Rashford tries to score from the resultant free kick from a very actue angle... and it hit the cross bar. What an effort!
85' Picchini yellow for taking down Martial, about a yard outside the box.
79'   United survive a Valencia attack by the skin of their teeth. Guedes close to the line cuts a pass back to Rodrigo, but a United defender sticks a leg out to divert the ball away from the direction of the Valencian striker. 
78' Valencia change: Coquelin makes way for Soler.
76' Sanchez off, Martial on. First change for Jose Mourinho and his team have around 15 minutes to find a winner here. 
75'   United have twice tested Neto in the past 90 seconds with two close range efforts. United desperate score... Valencia hanging on.
71' Pogba releases Lukaku with a long chip pass. Lukaku's effort is low hard and towards the far post, but Neto is down quickly to get a hand to it. Nothing happens from resultant corner. 
66'   Valencia chance! Piccichi picks out Rodrigo, who tees it up for Batshuayi with his first touch, but Batshuayi has launched it over the bar. That should have been 1-0 to the visitors... clearest cut chance they've had. 
63'   A United onslaught ensues after Valencia fail to clear their lines from the corner. But eventually Valencia can breathe after Lukaku fouls Piccichi. 
61'   Pogba takes a great free kick. It's helped over by Neto. 
60'   Possesion 50-50. Eight shots on goal from United to Valencia's seven. 
58'   Smalling gets his head on the end of a Sanchez corner. But it's poor and easily dealt with by Neto in goal. 
54'   Sanchez finds Rashford in the middle. Rashford's shot is blocked. A little more sense of urgency now from United after a lethargic start to the second half. 
52'   Sanchez plays a sweet right-to-left cross to Rashford in the box. He's beaten to it by Piccici but his clearence is weak and it lands at the feet of Pogba. The Frenchman's shot is on target but blocked. That's better from United. 
50'   Rodrigo beats Bailly in the box, and passes it back to Guedes. He has time to position himself for a shot but its over and wide of the far post. This is not the start United wanted. How Guedes found himself with so much time and space is beyond me, but not beyond the United defence of late. 
49'  Valencia have started brightly here. United looking slow and lethargic. 
46'   And the second half is underway! 
United players emerging from the tunnel. Fellaini and Shaw have plenty to say to each other, as do Rashford and Pogba. A lot of talking here, now needs to be translated into action. 
"This game makes test match cricket look fast paced & exciting," says a clearly-not-impressed Peter Foster on Twitter. This game needs a goal, and quick, but who can provide it?
"They are more organised and a bit more together so they have something to work from". Former United man Dion Dublin's assesment of United so far. 
Valencia have so far picked up 3 yellow cards to United's zero. Rodrigo, Coquelin and Parejo will have to be careful in the second half. 
48'   Half time! A pretty even affair so far. Neither team has been fantastic, perhaps reflective of their respective league form this season. There is a whiff of a 0-0 off this game. 
46'   Guedes finds space down the right, beats Valencia and launches one, but it's saved. Guedes has looked tjhe liveliest player in a white shirt. United will have to keep an eye on him on the right. 
45' A yellow for Parejo, who used his arms to hold back Pogba as the Frenchman eased past him. Cynical. 
44' 44' United appealing for a handball in the box from Garay. But replay shows it was his chest. 
43'   The life has been sucked out of the game in last 20 minutes, neither team has really had a decent chance. Old Trafford faithful have quietened down.
39'   Valencia string a nice attack together down the right. The ball comes back to Parejo but his cross is awful.. high and wide. A wasted chance for the Spanish side. 
The Ivorian looks ok to play on. 
35'   Bailly is down again, and he seems to be still in discomfort after the Rodrigo challenge. He's holding his neck. 
34'   Valencia break on the counter attack. Guedes is realeased down the left as United chase back. He cuts inside to the box, but his shot is blocked by United's defence, who got back on time to block him. 
33' Rodrigo has been booked for a foul on Bailly.
32'   Alexis takes the free kick, but it hits the wall. Danger averted for Valencia.
31'   Pogba has been looking more like a leader tonight. And he's done well to win a free kick about 25 yard out.
25'   Valencia picks out Rashford in the box. His header is on target but blocked by Paulista. And from the replay he clearly blocked it with his hand, although it looked unintentional. 
26'   Rashford with another long range effort from 35 yards... but it's saved by Neto.
23'   Valenica on the ball, but United looking hungry to win it back every time. 
20'   Valencia put 20 or so passes together in United's third as they look for a way through. Some nice passing and moving. But the home side eventually gather the ball and clear it away.  
17'   United have been good in attack, but their defence still looks shaky and disorganised. Valencia have found holes in it on several occasions. 
15'   Rashford cuts in from the left, takes on three Valencia player and launches one from about 20 yards, but it's just wide of the left post. 
11'   Valencia chance! Rodrigo releases Guedes on the edge of the box. His shot is on target but saved by De Gea. Valencia starting to fight their corner here. 
9'   Pogba plays a beautiful flick forward to Lukaku in the box. But the Belgian is just offside. United are playing well here, they so far look a completely different side to the one that played at West Ham on Satuday. The Lukaku-Rashford-Alexis frontline trio seems to have been the right choice. 
7'   United calling for a handball in the box! But the ref says play on. United are piling on the pressure in the Valencia box. A bright start from Alexis and Rashford.
2'   Lukaku on right picks Rashford on the left, but he's intercepted. Exceptional pass through the air from Lukaku. United have started brightly, but it's still early door.s 
1' And we're away. The home side kick off. And Valencia immediately pressing high as United play it around the back. 
And the teams have finally emerged from the tunnel and are lined up for the pre-match protocol. "The Chaaaaampiooooons". A thunderous roar around Old Trafford. Let's see if Pogba and Co can keep the the home crowd that enthused for 90 minutes.
Pogba and France team mate Kondogbia share a hug in the tunnel
Kick off here has been delayed due to United's team bus being held up in traffic. Nothing going right for the club at the moment.
Manchester United record against Valencia in all competitions: P8 W2 D5 L1; and in the Champions League: P6 W2 D4 L0. 
Valencia Starting XI: Neto, Gaya, Paulista, Garay, Piccini, Guedes, Kondogbia, Parejo, Coquelin, Batshuayi, Rodrigo
"I'm surprised that he survived after Saturday. I think he's embarrassing the club". Paul Scholes launched a scathing evaluation of Jose Mourinho on BT Sport earlier. It's hard to imagine the Special One surviving beyond next week if he slips up tonight and againsy Newcastle on Saturday.
Hello welcome to our live coverage of Manchester United vs Valencia, which kicks off at Old Trafford in 40 minutes. With both sides having had pretty dismal starts to their respective seasons, it's a hard one to call this one. But if history is anything to go by, then Mourinho's side should come out on top. 
Manchester United vs Valencia: match report
Manchester United host Valencia at Old Trafford in match day two of Group H of the Champions League, with both sides going into the game having had poor starts to their respective league campaigns.
United have had their worst start to a season in 29 years, most recently losing to West Ham last weekend at the Olympic Stadium, after previous defeats to Spurs and Brighton. Mourinho and his players will be eager to make up for that dismal performance against the Hammers last weekend with a win against Valencia tonight, which, after their 3-0 win over Young Boys in Switzerland a fortnight ago, would give United two wins from two in Group B and a brief respite from their Premier League woes.
The Red Devils' will be hoping star man Paul Pogba can keep up his impressive form in Europe. The Frenchman has been directly involved in four of Manchester United's last six goals (two goals, two assists) in the competition, including all three goals against Young Boys (two goals, one assist), in their last Champions League outing.
Valencia
Valencia, meanwhile, have had an even worse start to their LaLiga campaign, drawing five of the first six games, and only recording their first win of the season last weekend against Real Sociedad. Their opening Champions League fixture at home against Juventus ended in a 2-0 defeat, as Marcelino's side failed to take advantage of the extra man following Cristiano Ronaldo's controversial sending off after 29 minutes.
If Los Che can pull off a win at Old Trafford tonight, it would be their first win over United in the Champions League (after six previous meetings). But Old Trafford is far from the fortress it was these two last met in the competition in 2011. And if the likes of Kevin Gameiro, Rodrigo and Michy Batshuayi can find the holes in United's incredibly shaky defence, the LaLiga outfit could walk away with a rare victory on English soil.