Valencia 1-1 Barcelona: LaLiga 2018/19 week 8 result, report
Barcelona walk away with a point after Lionel Messi's long-range strike cancelled out Ezequiel Garay's early goal at Mestalla.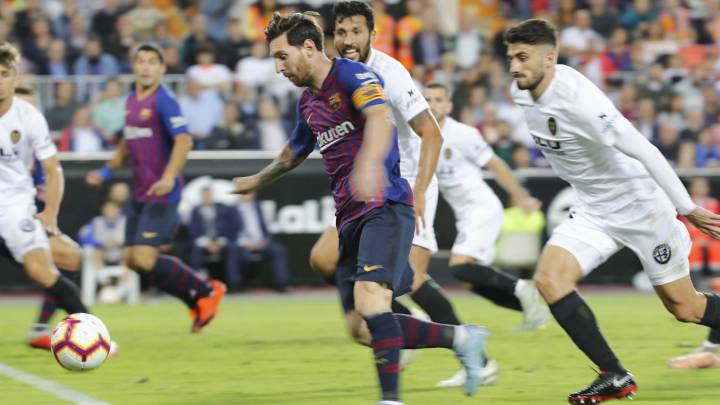 Barcelona missed the opportunity to go clear at the top of LaLiga after being held by Valencia in a fiercely-contested affair at Mestalla on Sunday night.
Despite Barça's run of two draws and a defeat in their previous three league games, Real Madrid's shock loss at Alavés on Saturday had given the champions the chance to end the weekend a point above Sevilla at the head of the table.
Lovely Messi goal cancels out early Garay opener
However, slack defending from Ernesto Valverde's side allowed Ezequiel Garay to prod Valencia into a second-minute lead from point-blank range and, although Lionel Messi levelled with a fine shot midway through the first half, the visitors were unable to halt what is now a four-game winless run in LaLiga.
As football statistics specialist Mister Chip notes, it's the first time that the Catalans have gone four league matches without victory since April 2016:
#OJOALDATO - El Barcelona ha encadenado 4 jornadas consecutivas sin ganar en La Liga por primera vez desde marzo/abril de 2016. Tiene 15 puntos tras las 8 primeras jornadas en el que es su peor inicio liguero desde la temporada 2005-06 (en la que terminó ganando Liga y Champions)

— MisterChip (Alexis) (@2010MisterChip) 7 October 2018
Sevilla top of the pile after Celta win
With both Barça and Real failing to win, Sevilla's 2-1 victory over Celta Vigo earlier on Sunday sees Pablo Machín's men finish week 8 at the Primera División summit, with the Blaugrana slipping to second, one point behind the Andalusians.
Valencia 1-1 Barcelona: as it happened
92'   Peep peep peeeeep! It ends 1-1 at Mestalla! Barcelona miss the chance to go a point clear at the top of LaLiga, with Sevilla's win at Celta Vigo earlier today meaning it's the Andalusians who end week 8 at the summit. Valencia may remain winless at home this season, but they have claimed a creditable point against the league champions and leave the field to a richly deserved ovation from the Mestalla faithful.
90'   Barcelona continue to press for a winner, but they'll have just the two minutes of time added on in which to do so. 
89'   Fresh from sending one cross long, Dembélé plops another straight down Neto's gullet. 
87' Barcelona make another change, Rafinha replacing Arthur.
85'   Barcelona pass, pass and pass it a little bit more in front of the Valencia defence, before Messi finally trundles a weak shot into Neto's arms.  The Argentine then sets off on a trademark run towards his favourite shooting territory on the edge of the box, but Garay dispossesses him. A lot of tired legs out there now.
84' If it stays like this, it'll be Sevilla who end week 8 top of the pile: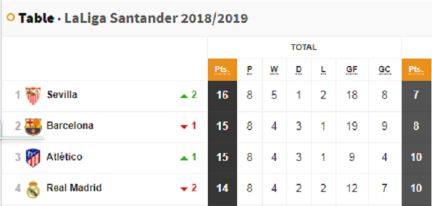 83' On comes Dembélé, with Coutinho withdrawn.
81'   Piqué has to look alive to send a Cheryshev cross behind. One corner becomes two, before the ball is worked back to Cheryshev out on the left, the former Real Madrid man chesting down and firing at goal - but causing Ter Stegen no problems with his effort. 
80'   Close from Messi! Busquets clips a chipped ball into the Argentine, who chests down and cuts inside Piccini, but drives his shot into the sidenetting. Dembélé is preparing to come on for the Barcelona.
78' Valencia make their final change of the night, Kondogbia leaving the field to warm applause and Coquelin coming on in his countryman's stead.
77'   Suárez is after a penalty once more, and once more Señor González González is not interested. The Uruguayan falls to the turf under Gabriel's challenge just inside the box, but replays bear out the referee's decision.
74'   A crucial challenge by Gayá! Messi slips Coutinho in behind the hosts' backline, and the Brazilian looks for all the world like he's going to beat Neto from close range, but the left-back slides in to deny the former Liverpool man!
72'   Ufff. Piccini gets to the byline for Valencia and cuts it back into the box - but first Batshuayi, then Soler both let it run, and Barcelona clear. The Mestalla crowd howls in exasperation.
71'   Kondogbia is adjudged to have fouled Busquets ten yards or so outside of the Valencia box, and Messi has a free-kick chance - albeit from a fair old distance. The Argentine runs up and fires it with venom towards Neto's top corner, but it's always sailing over.
68'  66'   Semedo's cross for Barcelona is cut out, before Batshuayi (yet again) helps Valencia win the ball back and Los Che set off towards the visitors' goal. It's fed out to Cheryshev on the left, the winger zipping a low cross into the box... which is blocked by Piqué. "Barcelona look like it's time to make a change," says Maldini. "I imagine Dembélé will come on."
66' And it is indeed Gameiro who makes way for Rodrigo, who comes on to huge applause from the home fans.
65'   Rodrigo Moreno is preparing to come on for Valencia over on the touchline. Gameiro would appear to be the prime candidate to be replaced.
60'   Gameiro gets in a shot from the right-hand side of the box... but it's just off target. There was fine work from Batshuayi to win the ball back - not for the first time tonight - in the build-up.
58' Parejo and Coutinho both go into the book, the former for pulling back the latter, the latter for swinging out at the former in retaliation.
56'   Now Parejo slaps a volley at Ter Stegen's goal from 30 yards or so, but it's always dropping wide.
54'   That's lovely football from Barcelona. Via an intelligent dummy by Suárez, Messi plays a one-two with Alba (who else?) and finally bustles into a yard of shooting space in the box, but he's driven slightly too wide and, despite putting plenty of power into his effort, Neto holds on.
49'   Barcelona respond by working the ball out to Alba to cross low from the left and, with Suárez lurking with intent Garay has to be alert to send it out for a corner. The corner finally sees Coutinho fire a shot at Neto from just outside of the area, but it's comfortable for the goalkeeper.
48'   Close from Cheryshev!  Valencia have made an encouraging start to the second half, and the Russian is at the centre of the first moment of danger, as Gayá's left-wing cross ends up at the winger's feet on the edge of the 'D' - and he curls an outside-of-the-boot effort just over!
46'   No changes at half time.
45' Peeeep! We're back up and running at Mestalla!
47'   Peep peep peeeeep! 1-1 at the break, after a first half in which Valencia stunned Barcelona with an early goal and utterly battered them for 15 minutes or so, before the visitors settled into their stride and, after scoring a fine equaliser courtesy of Lionel Messi, proceeded to dominate.
45'   Two minutes of time added on. Barcelona continue to monopolise possession, as they have for all but the early period of the half.
43'   Alba looks to be OK now, by the way.
42' Now Soler evens up the card count after ploughing into Alba.
40' We have our first booking of the night, as Suárez offers Mr González González a piece of his mind about something or other - possibly that penalty shout earlier in the half - and succeeds only in talking himself into the book.
38'   Just as I say Valencia can't get a sniff of the ball, they almost score! First, Gameiro's low cross is almost turned in by Cheryshev, only for Semedo to put in a vital block in front of goal. The loose ball then falls to Gayá, who thumps a shot across goal... and it flies just wide!
36'   Valencia aren't getting a sniff of the ball at the moment. In other news, Jordi Alba appears to be complaining of a problem in his thigh. More on that if and when there is any further news. 
33'   Valencia get Cheryshev into crossing space on the left... but it's a poor, underhit ball, and it's easily cut out. So far, he's certainly not brought the same degree of danger as Guedes did before him.
29'   Now Barcelona have turned up, it's fair to say. Semedo skips into crossing space on the right byline and clips it back towards the penalty spot... it's a ball that's begging to be turned in past Neto, but it can't quite locate a Blaugrana shirt. "These are the worst moments of the game so far for Valencia," says Spanish TV pundit Maldini. 
26'   Ufff. Jordi Alba utterly shanks a cross... and it's so off target that it almost drops in at Neto's back post! It flies just wide.
24'  Via a neat one-two with Suárez, Messi again gets himself into shooting territory just outside the box - and this time he makes no mistake, fizzing a low effort just inside Neto's left-hand post! All square at Mestalla!
24' Gooooal! Messi does what Messi does!
22'   Ooh, hold on. Gayá appears to bring down Suárez just inside the box. Referee José González González initially says nope, before stopping play for a VAR review... Is it going to be a spot-kick? No. Play on, VAR says.  
21'   That's a bit better from Barcelona. Coutinho and Arthur exchanges passes on the left-hand side of the box before working it back to Rakitic, who threads it on to Messi. He gets the ball out of his feet and slaps a left-footed effort on goal, but Neto grabs hold of it!
19'   Suárez looks up from just inside the Valencia half and tries to catch Neto off his line... but it's well off target.
17'   That Guedes injury is a real shame for Valencia. In his short time on the pitch he'd given Barcelona a rough ol' ride.
16'   Barcelona pop it about for what feels like a quarter of an hour, before Messi feeds Coutinho in the box... only for the flag to go up.
14'   "Barcelona haven't turned up," tut-tuts Michael Robinson on Spanish TV.
13'   Batshuayi goes close again! The Belgian is looking in fine nick. He flicks a neat ball out wide to Cheryshev and steams towards the box to collect it back from Gameiro, before firing a venemous effort at goal - but Ter Stegen holds on!
11' And on comes Cheryshev.
10'   Guedes is back on, but immediately drops to the turf once more. Cheryshev is preparing to come on.
8'  Valencia are temporarily down to ten men. Guedes goes down with a thigh knock and has to go off for treatment. It looks like he'll try to play on, but "it doesn't look good", warns our Spanish commentary team.
7'   Valencia work the resulting corner to Kondogbia in shooting space just outside of the box, and his drive is not far wide of Ter Stegen's right-hand post! Los Che have come flying out of the traps. It's fair to say that Barcelona have not.
Guedes shows fabulous pace to get to the byline and cut the ball back to Gameiro, who does a spot of swivelling in the box before laying off to Batshuayi, who himself twists and turns in the area before sending an angled shot towards the far corner... and Ter Stegen turns it past the post!
6'   Blimey! Batshuayi goes inches from putting Valencia 2-0 up!
  The hosts come straight forward from the kick-off and win themselves a corner, which flicks off Thomas Vermaelen's head and plops down at the feet of Ezequiel Garay at the back post - and the defender prods home! 
1' Gooooal! Valencia score! What a start for the hosts!
Peeeep! We're underway.
  Can Barcelona get back to winning ways in LaLiga - with a first victory in the top flight since mid-September - and go a point clear at the top of the table? Can Valencia secure a maiden home triumph of the season - and beat the Blaugrana at Mestalla in the league for the first time since February 2007? Let's find out.
Out come the teams!
Barcelona bench: Cillessen, Denis Suárez, Dembélé, Rafinha, Lenglet, Munir, Arturo Vidal. Malcom left out altogether.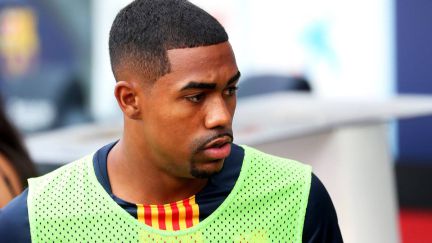 Valencia substitutes: Jaume, Murillo, Cheryshev, Lato, Coquelin, Wass and Rodrigo Moreno.
  The final whistle has gone at the Sánchez-Pizjuán, where Sevilla have beaten Celta Vigo 2-1 to move provisionally top on 16 points - which means that a win for Barcelona at Mestalla tonight would leave the Catalans a point clear at the summit.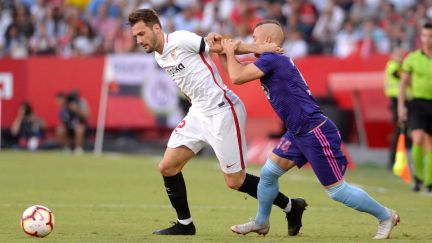 Here are the teams once more, this time in old-fashioned, text format: Valencia: Neto; Piccini, Garay, Gabriel, Gayà; Soler, Kondogbia, Parejo, Guedes; Batshuayi and Gameiro. Barcelona: Ter Stegen; Semedo, Piqué, Vermaelen, Jordi Alba; Rakitic, Busquets, Arthur; Coutinho, Messi and Luis Suárez  
Meanwhile, Barcelona have been on a rotten run in LaLiga of late, drawing two and losing one of their last three - but returned to form in midweek with a 4-2, Lionel Messi-inspired Champions League win at Spurs, and (thanks to Real Madrid's shock loss at Alavés yesterday) can end the night clear at the top of the table with a win tonight.
  16th-placed Valencia host Barcelona still looking for a first home LaLiga win this season, but after a disappointing start to the campaign have been buoyed by victory at Real Sociedad last time out in the league, and their midweek Champions League point at Old Trafford.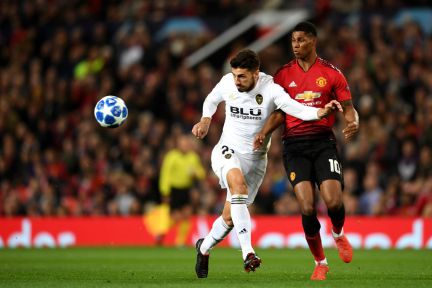 Good evening and welcome to our live coverage of what is undoubtedly the stand-out fixture in LaLiga this weekend...
Valencia vs Barcelona: LaLiga preview
Valencia host Barcelona at Mestalla tonight (20:45 CEST) in a clash that sees both sides aiming to take good European showings in midweek into stuttering domestic campaigns.
Valencia
Valencia sit down in 16th in LaLiga and took until last Saturday to register their first league win of the season, Kevin Gameiro's goal handing Los Che a 1-0 victory at Real Sociedad.
Marcelino's side then followed up that maiden victory with a creditable 0-0 Champions League draw away to Manchester United on Tuesday evening, and host Barcelona knowing that they can move to within three points of their visitors today.
To do so, however, they will have to win at home for the first time this term - and break an 11-year negative streak against Barça: they haven't beaten the Catalans at home in LaLiga since a 2-1 success back in February 2007.
Barcelona
Meanwhile, visitors Barcelona are out to carry on where they left off at Wembley, where an on-song Lionel Messi orchestrated an impressive 4-2 victory over Tottenham Hotspur in the Champions League on Wednesday night.
That win heralded a return to form for Ernesto Valverde's men, following a poor recent run of LaLiga form that has yielded just two points in their last three matches, and included a surprise 2-1 loss to then-bottom-of-the-table Leganés.
Yet despite that sequence, Real Madrid's shock defeat at Alavés yesterday means that Barça still find themselves in a position to end the weekend clear at the top of the table - if they come out on top tonight.
Valencia vs Barcelona: confirmed line-ups
Valencia XI: Neto; Piccini, Garay, Gabriel, Gayà; Soler, Kondogbia, Parejo, Guedes; Batshuayi and Gameiro
Barcelona XI: Ter Stegen; Semedo, Piqué, Vermaelen, Jordi Alba; Rakitic, Busquets, Arthur; Coutinho, Messi and Luis Suárez