Argentina took their time to wear the young Iraqi side down, but ended up making the gulf in class show.
Argentina v Iraq match report
An unfamiliar-looking Argentina cruised past Iraq 4-0 in the first-ever meeting between the sides in the neutral venue of Riyadh, Saudi Arabia.
In the absence of most of the big names, Scaloni handed debuts to several young players, one of them being 21-year-old Lautaro Martinez, who showed his gratitude by scoring the opening goal after 18 minutes. With Argentina in control, Iraq managed to hold out for the rest of the first half and, sitting deep, created a couple of half chances on the break while they were at it. And at half time they were very much still in the game.
But the difference in quality began to show in the second half, and Argentina had their second through Pereyra in the 53rd minute. As both teams reeled in the changes, making a total of six substitutions each, the flow of the game was interrupted and things were quiet until the 82nd minute, until Pezella headed home to score his first for his country. That was game over, but ten minutes later, substitute Cervi managed a Messi-like 25-yard dribble to set himself up for a shot inside the box, which he slotted past the keeper with ease into the right corner.
No surprises with the result then, but Iraq, to be fair, had a few chances and showed intent going forward on occasions. And they can go into the game against rivals Saudi Arabia confident on Monday, where a win will be a much more achievable task.
Argentina v Iraq: Live Updates
94' And that's the last action of game! Iraq were still in this at half-time, but Argentina's quality shined through in the end, and scoreline started to become more emphaitc from minute 53, with Argentina scoring three in half an hour. No surprise really. Iraq did have their moments and can walk away with their heads held high.  
92' Goal Cervi!! He does a Messi-like, 25-tard dribble and slots it past the keeper's right into the corner. 4-0 
87'   Decent delivery from Attwan, both it's cleared by Pezella. 
82' 81' Goal Argentina! Argentina's eighth corner is played in by Cervi. Salvio touches it on with his head to the head of Pezella. The defender nods it past the keeper and that's another debut goal tonight. Salvio has been influential since coming on. 
75' Argentina make their sixthe change, Bustos is off for Kannemann. First cap for the substitute. 
73'   Argentina are comfortable in possession, but have failed to a chance in the past 15 minutes.
70' Resan is coming off for Fayyadh.
67' Ali Adnan the captian makes way for Jaber Kadhem.
67'   After decent spells for both teams, things have quietened down now as Iraq make another change
63'   Decent spell here from Iraq, enjoying some time on the ball and moving forward with intent. 
62'   A decent passage of play from Iraq and they've earned a corner, their first of the game. But the cross from the corner is cleared. 
61' Another change for Argentina: Cervi comes on for Paredes. 
60'   Argentina are really getting into their stride now. They've had several chances in the last few minutes
58'   And Simeone is straight into the action. He passes to Dybala who hits's a sweet left-footed shot from distance. It save by Hassan as it was creeping towards the top left corner. 
57' Ibrahim is replaced by Mohamed Kamil, who plays his football in Stuttgart.
57' Martinez makes way for Simeone, son of the famous Atlético Madrid coach.
53'   Dybala beats two and passes it to Pereyra, who strikes it into the bottom right corner. That probably has put the game past Iraq now. 
53' 53'Goal Argentina!!
49'   Dybala close to making it two. Salvio, the sub, barges past two defenders and squares it to Martinez, who touches it on to Dybala. It's a decent strike but just wide.
48'   Iraq have the first chance. Nice movement from Iraq tees up Adnan, who hits it well from the corner of the box. It's swerving but it's just over. 
Salvio has also come on Argentina, Meza and Bustos are off.
46' And the second half is underway. 
Mohamad Ali and Hussein Ali, both 21, coming on for Iraq. Ascacibar come on for Argentina.
The players are making their way back on.
Check out those incredibly fancy seasts. Whose worth more, the chair or Icardi?
As expected, it has not been the most exciting first half of football. This is a young and inexperienced Argentina side, and as they get to grips with each other, Iraq, sitting deep, have had a couple of chances on the break. They will see themselves still very much in this game. 
46' And there' the half-time whistle!
43'   Iraq manage to clear the resultant corner. 
43'   Hassan fails to deal with a deflected cross, he fumbles and it's a panic stations for Iraq. They finally manage to clear it for a corner.
39'   Chance Iraq! A great delivery from a set piece around 40 yards out. Nadhim gets a flick on from just inside the box, but the flag is up against Yasin. Positive stuff from Iraq though.
35'   De Paul with a long range effort... saved by Hassan! Nothing comes of the resultant corner. 
34'   Resan just channelled his inner Maradona to weave around two Argentineans before being intercepted. Nice stuff. 
33'   Dybala cuts inside and hits a powerful shot from the corner of the box, but it lacks accuracy. 
32'   Paredes whips in the corner low but easily dealt with by Iraq.
31'   Vazquez looks for Martinez in the box, but it's cleared for a corner.
29' Argentina's unused players sitting in some very fancy, gold-rimmed seats. Those seats might be worth more than they are. 
27' Iraq captain Adnan picks up a yellow for a challenge in the air. 
25' Some quality tribal drumming being played in the crowd, it has to be said.
24'   Argentina now have a chance to counter. They move it up the field quicky to find Acuna, who launches it from just outside the box. It takes a great save from Hassan to keep it out. The Iraqi keeper then gathers the resultant corner with ease. 
21'   Well it has been an encouraging start from Iraq, they've done well to catch Argentina on the break on a few occasions. But the scoreboard reading as expected after 20 minutes.
18'   Goal Argentina!! Martinez gets his head on the end of a great cross from Acuna and nods it past Hassan around six yards out. His first game for Argentina, and he's on the scoreboard after 18 minutes.
16'   Iraq with another counter. Resan out left looks for Meram with a cross. It's headed away but it falls to the feet of Adnan. He hits a decent volley but it's over the bar. 
13'   Iran break from deep at speed. Adnan tries to beat his man down the right but it's out for a goal kick. Encouraging stuff from Iraq, they seem to have a gameplan here.
10'    Dybala tries to slot one through for Paredes. He beats two players in the box but is dispossessed before he can get a shot off. 
7'   Attwan takes a shot from distance but its wide. Iraq looking good here.
5'   A decent delivery from Paredes. He finds Pezella by the far post. He tries to nod it back towards ths six-yard box, but Hassan saves.
4'   Heavy challenge on Meza. Free kick for Argentina about 35 yards out.
3'   Acuna gets a cross in but it's safely gathered by Hassan.
2'   Dybala getting plenty of cheers when he picks up the ball. Argentina passing it around, trying to build something.
  And we're away. Argentina kick off.
Only three players with more than 12 caps in Scaloni's youthful and experimental side.
Nearly 400 caps between the 11 starters for Iraq, a much more experienced side the Argentina's.
Nobody singing alone to the Argentina national team, poor effort from the players. But quite a big cheer after.  
Iraq national anthem rings around the stadium. "Mawtini is the national anthem of Iraq since 2004. The song was previously the de facto national anthem of Palestine," says Wikipedia. 
And the teams are making their way onto the pitch, Iraq in white, Argentina in black.
Strangely there seems to be more Argentina fans than Iraq fans in the crowd. Though, I don't think they have travelled from Argentina. 
A very unfamiliar-looking Argentina side tonight. Dybala is perhaops the most recognised name on Scaloni's teamsheet. He's had an impressive start to the season at Juventus, forming part of a potent strike force with Ronaldo and Mandzukic.
Well there was a lot of confusion about the kick off of this game. Some sites saying 7.45pm (CEST), some others saying 8pm, looks like it is 8pm.
Some very fancy sitting for the dignatries at this game: gold rimmed, ornately designed cushioned seating certainly beats sitting on a plastic seat. Well this is Saudi Arabia.
Almost ready to kick off at Riyadh...
Iraq have only lost once (in normal time) in their last 17 games, that's quite a run. The same cannot be said of their opponents tonight.
The is the first time the two nations face each other in a senior international. But at underage level, Iraq beat Argentina's U-20s 2-0 at the 1984 Merlion Cup in Singapore and Radhi Shanaishel's penalty beat Argentina's U19s at the 1989 FIFA World Youth Championship in Taif.
"Really excited for Argentina - Iraq today. Not the most interesting game, but I'm ready to see new faces on this team. Hoping they all come out ready to prove they're worthy of being called up especially with Copa America coming up" says Dakota Andres on Twitter.
It's estimated that Messi will be back with the Argentina set-up for the 2019 Copa America, to be played in Brazil between June 14 and July 7 next summer.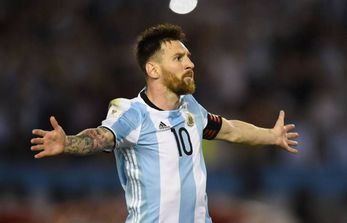 The sad news for football fans: Lionel Messi won't be playing tonight, as he's skipped both this friendly and the upcoming one against Brazil on 16 October in Saudi Arabia. Lionel Scaloni, interim coach for Argentina, said he'd spoken to the Barcelona man and that both thought the same thing: "For now it's best that he doesn't come". The reason being that they want the "kids" to be with the national team, and "when the new manager comes in he'll decide if these kids have the ability to keep playing for Argentina or if he will call up the players that have given us so much".
Kick-off will be at 19:45 CEST, so in just under an hour. (Carefuly now, some sites around the internet have been showing kick-off at 20:00, but if you tune in then you'll have missed 15 minutes).
Good evening and welcome to our live coverage of the international friendly between Argentina - Iraq from the Prince Abdullah Al-Faisal stadium in Saudi Arabia.
Argentina v Iraq: Preview
Argentina face Iraq in Riyadh as part of a mini-tournament that also involves Saudi Arabia and Brazil, and new coach Scaloni is expected to give debuts to a number of young players as he starts a build new side, looking towards the next World Cup.
Argentina will be without talisman Lionel Messi, who is yet to confirm if he will continue with the national team following a disappointing World Cup this summer. With Kun Aguero and Angel Di Maria also missing, Mauro Icardi, who has scored 4 goals in his last 3 matches for the Inter Milan, will lead the charge from the front and will be tipped to score against the minnows from the Middle East.
This is the first meeting between Argentina and Iraq, who were recently given the nod by FIFA to host their first international matches in three decades in specific parts of the country. Their most noteworthy result this year was beating Saudi Arabia 4-1 back in February. But Argentina will be a much sterner test tonight.