Former NBA star Yao Ming attends basketball friendly in Pyongyang
The eight-time NBA All-Star was in attendance when Chinese and North Korean players held a friendly match in Pyongyang.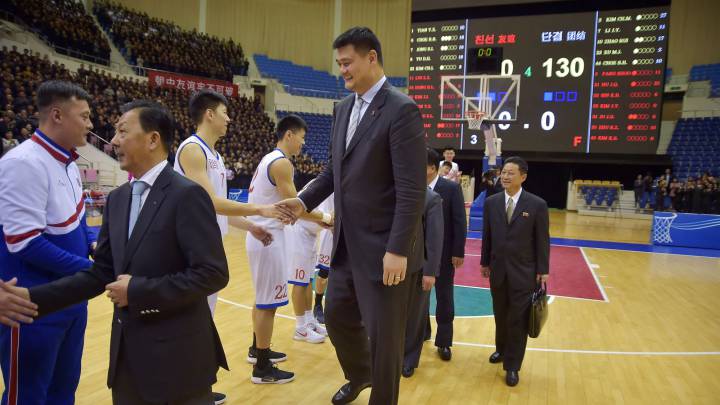 Ex-NBA star Yao Ming attended a friendly basketball match between China and North Korea in Pyongyang on Thursday.
The former Houston Rockets player is visiting the North Korean capital as part of a high-level Chinese sports delegation.
Guo Zhongwen, the director of China's State General Administration of Sports, and Li Jinjun, the Chinese ambassador to North Korea, were present at the Pyongyang Ryugyong Chung Ju-yung Gymnasium.
From North Korea, senior officials including sports minister Kim Il-Guk and foreign affairs minister Ri Su-yong were also at the arena.
North Korean leader Kim Jong-un, who's also a well-known basketball fan, did not attend the encounter.
Warming ties between neighbors
Relations between China and North Korea have not been optimal in recent years, with the Asian giant backing United Nations sanctions to punish the peninsular country for its nuclear activities.
However, ties have recently improved as this year China's president Xi Jinping has met three times with the North Korean leader.
"We warmly welcome the Chinese sports delegation to visit during a period when the friendship between the two countries is improving," Kim Il-guk said at the match. "Today's competition will solidify the ties between the people of the two countries."
Mixed teams
On the court, Chinese female basketball players mixed together with North Korean female players to form two teams, team "Friendship" and team "Unity."
The unity team won the match 107-106.
At the end of the encounter, the 7-foot-6 Yao congratulated the players and took pictures with both teams.