Barcelona 4-2 Sevilla match report: LaLiga 2018/19 week 9
Barça beat Sevilla 4-2 to return to the top of LaLiga, but lost Lionel Messi to an injury that rules the star out for three weeks.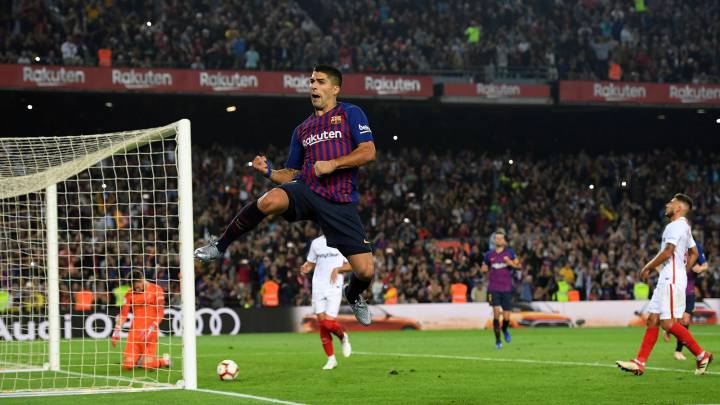 Barcelona vs Sevilla: match report
Barcelona went back to the top of LaLiga with a Marc-André ter Stegen-inspired 4-2 win over Sevilla on Saturday, but were dealt a major injury blow after Lionel Messi was forced off with arm damage that will see him miss next week's Clásico.
Messi out for three weeks after suffering arm injury
Messi, who scored Barça's second as the Blaugrana moved a point clear of surprise package Alavés, left the field in visible pain midway through the first half after falling awkwardly in a challenge with Franco Vázquez, with the club later confirming that the Argentine is to be out for around three weeks with a "fracture of the radial bone in his right arm".
Barcelona twice thankful to Ter Stegen double saves
After Philippe Coutinho had given Barça an early lead with a sweet, curling finish, Messi's low 12th-minute strike looked to have set the hosts on course to cruise to victory. But, having already hit the post through Guilherme Arana, Sevilla showed why they too were in a position to end the night leading the division and, but for a terrific double save by Ter Stegen - first from André Silva, then from Vázquez - would have reduced the arrears soon after the break.
As it was, Luis Suárez won and converted a penalty kick mere seconds after Ter Stegen's heroics, and Barça were, really rather fortunately, three ahead.
And not content with producing one crucial double stop, the German then did so again late on to deny seemingly certain goals for Pablo Sarabia and Wissam Ben Yedder - an intervention which, coming shortly after Sarabia had pulled one back with a deflected effort, prevented what would have surely been a hugely nervous finish at the Camp Nou.
Just as Suárez had earlier in the half, Ivan Rakitic immediately responded to his keeper's brilliance by establishing a hugely flattering three-goal advantage - fizzing a lovely strike into the corner from 20 yards - before Sevilla substitute Luis Muriel quickly cut the deficit back to two, bending in an equally fine shot to complete the scoring in time added on.
Barcelona 4-2 Sevilla: as it happened
The latest on Messi is that he is
expected to miss Wednesday's Champions League clash with Inter but, as things stand, he hasn't been 100% ruled out of the Clásico
:
  Peeeep peeep peeeeeeep! And that's full time. Barcelona win 4-2 and go back to the top of the league, but it might have been very different had Sevilla not come up against a goalkeeper in Marc-André ter Stegen who was in utterly heroic form. Along with Ter Stegen, Lionel Messi will also be the name on everyone's lips after being forced off with a seemingly nasty arm injury in the first half, with just a week to go until the Clásico against Real Madrid.
91'   Three minutes of time added on, by the way.
90' Oh, that's also fine goal, and it's a second for Sevilla! Muriel curls a precise effort past Ter Stegen and into the far corner, and it's 4-2. You have to get it right into the corner to beat the German on this kind of form, and he does just that.
88' And again Barcelona follow up a miraculous Ter Stegen double stop with a goal! Rakitic fizzes a dropping ball into the far corner past Vaclik's dive, and it's 4-1! To say that scoreline flatters the hosts would be a criminal understatement.
86'   Lordy, lordy. Sevilla should have a second and, were it not for the fact that Ter Stegen is having an absolute blinder, they would. Sarabia suddenly finds himself through on the Barça goalkeeper and thrashes a left-footed shot on goal, only to see the German beat his effort out. However, the loose ball falls straight to Ben Yedder, who must surely bury it - but Ter Stegen saves again! 
84'   Muriel flashes an effort just over the bar. On first view it looked dangerous, but in fact Ter Stegen comfortably watches it over.
82'   Barcelona win a free-kick in shooting territory, which Coutinho bends towards Vaclik's left-hand corner - but, despite his effort bouncing just in front of the Sevilla keeper, it doesn't get the better of the Czech international.
80' Barcelona also make their third and final change, Munir El Haddadi replacing Luis Suárez for the last few minutes.
By the way, Luis Muriel came on for Sevilla moments before that Sarabia goal. André Silva was the man replaced.
79' Sarabia sends a shot at goal from 20 yards or so, it deflects off former Sevilla man Lenglet, and beats a wrong-footed Ter Stegen! Still ten minutes to go; if the visitors can get another one and are quick about it... 
78' And just as I write that, Sevilla score! Of course they do.
77' Twice Sevilla get the ball into the box, twice Barcelona clear. Navas then gets himself into crossing space for the umpteenth time tonight, but this time his delivery is long. Sevilla should be on the scoresheet on merit, but you get the feeling it's just not going to happen for them.
74'   Lenglet heads wide for Barcelona, before Suárez goes close to bending a low shot in for the hosts' fourth! The Blaugrana then come again on the counter, and work it out right to Dembélé in shooting space in the box... but Carriço gets his body in the way and it's deflected off target.
71'   Barcelona look to be cruising to three points and the top of the table now - but how different it would have been had it not been for that Ter Stegen double save in those sliding-doors 60 seconds that ended up with Suárez scoring from the spot. 
70' On comes Mesa, for Franco Vázquez.
69'   Rakitic fires a first-time effort well over with his weaker left. Sevilla are preparing another change, with midfielder Roque Mesa to come on.
67'   Ben Yedder finds a yard of shooting space inside the box, but sends his low effort just wide! "Sevilla have deserved a goal," says Movistar+ co-commentator Maldini.
66' Sergi Roberto comes on for Arthur, who's had a quiet second half.
63'   "Ter Stegen should almost go down as having supplied the assist for that third goal," quip the commentary team on Spanish TV. 
62' And Suárez buries the spot-kick, sending Vaclik the wrong way! 3-0!
61'   ...and having almost conceded, Barça win a penalty and have the chance to go 3-0 up! It's fantastic play by Suárez, who skins Carriço, advances into the box and rounds Vaclik, who hauls him down. Stonewall penalty, yellow card for the keeper.
60'   What a double save from Ter Stegen! The German leaps to his right to claw out an André Silva header that looks for all the world like it's sailing into the top corner, before getting out quickly to deny Vázquez on the rebound!
59'   Sergi Roberto is apparently being prepared to come on for Barcelona, whose head coach, Ernesto Valverde, does not look happy with what he's seeing in this second half.
58'   Suárez almost scores again, and this time he really should score! In behind the Sevilla defence, just the goalkeeper to beat... and he skews his shot horribly wide. "Did that actually go out for a corner?" is heard in the AS newsroom.
56'   Now Sarabia goes close for Sevilla, before it's time for a VAR review for what seemed like a Jordi Alba handball in the box in the build-up. No penalty, it is finally decided. 
55' On comes Gabriel Mercado for Kjaer.
54'   Suárez hits the post! Barça haven't got going in the second half, but they almost have a third. The centre-forward drops into the hole, gets the ball out of his feet and pings a strike that has Vaclik scrambling towards his right-hand post, but the effort kisses the woodwork on its way (just) wide.
52'   Coutinho drifts inside and wafts a tame shot straight down Vaclik's throat. Sevilla defender Kjaer is down, and looks like he will have to come off.
50'   It's been all in the Barcelona half so far in this second 45, and another Sevilla ball into the box comes to André Silva - who, if he had got the ball out of his feet a little quicker, would have had a clear shooting chance from eight yards out. 
48'   Sevilla again work it out to the right to Navas, who again wins a corner, which again comes to nought. However, the visitors come back at Barcelona and, just for a moment, Ben Yedder looks like he might cut it back for a white shirt to score, but it's cut out.
47' No half-time changes for either side.
Back out comes the teams, and... peeep! Second half up and running at the Camp Nou.
As it stands, Barcelona will end the night a point clear of Alavés at the top of LaLiga, with Sevilla above Atlético on goal difference and crisis-hit Real Madrid trailing in fifth, four points behind their arch rivals.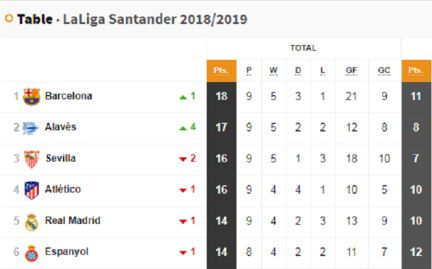 Messi's goal was his 32nd in all competitions against Sevilla, and his 25th in the league
- bringing him level with a certain notable LaLiga alumnus.
Here's more on that Messi injury, which has come with just a week to go until El Clásico
. If initial fears that significant damage has been done are confirmed, what a blow that would be for Barcelona.
Peeep peeep peeeeeeep! That's half time at the Camp Nou, where Barcelona lead 2-0 courtesy of early goals by Philippe Coutinho and Lionel Messi and, as things stand, are heading back to the top of the table. However, Sevilla hit the post once and, having overcome the setback of going two behind so quickly, have competed and might well have gone in for the break with something to show for their efforts. Shortly after his goal, Messi had to be taken off with what looked like a pretty serious elbow injury, and we'll keep you updated on that.
47'   There's a chance for Rakitic... but the Croat's attemted chip is too low, and Vaclik grabs hold.
45'   Three minutes of time added on at the end of the first half.
44'   Now Barcelona carve out a shooting chance for Suárez on the edge of the box, but the Uruguayan scuffs an utter dribbler into Vaclik's arms. Up the other end, Navas again gets to the byline on the right and slips a ball into the run of Sarabia, whose first time shot flashes just wide of the near post from six yards out. The away side could easily have got at least one by now.
41'   Sevilla defender Sergi Gómez, once of this parish, heads a left-wing corner towards Ter Stegen's far post - but just over.
41'   Barcelona are screaming for a penalty after Carriço and Suárez come together on the edge of the box, but referee Juan Martínez Munuera (and, presumably, his VAR chums) say nothing doing. If anything, it'd have been a free-kick rather than a penalty. In the same move, Semedo carries the ball into the box and could have rendered the Carriço-Suárez tussle thoroughly moot, but sliced horribly wide.
40'   Sarabia exchanges passes with Navas on the right, but the right wing-back's crossing angles are well covered by the home defence and his ball his deflected out for a corner, which again comes to zip.
38'   Dembélé goes close to a third! Suárez lifts a fine ball over the top of the Sevilla backline for the winger to run onto and into space, before advancing into the box and firing just wide from the left.
37'   Sevilla come back at Barcelona, Arana swinging in a decent ball that Alba has to force behind. However, the corner is cleared, and...
36'   Coutinho plays a one-two with Suárez before looking to bend a shot into the top corner from 25 yards, but it's a yard or two wide and Vaclik watches it out.
34'   The magic sponge is back out. Kjaer and Lenglet clash heads, leaving the Dane the worse off of the two. He should be OK to continue, though.
32'   Navas gets to the byline again and wins a corner which, though it comes to nought, is further evidence that Sevilla are getting more of a foothold on this game after conceding those early goals.
30'   Now Busquets is down after Banega pumps the ball straight into his stomach. A few inches lower and it'd have been even worse, but the midfielder is briefly bent double in agony nevertheless. He's up on his feet quickly enough, though.
27'   Navas crosses from the right for Sevilla, but his looping ball is comfortably cleared. Barça then work the ball to the newly-introduced Dembélé on the right, and the Frenchman is close to scoring with his first contribution, but after cutting into the box and turning neatly inside one, he takes one touch too many rather than shooting, and the chance is lost.
26' Dembélé finally gets his boots tied and is on.
That Messi goal was the 32nd of his career in competitive games against Sevilla
. He's hit more against the Andalusians than any other club.
22' Messi goes down the tunnel to a huge ovation. On the field, Rakitic skips forward and slaps a speculative effort high from way out. Dembélé is still tying his shoelaces over on the touchline.
21'   Ah, scratch that. He's coming off. Ousmane Dembélé is being prepared.
20'   Well, maybe he will carry on. He's currently having generous lashings of bandage applied to his arm over on the touchline.
18'   From his grimaces of pain, it doesn't look like he'll be carrying on. "The Camp Nou is in a state of shock right now," say our Spanish TV commentary team.
15' Ufff. Barcelona may have a problem here. Messi falls awkwardly after clashing with Franco Vázquez, and replays suggest he might have done significant damage to his elbow.
13' That goal moves Messi onto seven LaLiga goals this season, level with Sevilla's André Silva and one behind Christhian Stuani of Girona.
12'   Suárez releases Messi to run at the Sevilla defence, and what happens next we've seen a million times before. He cuts inside, cuts inside a little more... and guides the ball into the far corner.
12' Gooooal! Messi makes it 2-0! Something tells me Sevilla aren't going to be putting a stop to that 16-year winless run at the Camp Nou on this particular evening.
9'   Messi combines nicely with Alba advances into the box and fires a shot just wide of the near post. Up the other end, Sevilla earn themselves a free-kick that is perfect for Banega to swing in from the left, but Kjaer's header from the Argentine's delivery is weak.
That minute's silence was also for former Barcelona player Vicenç Martínez
, who passed away recently.
7'   Coutinho tries a give-and-go with Suárez on the edge of the Sevilla box, but it doesn't come off and the visitors can clear.
5'   Arana hits the post for Sevilla! The Andalusians launch a quick break, and André Silva feeds the left wing-back in acres of space to ping one low across Ter Stegen... but the woodwork denies him! It's been a decent enough start to the game, to be fair.
2' Gooooal! It's lovely build-up play from Barcelona as Messi slips in Coutinho on the left-hand side of the box and the Brazilian bends an expert first-time finish across Vaclik and into the far top corner! The strike is initially ruled out for offside, but a quick VAR review shows that Coutinho was well on. What a start for Barcelona! 
1'   Barcelona immediately win a corner, which Gerard Piqué almost gets on the end of at the back post, only for the ball to just escape his outstretched leg.
Peeeeep! We are underway.
Ahead of kick-off, former Barcelona and Sevilla striker Javier Saviola hands over the LaLiga Player of the Month trophy to Lionel Messi, before a minute's silence is held in memory of the victims of the recent floods in Mallorca.
A reminder that, should you also be looking to get yourself in front of a TV for Barcelona-Sevilla, then make sure you take a look at our useful guide on how and where to watch.
Out come the teams!
  Atlético Madrid's 1-1 draw with Villarreal tonight means that a point against Barcelona tonight will also be enough to see Sevilla go back to the top of the table, on goal difference.
That last Sevilla league win at the Camp Nou came back in December 2002, when two goals by Mariano Toedtli and one for Javier Casquero earned the Andalusians a 3-0 win that helped bring an early end to Louis Van Gaal's second spell in charge of Barça. 
  However, it's worth bearing in mind that, though three points will take Sevilla two points above current leaders Alavés, the visitors haven't beaten Barcelona in the league at the Camp Nou for quite a while: almost 16 years, to be precise.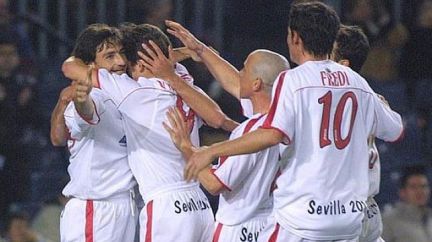 So, a win tonight will be enough to send either Barça or Sevilla clear at the top -
and put further daylight between first place and crisis-hit Real Madrid, who lost again today,
 2-1 to Levante, to leave Bernabéu boss
Julen Lopetegui clinging on to his job
. 
Meanwhile, Sevilla are unchanged from the side that beat Celta Vigo 2-1 last time out - a victory that made it four league wins in a row for Pablo Machín's men.
Sevilla XI: Vaclik, Carriço, Kjaer, Sergi Gómez; Navas, Sarabia, Banega, Vázquez, Arana; André Silva, Ben Yedder
Hosts Barcelona, who are out to end a run of four LaLiga games without a win, make one change to the side that drew at Valencia before the international break. Thomas Vermaelen was ruled out for six weeks after
suffering a thigh injury on Belgium duty
, and is replaced at centre-back by Clément Lenglet, who faces his former club this evening.
Barça XI: Ter Stegen, Semedo, Piqué, Lenglet, Alba, Rakitic, Busquets, Arthur, Messi, Suárez, Coutinho
  Kick-off is in half an hour's time, so let's get straight onto tonight's team news in the Catalan capital.
  Good evening! Welcome to our live coverage of tonight's top-of-the-table clash between Barcelona and Sevilla at the Camp Nou, where a win for either side will see them leapfrog surprise package Alavés to end the night clear in first place.
Barcelona vs Sevilla: match preview
With LaLiga in its ninth round of fixtures, Sevilla visit the Camp Nou right up there among the leading pack (Alavés' victory at Celta Vigo last night knocked them off top spot) and face a Barcelona side who haven't won a home league game since their 8-2 thrashing of Huesca at the start of September. That same weekend, Sevilla were beaten by city rivals Real Betis and, while it was all smiles at Barça, the nerves were starting to jangle at the Sánchez-Pizjuán.

Six games later, the roles have reversed completely. Barcelona have gone four LaLiga matches without victory (drawing with Girona, Athletic Bilbao and Valencia, and losing to Leganés). Sevilla, on the other hand, have registered 12 points out of 12 in that time, a run of wins that includes a 3-0 despatching of Real Madrid and 6-2 away thumping of Levante. In all, the streak has seen the Andalusians rack up 14 goals.
Barcelona and Sevilla can both end night top of LaLiga
Pablo Machín's men, who can reclaim first place with a point tonight, now arrive in the Catalan capital tasked with confirming their title credentials at the home of the reigning league champions; tasked with showing that they believe they belong in their current, lofty position in the table.
Barça, meanwhile, host Sevilla in the knowledge that only their good displays in the Champions League are papering over the cracks of what has been a mediocre LaLiga defence - but that they also have the opportunity to go back to the top of the league if they defeat a side they have already got the better of once this season, in August's dramatic Spanish Super Cup.
Neither coach expected to keep anyone back
Which is why, despite the return from the international break bringing with it three very tough fixtures in a row - Inter Milan and Real Madrid are up next for the Blaugrana - Ernesto Valverde does not seem about to keep anyone back tonight. A full-strength 11 is expected.
Sevilla boss Machín isn't likely to leave anything in reserve, either. Wissam Ben Yedder's goalscoring exploits have earned him his place alongside André Silva in attack, where the duo will provide a stiff the test a Barça defence not enjoying the best of times, it's fair to say.
Barcelona vs Sevilla: confirmed line-ups
Barcelona: Ter Stegen, Semedo, Piqué, Lenglet, Alba, Rakitic, Busquets, Arthur, Messi, Suárez, Coutinho
Sevilla: Vaclik, Carriço, Kjaer, Sergi Gómez; Navas, Sarabia, Banega, Vázquez, Arana; André Silva, Ben Yedder