River Plate vs Gremio: Copa Libertadores 2018, as it happened
A second half header from Gremio defender Michel was enough to give the holders a first leg advantage at a packed El Monumental stadium.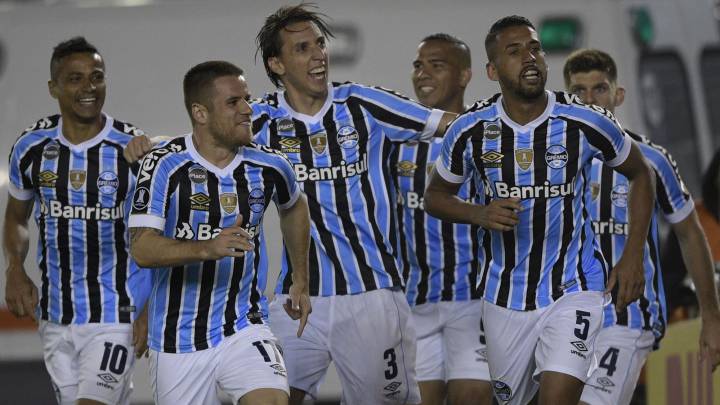 2017 Copa Libertadores winners Gremio took a step in the right direction in retaining their title with an impressive 0-1 win in Buenos Aires against the highly fancied River Plate.
It was clear after a disappointing first twenty minutes of football that the match was set to become a tactical battle between two of the games finest in the coaching business with River's Marcelo Gallardo pitted against Gremio boss Renato Gaucho.
So it proved, Gremio looked the more composed side in the first half as River failed to find the final pass to carve open a well marshalled rearguard with a disappointing performance from the highly rated Pity Martinez.
The Argentine outfit started the better in the second period and just when they had Gremio penned back, a thumping Michel header from a corner just after the hour mark was enough to tilt the tie the way of the Porto Alegre based side.
There was no way back for the home side in an ultimately frustrating night in front of a packed El Monumental stadium that never stopped delivering a volley of noise despite the adverse scoreline as Gremio take a step closer to another Libertadores final.
River Plate-Gremio: Copa Libertadores 2018- as it happened
95'   Gremio fans sensing a win is imminent as the ref calls time on the action ....Gremio record a vital 0-1 win at El Monumental.
93'   Freekick for River as Quintero lines up to strike from a long range....Decent hit as Grohe palms away for a corner.... A silence falls in El Monumental as the fans sense that the moment has passed. Kanneman heads away again, this time Michel clears. 
92'   Montiel tamely heads and Grohe gathers. River will seriously need to up their game in Brazil next week as goalscorer Michel is booked for a lunge.
90'   Timid whistles ring out from a frustrated El Monumental as the fans sense their side are blunt in attack toinight
90'   Into added time we go as the ref. confirms that 5 minutes of added time will be played
88' Another Gremio change as Ramiro makes way for Thaciano
85'   Great delivery from Pity (who has been very quiet tonight) and Gremio clear for a corner. Disputed ball is grabbed by Grohe in the Gremio goal who tumbles to the ground to kill a little time.  
83'   Gallardo looking most frustrated on the River bench. It has been a tactical masterclass from Renato Gaucho as his side have not let River play their game. With a 1-0 scoreline one would fancy the Brazilian side to progress.
81' Change for Gremio: Jael off-Anderson Da Silva on
81'   10' to go .... Can River grab an equaliser? Can Gremio hang on?  River earn a corner ....  
78'   Dangerous free for Gremio on the edge of the area. River still not recovered from the goal and 0-2 is looking closer than a 1-1 scoreline. Cicero to take....Into the wall and Michel almost makes it 0-2 from the rebound.....Gremio full of confidence now.
77'   Gremio players celebrate Michel goal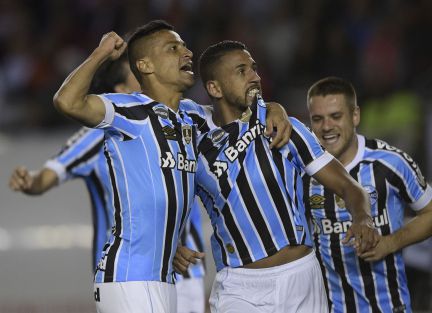 75' Another change for River: Perez on-Ponzio off  
73' Ponzio fouls and Gremio players appeal for another yellow which would lead to the dismissal of the former Zaragoza man  
72'   Gremio now sitting deeper as River probe. The Brazilian side are highly impreessive in defensive duties.   
70'   Can River find a way back? The goal came at just the time when River were pressing the holders and playing with total confidence. 20' left and River need a goal. 
Yellow for Ponzio after a poor foul on Alisson
66'   A major blow for River Plate with Gremio masters of defending. Armani slightly slow in coming off his line for the Gremio goal. Uphill now for River with a tricky second leg ahead in Porto Alegre
Palacios off-Fernandez on for River 
River 0-1 Gremio
Great header from Michel almost silences El Monumental 
61' Gooooooooooooooooooooooooooooooooooool. Gremio strike .... Michel heads the opener
Kanneman missing in the second leg is a major blow for the Brazilian side as play is held up with Grohe getting attention and taking the sting out of River's attack.
Yet another yellow ... Pinola carded for leading with an elbow 
58'   Freekick for River as Kanneman is on the ground and a mellee breaks out .... Ref trying to establish control as he flashes two cards to Kanneman and Maidana. Kanneman is out of the second leg with that yellow.
Scocco off as Pratto comes on for River. First change of the night
55' Gremio certainly on the back foot in this second half and struggling to get out of their own half. Much better from River.
54'   Gemio make a mess of a freekick in the middle of the park and almost trigger a counter for River. 
53'   Lucas Pratto warming up alongside Zuculini on the River bench...change imminent ? 
51'   Words certainly had by Gallardo as River are a new team..moving the ball around with purpose and greater accuracy.
50' Maidana almost makes it 1-0 as the defender rockets a header that goes just inches over the bar. 
48'   River playing with another level as they fizz the ball around and win a corner. Scocco and Pity looking revived !
Card for Alisson for a foul. 
Players are on the pitch as ref. Victor Carrillo gets us underway
Gallardo will certainly look to make changes sooner rather than later as the former Monaco player looked far from happy with what he saw in the first period.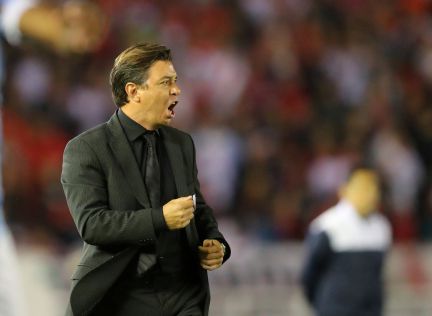 That's all for the first 45'. Gremio ahead "on points" in what is very much a chess-like contest. River improving as the game evolved but Gallardo knows that his side will need to take at least one goal to Porto Alegre next week for the second leg. Get the kettle on and we'll be back with the second half in 15'!  
45'   We'll have 2 mins. of added time. Free for River. Quintero to take ...poor loft as Gremio clear their lines.  
44'   River improving as the half wears on. The Argentine side are now stretching Gremio and using the pitch to better effect. Gremio do look solid at the back it has to be said. Quintero needs to get more into the action for the home side.
41'   Big, big, big call for handball from River but once again the ref. says no. Repeat shows that the ball hits Kannemann on the chest. Good call from the Peruvian whistler.  
Excellent strike from Palacios and once again Grohe pulls off a fine stop. Pinola falls in the area from the resulting corner but no call for a spot kick. Better from River
38'   Yet another foul for Gremio as Gallardo screams instructions on the touchline. Far from happy the River boss at present 
Borré, River Plate booked...First name of the night into the book 
Peruvian referee Victor Carrillo on his whistle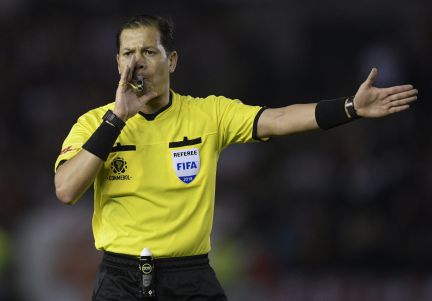 34'   Another foul from the whistle happy official. Rhythm of the game far from in full flow but Gremio will not be the side complaining. A 0-0 would suit Renato Gaucho perfectly.
32' Corner for River as Maidana heads over 
32'   Palacios on the "wanted list" for FC Barcelona apparently ! 
30'   Great strike from Palacios that forces Grohe into action. Best effort of the night for the home side.  
28'   Tactically is has to be said that Gremio's head coach Renato Gaucho is 'ahead on points'. River yet to establish a dominance on proceedings with Gremio looking very assured in defensive duties.
Gremio's head coach Renato Gaucho looking dapper on the visitors bench tonight !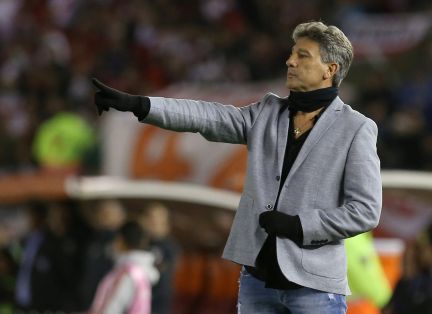 26'   Cicero drives a left foot rocket and forces Armani into action. Good effort as the Brazilian side show their quality and gradually easy their way into the fray.
23'   The best Libertadores of all time maintains the co-commentator on Movistar Plus !
20'   Nonsense in the box and the ref. has to intervene ... resulting corner is poor from Quintero and the ball drifts wide. Too much tension evident so far at El Monumental for the game to catch fire 
20' Corner for River...
18'   River on the attack...and Grohe almost spills a lofted Pity Martinez cross.
16'   A stop-start opening to the action with far too many petty fouls spoiling the flow of the game ...this will suit the Brazilian side perfectly.
14'   The game has now established a pattern (as we envisaged)...River on the ball with Gremio sitting deep and looking to strike on the counter. Neither keeper tested so far as we move into the 15th minute 
11'   Big call for a spot kick as Borre falls in the area but the match official waves the protests away. Don't forget we now have VAR in the Libertadores.
8'   River break but the final ball from Pity Martinez is tamely into Grohe's hands. 
Gremio fans in the away sector at El Monumental tonight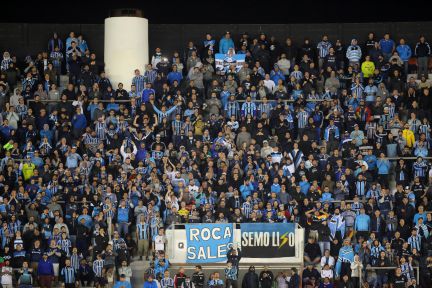 6'   Cagey start so far here in Buenos Aires. Immense noise coming from the home supporters ..the infamous Borrachos del Tablon River "barra" in full voice.
5'   Pity Martinez is a player to look out for tonight. Excellent talent and was key in River's recent Superclasico win over Boca grabbing a goal to boot. 
3'   Gallardo looks on with intensity on the touchline....A question of time before the master tactician makes the move to Europe ? 
1'   Make that 65,000 fans at El Monumental as Gremio take the first shot of the evening but a poor hit poses no problems for Armani
1' Off we go !
No Luan and Everton for Gremio making the home side slight favourites for me this evening. A fascinating 90 minutes of Libertadores football awaits 
Fireworks crack as the sides take to the pitch . What a welcome...what an atmosphere ! 56,000 fans packed into the stadium with 3.000 Gremio torcidores present too 
The countdwon is on in earnest. Just 5' to go before the first Copa Libertadores 2018 semi-final takes place. Don't forget, the second semi is another Brazil-Argentina affair as Palmeiras face Boca Juniors. A SuperClasico final could be on the cards!
Fans packing out El Monumental tonight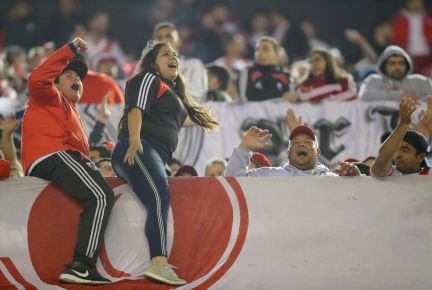 No rain forcast in the Argentine capital tonight but a brisk 14C temperature, ideal for the players with fans having to wrap up.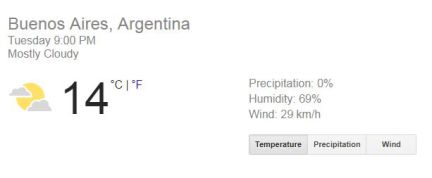 Gremio too will wear their home "tricolor" kit of blue, black and white stripes with white shorts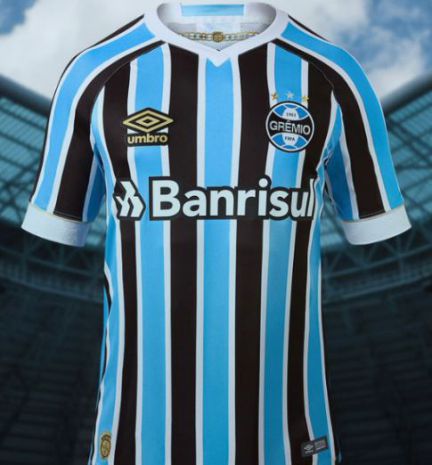 River Plate to wear their classic white shirt with red sash and black shorts tonight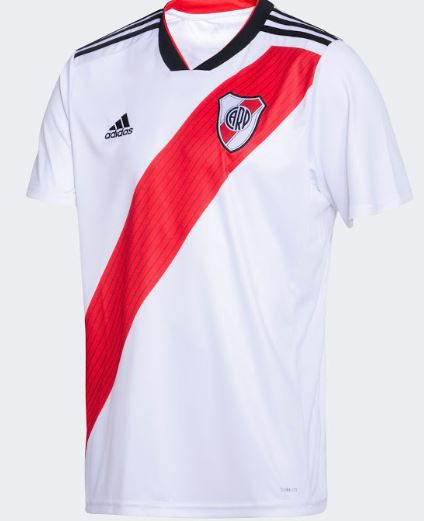 Gremio (current holders) also have three Libertadores titles to their name: 1983, 1995 and last year, 2017
River have won the Libertadores on three occasions: 1986, 1996 with the last win coming in 2015
As anticipated, no Luan for Gremio but both Pity Martínez and Juanfer Quintero start for the home side as Marcelo Gallardo looking to avail of the special atmosphere at El Monumental.
Hello and good night, day or morning wherever in the world you are and welcome to our live Copa Libertadores coverage as River Plate face Gremio in the first leg of semi-final number 1. Kick off in Buenos Aires at 2145 local time / 0245 CEST.
River Plate-Gremio: preview
The first of the two Argentina versus Brazil Copa Libertadores 2018 semi-finals kicks off tonight in Buenos Aires as three time winners River Plate face current holders Gremio from Porto Alegre in what should be an intriguing match-up.
The home side are favourites to take the first leg with Gremio's defender Walter Kannemann admitting that his side are struggling how to get past the Argentine side at their Buenos Aires fortress. "It's going to be a game in which we have to concentrate and can't afford to give anything away. We will focus on getting through the early stages and then try to win the match." The 27-year-old center-back added: "We're ready for everything. River are renowned for their intensity and pressing so it's going to be a difficult game. But anything can happen, even against a strong rival like River Plate."
Gremio playmaker Luan and Everton are last minute doubts for the Brazilian side with River coach having good news in the return to full fitness of Pity Martinez and a full strength squad to call upon.