CHAMPIONS LEAGUE
Champions League sides that need to avoid tripping up
A look at every group in the Champions League and what each team needs to do with three games to play in the Group stage of the competition.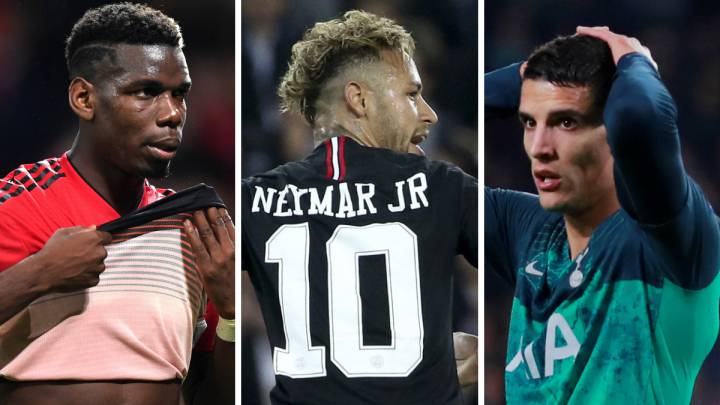 We have arrived at the halfway stage of the Champions League group stage and there are a number of big clubs with tough tasks in the final three games to ensure they qualify for the next stage of the competition. Monaco, Tottenham, PSG or Benfica might have some trouble to survive while Manchester United and Real Madrid have not shown their best sides in the opening three fixtures. (You can check each group's standing after the first set of fixtures).
Group A
Borussia Dortmund puffed their chests out on Wednesday night with a thonking of Atlético Madrid. They are at the top of Group A with full points and while that will hurt Atlético's pride, it doesn't do much in terms of where they stand in the group. AS Monaco, who have a new manager in Thierry Henry, are on just one point along with Club Brugge and it looks like they are competing for the Europa League place for the team that finishes third.
Group B
Barcelona have won all of their games at the top of Group B with Inter Milan trailing in second. The Italians suffered their first defeat on Wednesday night to the group leaders at the Camp Nou. The Spanish side have a foot and a half in the next round with Inter right behind them. Spurs' collapse on Wednesday has their Champions League "nearly over" according to Mauricio Pochettino and with just one point each, their only hope is of catching Inter Milan on six.
Group C
Liverpool lead a very tough in group in which everything is yet to be decided. Last year's finalists have six points but they are just one ahead of Napoli and two ahead of Thomas Tuchel's PSG after their draw last night. Red Star are out of the running but they did nick a point off Napoli in the first game, which could come back to haunt them.
Group D
In the Champions League's percieved 'weakest' group, Porto have seven points, two more than Schalke in second and three more than Galatasaray. Lokomotiv Moscow have zero and look like they'll be heading for an early exit.
Group E
Nobody, maybe not even Ajax, expected Ajax to lead Group E at this stage with Bayern Munich, the heavy favourites and candidates to win the entire thing, struggling for form. The Dutch side have shown how solid they are in defence, something which has held them back in recent years. AEK Athens are at the bottom and need to get a move on if they want to avoid complete elimination from Europe and Benfica, with three points from leaky AEK, need to improve too if they are to trouble Bayern.
Group F
Nobody has strayed from the script in Group F when you look at the standings despite a minor hiccup from City against Lyon, who have drawn their other two games. They sit in a nice position in second, however, and Hoffenheim and Shakhtar Donetsk are at a safe distance behind with two points. The next round of games will be vital as the top two and the bottom two play with a chance for the script to be ripped up and the tables to be turned upside down too.
Group G
The unexpected setback for Real Madrid against CSKA Moscow does not prevent them from being the leader of the group. The crisis at the club makes their top spot a little less convincing, however, and their most recent game against Viktoria Plzen was far from ideal. Roma have six points too, but Real Madrid beat them in the first game. The good news for Madrid is that Roma and CSKA play each other next while Real Madrid get the bottom side, Plzen, who have just one point.
Group H
Juventus are sitting pretty with nine points after three games in Group H. It was dubbed the 'Group of Death' but neither Valencia or Manchester United have been producing their best to start this season. They have two and four points respectively. United are only ahead of the Spanish side simply because they didn't stumble against Young Boys - Valencia drew with them 1-1 on Tuesday.