Marcelo: "Lopetegui is doing everything he possibly can..."
The left-back spoke to LaLiga about Sunday's Clásico: "It's always a great experience to play at Camp Nou. When all the fans are against you, it motivates you even more".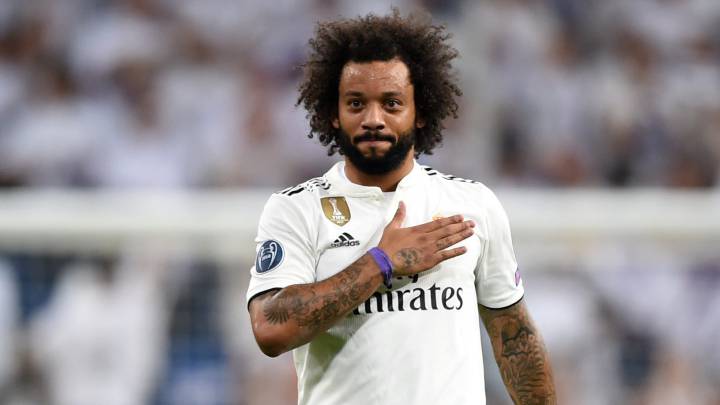 For Marcelo Vieira, there are few more matches that motivate you lile El Clásico - especially when Real Madrid are away from home: "It's always a great experience to play at Camp Nou. When all the fans are against you, it motivates you even more", the defender said in the run-up to Sunday's clash with FC Barcelona in Week 10 of LaLiga Santander.
Pre-match nerves and pressure
"I've been here for 12 years and I've got many memories of the Clásico. Playing at our stadium is incredible but playing away, representing your club is always amazing. For the feeling that you get in El Clásico, as well as the three points – the day before when you think about what you've got to do in the match, you start to get butterflies in your stomach. I think that's a normal thing for a really big game like this. The team that makes the fewest mistakes is the one that wins. We try to be alert in all of our games but we know how good Barcelona are – they've got some brilliant players, especially up front so we'll need to be extra careful", Marcelo told LaLiga this week.
No easy games in LaLiga
"LaLiga is very competitive and it's not just about two clubs – there are other teams capable of winning it as well. It would be unfair and show a lack of respect if I just talked about two clubs being in contention to win the league, LaLiga is strong as it is – it's the most difficult competition in the world. There are no easy games, you have to really study your opponents and every match is different. They study us more than we study them. They know how we play and that makes it a bit more difficult for us – it's not an excuse, we know our potential. We try to keep moving forward and do the best we possibly can", the defender continued referring to Madrid's direct rivals: Atlético, Sevilla and Valencia.
Marcelo comes to Lopetegui's defence
Marcelo also touched on the delicate situation Real Madrid have been in during recent weeks as well as Julen Lopetegui, who is in the eye of the storm. "We'd like to be doing better and be further up the table but that's football. One day you win, another day you lose but we always maintain a winning mentality. We want to try and turn things around. We're not doing so badly but we want to do better.
"Lopetegui's a very good coach – he talks a lot to us and he makes it clear that we should have the ball because the pressure build if you lose possession. We're trying to do what he's asking of us – he wants us to win the ball in our opponents' half. He's approachable, a nice guy and treats the players like human beings. He's trying to do the best he possibly can to get Real Madrid to the top, which is where we deserve to be", he said.
Huge expectation
As for the emotion which El Clásico generates, Marcelo knows there is perhaps no bigger game in world football. "The television talks about it, people talk a lot about the match on social media – it's impossible to be not looking forward to this game", he explained. "When I came to Madrid, one of my ambitions was to play in El Clásico and win. I've taken part in a lot of them now and it's always a joy to play against Barcelona. The world stops to watch this game – whether it's at the start of the season or at the end".



LaLiga Santander
*Update 25 de octubre de 2018