LALIGA
Real Madrid 2-0 Valladolid LaLiga 2018/19: match report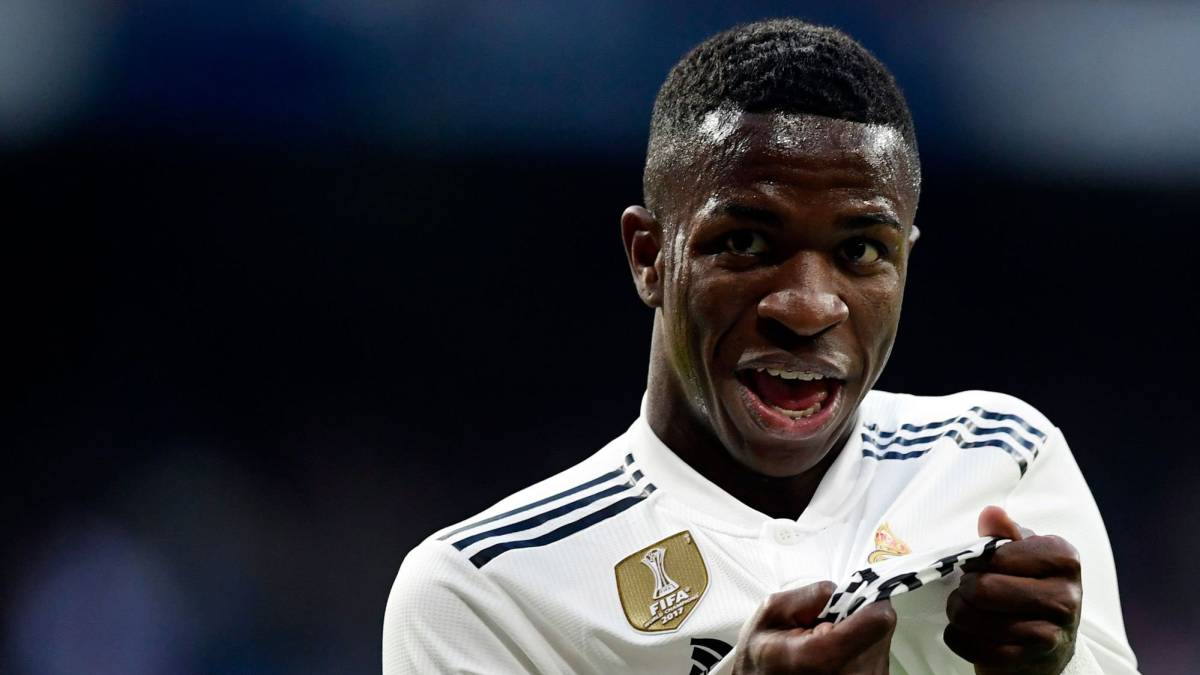 Madrid got back to winning ways in LaLiga as substitute Vinicius forced Kiko Olivas into a late own goal, before Ramos sealed the victory from the spot.
Real Madrid 2-0 Valladolid: match report
It wasn't easy but Real Madrid bounced back after their Clásico collapse at the Santiago Bernabéu on Saturday afternoon agaianst a valiant Valladolid side. The Pucelanos troubled Madrid when they did attack and hit the crossbar twice but couldn't get close enough to trouble the scoreboard.
Santiago Solari took charge of his first LaLiga game as the Real Madrid manager and he had issues with injuries to contend with. Odriozola and Reguilon replaced injured pair Marcelo and Carvajal and Nahco slotted in, as he so often does, in the middle for Varane in what was a slapdash back four.
Gareth Bale got the nod along with Asensio ahead of Vinicius and Isco despite a clamour for the Brazilian in the capital. The whistlers were out early when, after a decent start by Real Madrid, Valladolid had a string of chances with Enes Unal going closest with a glancing header.
Reguilon was causing problems down the left but neither Bale, despite his best efforts, or anyone else could turn any of his deliveries home.
Those whistles mutiplied by the time the referee blew for half-time as Valladolid had established themselves in the game and looked like they could be heading back north with, at the very least, a point after their positive opening half display.
It didn't get much better in the second half as Real Madrid continued to bang their head against the wall. Casemiro forced a good save from Masip but that was the best chance they had. Ruben Alcaraz sent a shooting looping over Courtois but he was saved by the crossbar. The same happened shortly after when the impressive Toni Villa sent another similar shot towards goal that hit the same spot on the woodwork.
Vinicius came on for Marco Asensio with 15 minutes to stake a claim for the visit of Plzen in the Champions League. Just nine minutes later, he had crafted the opener. He drove into the penalty area and struck. He got a massive dollop of luck as it struck Olivas' arm and beat Masip at his near post. But that hardly matter to the teenager as he bowed for the Real Madrid fans who were desperate for some flair.
Not to suggest that there was any in this performance from Real Madrid but the scoreboard, at the end at least, suggested a semblance of order restored.
Karim Benzema was hauled down by Calero in the penalty area just five minutes later as Real Madrid and Sergio Ramos had the chance to save the los Blancos' fans from late nerves. He didn't show of his own from the spot as he slotted down the middle and made it 2-0.
Sergio Gonzalez, the Valladolid manager, said "when a ball is going out for a throw and it hits someone before going in, there is some luck involved" and he is not wrong. But his side had chances too and they couldn't make them count. Their performance, however, was good and while Real Madrid jump them in the league and propel themselves into sixth with 17 points, they can take solace in the trouble they caused the home side.
Solari got his win, Vinicius, the accidental hero, made a difference and they are now two for two under his watch. But if things are to change, things will have to change for Real Madrid because this performance screamed of a tired team with limited creativity.
Real Madrid 2-0 Valladolid online: live updates
90'+3' GAME OVER! Real Madrid win three points with two late goals. 
90'+3'   They win a corner. At the back post and Courtois falls on the header. Saved and that should do it.
90'+3'   One last chance for Valladolid.
90'+3'   Verde gets it on the right and tries to find room to shoot. Can't as he is blocked and wins a throw.
90'+1'   Courtois launches down the field.
90'   Vazquez goes in late on Calero. Some words after the foul between Alcaraz and Vazquez. Referee intervenes.
90'   Three minutes of added time. This results looks all but sealed.
88' Ramos slots the penalty home. 2-0 to Real Madrid. He went straight down the middle. 
86'   Penalty for Real Madrid. Benzema is pulled down. Yes, it was. Silly from Calero as he left his leg trailing as Benzema ran by him. 
86'   Corner is headed clear.
86'   Verde takes a shot and it's out for a corner. Headed by Ramos on its way towards goal.
86'   Nacho drives into the penalty area and he's bundled off the ball. Game wide open now for another goal.
85' Moyano off for Olivas.
83' Vinicius' shot is deflected in behind and Masip is beaten. That is so unlucky for Valladolid. Real Madrid go ahead. It's 1-0 in the 84th minute.
83'   Ball hops up to Vinicius and it comes back out to Isco. His cross is headed clear.
81'   Lucas cross and it's put behind for a corner. Real Madrid struggling to create chances here.
81'   Cross sent in and it's headed wide. Courtois ready to restart.
81'   Moyano fouled by Vinicius. 
79'   He punches it up into the air and it's grabbed. 
79'   Cross from Plano but it's headed out by Real Madrid. Verde drives a shot from outside the box. Dips and swerves and nearly catches Courtois out. 
78'   Masip grabs a Vazquez chipped pass inside. 
77'   Odriozola with a cross now and he's offside anyway. Masip grabbed it but he was a good yard or two off.
77'   Vinicius cross and it's poor. Cleared by Valladolid.
76' Leo Suarez goes off for Oscar Plano.
75'   Offside for Benzema. Ball inside from Vazquez looked a bit heavy but he nearly made it. Offside anyway.
75'   Isco wins another corner.
74'   Isco wins a corner for Real Madrid. He rushes out to take it.
74'   Let's have a look at this Vinicius guy then! 
73' Asensio comes off for Vinicius. 
73'   Ramos takes Verde out of it. Alcaraz on the ground after a foul too. 
72'   Lucas cross is grabbed by Masip. 
72'   Vinicius ready to come on now.
71'   Isco crosses. It hits the Valladolid defender and comes back and hits him again. Goal kick. 
70' Vazquez first. Bale goes off in his place.
70'   Vinicius and Vazquez are ready to come on for Real Madrid. 
68' Daniele Verde comes on now for Valladolid. He replaces Toni Villa.
68'   Bale with an outside of the boot cross. Cleared by Valladolid. 
67'   Corner comes in and a white jersey on the ground. Free as the defender was impeded. 
67'   What a strike. 
66'   Villa with another shot from outside the box. He absolutely rattles the crossbar. 
64'   Bale crosses and Asensio lines it up before Valladolid put it behind for a corner.
64'   Leo Suarez looks for Unal but Ramos steps out. 
64'   Game is slightly more open now but Real Madrid still on top despite lack of clear chances. 
63'   Alcaraz tried to drive forward but Modric gets a foot on the ball and Real Madrid recover.
62'   Real Madrid back in possession. Reguilon with a lovely cross and Real Madrid sustain the attack but Benzema takes down Kroos' pass from an offside position. Not sure that was an offside position. 
60'   Villa now for Valladolid and that's saved. Courtois to the rescue that time.
60'   Bale down the left and his cross is blocked.
59'   Michel plays it short and gets it back but it's cleared and Valladolid win it back. 
59'   A couple of corners for Valladolid now.
57'   Crossbar saves Real Madrid. Shot comes in from Alcaraz with a shot that loops over Courtois. 
57'   That sub could open up this entire game now. 
57' Isco comes on for Casemiro.
56'   Modric with a shot now as Real Madrid continue to push forward.
56'   Bale with the header from the corner. Masip saves again.
56'   It comes out to Casemiro and he shoots. Masip saves with a strong hand. Corner. 
56'   Real Madrid pushing for a goal now. Reguilon pulls it back to Benzema and his shot is blocked. 
54'   Valladolid try to break from the counter. 
54'   Kroos sends it into the box and at the back post, it's Casemiro heads over. It took a deflection though and Asensio ready to cross. 
53'   Modric breaks into the box and he's stopped. 
52'   Isco coming on for Real Madrid. 
51'   Antonito whips in a cross and Ramos meets it. Real Madrid counter. Asensio out to Odriozola. He crosses and it's into the hands of Masip.
50'   Free for Valladolid and it's sent in. But sent straight back out again.
49'   Kroos finds a yard and shoots. Blocked and Kroos sends it back it from the left. That's well wide in the end.
48'   Odriozola down the right hand side. He's tripped and stopped. Real Madrid win it back though as Nacho tries to skip out from the back.
46'   Valladolid on the ball to start this half. No massive hustle from Real Madrid to get it back.
46'   We are back underway for the second half! 
No changes for either side.
Real Madrid emerge back onto the field. No changes, it looks like.
Will we see Vinicius in the second half? Solari will have to do something to appease the fans here. He might bring a flash or two to the game. Has been very dour from Real Madrid so far.
Daniele Verde warming up for Valladolid at the break. 
45'+1'  Half-time at the Bernabeu. The whistles at the stadium very obvious.
45'   Lovely ball in but Courtois grabs it. 
45' Yellow for Asensio on Alcaraz. He pulls him back on that counter attack. Chance now for Valladolid to hit Real Madrid before the break. 
44'   Dangerous ball from Odriozola but that's a bit too hard. Valladolid recover eventually. 
43'   Modric from downtown but that won't do it. Shoots way over.
42'   Ball in towards Casemiro but that's back to Masip. Real Madrid's attacking threat all but extinguished. 
42'   Asensio fouled out by the sideline. 
41'   Asensio with a cross and Valladolid faff about with it before Modric, kind of, sends one in on goal. It bobbles to Masip.
40'   Headed out at the front post. Modric chases by Valladolid win it back. Toni Villa with a lovely ball in and Unal heads just wide under some pressure from Nacho. 
39'   Valladolid win another corner now through Nacho. 
38'   Alcaraz with the free and it hits the wall. He chests the rebound down and then it's out for a throw. 
37'   Free for Valladolid now. Odriozola was up on Villa's back. Sent in and Benzema fouls Alcaraz.
36'   Bale hits the ground after heading an Asensio cross. He glanced it wide and Nacho took him down after the header. Bale grabs his back but he's back up again.
35'   Strange sort of a corner a it lands to Nacho and he strikes. Takes a defelction and Real Madrid counter. Bale wins a throw and he throws it straight to Masip. Not sure what that was.
34'   Corner. It took a nick of a Real Madrid defender.
34'   Again. Toni Villa with a chance and the fans are really getting on the players' backs now.
33'   He's in. What a chance. Antonito through on goal and he makes a mess of it as he tries to lob Courtois but it goes over the bar. Whistles from the Bernabeu crowd. The winger knows that was a golden chance too.
32'   Foul by Bale. Valldolid with a chance to bring it out now. 
31'   Casemiro with another header from a corner. Masip with another save.
28'   Started with promise but Real Madrid have just had a lot of possession without doing anything with it.
28'   Ball whipped across by Antonito but it's too close to Courtois. Might have worked if he hit it earlier. 
27'   Odriozola takes the ball into the box and runs it out for a goalkick. Good defending from Valladolid who forced the issue without fouling. They let him run into trouble himself. 
26'   Free from the left. Reguilon mightn't have been a bad shout for this but Kroos takes and it's headed, more like a glancer, out for a throw.
25'   Valladolid being pushed further and further back. Asensio crosses and Moyano is adjudged to have handled the ball. 
24'   Casemiro with a really deep pass to Benzema. That's way too hard though and it floats over his head.
23'   Another reguilon cross. Headed out and cleared by Valladolid. Real Madrid turn up the pressure here.
22'   Bale with a ball in behind and Nacho clears. Odriozola clatters into him and it's a free. 
19'   Valladolid have looked decent in attack but this is all Real Madrid at this point.
18'   Toni Villa drives forward but Casemiro with a nice challenge and Real Madrid win it back. 
17'   Reguilon lines up with another cross. Another nice ball and Benzema heads down into Masip.
14'   Way into the back post and Casemiro heads back towards goal but it's over Masip's crossbar.
14'   Odriozola is fouled by Calero. He sends him flying and it's obviously a foul. Free from Kroos getting prepped. It's out on the right. 
13'   Replay of the ball in from Reguilon for Bale's header was excellent. 
11'   Game has really settled down now. Real Madrid taking control but Valladolid hardly troubled yet save for the shot by Benzema earlier.
10'   Ball sent in and Bale heads it into Masip's waiting hands. He forced a save but never really troubling the keeper.
7'   Modric looks for Odriozola but there's to much on that and it runs out for a goalkick.
6'   Reguilon with a cross that's cleared by Valladolid. Fired up the field and Nacho recovers and starts a new attack for Real Madrid. Hectic here for a start.
6'   Modric sends one in now and it's headed clear. Real Madrid recover. 
5'   Free is sent in. Headed out by Real Madrid and Casemiro eventually heads back to Courtois.
5'   Toni Villa with loads of space. Fouled by Odriozola.
4'   Straight up the other end and Asensio puts Benzema through. He shoots across goal and that's just wide.
3'   Nacho with a ball into Unal but he can't control it.
2'   Toni Villa wins it back after a very loose touch from Odriozola. 
2'   Real Madrid with all possession so far. Swung across to Reguilon and Valladolid recover it.
1'   Odriozola takes off down the right. Stopped and wins a couple of throws in quick succession.
1'   We are underway! Real Madrid versus Valladolid is go for launch.
    Two captaisn up for the toss now. Real Madrid's hymn rings around the Bernabéu. Let's see if they can arrest their current poor form. 
    Another one to keep an eye on, of course, is whether the fans boo Ramos or not. It's his first home game since this idea of whistling him by some Real Madrid fans came into being.
    Asensio, who hasn't had the best starts after a summer when he was touted as the antidote to Ronaldo's departure, gets a chance in Solari's front game. He could be the game changer with his speed but Isco, who is on the bench, might have been a smarter choice to break down a stubbon Valladolid defence.
    We really can't tell which way the wind is blowing yet as to what Solari is thinking regarding team selection. Karim Benzema starts today almost by default with Mariano, his only competition, out injured. The French striker has a knack for scoring early for new managers and has a spring in his step after scoring in the Copa midweek.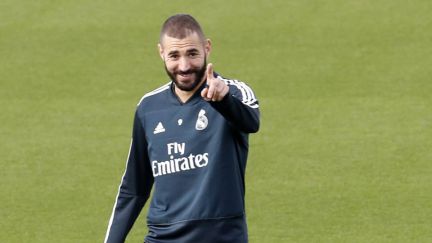 Teams are out on the field and warming up at the Bernabeu. Not too cold here in Madrid but chilly enough. Have a feeling, or maybe a hope, that we are about to see a Partidazo! 
Solari is sticking with Asensio after his goal and good performance against Melilla during the week. 
    David Beckham says Real Madrid aren't in a crisis at all and he might be right. Atlético Madrid just drew with Leganés and if Real Madrid win today, they are just three points behind their neighbours.
    Solari is just in charge for the time being as Pochettino and more managers continued to be linked to the job on a more long term basis. Conte is still up in the air while Jardim has been mentioned today too. Plenty of other names too with Roberto Martinez amongst them.
    Valladolid name the exact same eleven that played against high flying Espanyol last Friday night.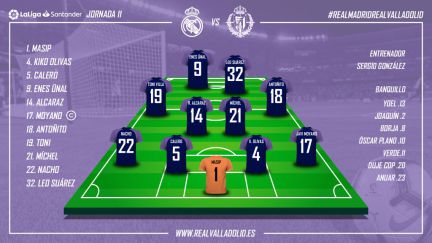 We have the Real Madrid round-up for your perusal before the game. There's plenty to chew on as Solari gets set to name his first LaLiga side. Does Bale remain? Will he start Vinicius and how will their defence cope with their crisis.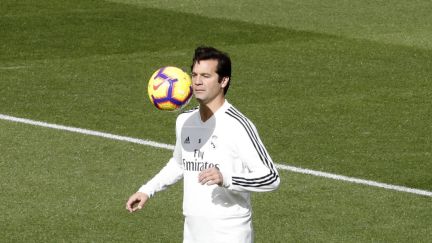 Hello and welcome to Real Madrid vs Valladolid in LaLiga. We will be bringing you pregame build-up, team news and all the commentary from the game as los Blancos start life under Solari in the league. Kick-off from the Bernabeu is at 16:15 CET.
Real Madrid - Valladolid live online: preview
Santiago Solari takes charge of his first LaLiga game as the manager of Real Madrid and Ronaldo Nazario returns to the Bernabeu as the president of Valladolid in what will be a game with plenty of scrutiny on it. Real Madrid are sitting 10th with 14 points after ten games while Valladolid have shot up the table after Ronaldo took over. They are in sixth and are unbeaten in their last six league games.
Real Madrid are without Marcelo, Mariano Diaz, Jesus Vallejo, Dani Carvajal and Raphael Varane for the visit of Valladolid. Solari said he has no undisputed starters in the press conference before the game. The big debate around his starting eleven is whether Vinicius will start. He performed well against Melilla in the Copa during the week and said "this is my style" and the fans are keen to see him given a chance from the start. The Brazilian added a swagger to Real Madrid's performance and that might be needed if they are to drag themselves up the table. The Argentine coach is managing on a provisional basis but Nacho, who should start alongside Ramos in defence, says they are working on the basis that he will be in charge for the rest of the season.
Valladolid are coming off a win in the Copa over Mallorca with Daniele Verde, on loan from AS Roma, scoring twice. He has now scored three in his last two games and Real Madrid's patched-up rearguard will have their hands full with the attacker. Ronaldo says "happy people who feel values perform better" and he has instilled a sense of joy around the Valladolid side. Manager, Sergio González, says "who would have said six months ago that we would have been playing a game of this importance." Indeed. Valladolid, who were promoted last season after a playoff, looked like they would be going straight back down after a poor start to the league. They are now, unthinkably just a couple of weeks ago, dreaming of Europe.