A pulsating first half at La Bombonera saw Boca Juniors steal a 2-1 lead at the break despite being outplayed by a better River side who ultimately deserved the draw.
Boca Juniors 2-2 River Plate: match report
Boca Juniors and River Plate drew 2-2 on Sunday in the first leg of their Copa Libertadores final in a thrilling game that took place a day later than scheduled due to heavy rain in Argentina.
Ramon Abila put Boca ahead after 34 minutes but Lucas Pratto equalised for the visitors less than two minutes later.
Dario Benedetto got Boca's second just seconds before halftime but Carlos Izquierdoz put through his own goal after 61 minutes to leave the tie all square.
The second leg of the final, South America's equivalent of the Champions League, will take place at River's Monumental stadium on Nov. 24.
Boca Juniors vs River Plate: as it happened
Excellent first half.... dipped a little in the second but no let up in the intensity of the Libertadores final.... All to play for in the second leg ....We'll be back in less than a forthnight as we learn who the winners of the 2018 Copa Libertadores final will be .... join us then....cheers !  
FT: Boca Juniors 2-2 River Plate 
90'+5'   Last chance as River launch a free and the final whistle goes.....
Tevez carded....
90'   2' left ....as the ball drifts in ...easy for the River rearguard to clear ....
90'   Boca pushing again.... River with ten men behind the ball as Boca win a free kick .... 
90'   Boca now on top but time running out for the home side ... Pablo Perez now down with a muscle problem
90'   5' of time to be added
90' Benedetto through one on one but fires straight at Armani .... Great chance for Boca to steal it there 
89'   Into the last minute we go ....
A draw does keep the tie very much alive with the second leg at El Monumental on Saturday 24th November
88' Long faces on the Boca bench .... 
85'   Pratto latches onto a cross but straight at Rossi...Tiredness kicking in now as we head into the final minutes...no tiredness from the stand though as the fans raiuse the tempo once again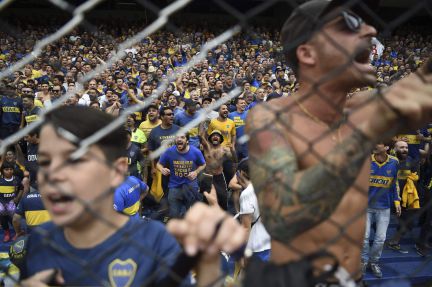 85'   Boca with three strikers on the pitch now...the home side failed to trouble Armani in the second half but shots on target have been few and far between after a dramatic first half.
84'   Non stop from the fans as they up the tempo......
83'   Tears too from Jara as he leaves the pitch.... 
Jara off as Buffarini comes on for Boca
81'   Benedetto pulls a shot wide as Jara seems to be in trouble with the stretcher called for the player.... Boca fans look on with a nervousness
80'   Ten to go at La Bombonera.... Pratto tries a cheeky back heeled effort which drifts wide.... River still look sharp on the break.
78'   Tevez goes close rifling a fierce right footed drive which goes inches over Armani's bar.... 
Pity off for River as Quintero takes his place
Borre was carded and will miss the second leg
75'   Corner for Boca after a Barrios shot takes a deflection...
Card for Borre as the second card...no, no card displayed by the ref. 
75' Perez off-Zuculini on for River
74'   Former Rayo Vallecano player Zuculini set to enter the action....
73'   What can "El Apache" do with less than 20 to go .... a Boca idol the former Man City, West Ham etc etc player 
Villa  off and Tevez on for Boca
71'   A sense that both sides would settle for this result ? The tempo has dropped a tad as caution takes hold of both sides....
70'   Pinola has been a rock at the heart of the River defence today
70'   20' to go .... 
68'   Don't forget .... no away goals count double in this final ... a 0-0 scoreline in the second leg would mean extra time and penalty kicks should all remain as it is....
Card for Casco for a rash challenge on Benedetto 
65'   Bad news for River as Pity is on the turf in some pain...play carries on as the player gets up and seems ok to continue
65'   River launch another wave of attack .... buoyed by the goal .... without hesitation the better side in the first 65 minutes of this enthralling contest  
You can't keep your eyes off this one....Topsy turvy action at La Bombonera !  
Boca Juniors 2-2 River  
Long range free kick and it's Izquierdoz who heads into his own net
60'   Gol Gol Gol...River draw level  
59' Boca go close as Izquierdoz almost connects with a long range free ....
59'   Wanchope is down after falling badly....seems to be okay to carry on...
Casco goes close for River with his shot going inches wide
Change for River.... Fernandez on and Martinez off 
It has to be said that Palacios has had a discreet final so far ...hoped for more from the "rumoured to be" Real Madrid bound player 
Scenes ....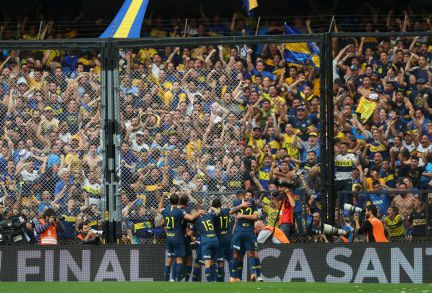 56'   Boca much better in this half it has to be said ... River now looking to strike on the break .....
55' Olaza tries a long range effort but fails to secure direction on the effort as Armani watches the ball drift over his bar 
54'   Considering the quantity of water that fell on La Bombonera pitch yesterday, the surface is heavy but in great condition ...considering
52'   Fans urging their side on ....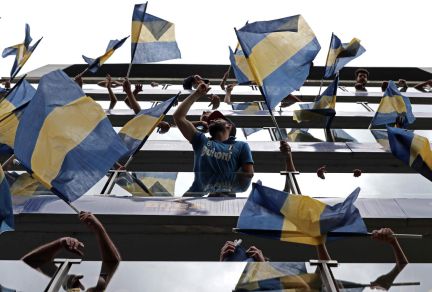 50' 50'        River looking a little more frail defensively in this early period of the second half 
49'   Villa also tumbles in the area with a clear attempt to secure a spot kick ..... nothing doing as Boca win a corner 
Big call from Wanchope for a spot kick after the striker takes a tumble ...  Correct decision from the ref... Abila carded for dissent
River Plate need to maintain their initial game plan .... also need to be mentlaly strong after the two blows in the first half despite outclassing the home team 
Off we go ... Roberto Tobar gets the half up and running..River start 
45'   Teams are back on the pitch ....
A quick break and we'll be back with the second quarter of this two legged tie ... Amazing drama at La Bombonera so far tonight and am convinced there is more to come ...   
Free for River but the header aimed high and wide..... Noise level at LaBombonera up to 11 as the half time whistle goes...What a half ! 
45'   Against the run of play from the home side .... dominated for the bulk of the half by a superior River side ....once again La Bombonera celebrates the lead...
Boca Juniors 2-1 River Plate 
Crazy scenes as the sub latches onto a long range free kick and nod past Armani ......
Boca regain the lead .... Benedetto heads home 
44'   Last min. of normal time... Very bright half with a 5 minute spell of madness which saw two goals.... 3 mins of time to be added.... 
Villa carded for a stray elbow
41'   A pause in the action after a frantic passage of play with two goals and another great chance spurned by Borre for River....
40' Martinez strikes on the half volley after River open up the Boca defence .... The game open now as Borre breaks free and tries to curl the ball home but drives wide.....Crazy stuff at La Bombonera !
39'   La Bombonera celebrates the opener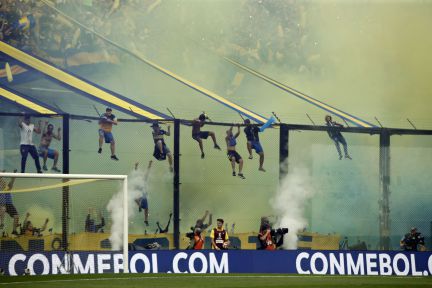 38'   Justice served .....probably ....
Jara carded for a robust tackle on Pity 
Boca 1-1 River Plate
Incredible...from the restart....  Pratto one on one with the keeper and fires into the corner past Rossi ..what a minute !
35' Gol Gol Gol .... River reply 
Boca Juniors 1-0 River Plate
Gol Gol Gol....Boca score against the run of play ...The Bombonera explodes....Wanchope firing home
32'   Boca have actually been poos in the first 30 minutes of the game .... too many aimless balls from the home side .... supporters not deterred pushing their side on with non stop chants
30'   Don't forget that there is now away goal rule in the Libertadores final ...a place in the FIFA Club World Cup awaits the victor too !
28'   River launch another wave of attack .... the men in white shirts linking up well. Boca yet to trouble Armani in the River plate goal  
It's all about this !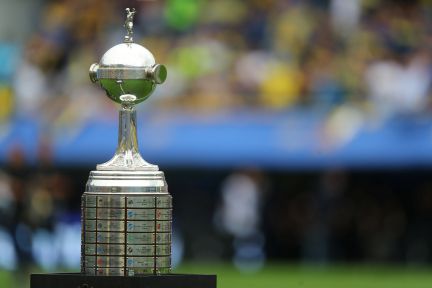 Pavon unable to carry on ...Bad news for Boca with the player aware of the nature of a muscular injury ....Tears from the player as Benedetto comes on....   
25'   Corner for River as Martinez gets a free header from a Martinez corner ... a few missles fall near the River player! 
23'   "Handbags" as Casco and Villa embark on a touch of pushing and jostling ....Wouldn't be a Super Clasico without the usual amateur dramatics .... 
21'   Worrying for Boca as Pavon is down ....The Boca bench warms up with Tevez a possible replacement should the Argentine international fail to continue
19'   More danger from River as they stretch Boca around the pitch. The home side looking at quick counters as their sole game-plan...River well ahead "on points" as Villa fires a long range shot but fails to get any accuracy on the effort
17'   Boca lacking any clear gameplan at present with optimisitc balls aimed ahead hoping Wanchope latches onto the loose ball 
Boca fans getting into the Super Clasico swing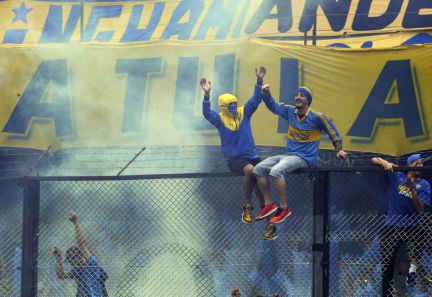 16' River go close yet again as Rossi saves well palming another goal bound chance away saving the home side
15'   Palacios and Martinez are the creative force for River in the centre of the part with Palacios strongly linked with a move to Real Madrid.
13' Wanchope Abila breaks into the area and eventually stumbles and handles... Good play from the former Huracan striker
12'   Very intense start to the action so far ....River looking the more composed of the sides to date 
11'   Another corner for Boca.... good play from the currently out of form Pavon....Easily delt with by the River defence as the ball falls again to Pavon and the Boca No. 7 fires over.....
8'   Any decision which is given River's way creates a wave of protest from the home fans
8'   "Dale, Dale, Dale, Campeon" sing the home fans .......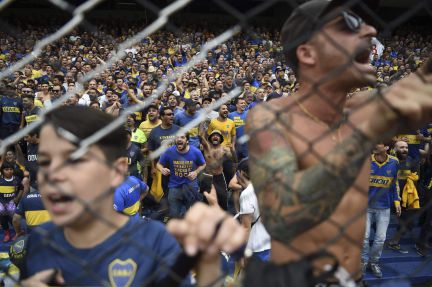 7' The pitch looking great after the torrential rain which ruled the game off yesterday
5'   Martinez goes close heading down form the corner.... Two great chances for the visitors
4'   MLS bound Pity to take ....and fires on target as Rossi is called into action to palm away for a corner   
4'   Impressive noise level from the home fans as "Pity" Martinez is fouled on the edge of the Boca area....Danger for the home side here .... 
3'   River playing with three central defenders tonight ..... Boca happy to stroke the ball around in this early stage of the action
1'   Call for a handball as Nandez appeals for a penalty .... ref waves play on.
1' Early corner for Boca ...
Off we go ...
River coach Gallardo is banned from the stadium tonight .... Boca coach Schlotto looking dapper on the bench...  
Don't forget this is just the first leg...Both sides will meet in two weeks at El Monumental (home to River) with the game staged for sat Nov 24 at the same time and we'll find out the winner of the 2018 Copa Libertadores.
Captains exchange pennats as match official Tobar hosts the pre match toss-up. Tonight's ref. hailing from Chile 
Blue smoke covers the La Bombonera pitch as the teams pose for pre match pix.
Boca fans taunt River with "B" banners, recalling the only time when "Los Millionarios" were relegated to the 2nd tier....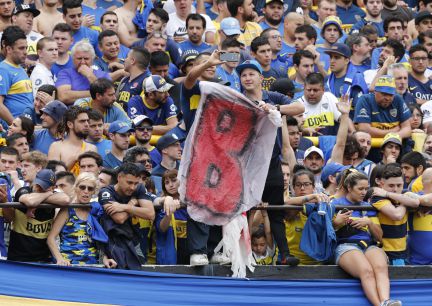 It's easy to exaggerate but tonight's game forms part one of two of the biggest games in South American footballing history.....
....and why are Boca Juniors known as 'Xeneizes'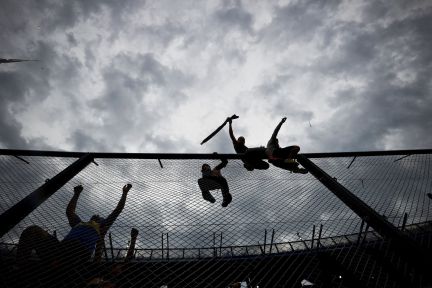 Why are River Plate known as 'Los Millonarios?'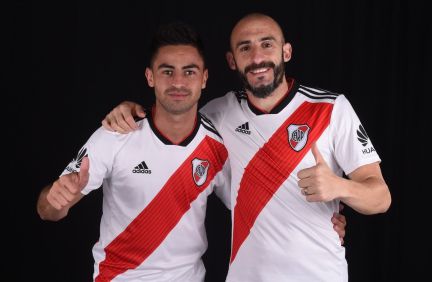 A packed La Bombonera awaits with not a spare seat in the house, pre game tickets apparently exchanging hands for up to 2500 US dollars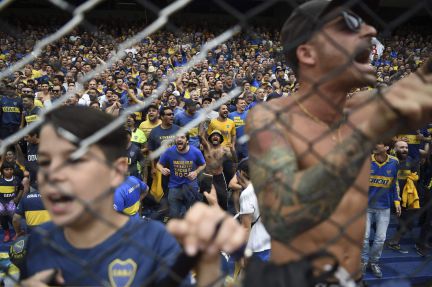 The only surprise this evening in the team shirts is Boca opting for "Wanchope" Abila ahead of Benedetto in attack (the man who secured the ticket to the final with thewinning goal against Palmeiras).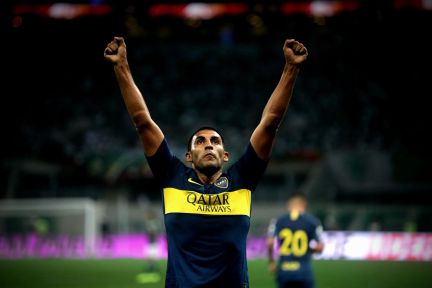 So what team does this lad support?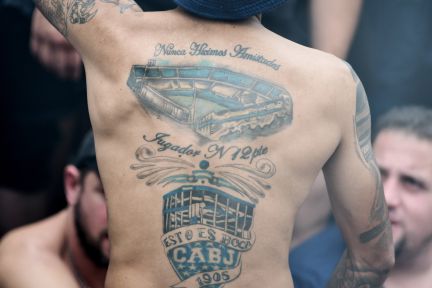 Don't forget, no away fans are permitted this evening on safety grounds (fans from visiting clubs generally banned in domestic Argintinean games since 2013). This is how the stand that houses La Doce (Boca's hardcore supporters) looks ahead of kick-off.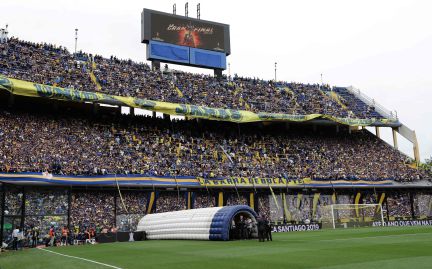 River Plate in their white shirts with red sash and black shorts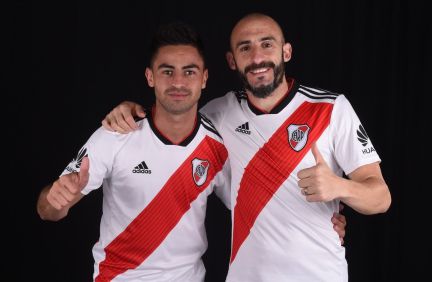 Boca in their navy shirts with yellow hoop with navy shorts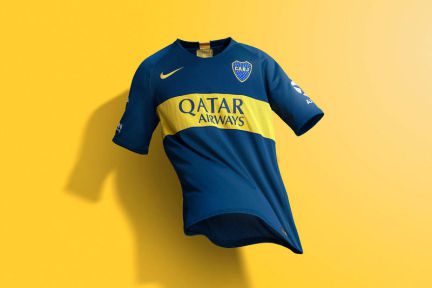 Both sides will wear their classic and globally iconic shirts this evening.... 
Promising hour by hour forecast (from Weatherbug) which looks like the final may even remain rain-free

The stage is set....just over 30 mins to go as a game of football that will paralyse Argentina and many parts of South America (and the world) is set to start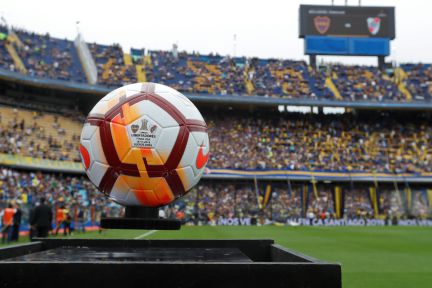 Hello and welcome to our live coverage of the 2018 Copa Libertadores final from Buenos Aires as city rivals Boca Juniors face River Plate. Kick off from La Bombonera starts at 20:00 CET.
Boca Juniors vs River Plate: preview
For those not familiar with this game, let's try and give you a picture of what it's all about in Argentina. Take the rivalry of Real Madrid vs Barcelona. Throw in a little of the historical hatred of Celtic vs Rangers. Sprinkle on a healthy amount of Galatasaray vs Fenerbahce. Now, mix that all together into the final of the most prestigious club competition in South American football.
Never before have these two bitter foes met in the Copa Libertadores final, and to add to the history, this is planned to be the last final which is decided over two legs. Strap yourself in for the first leg, which will be played in wet conditions following the deluge that delayed us 23 hours, but will be on fire from the start.
Boca Juniors team news
Agustin Rossi should keep his place in goal, despite Esteban Andrada close to returning, while Sebastian Villa and Cristian Pavon are expected to start tonight up front.
River Plate team news
Franco Armani will take his place in the away goal looking to collect another Copa after winning it just a couple of years ago with Atletico Nacional. Captain Leonardo Ponzio (injured) will be a loss to the visitors, although that could work in their favour if he can return to the side following a good result in this first leg.