Rooney won his 120th and final England cap as goals by Lingard, Alexander-Arnold and Wilson sealed a comfortable friendly victory.
England 3-0 USA: international friendly as it happened
  Peeep peeep peeeeeeep! And that's that at Wembley, where there was to be no fairytale goal for Wayne Rooney in his final England outing. In the end, strikes by Jesse Lingard, Trent Alexander-Arnold and debutant Callum Wilson earn Gareth Southgate's men a friendly win over the United States which, particularly in the first half, was comfortable for the Three Lions. Now England's focus turns to Croatia on Sunday; in the wake of the Croats' dramatic victory over Spain tonight, both sides will take to the field knowing that they'll book their place in the Nations League finals if they claim all three points. It's sure to be a humdinger.
93'   And Rooney is almost in again, but can't quite stretch far enough to get his boot on Alexander-Arnold's right-wing cross.
91'   Oooh, that was the chance! The ball is fed into Rooney just inside the box, and he twists and turns before getting away a shot that is saved low by Guzan. Shortly after, Sancho slaps a shot over the bar. 
90'   Three minutes of time added on.
88'   There are shouts of "shoot!" every time Rooney picks the ball up in anything even vaguely resembling a goalscoring position.
87' The visitors make another change, with Villafaña replaced at left-back by Shaq Moore - who plays in Spain, on loan at second-division Reus from top-flight Levante. Moments later, Lletget locates Pulisic's run into the box, but the Dortmund man miscontrols, and furiously kicks the air in frustration.
86'   Rooney unsuccessfully tries to slip Rashford in on Guzan, before the US break up the other end and find Wood in shooting space... but he blasts it over!
84'   Pulisic flops to the turf just inside the box as he tries to barrel his way through the England backline, but the referee has no hesitation in waving away the United States' penalty appeals.
There's been yet more drama in Croatia, where the hosts have stolen it at the death, Jedvad netting in time added on to seal a 3-2 win for Zlatko Dalic's men. It's England up next for the Croats - with a place in the Nations League finals awaiting the winner of that clash, which is at Wembley this Sunday.
77' And that was Wilson's last involvement. He comes off for Rashford, and is unsurprisingly all smiles as he laps up the applause of the Wembley faithful. The US made a double substitution moments before that England goal, by the way, Lletget and Saief coming on for McKennie and Weah.
Delph, who has dropped into the left-back position since Chilwell's withdrawl, swings the ball into the near post, where Wilson pokes in past Guzan! 3-0 to England!
76' Now Wilson does get his toe on it, and he's got a debut goal! 
74'   That's nice build-up play, but Wilson can't quite get on the end of it! Rooney knocks it back to Loftus-Cheek, who drops a neat ball into Alexander-Arnold's run into the box. The right-back quickly pings it across goal, but Wilson is stretching and can't get his toe on it!
73'   Rooney finds Loftus-Cheek with a lovely lofted ball into the box, but the Chelsea man shoots when he might have passed to Wilson, and the chance is lost.
70'   Rooneeeeeey... saved by Guzan! Loftus-Cheek looks to have come on with the bit between his teeth, scurrying into the box before playing it to Sancho, who feeds Rooney. He wriggles himself into a yard of shooting space and sends a left-footed effort towards the corner, but the visiting keeper saves relatively comfortably.
68' England make their fifth substitution, Loftus-Cheek replacing Winks. The US also make a change, Trapp coming off for Acosta.
65'   Close from Wood! The Hannover 96 striker heads just over the bar for the US. It's been a less impressive performance from England in this second half, although, as Gary Neville notes on the commentary, making a number of substitutions can disrupt the flow rather.
Over in Croatia, Ramos has equalised for Spain with a penalty. Which WASN'T a Panenka.
61' Ufff. Alexander-Arnold hesistates on his byline and is robbed by Pulisic, who drives into the box and gets his shot away - but it's deflected out for a corner. That's a let-off for the England youngster. McCarthy punches the corner clear. 
61' The US make their first change, Green coming off for Adams.
59'   Brooks chips a neat ball to the edge of the England area, where it finally runs to Wood - but his shot from around the penalty spot is deflected and is gratefully grabbed by McCarthy.
55'
So it's a triple change for England: Dier and Henderson are on for Chilwell and Alli, and
Lingard trots off to be replaced by Rooney, who is handed the captain's armband and comes on to much fanfare
.
Croatia are back in the lead against Spain, Jedvad heading in at the back post. 2-1 in Zagreb.
52'   There's a shooting chance for Lingard in the box... but he's denied by a vital block. Alexander-Arnold then looks to dink a curled ball over to the back post, but it's too long. Eric Dier and Jordan Henderson are being prepared over on the England bench. Oh, and some lad who plays in MLS, too.
50'   Weah shows decent gas to run at a backpedalling Chilwell on the right, but the ball is less decent - and England get it clear, setting off on a break that sees Lingard spot Sancho's run in behind the US backline, but just fail to find the Dortmund man with his through ball. Sancho was through if Lingard had got it to him.
48'   Just as I write that, the visitors almost allow Wilson and then Lingard to get on the end of a long punt from Alexander-Arnold that drops into the US box. It certainly feels like there are more goals out there for England if they want them.
47'   It's been a better start to the second half for the US than the first so far. Yedlin swings the ball into the box, but England deal with it, Dunk heading it back into McCarthy's arms.
46' No changes for the United States, by the way.
Peeeeeeeep! Back up and running at Wembley.
The teams are coming out back at Wembley, where there's just one change: Pickford is off for England, with Alex McCarthy on for his debut.
Oooh it's all happening over in Zagreb: no sooner did Kramaric Croatia a 54th-minute lead over Spain, than La Roja hit back with an equaliser for Ceballos moments later! As things stand, a win over the Croats on Sunday will send England into the Nations League finals.
Now we wait for Wazza.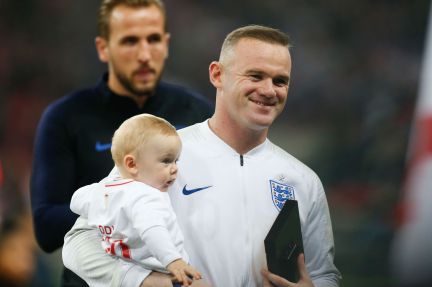 45' Peep peep peeeeeep! Nothing added on at the end of the first half. England go in 2-0 up courtesy of fine goals by Lingard and Alexander-Arnold and have had much the upper hand - although the US might well have got themselves on the scoresheet, particularly when Pulisic found himself one on one with Pickford. 
42'   Weah works it to Pulisic, who carves out a yard of space on the edge of the box but drags his shot wide.
England have been well on top in this first half, but the US haven't been totally bereft of opportunities to score - most notably those chances for Green and, in particular, Pulisic. The Pulisic one-on-one came just before the hosts' opener, too.
38'   Chilwell dinks a neat ball into Wilson's run in behind the US backline, and the striker chests it down and fires on goal - but it trundles straight into Guzan's arms.
37'   There's good stop from Pickford. Delph loses it to Trapp in midfield - with shades of a foul on the England skipper. Play on, says Señor Gil Manzano, and Green picks it up and advances into shooting range, where he pings a sweetly-struck effort towards the corner - but Pickford is on his toes and beats it out!
Over in Zagreb, it's 0-0 at half time between Croatia and Spain - which is a result that would leave England still in with a chance of qualifying for the Nations League finals when they face the Croats on Sunday.
34'   Trapp pings the ball into the box towards Woods, who is deemed to have fouled Pickford when he rose to challenge for the ball.
  Sancho picks up the ball in the penalty area and, with Alexander-Arnold arriving on the right-hand side of the box, lays it into his team-mate's run - and the Liverpool defender thrashes it in across Guzan!
27' And that's two for England! Alexander-Arnold drives in his first goal for his country!
Allli feeds Chilwell on the left, and the Leicester City full-back picks out Lingard in acres on the egde of the box - and the Manchester United man bends a fine effort into the far top corner! He was given far too much time and space to do that.
25' And having been let off the hook by the US, England score! Lingard curls in a fabulous strike!
23'   Ufff! The US should score! Dunk misses his challenge on Pulisic and suddenly the American is running through on Pickford... but the Everton goalkeeper saves terrifically!
20'   That's lovely from England. Alli and Chilwell combine well to get Sancho advancing into the box on the left, but the Dortmund youngster can't quite pick out Lingard. Soon after, Winks almost gets a shot away on the other side of the area, but is sufficiently put off his strike and scuffs it.
17'   McKennie carries the ball forward and looks to take on Alli just outside the England box, but the Tottenham man wins it back well and Chilwell brings it away. Moments later, the Three Lions have a dangerous free-kick ten yards or so outside of the US box after Trapp fouls Alli. It's too far wide to be a shooting opportunity, so Chilwell swings it in... but the visitors clear.
15'   The US enjoy their first spell of prolonged possession, which will do them the world of good after the first 15 minutes they've had. The ball ends up at Pulisic's feet on the England byline, but the Borussia Dortmund attacker can only prod the ball straight into Pickford's hands.
12'   Now Lingard gets into shooting space on the right-hand side of the box, but goes for power rather than placement and Guzan beats his effort away.
11'   And there's a penalty shout - but referee Jesús Gil Manzano says no! Wilson appears to be pulled down by Guzan, but is perhaps just looking for the contact a little bit too much, and the Spanish match official waves away the Bournemouth striker's appeals.
9'   Oh, there's a chance for England, as Guzan messes up his clearance and Lingard looks to find Wilson - but the debutant can't get a good contact on the ball!
6'   The US finally get themselves on the ball, as Villafaña scuttles to the byline and cuts back a cross into the box that evades everyone in a blue shirt. Up the other end, Sancho shows neat feet before playing a one-two with Alli and advancing into the area, but is run out of it.
4'   Wilson flies in feet first at the near post but can't quite connect with Chilwell's ball; however, it's won straight back by the hosts, who promptly earn themselves a corner on the right. Alli rises highest to meet the delivery, and Guzan produces a fine save to tip it onto the bar! Ah, but the assistant's flag is up - the ball had swung out before arriving in the box.
3'   It's been all England so far. Alli slips Lingard in behind his man on the left, and the Manchester United man wins a corner that Chilwell will deliver.
1'   England are straight on the attack, Chilwell pinging a nice ball into the area that no-one in a white shirt can get onto, before Delph has a shooting chance on the edge of the box, but sees his effort blocked.
Peeep! Underway at Wembley.
Incidentally, should you be looking to park yourself in front of a TV screen for tonight's friendly clash at Wembley, you may wish to have a shufties at our useful guide on how and where to watch.
The teams are out at Wembley - anthem time! The US first.
Tonight will be the sides' 11th meeting
. Their 10 previous clashes have seen the English win seven times, with one draw and two victories for the United States, the most recent of which came on England's pre-World Cup '94 US tour - which, with the Three Lions having failed to qualify for the finals, 
Paul Merson has since described as the "best holiday ever"
. The evidence is below:  
By the way, we'll also be keeping you abreast of events in Zagreb, where Spain visit Croatia in England's UEFA Nations League group - and can seal their place in June's finals with a win. That game has just kicked off, and you can follow it live with Robbie here.
Meanwhile, the visitors - who have lost on both their previous visits to Wembley, in 1994 and 1998 - line up thusly, with star man Christian Pulisic returning to the US side after missing their last six games:
Guzan, Yedling, Miazga, Brooks, Villafaña, McKennie, Trapp, Pulisic, Green, Weah, Wood
Manchester City's Fabian Delph captains England for the first time, but has already announced that he'll hand the armband over to Rooney when he comes on. Rooney is also to be given a guard of honour.
  As forecast, Rooney is on the bench, alongside: Kane, Butland, Walker, Henderson, Sterling, Barkley, Rashford, Stones, McCarthy, Dier and Loftus-Cheek.
Jadon Sancho is handed his first start for England in what is, as expected, a relatively experimental XI, with Lewis Dunk and Callum Wilson given their international debuts.
England XI: Pickford, Alexander-Arnold, Keane, Dunk, Chilwell, Winks, Delph, Lingard, Alli, Sancho, Wilson
Anyway, kick-off is just half an hour away, so let's get straight into the team news at Wembley, starting with England:
In response, England boss Gareth Southgate described the negative response as being the reaction of a "strange country", declaring: "We bemoan the fact we haven't achieved as much as we'd like and then we have a player who should be held in the highest regard and we are spending a lot of time justifying giving him that tribute."
It's not an idea that has been met with universal approval
, with former England midfielder Paul Ince saying the move to give Rooney an extra cap "smacks of PR", and Peter Shilton - who is the Three Lions' record appearance maker - declaring that it was "completely wrong", and adding in a tweet:
The former Manchester United star, who is the Three Lions' highest ever scorer with 53 goals, is to be given one final appearance for his country, a year and a bit after retiring from the national team.
Good evening and welcome to our live coverage of England's friendly with the United States at Wembley, in what has been called the 'Wayne Rooney Foundation international'.
England vs USA: preview
Wayne Rooney will win his 120th and final cap for England as Gareth Southgate's men gear up for Sunday's crucial UEFA Nations League clash with Croatia by taking on the United States in an international friendly at Wembley tonight (20:00 local time; 21:00 CET).
Rooney, who now plies his trade in the US with MLS outfit DC United, retired from England duty in August 2017, but returns for one last appearance in what is being called the 'Wayne Rooney Foundation international', with proceeds from the match going to his new charity.
Rooney, England's highest ever scorer with 53 goals, is due to come on as a second-half substitute, with tonight's captain Fabian Delph set to hand the 33-year-old the captain's armband and the former Everton and Manchester United man also to be given a guard of honour.
Still led by interim coach Dave Sacharan, who took over a year ago after Bruce Arena's resignation in the wake of the team's failure to qualify for World Cup 2018, the US welcome back Borussia Dortmund star Christian Pulisic, who has missed their last six games.
In that time, the USMNT have won just once - a 1-0 victory over Mexico in September - but have also recorded a creditable draw away to France, holding the future world champions 1-1 in a pre-Russia 2018 friendly in Lyon in June.
England vs USA: confirmed line-ups
England XI: Pickford, Alexander-Arnold, Keane, Dunk, Chilwell, Winks, Delph, Lingard, Alli, Sancho, Wilson
USA XI: Guzan, Yedling, Miazga, Brooks, Villafaña, McKennie, Trapp, Pulisic, Green, Weah, Wood