LaLiga have paid for a front page in the Miami Herald with the slogan: "Bring us the Game" and have stepped up their social media activity.
LaLiga have taken out a full-page front cover advertisement in the Miami Herald to drum up support for its proposal to play the LaLiga fixture between Girona and Barcelona at Miami's Hard Rock Stadium on January 26, 2019.
The Thursday edition of the Herald also included two more pages of promotional material for the game, which included the message: "Let's do it together. For the Game, For the Fans. For Miami."
The advertising provided a link to a petition which asks for support for the Girona-Barça game to be played in Miami; and claimed that the petition already has 30,000 signatures.
LaLiga are using the advertisement as a platform to address the Spanish FA and Fifa, who have both rejected the plan for the Miami-held game. The advertisement argues the that Spanish soccer benefits from a global fan base and that growing the sport benefits the game worldwide.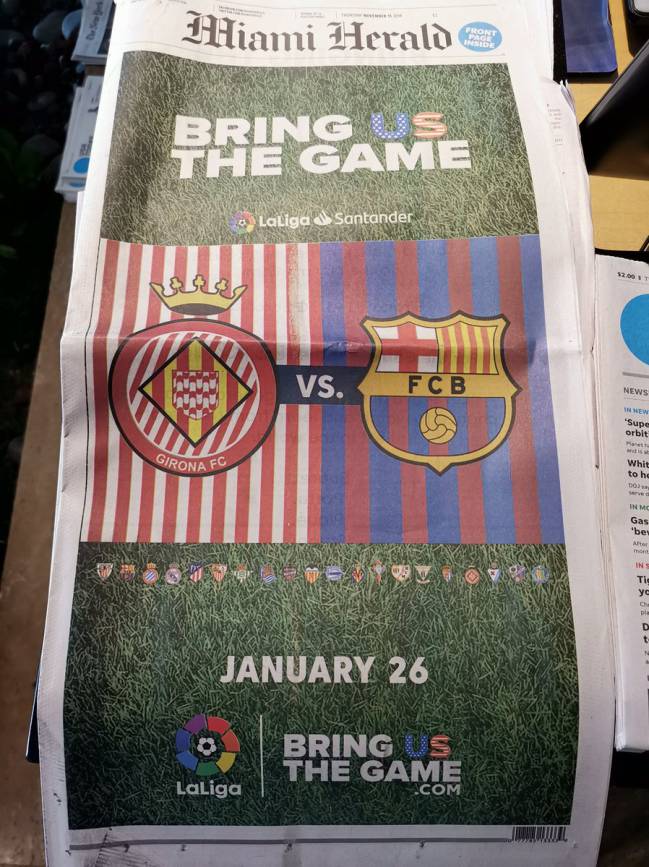 Fifa opposition
Last month, Fifa boss said Gianni Infantino he would block any attempts to have the game played in Miami.
"FIFA will not authorise the playing of a match either in the United States or in any other location that isn't the stadium of Girona," Infantino said at a news conference.
"The FIFA Council has addressed the subject, and we stress that official matches of national leagues should be held in the country itself. As FIFA president, I announce that the organisation is against LaLiga's idea and will forbid Girona-Barca to be held in the United States or any other country that isn't Spain."
LaLiga deny buying Twitter bots
Further to question marks over their promotions in the USA media, there has been a reaction to their 'Bring US the game' activity on social media with one post of theirs offering freebies to users in the USA and Canada.
This has also led to accusations back in Europe about their rapidly increasing follower count. Using Twitter's analysis users pointed to the number of following accounts deemed as 'fake' suggesting that LaLiga had purchased these to improve their perceived reach.
A spokesperson for LaLiga has refuted the claims of buying false accounts.