A goal from substitute Richarlison in the first half was enough to see Brazil beat Cameroon but Brazil lost Neymar to injury in the first half.
Brazil 1-0 Cameroon: report
Brazil beat Cameroon 1-0 in a friendly on Tuesday despite losing captain Neymar to injury after seven minutes, as Richarlison's goal made it six wins and six clean sheets for Tite's side since the World Cup.
A slew of halftime substitutions led to a more open game in the second half as Brazil gradually took control.
Substitute Gabriel Jesus was unlucky not to double the lead after 53 minutes when he hit the post from outside the box with the goalkeeper stranded and Artur saw his 25-metre drive smack the top of the bar.
Allan also had two good chances to make the scoreline more representative of the action, but Cameroon keeper Fabrice Ondoa was in fine form after coming on at halftime.
The win was Brazil's sixth in succession since they were knocked out the World Cup by Belgium in July.
Brazil vs Cameroon live online: as it happened
90'+2' GAME OVER! 
90'+2'   Cameroon looking for a goal now with one last chance. Free whipped in and it hits the post. Zoua headed down and it bounced off the ground and up onto the post. So close. But he was offside. That should do it now. 
90'   Two minutes of added time.
88' Ekambi off and Zoua is on.
88'   How was that not the second. Ball in from the right and Jesus tries first. Saved by Ondoa and then Richarlison. Two really good saves.
87'   Douglas Costa moves forward now into the box. He tries to poke it beyond the defender but the defender gets the ball and the players ankle. He's not really happy with that tackle and is limping back onto the field. Corner for Brazil.
85'   Douglas Costa is offside.
85'   Another chance. Allan fires one straight at Ondoa and that's saved. Brazil still on the attack though.
83'   Cameroon cut out a ball inside but Fuchs runs it out for a throw.
80'   Another shot. Jesus this time and another block.
77'   29669 in Stadium MK. 99% of them there to see Neymar and they didn't even get 10 minutes.
77'   Shot comes in from Brazil but that's well wide too. Allan again. He has had a few efforts today but that one goes the same as the rest. Wide. And over too.
75'   Allan now with a shot and Ondoa stops it and saves the rebound. 
74' Malong goes off after that terrible effort. Olinga comes on to replace him.
73'   Here are Cameroon. N'Jie with the ball to Ekambi but the counter slows down. Ekambi plays it back to Malong and he launches one towards goal. It flies high and over. Good break but that shot was pointless.
71'   Cameroon with just one shot so far on goal. Easy save for Ederson. That isn't to say they haven't been dangerous though but still haven't really looked like bothering Ederson's clean sheet.
70'   Cameroon attack now. 
68' Wallace and Costa on for Paulinho and Willian.
68' Bassogog is on now for Cameroon. Bahoken off. 
68'   Arthut with a shot and it absolutely rattles the crossbar. The noise off that, you could hear the smack in Rio.
66'   Willian with an effort from outside the box. It hits Jesus though. That actually saved Willian as it was going fairly wide! 
65' Choupa Moting off for Clinton N'Jie.
64'   Another good counter from Brazil that ends up being a corner. Sent into the box, a good ball too by Willian, and it's headed out. 
62'   Danilo into the feet of Jesus not but he has his back to goal and loses out. Allan with the foul and Cameroon win the free. 
60'   Danilo on the ball outside the box now and that's a nice strike from the Manchester City full-back. Drifts just wide with his left foot. 
58'   After a mental start to the second half, it's cooled off a bit. 
55'   Better from Cameroon as Ekambi cuts onto his right and shoots. Ederson with the save. Easy for him. 
53'   Ondoa rushes off his line and can't get to it. Shot sent in and it's cleared by the post. Cameroon clear. What was Ondoa doing there as he came about 30 yards off his line! 
52'   Should have been a Cameroon goal. Ball into the box and Bahoken gets a left foot to it and can't direct it towards goal. 
51'   Tite had a proper chat to his side at the break because they are certainly much improved. Cameroon have barely brought the ball outside their own half. 
51'   Arthur inside to Richardlison and he plays it inside but Cameroon win it back. Just about! 
49'   Really could and maybe should have been 2-0. Willian with a curling low cross into the box. Jesus misses at the front post and Richarlison misses as the back post! Good chance.
47'   Sent back in and cleared. Brazil back on the ball though.
47'   Corner comes in and it's punched up in the air for another corner. 
46'   We are back underway. Gabriel Jesus moves forward and tries to dispossess the defender, nearly does and then wins a corner. Almost sneaks in there does the sub.
46'   Changes at the break. Firmino goes off for Gabriel Jesus.
45'   HALF-TIME!
44' Richarlison with the header. What a header that is. A bullet from the corner beats Onana. 1-0 to Brazil. 
43'   Worked short and Allan sends it in. Header from Richarlison and Onana with a wonderful header.
43'   Firmino in another dangerous position but too many Cameroonian jerseys in front of him. He tries to send it across goal but it's blocked for a corner.
40'   But Brazil are back on it now and ball comes in from the right. Firmino heads it down and it's well wide in the end.
40'   Cameroon back on the ball now as the game takes a slight dip. 
39'   They work it short and Paulinho picks it up in the box but can't make any ground as he tries to beat the defender.
38'   Willian looks to be the one. But it's actually Danilo. Hits the top of the wall and it's a corner. 
38'   Free from outside the box. Willian and Danilo standing over it. 
37'   Richarlison caught again. Mandjeck fouls him this time. 
35'   Corner sent into the near post and it's headed out.
35'   Cameroon with a couple of decent attacks. They bring it down the left again. Bong inside and Danilo puts Bahoken under pressure enough to see him fire over acrobatically. Not bad. He won a corner though. 
34'   Good ball in after Cameroon win a free in the middle of the field. Offside but Brazil have it and he plays on. 
33'   Richarlison to Paulinho, who has been everywhere so far. He plays it back inside and Cameroon win it back.
32'   Sandro to Paulinho and Brazil try to push forward again but Ekambi takes it and plays it inside to Choupa Moting. Brazil win it back. 
31'   Good ball as Cameroon nearly get a head on it. Brazil just about get it away and win a throw in the end. 
30'   Bahoken into the path of Malong but it's out for a corner. Cameroon with a chance now from a set-piece.
29'  Danilo with the ball forward and it's intended for Firmino but Onana is off his line and grabs it.
29'   Lovely pass by Sandro but Willian can't take it down and that's poor. 
27'   Paulinho fouled again. Cameroon getting increasingly more desperate. 
26'   Paulinho drives forward and gets the ball. He crosses but it's not great and it ends up at Richarlison's feet. Sent back out to the right. Hefty challenge by Bong on Danilo and it's out for a goalkick. 
25'   Allan inside. Paulinho has his back to goal so he tries to backheel it towards a teammate. He just misses it completely though. 
24'   Cameroon being pushed all the way back now. It's all Brazil at the moment. 
23'   Shot now from Richarlison, who has been good since he came on. Blocked. 
21'   Lovely ball inside to Firmino and he's through. Onana stops him though. How did he miss that? Really good save but it was a poor shot too. 
19'   Much better cross now from Sandro and Cameroon make a mess of the clearance. Falls to Paulinho and he strikes. Cleared properly this time and Cameroon win a throw.
19' Paulinho puts his head down and sets off up the field but Mandjeck pulls him back and that's a yellow card.
19'  That's a very decent cross from Bong on the left but Marquinhos clears. It's a break by Brazil now.
17'   Alex Sandro with a poor cross from the left. He hits it all wrong and it goes out behind the goalline. 
16'   Cameroon have started really well here. Brazil have looked dangerous but Cameroon looking good themselves when they move forward.
14'   Willian delivers the free and Alex Sandro threw himself at it. He very nearly makes contact too but it ends up in Onana's hands. 
13'   Richarlison takes off now and he cuts inside from the left. He is fouled by Biyik and he knows what he was doing there.
11'   But it took a deflection. Corner for Cameroon. Headed clear by Brazil and Cameroon win it back.
11'   Arthur has the ball taken from him. Slopp from Arthur and shot comes in but that is well wide in the end by Malong. 
10'   Brazil attack down the right now and it's cut out. Cameroon carry on up the field but Alex Sandro fouls Bahoken. 
8' Richarlison comes on for Neymar. 
7'   Neymar is going to have to come off here. It's his groin or a hamstring.
6'   Arthur into Allan. He chests it down and gets beyond two defenders. He pulls the ball back and shoots. Saved by the keeper.
5'  Brazil move it forward now and Neymar gets it. A buzz around the stadium as he gets it on his foot. Ball through to Firmino but his shot is blocked. Brazil coming to life now.
4'   Ball down the right and Choupa Moting's touch lets him down. Goalkick for Ederson.
3'   Cameroon on the attack again. They win a throw as Bahoken has it tipped off his toe.
2'   Brazil pressing Cameroon high up the field and the Cameroonians let the ball forward quickly. They attack now and Bong sends a cross in from the left. It's cleared but Choupa-Moting launces the shot over. 
1'   Brazil tips off for Brazil and we are underway! 
    Michael Oliver the referee for the game as Brazil line out in their blue shirt.
    The Brazil national anthem plays in Milton Keynes.
    Cameroon XI: Onana, Fuchs, Biyik, Banana, Bonh, Mandjeck, Malong, Djoum, Moting, Bahoken, Ekambi.
    Seedorf's managerial career so far: Milan, Shenzhen, Deportivo La Coruña, Cameroon. Plenty of variety.
    "Who doesn't want to work in the Premier League?" says Seedorf ahead of the game tonight. A nice teaser of what it's like in MK Dons stadium too!
    Neymar starts!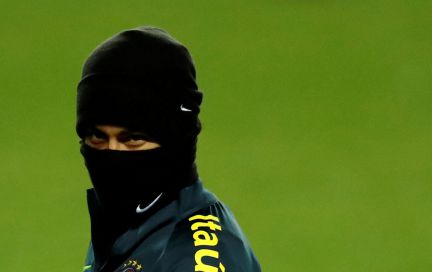 Brazil XI: Ederson; Danilo, Marq, Pablo, Sandro; Allan, Arthur, Paulinho; Willian, Firmino, Neymar.
    Interesting to consider that Seedorf's coaching career is coming under scrutiny. A good chance to rectify some things tonight in front of a large audience.. or he could do the opposite.
    Hello and welcome to our live coverage of Brazil versus Cameroon with kick-off from Milton Keynes at 20:30 CET.
Brazil vs Cameroon live online: preview
Brazil play Cameroon in the slightly surreal surroundings of Milton Keynes as the pair play at Stadium MK, the home of MK Dons on Tuesday night with kick-off at 20:30 CET. Brazil are coming off a 1-0 win over Uruguay with the goal coming from the spot and scored by Neymar. Cameroon, however, lost their last game against Morocco in the African Cup of Nations qualification and could do with a win to boost the mood around their national team.
Tite could ring the changes from the side that played Mexico with Brazil training in England ahead of the clash without Neymar and more of their presumed first team players. Allan, Richarlison and Willian trained and could in line to start while Dede and Pablo could start after answering questions in the press conference ahead of the clash. The Brazil manager also confirmed Ederson, Marquinhos, Alex Sandro and Roberto Firmino will also start on Tuesday night.
"Roberto Firmino is still a new player in the national team and so it's only fair to give him his chance to get used to that position and to create his understanding with the players around him," Tite said before the game about the Liverpool player.
Cameroon are missing a couple of players with Petrus Boumal and Vincent Aboubakar both out. "I have not played in Milton Keynes before, so this is different for me - but the stadium is great and I am looking forward to the game," says Clarence Seedorf ahead of the game. He also says Brazil is always a special game.