River Plate - Boca Juniors, Libertadores final postponed: how it happened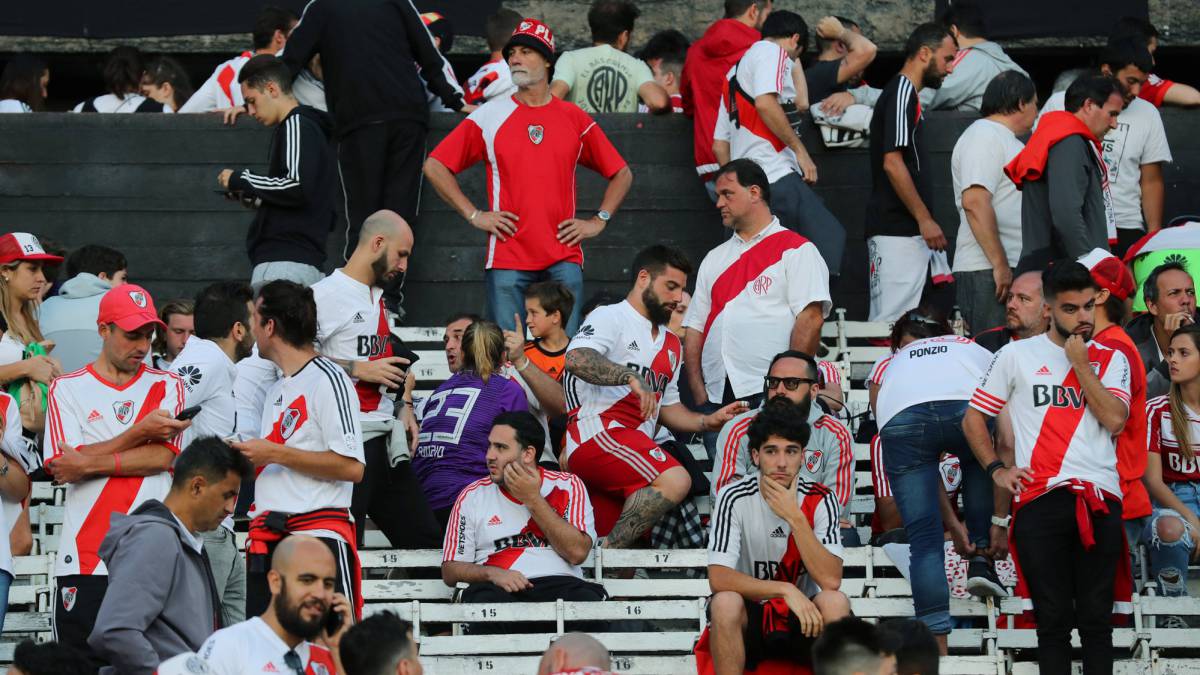 The game will be played on Sunday after some Boca Junior players were injured and exposed to tear gas when their bus was attacked.
Update, Sunday 25/11: The Copa Libertadores final second leg has been postponed for a second time - follow live coverage of this breaking news here.
Follow River Plate v Boca Juniors live online at the Bernabéu!

---
The second leg of the Copa Libertadores final between River Plate and Boca Juniors was suspended on Saturday after Boca players were hurt when their bus was attacked outside the stadium by River fans.
River Plate vs Boca Juniors postponed
"One can't play in these conditions," Alejandro Dominguez, President of the South American Football Confederation, (CONMEBOL) told reporters.
The match was rescheduled for Sunday, kicking off at 5 pm local time (21:00 GMT).
Several Boca players were injured either by glass from broken windows or from tear gas after River fans pelted their coach with missiles as it approached the ground. Here's how it all happened and related stories...
Thank you for joining us in unfortunate circumstances and we look forward to having your company again for the main event. 
The bus has arrived for the players and they should be heading back for a good night's sleep soon. On that note, we'll wind down this live feed and crank it back up again in a few hours as we prepare (hopefully!) only to be talking about football.
The Boca Juniors squad are still waiting in the stadium. A replacement bus (you'll know by now what happened to the first one!) cannot be sent until the stadium and surrounding area is cleared of River fans.
What has transpired tonight is bad on so many levels. A game that was hoping to put Argentina's football on the top of the global map has, instead, pointed many unapproving fingers. Both fans and officials.
Boca president Daniel Angelici has spoken after the postponement: "We didn't have the right physical or mental conditions for the game to go ahead. It was a difficult decision, but the right decision." 
There's a lot of anger among Boca fans who feel there's one rule for them and another for River, after a similar incident saw La Bombonera closed to fans. No closure tomorrow.
Alejandro Dominguez, the president of Conmebol also said: "There was a request from both clubs that the game should not be played. One because they were not in a condition to play, and the other because they didn't want to play under those circumstances. A gentlemen's agreement."
The announcement from Conmebol states that there WILL be fans present at the rearranged game. The president said that "as well as scratches there was also some gas. We could not make an immediate decision, but we had to follow protocol"
GAME SUSPENDED! We will all be back here for the second leg of this final tomorrow at 21:00 
Suggestions are that the game is now going to be moved to tomorrow. It certainly makes sense but we'll not believe it till we believe it.
As you may have noticed, 19:15 local time, 23:15 CET has passed. The game is not underway. We are yet to get an update from Conmebol. Stay with us...
We've heard that there have been 16 arrests for the disturbances earlier outside the stadium. And the police have said that they fear more disturbances throughout the night. 
Worth a thought for the River players too. They've been sitting around the changing room for a long time now, far from ideal preparations for the so-called biggest game in the world.
Claudio Tapia, president of AFA, has joined the meeting of the presidents of Boca and River with his counterpart in CONMEBOL. Talks continue...
Some reports coming out of the stadium saying that the game may not kick-off at 23:15!!! (No, stop saying that, it's not a complete farce!)
Just around 10 minutes till kick-off. The officials have been out warming up, the fans are singing and chanting, the FIFA reps are taking their places in the VIP boxes...oh, and some of the Boca players are removing glass from their bodies!
Carlos Tevez also told media that no River Plate player has been in to ask how the Boca players are doing. "Nobody came, there was no message."
Former Real Madrid player Fernando Gago accepts "We'll wait for the resolution, if they say we played 19:15, we'll play"
News coming in that the presidents of Boca and Conmebol are in constant discussion
You can see clearly in that video that the players were in great spirits as they arrived at the game, continuing to sing as the objects battered the side of the bus. That stopped only when it was clear that players had been hurt.
Here's a quick translation of the letter below, apparently from Conmebol doctors:
I write to you to inform you of the incidents that occurred on this date. Players from the club Boca Juniors suffered superficial skin injuries on their arms and legs, face and body; equally 2 players said they had suffered eye injuries, which our medical team were not able to confirm.  Given this situation, we consider that from a medical point of view there is no reason to suspend the match. 
According to Radio La Red, a Comebol rep has asked Boca if they're happy to play with the players they have available. This is feeling rather surreal. What? There's TV revenue at stake here?? Ahhh
Team travels with playing squad. Some of playing squad injured en route by opposition fans. On that alone, CONMEBOL's hour delay statement can surely only be to give them time to organise the postponement message. It seems crazy to think that this game will go ahead tonight! 
A quick summary of player situations: Tévez, Espinoza and Wanchope have been most affected by the tear gas (which entered after window was smashed). Jara (leg cuts) and Pablo Pérez (eye cuts) appear worst hurt from glass breaking.
Despite the official one-hour delay, most commentators are not hopeful of seeing action on the field tonight. 
What on earth!? Radio Continental are saying that River fans are throwing stones at the ambulances as they take away the injured players.
Boca's Nereo Benedetto has just claimed that the game will be delayed by an hour at least. From everything we're seeing it seems impossible to get a fair fight out of the teams. 
Boca midfielder Pablo Pérez is said to be the player with glass fragments in his eye. Three others have been taken to hospital.
Referring back to the closed doors, we've been informed that there have been at least 300 forged tickets picked up outside the stadium. That's not including any that have already made it inside!
As well as the tear gas effects, the glass from the broken window has resulted in players needing treatment. At least player is reported to have gone to hospital for glass going into his eye.
The doors of El Monumental have been closed for the moment so that no one else can enter. 
According to local station Radio La Red, the 17:00 kick-off (21:00 CET) will not be possible. The feeling at the moment is that it will be played tonight but delayed by some minutes. Clearly this is not an ideal situation...but it does mean that you can follow LaLiga's big offering of Atlético vs Barça in the meantime.
Reports coming in that the presidents of both Boca Juniors and River Plate are meeting to discuss what to do. The potential for a postponement of the game is on the table.
Since then the Boca Juniors secretary general has said that the players "are in no condition to play" and that Boca have asked for Conmebol doctors to examine their players. It appears that Tévez, Espinoza and Wanchope are the ones to have been affected worst.
We're going to keep you across developments as they come in...
There have been some crazy scenes in the build up to this game (as one might expect) and this has put our kick-off time in doubt. River Plate fans bombarded the Boca bus with a variety of objects as they arrived at the stadium and this has reportedly resulted in players being injured.
The first leg across town at La Bombonera ended 2-2, with Boca being pegged back twice. The away goals rule does not apply in this final so the slate is clean, and the winner on the night takes all. And we really mean ALL!
Hello and a rather excited welcome to our build up to the Copa Libertadores final 2018, second leg between River Plate and Boca Juniors. We will be bringing you all the action live and also have a little time to build up to kick-off.
Copa Libertadores Final 2018 postponed: how it happened
Copa Libertadores Final 2018: match preview pre-trouble
Describing this Copa Libertadores final second leg as 'much anticipated' gets nowhere close to doing it the justice it deserves. Millions of pages of text have been written; photogalleries have been created; videos and interviews have been shot; there has been a reproduction of the first encounter build in Lego form. Fans have even burned down their rival's homes. That's the level of passion we're talking about.
The first leg at La Bombonera ended on the knife edge that is 2-2, a game that we had to wait an extra day for due to the deluge of rain that fell in Buenos Aires. Goals from Ramon Abila and Dario Benedetto were cancelled out one by one by Lucas Pratto and and own goal from Carlos Izquierdoz. The stage is now set for El Monumental to decide what could likely prove generational rather than seasonal bragging rights. It's the Superclásico of all Superclásicos.
River Plate
Although the two away goals at the La Bombonera don't give River an advantage, playing the second leg knowing any win is enough was a satisfying outcome. They will hope to boss much of the play, and take their chances when they come, but will be without Ignacio Scocco and Rafael Borre.
In the first leg, Gallardo moved to a 5-3-2 formation and controlled the middle of the park against the 4-3-3 facing them during the early stages.

Boca Juniors
Boca's home stadium was filled with bodies (over 60,000) and atmosphere on Thursday evening that football clubs around the world could only dream of. And this was just a training session, or more appropriately, a send off to the fight that lies ahead. Their noise will not be heard in the stadium (home fans only!) but their spirit will.
Carlos Tevez is the biggest name internationally of the current squad and will be involved at some point, possibly even from the start. Likely to have fewer opportunities to score than their hosts, efficiency in front of goal will be key, and in Benedetto they have their potential hero in waiting.