Despite being rattled in the first half, an early Bale goal in the second half, followed by a Lucas Vázquez tap in saw Madrid top their group.
Roma 0-2 Real Madrid: match report
Real Madrid sealed top spot in Group G of the Champions League thanks to a 0-2 win over a struggling Roma side at the Estadio Olimpico on Tuesday night.
Coming off one of their worst performances this season, Real Madrid needed a response to their miserable Eibar advanture. And they, sort of, got one. Ironically, it was against Roma earlier in the season that saw Lopetegui reach his highest point as the manager of the side with a 4-0 beatdown at the Bernabeu and the Italians proved the perfect antidote to an increasingly worrisome situation at Real Madrid.
Solari, who said he was brought in to make decisions, dropped Isco completely from the squad and started Lucas Vazquez and Marcos Llorente did a straight swap with the injured Casemiro after Ceballos failed to adequately adapt to the deep midfield role against Eibar.
Roma started better and generally played better than their opponents in the first half and had by far the best chance of the opening 45. Carvajal was caught in possession and a cross to Under was sent over the bar with the goal at his mercy.
Real Madrid recorded only three shots in the entire half with two of those coming from poor decisions by Modric and Kroos from long range. That was the worst shot tally they have recorded all season in any competition as their attack again stuttered.
But the story of the half was that miss from the Turkish youngster and it would come back to haunt Roma soon after.
The second half was only two minutes old when Robin Olsen cleared a high ball up into the clouds. The ball came back down with snow on it and was headed back towards goal to Bale, who found himself clear through. He turned onto his left and stroked home.
It was a lovely, if not fortunate, finish from the Welsh man and Real Madrid were winning.
The game opened up completely at that point with Roma keen to get a leveller and Real Madrid seeing the chance to counter and right the wrongs of the weekend with a multiple goal effort to soothe nerves and keep up appearances.
Roma came close through Kluivert, who, as a first half substitute for injured El Shaarawy, was their most potent attacker.
But it was Lucas Vazquez who would seal all three points and top spot for Real Madrid when Bale sent one onto Benzema's head. He nodded it down and Vazquez tapped home as Real Madrid shut the front door on Roma, who were running out of ideas even before the second.
Only time will tell if Real Madrid's loss to Eibar was an aberration or a more persistent problem. But they keep on chugging along in Europe with Roma needing a much better showing if they want to progress beyond the last 16 and keep their fans on side, many of whom whistled as the referee blew full time.
Roma vs Real Madrid live online: match updates and commentary
90'+4' GAME OVER! 
90'+4'   Roma free but it's all done here even if they can score. It's too far out to shoot, which Kolarov does, and it hits the wall. 
90'+3'   Marcelo with a cross into the box but that's over everyone's heads. 
90'+1'   Corner for Roma sent in and it's out by Schick. Courtois in no hurry to take this one.
90'   Corner for Real Madrid now. Asensio across the box and Valverde tries to slot it home. Fazio blocks it and it's out for a corner.
87'   Lovely strike from Marcelo but that's offside anyway. Very acrobatic.
87'   Mariano breaks up the field but he takes a poor touch and gets it stolen off him.
84' Asensio coming on for the last five minutes or some. Bale going off. 
83'   Roma have really struggled after that second goal. 
81' Modric rested now too as Valverde comes on.
79'   Diagonal ball to Florenzi and he tries to control it and can't. Ball out for a goal kick. Roma running out of options at this stage.
77' Mariano on for Real Madrid. Bezema given a rest.
76'   Kolarov gets the ball from Schick and he launches it towards goal with his left foot. Saved by Courtois.
75'   Benzema offside again. He is desperate for goals. But that's just sloppy.
73'   Nasty one for Carvajal. Ball sent in from the right and Carvajal heads away by Under slipped and caught him as he slams to the ground. Accidental but a sore one nonetheless.
72'   Kroos for Bale and Olsen is off his line again.
71'   Roma goes close again. Kolarov sends the ball across the box and Marcelo does enough to clear it.
70'   Di Stefano getting very animated on the sideline. 
67' Zaniolo off for Karsdorp.
66'   Varane leaves it for Courtois as it's sent across goal by Coric and Roma nearly have a leveller if someone could turn that home.
64'   Another counter for Real Madrid. Bale rolls it back to Kroos and he sends it out to Benzema. He slams a shot towards goal and Olsen bats it away. Nice move from Real Madrid.
64' Coric on for N'Zonzi.
63'   Coric coming on for Roma now. 
63'   Lovely cross into Vazquez. Benzema heads down and Olsen saved but he was offside anyway. 
61'   Bale cut back to Marcelo and he strikes. Saved! But just about as Olsen parries to himself and grabs it. 
61'   Free sent in and Vazquez curs it out. Real Madrid on the break. 
61' Bale with a lovely ball into Benzema and it's headed down to Vazquez. Goal. Really simple.
60'   Real Madrid counter and it's sent into the box by Kroos.Out over the top. 
59'   Another ball down the field and Carvajal gets a nick on it under pressure from Kluivert. Corner.
58'   Better from Roma. Kluivert buys a yard and shoots but Courtois saves. Ball came in from the right and that'll go down as a chance for Roma.
56'   Ball inside but Olsen gets down and saves it. 
56'   Cristante with a fairly ambitious pass across to the left. Off target.
54'   Carvajal fouled by Cristante. 
53'   Vazquez links with Benzema and he gets turned upside down. 
52'   Schick picked off now and Marcelo plays it to Bale. He turns back and Real Madrid remain in control of the ball for now.
51'   Varane gets a head to it and Olsen grabs it as it comes back down.
51'   Modric sends in a low cross and it's controlled by Lucas Vazquez. He can't keep it close enough to himself and it's out for a corner by Roma. Kroos crosses. 
51'   Kolarov gets in ahead of Vazquez and heads out for a throw. Game is way more open now with Real Madrid countering well against Roma, who are also desperate to get a goal.
50'   Bale down the field. Straight down the middle and he has a chance but hits it straight at Olsen. 
50'   Another chance for Roma and it's cleared for another corner. 
49'   Ramos get the ball stuck under his feet and gets it out for a corner. 
48'   Roma attack and Kluivert is pushed over by Carvajal as he gets back and defends well. Goal kick.
47' Bale with the goal. 1-0 to Real Madrid and just like that, Real Madrid in the lead. Olsen with a dreadful clearance and it's headed back to Bale, who is onside. Comedy stuff from Roma.
46'   Modric caught late by Fazio. Free for Real Madrid. 
46'   Back underway for the second half. Plenty of action in that half but no goals. Roma with the better of the chances. 
45'+2'   HALF-TIME!
45'+2'   That is the best chance of all time for Under and he slices it over the bar. Real Madrid caught messing at the back and ball across. Ramos caught off guard and he misses. How did he miss? Seriously. Let's ponder that at half-time.
45'+1'   Vazquez with a couple of fairly useless stepovers but runs it out over the endline.
45'+1'   Two minutes of added time.
45'   Real Madrid have improved now to end the half but still no breakthrough for either side. 
43'   Real Madrid playing the ball out from the back and get it out in the end. Marcelo to Kroos and he sends it across as Roma recover and clear. Real Madrid win it back though.
42' A yellow card now for Zaniolo. He fouls Llorente and gets a booking.
42'   Free sent in and Ramos gets his noggin to it. Headed down to Olsen.
42'   Kroos caught by Schick. He trips him in.
41'   Another ball over the top and diagonal to Kluivert but that's caught by Courtois.
40'   Kluivert fouled by Carvajal as Olsen clears.
38'   Modric shoots. Miles over.
38'   Cross-field ball from Varane is picked off and Roma send it across the field through Florenzi. Back to Courtois.
37'   Llorente plays it through to Carvajal and Fazio slides in to win it and get a knee in the jaw too. Throw for Real Madrid. 
36'   Shot from Kolarov on his right. Rare sighting but it's a Courtois save. 
36'   Kroos ends up shooting from miles out. No chance as it didn't have enough pace on it.
35'   Roma back on the attack. Kolarov down the left and sends it inside where Real Madrid pick it off.
34'   So, so, so close! It doesn't get much closer than that. Real Madrid are fighting fires all over the place here. About three excellent chances in a row.
33'   Roma turning the screw after the next corner. And then a cross. Close! 
33'   What a chance! Cleared off the line. Under with a lethal cross and it's out by Carvajal. Off the line. 
32'   Corner Roma. Ramos does enough to get a foot on Under's cross.
32'   Llorente with a cross-field ball to the ghost of Gareth Bale. He was there about 3 three second ago. Straight out for a throw. And then Roma do the same but at least Kluivert was in the general vicinity.
30'   Ball in from the left and Under is lurking. Courtois off his line like a light though. Strong and commanding save from the Belgian. Under was close though.
29'   Roma counter.
29'   Corner for Real Madrid. It comes back out to him and he has loads of time to deliver. He sends it to the back post where Ramos is lining it up but Modric gets in the way and they get their wires crossed.
28'   Free for Real Madrid in the middle now as they try to restore some dominance on this one.
26'   Llorente tries to clear but Kluivert wins it back and he eventually gets a shot away after Kroos is picked off. Kluivert's shot is a mile over the bar! Nice effort though.
25'   Poor mistake from Olsen. Benzema through on goal but he's offside. Just about too! Manolas the last man back but Benzema just a shade the wrong side of him.
24'   Ball launched down towards Kluivert and Varane covers back before playing it back to Courtois. He clears and Roma win it back.
23'   Good ball from Kolaroc. Schick gets a left peg on it and sends it towards Courtois but the contact wasn't clean. 
23' Kolarov takes off down the left but has to turn back. 
22'   El Shaarawy is not able to contine. He sits down and gets attention. Kluivert on now for Roma. 
21'   Roma counter from the corner and Modric is booked for that trip on El Shaarawy.
20'   Counter-attack! Bale on the left and he sends it in. Vazquez back to Modric and Olsen saves with his feet. It took a wicked deflection and he still kept it out. Corner for Real Madrid. 
19'   El Shaarawy jogs back on too! Good news for Roma.
19'   Olsen clears after running about 35 yards off his line. Bale bearing down on it too but the keeper gets there first. 
18'   He gets up and limps off the field and he looks to be okay? He's kicking out his leg and running it off a bit. Let's keep an eye on that one. 
18'   El Shaarawy flies into the box. Ball in from Under and Carvajal heads it out. The Roma attacker hurt himself there and he needs medical attention. He's telling them his knee is hurt, I think. My lip reading skills in Italian aren't what they used to be, which wasn't much anyway.
17'   Real Madrid win it back and Carvajal drives forward. Back to Ramos and he sets off. Ball to Marcelo as he sets Bale off down the line. He runs it out for a goal kick.
16'   Ball down to Bale and that's over his head as Florenzi wins the throw. Roma really struggling to get the ball now after a bright start.
16'   Under falls hard after jumping up on Marcelo's back. Real Madrid restart with a goal kick. 
15'   Llorente with a ball down the line and it arrives to Benzema as he loses out. 
14'   Marcelo with a ball down to Bale but that's off target. No real clear style of play from Real Madrid so far. 
13'   Benzema with a pass straight to Florenzi. Another attack breaks down. 
12'   Cross in by Carvajal and that's straight into Olsen's arms. 
12'   Benzema takes it down and player it to Bale. They link up again but Real Madrid just turning the heat up here slightly. 
11'   Roma win it back. And Modric puts it out for a throw.
10'   Cross in now and Bale blocks it. Real Madrid win it back. They have no way through yet. Kroos sends it out to the right. 
9'   Roma the better side here so far. No reponse from Real Madrid yet. But they are just finding their feet as they throw it around the back. Ramos coughs it up now and Roma can't control it to start an attack.
8'   Vazquez with a fairly clear hand ball and Roma don't get the free or the penalty as it was very close.
7'   Roma with a chance. Ball in from the right from Florenzi and it's headed out by Varane.
6'   Varane with another foul now. Another free kick for Roma in the same position as the last one. 
6'   What a pass! Llorente wins it back and Kroos plays it across goal. Benzema can't reach it as it goes right across goal. 
4'   Free launched in low and bounces up to Courtois. He grabs that one thinking his warm-up hasn't ended yet. Routine for him. Back and forth so far with Roma looking more dangerous. 
4'   Carvajl is fouled by El Shaarawy as he is pulled back on the break down the left. Cravajal says it was a fair shoulder but ref says otherwise.
4'   Corner and it's headed out by Roma.
3'   Ball into the box looking for Schick. It finds him but Marcelo nips in front of him and steals the ball. Real Madrid counter and Benzema gets it inside the box. He tries to shoot and ends up going back to Modric. Ball in from Marcelo is the outcome and El Shaarawy heads out for a corner.
2'   Roma almost break into the box but too many white jerseys around them and they lose out. Real Madrid clear and concede another throw. 
2'   Roma on the ball to start as Real Madrid chase Olsen and force him to clear his lines. Roma win a throw. 
1'   We are underway! 
    Both teams wearing their home shirts with no clash of styles. Real Madrid in all white and Roma in their claret.
    With Real Madrid already qualifying, this could go two ways. It could take the pressure off or they could take their eye off the ball. Let's see which one it is.
    Champions League anthem! IT'S TIME!
    Players in the tunnel now and Real Madrid looking very serious. As you'd expect. Looks like Marcelo lost his zip for his jacker and had to borrow Lucas Vazquez' one.
    Meanwhile in the other game in Group G, CSKA Moscow are losing to Viktoria Plzen and that means Real Madrid will qualify for the last 16 regardless of the result tonight. They still need a performance though after the thumping against Eibar.
    Five things that Solari has to think about before this game!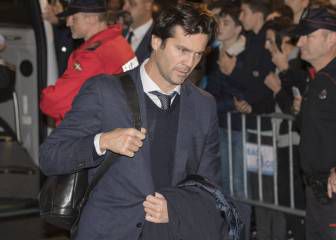 Capello another man who has been speaking and he says that Real Madrid thought it would be easier to win without Ronaldo.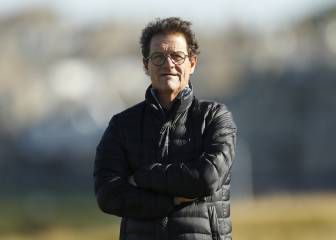 Totti, Roma legend, has been speaking about the times Florentino Perez tries to convince him to sign for Real Madrid. "In some parallel universe, I was Sergio Ramos' captain," he says.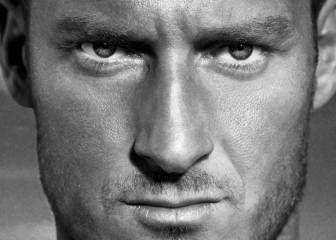 Five changes for Roma as Santon, Juan Jesus, Kluivert, Pellegrini and goalkeeper Mirante make way for Olsen in nets, Florenzi, Manolas, Zanilo and Cengiz.
    Roma XI: Olsen, Florenzi, Manolas, Fazio, Kolarov, N'Zonzi, Cristante, Cengiz, Zaniolo, El Shaarawy, Schick.
    This was from two weeks ago when Isco had become a real problem under Solari and his minutes were dwindling. Left out completely from the squad tonight.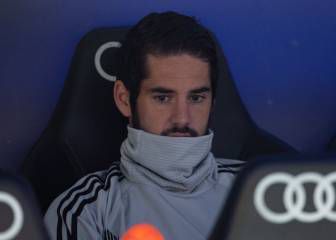 And Isco is not even in the squad.
    Llorente starts in Casemiro's role and Lucas Vazquez takes Asensio's place for the game in Rome.
    Real Madrid's starting XI: Courtois, Carvajal, Ramos, Varane, Marcelo, Kroos, Marcos Llorente, Modric, Lucas Vázquez, Bale, Benzema.
    Hello and welcome to our live coverage of Roma versus Real Madrid in the Champions League with kick-off from 20:45 CET. Team news and build-up coming your way!
Roma vs Real Madrid live online: preview
Santiago Solari's side have to dust themselves off to play Roma in the Champions League after their embarrassing encounter against Eibar at the weekend. Julen Lopetegui's zenith came against Roma at home earlier in the Champions League when they put four past their Italian opponents and dominated every aspect of play. Roma have recovered, however, and won their last three games in the competition only conceding one goal in those games. They are level on points (9) with the loser in this one being forced into a very uncomfortable position in the last game.
Daniele De Rossi and winger Diego Perrotti are out with Kostas Manolas a doubt but he still could play at the back. Roma are struggling in the league and just lost to Udinese away from home and have just one win in their last five Serie A games with Kolarov having a go at the fans saying they "don't have a clue" Eusebio Di Francesco tore into his players after the game at the weekend and said determination is not something you can buy in the shop. He will be expecting a response tonight as will Solari, whose side are reeling from their own weekend horror show.
Real Madrid are without Nacho, Casemiro and Odriozola and Reguilon with Javi Sanchez the only player to support a back four of Marcelo, Ramos, Varane and Carvajal. Three of those four have suffered injury lay-offs recently and another setback could see Real Madrid struggle at the back. Casemiro's absence on Saturday was felt and while Ceballos did his best, he is not a defensive midfielder in the mould of the Brazilian. Solari has some decisions to make for the game on Wednesday with Marcos Llorente the only real Casemiro-like player in the squad. Solari says "every day at Madrid is a big test" and if he doesn't win this one, he will certainly be testing the nerves of fans and Perez alike.