Real Madrid went ahead early thanks to a Wass own goal and Vázquez scored in the 83rd minute to ensure the points stayed at the Bernabéu.
Real Madrid 2-0 Valencia: match report
Real Madrid returned to winning ways on Saturday night at the Santiago Bernabeu in the league with a 2-0 victory over Valencia with thanks to a first half Daniel Wass own goal followed by a late Lucas Vazquez strike.
Almost a month after Real Madrid's last home game, they returned to the Santiago Bernabeu, in an effort to repeat that result against Valladolid and they did just that, quite literally. Back then, against Valladolid, Santiago Solari was still the provisional manager and Real Madrid were looking at an uncertain future. They haven't completely eradicated their consistency problems but they have won six of the seven games with Solari on the bench and move up to fifth with that win and just three off the top (with the four teams ahead of them set to play on Sunday).
Real Madrid started with a high press that threw Valencia off their game and with Valencia keen to play it out from the back, it was a lethal concoction for the away side.
Bale sent a cross in that Benzema vollied wide early on and Real Madrid were in the driving seat for those earyl exchanges. The tangible result they needed from that pressure came on eight minutes when Carvajal chased down a pass on the endline, rounded Paulista and fired a ball off Wass' head which he sent to the roof of the net.
It was more of the same from Real Madrid even after that goal with Valencia struggling to find their way out from thier opponent's press.
Valencia improved massively in the second half and had chances with Santi Mina driving a shot over the bar, Gabriel Paulista firing a shot over and Michy Batsuayi also seeing a shot saved by Thibaut Courtois, who was quick off his line.
Real Madrid, under increasing pressure, had chances too with Asensio misses one before a number of their attacker conspired to miss another good chance in the penalty area.
As Valencia smelt blood, Real Madrid sniffed out chances on the counter and that was how they'd win it. Carvajal drove forward and played the ball wide to Benzema in the box after Valencia had committed most of their might to a forward move. He sent it back into Vazquez, who finished into the side netting to make it 2-0 as Valencia showed their hand and were beaten.
Marcelino said he was proud of his players after the game and while it never really exploded to life, it was certainly tactically interesting with Real Madrid finishing the chances that came to them.
Real Madrid vs Valencia live online: match updates
90'+3' GAME OVER!
90'+3'   Ramos heads the corner away.
90'+2'   Gaya with a cross and Carvajal defends it well. Blocked and wide.
90'+2'   Llorente with a foul now as Valencia look for a consolation.
90'+1'  Asensio pushed off the ball way too easily as he breaks into the box. He is limping too.
90'+1'   Three minutes of added time. 
90'   Isco slips as Asensio plays him the ball. Fairly tame effort to get back up again. 
84'   And it is. Valencia kick-off again.
84'   VAR looking at the goal. Not exactly sure why. That looked perfectly legal. 
83'   Carvajal with an excellent run down the field. He plays it inside and Benzema to Vazquez. GOAL! GOAL! GOAL! 2-0 and that should do it for Real Madrid.
82'   Soler with a cross now and it's blocked. They go out to the left and try that side before returning to the right.
81'   Piccini with a run down the line. Real Madrid run it out over the endline.
80' Isco on for Ceballos.
78'   Too much messing around from Real Madrid in the box. They have another brilliant chance and they miss. Well, it wasn't a miss, they just failed to shoot. That could have put this one to bed.
78'   Bathshuayi ruled offside but he was a mile on. He missed anyway.
76'   Excellent pressure from Real Madrid and Valverde wins it back. He passes to Ceballos, who falls in the box, grabbing his ankle. Kondogbia brings it out and he Valencia attack again.
74'   Benzema down the left now and he gets picked off but Soler loses it and Vazquez pokes it forward. Neto saves the corner after it takes a deflection.
73'   How did Asensio miss that? Llorente with a perfect pass to him inside the box. He's in front of the goals and he sees his shot blocked.
72' Bathshuayi comes on for Gameiro.
71' Valverde on for Modric now.
71' Ceballos gets himself booked for a foul on Gaya. He goes in after his leg after being skipped by. 
71'   Vazquez with a run down the middle of the field and it comes to nothing in the end. 
70'   Guedes drops his headed and runs forward. He meets two Madrid players though and loses possession. 
69'   Ball into the box and Asensio wins the headed clearance. Valencia win it back though. Real Madrid under increasing pressure here.
68' Coquelin off for Kondogbia.
68' Wass off for Piccini. 
67'   Really dangerous chance for Carvajal. He sends it wide with his left foot after a ball into the box. 
67'   Well done by Reguilon. Soler tries to go around him, or through him more importantly, and he stands up well. Real Madrid back on the attack.
66'   Valencia snuff out another attack. And now they start their own.
66'   Benzema with a ball into the path of Asensio. He gets it back and Valencia win it. 
65'   Another miss. So, so close. Ball headed on to the back post and Paulista misses. 
64' Bale off for Asensio.
63'   Mina through on goal again. Late flag and he was offside but it was very late. Courtois with a really good save anyway but another scare.
62'   He loses out though and Valencia back on the ball.
62'   Gaya with a ball back and Ceballos wins it. Really cool and controlled from Ceballos. 
62'   Asensio coming on as he warms up and gets the nod.
62'  Benzema heads the corner out. 
62'   Parejo out to Soler and he wins a corner.
61'   Benzema fouls Wass. Valencia improving slightly here. Real Madrid might rue all of those missed chances.
60'   Clumsy from Real Madrid. A good attack ruined by a silly offside.
59'   Bale cuts onto his right and shots. It's blocked. Out to Modric and Real Madrid hold onto it. 
58'   Isco out and warming up now too.
57'   Llorente uses his body well to put Santi Mina off with a ball into the box. 
55'   Real Madrid take the ball up the field and Modric drives a shot wide. That comes after he was pulled down in the build-up too.
53'   How did he miss? Santi Mina through on goal. Ball over the top was perfect, the touch was perfect and he sends it over the bar. One on one. He simply has to score that. 
53'   Solar with a run and cuts inside two midfielders. He loses out and fouls Ceballos. 
52'   Shot from Gameiro. Ball came in from the right and Gameiro knocks it straight to Courtois.
51'   Carvajal thrown off the ball by Paulista after a nice run up the field by Carvajal. 
50'   Reguilon trips up Soler and Valencia win the free.
49'   Ball down to Mina and he has Ramos in front of him. Nice stepover to get a yard and he strikes across goal. Gameiro can't reach it.
48'   Kondogbia is warming up.
47'   Throw for Valencia.
46'   Modric with a nice delivery into the boc but Valencia deal with it. Real Madrid win it back and it's cleared again.
46'   We are back underway.
    Team emerge back onto the field. Looks like no changes for Real Madrid or Valencia.
45'   HALF-TIME! Real Madrid good value for their lead despite decent finish to the half by Valencia.
44'   Santi Mina in the penalty area. Gets fouled slightly, it looks like, and stays on his feet. Tries to go around another defender and falls and the referee gives nothing.
44'   Real Madrid break and Vazquez looks for Bale. Ball to far outside him and it's out for a throw.
44'   Gaya with a ball inside and Courtois has to punch it away under pressure from Gameiro.
43'  Another dangerous ball in from Reguilon and Bale picks it up and sends it further into the unknown. Valencia pick it up and gets it away. They're calm on the ball. No hoofing but haven't created anything so far.
42'   Reguilon with a dangerous run and then pass into the middle. Close to Bale but Parejo gets a foot to it back to the keeper. 
41'   Real Madrid enjoying 66% of possession so far. 
40'   Ball down the line to Gameiro after a little battle in the middle of the field for possession. Too far ahead og him and Varane wins it back.
38'   Bale with the exact same shot as Benzema but with his left and from the other side. He curls it wide too.
37'   Modric with a ball inside to Benzema and he strikes over with his right. Always rising but a nice effort. Ceballos' pass into Modric was very nice too. Loads of space in the space between Valencia's midfield and attack.
36'   Real Madrid win the ball in the middle of the field now as Valencia are just to loose in possession. 
35'   Varane playing in an attacking position now. Cross comes in all the way across the field and Ramos picks it up. He sends it back across the field with a diagonal ball and it's out for a corner.
33'   Gameiro free and has Varane to beat, who recovers. He takes it into an awkward angle of the field and then sends it back to the edge of the box. Shot comes in and it's blocked by Carvajal. 
32'   Benzema with a really good ball accross the field to Reguilon. He sends it back inside and Paulista puts it out for a corner. 
31'   Parejo gets a half a yard to shoot. It's half blocked and flies into Courtois' waiting arms.
29'   Bale faced up against Wass. He gets a shot away and Neto saves it. Cleared by Valencia. Another really good chance for Real Madrid.
28'   Ball sent in by Valencia and it's headed out. Falls to Gameiro and he volleys well over but at least it's a chance. 
27'   Modric and Ceballos link up and Carvajal gets it. Free on Reguilon as he takes down Soler.
26'   Ball sent in and headed out by Varane. Real Madrid lose it and Benzema, who is working really hard, wins it back in his own half. Good defensive work from him.
25'   Headed out as it's sent in. 
24'   Neto with a dreadful pass out from the back. A mishit, to be fair, but Valencia are not playing well in general. Shot comes in from Ceballos and it's blocked for a corner. 
22'   Benzema in the box. He hits the ground but no penalty. Vazquez fed the ball to him just before that. Nervy moments for Valencia.
22'   Bale into Benzema's path and it's cleared by Valencia. Real Madrid just getting the ball forward way too easily at the moment. Bale been heavily involved.
21'   Lovely ball in by Modric and Bale is close but it's headed out. Valencia under some pressure now. 
20' Vazquez with wonderful control and Gaya fouls him. He's pulled down after taking the ball by him. Yellow.
17'   Gaya inside to Guedes but Modric slides in and wins it back. Real Madrid turn it over though. Ball inside by Mina and Courtois grabs it.
16'   Neto with the ball at his feet and he whips it out to Gaya. Valencia progress it up the field but lose out. Real Madrid are really defending well here with loads of bodies back and killing space for Valencia.
15'   Soler with a ball down the line. Gameiro tries to let it roll out for a corner and Ramos kicks it off him. Really well done. 
15'   Bale with a strike from distance. It's low, it's hard. And it's saved.
14'   Bale fires one in that comes straight back out. Valencia think about an attack but lose out again.
12'   Valencia have settled in to this game much better now but still no chances. Real Madrid still calm on the ball as Valencia sit back when out of possession.
10' Soler with a tackle on Reguilon and he arrives very late. Booked for that one as he leaves a little on the defender.
10'   Ceballos coughs it up though.
10'   Carvajal really calm under pressure down the wing by Gaya. 
9'   What a start to this one for Real Madrid. They've been full of energy and pressing. 
8' Carvajal pick it back up and he sends a ball back in towards goal. Headed up into the net by Wass. GOAL! 1-0.
8'   lovely ball in behind and it's headed out. 
8'   Vazquez takes a tumble as he tries to kick the ball. No free. Valencia coughing it up too easily but Real Madrid doing really well to put them under pressure. 
7'   Ceballos pressing very high up the field and while he doesn't win it back, Real Madrid do just slightly further back. They attack now. 
6' Paulista is booked now as Benzema takes the ball down and turns the defender. He slices him down on the break and duly gets booked.
5'   Collision between Carvajal and Gaya. Carvajal with a very high foot on Gaya. Not sure how that's not a yellow card?
3'   Mina to Gaya and he sends the cross in low. Cleared out to him again and Real Madrid eventually win it back. They work it out and Modric sprints forward. Ball back to Neto and he picks it up.
3'   Bale freed now again and Benzema with a volley. My word that would have been an incredible goal. He caught it just lovely.
2'   Real Madrid win it back now and attack through Bale down the left. 
1'   Bale with a foul on Soler as Valencia try to break out from the back. Free for Valencia.
1'   Valencia tip-off.
1'   We are ready for action. And we are underway. 
    Whistles for Ramos, Bale and a few lighters ones for Isco.
    Chilly night in Madrid. We are almost ready for action at the Bernabeu as the players line up in the tunnels.
    Back to the Isco chat, Solari shut down talks of a rift yesterday during the press conference. He says he was brought in to make decisions and he will make them.
    Everyone has been opining over the Isco situation and all of the players have been asked about it. Carvajal says "When the boss gives him the chance, he will take it". He could and probably should get a chance tonight given the absences but whether he takes it or not has to be decided.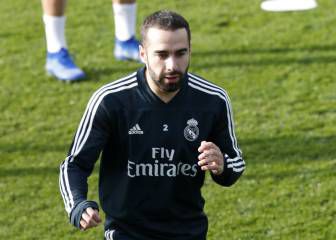 Los Blancos have 20 points from 13 games, their worst tally since the 2001-2002 season, when they had 19 points and ended the campaign third.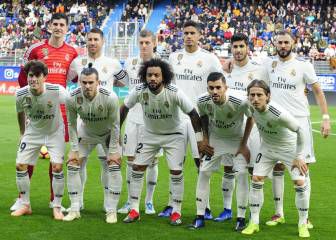 Rodrigo misses out due to injury with Gameiro and Santi Mina starting up front. Meanwhile, Coquelin starts instead of Kondogbia as he partners Parejo. 
    Here's the story on Isco's recent omission.
    Isco returns to the squad but has been left out as the strange relationship between himself and Solari continues. He reportedly refused to shake Solari's hand after the Eibar game and seven games into his reign as the manager, Isco has never started under him.
    Real Madrid XI: Courtois, Carvajal, Varane, Ramos, Reguilón, Llorente, Modric, Ceballos, Lucas Vázquez, Benzema, Bale.
    Valencia XI: Neto, Wass, Garay, Gabriel, Gayà, Soler, Coquelin, Parejo, Guedes, Gameiro, Santi Mina.
    Hello and welcome to our live feed of Real Madrid versus Valencia with kick-off from the Bernabeu at 20:45 CET!
Real Madrid vs Valencia live online: preview
Real Madrid welcome Valencia to the Santiago Bernabeu a month after their last home game when they beat Valladolid in the league. They return to their stomping ground with many changes since that game a month back with Solari now the permanent manager and welcome a Valencia side who are pushing for Europe themselves after a disappointing start to their campaign. Kick-off is at 20:45 CET.
Injuries continue to hurt Real Madrid'd continuity and they are without Kroos, Casemiro and Marcelo for the visit of Valencia. They will field a makeshift midfield on display on Saturday night with Llorente and Ceballos likely to play alongside Modric while Reguilon willy likely play at left-back in Marcelo's stead. Isco returns to the squad but Lucas Vazquez looks set to keep his place after a good showing against Roma as he continues to keep both Isco and Asensio at bay for now.
Valencia last visited the Bernabeu and lost 4-1 last season. Ronaldo scored twice that day and he is off plying his trade in Italy so at least they won't have to worry about that. Marcelino's side have been knocked out of the Champions League and while they could still qualify for the Europa League, they will throw all their weight behind a push for European football next year via domestic success. They are coming off the first home win of the season with a 3-0 victory over Rayo Vallecano but sit 13th even though they are just three points off sixth. They are without Rodrigo with Murillo, Cheryshev and Ruben Vezo also out injured.