It has emerged that the journalist who cast the Comoro Islands vote for the Ballon d'Or does not exist, and the newsoutlet he apparently worked for closed down in 2012.
A Ballón d'Or voting controversy has cast the eyes of the footballing world on the little-know nation of the Comoro Islands, a tiny union of three islands located off the south-east coast of Africa.
According to a list published by award organizers France Football of all the voting journalists from each country, the Comoro Island's ballot was apparently cast by a journalist named Abdou Boina of news outlet albaladcomores.com, who chose Kylian Mbappé in first place, followed by Luka Modric, Cristiano Ronaldo, Eden Hazard and Mohamed Salah.
But according to local news outlet Al-watman, Abdou Boina does not exist and the website for which he supposedly worked, albaladcomores.com, closed down in 2012.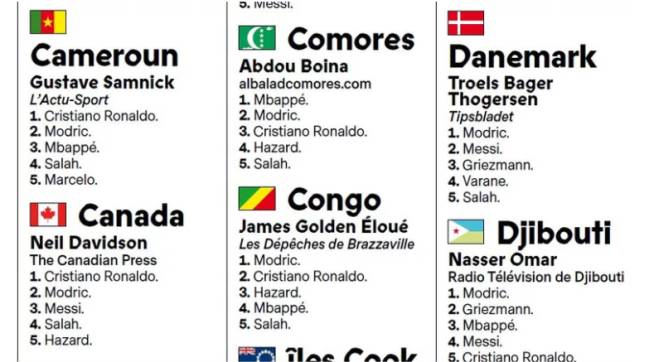 "I hallucinate when I see that Albalad Comores exists," Toiminou Abdou, a journalist from the island who worked for Albalad Comores, told Al-watman.
"That newspaper closed six years ago and there was never a journalist named Abdou Boina. We had two sports reporters in this case, Abdoul Youssouf for the French edition and Sharif Ousseine for the Arabic edition."
When asked for a response about the matter, Stepahne Ahamadi, the president of Comoras' journalists association, said: "There is no record of anyone called Abdou Boin. I could understand it as a mistake from France Football if the journalist belonged to a certain publication, but this person doesn't exist."
It remains to be seen how France Football will handle the allegations, but it could lead to further investigation into the possibility of other Ballon d'Or voting anomalies