Gareth Bale's early first-half goal was enough to give Madrid victory over a dogged Huesca side who fought until the end.
Huesca 0-1 Real Madrid: match report
Gareth Bale ended a three-month goal drought in La Liga to give Real Madrid a nervy 1-0 win away to basement club Huesca on Sunday, taking his side back into the top four at the expense of Alaves.
The Wales forward, who had not found the net in the league since Sept. 1 but had scored in the Champions League, gave Real an ideal start by volleying home a cross from Alvaro Odriozola in the eighth minute.
Huesca, bottom of the table with a meagre seven points and without a win since the opening day of the season, did not lay down against the European champions though, and it took a flying save from Thibaut Courtois to prevent Ezequiel Avila levelling soon afterwards.
Bale was denied another goal in the second half by Huesca's keeper and the home side laid siege to Real's area in the final stages but fell short of an equaliser as Courtois tipped a dangerous free kick over the bar in stoppage time and Dani Carvajal made a frantic clearance.
Real's eighth win in nine games in all competitions under coach Santiago Solari saw them climb above Alaves into fourth in the standings on 26 points after 15 games, five behind leaders Barcelona.
Huesca vs Real Madrid live online: match updates and commentary
90'+2' GAME OVER! Real Madrid escape.
90'+2'   So, so close. Headed up and off the line. Another corner.
90'+1'   Sent in and one more corner as Courtois tips it over the bar.
90'+1'   This is probably their last chance. 
90'+1'   Free for Huesca now as Gurler is fouled. 
90'   Two minutes of added time. 
89'   Courtois with the free out after that offside.
89'   Offside from the free.
89'   Ramos fouls Cucho now as they continue to push up the field.
88'   Cucho with a chance now as it comes in. He hits it with his left after a hint of control with his hand. He fires over.
87'   Good chance for Huesca and it lands to Pulido. He tries a ridiculous acrobatic volley. Two and a half miles over the bar. It hits his shin.
85'   Asensio with a backwards pass that sets up a Huesca attack. Llorente gets back and clears.
85'   Another ball sent in, by Insua this time and it's over everyone's head again. 
84' Avila replaced by Longo.
84'   Huesca have outplayed Real Madrid here but look to have ran out of ideas. 
82'   Miramon puts pressure on Carvajal but puts a little too much pressure on as he fouls him.
80' Insua booked for that challenge on Isco.
80'   There's three chances for Huesca. Shout for a hand ball. No. Then it hits Ramos on the face and then on his leg from the follow up. Isco fouled as they break.
79'   Another corner as Carvajal robs it from Gurler and puts it over the line.
77'   It is and Odriozola takes it after dusting himself off.
77'   Maybe it wasn't a foul. Really good tackle, the replay shows. That should be a throw.
77'   Pulido with a foul on Odriozola. He's down holding his back on the right-hand side. 
76'   Melero with the pass to Cucho and it's out of his reach. A good chance gone to waste. 
76' Bale off for Asensio.
76'   Ferreiro off for Serdar Gurler.
76'   Corner come sin and it's Etxeita with the header wide. 
75'   Carvajal blocks a cross from Ferreiro. Corner. 
74'   Free sent in and headed out by Huesca. 
73'   Chimy Avila and Carvajal absolutely clatter into each other. No free and I think Avila might be lucky there. 
73'   Another poor Jovanovic clearance and Bale picks it up. That wind really ruining plenty of clearances for Huesca.
71'   Mix up between Pulido and Avila as Courtois rushes off his line and grabs it. Another attack comes to nothing for Huesca.
70'   Poor clearance from Jovanovic and Isco picks it up and sends it towards Bale. He loops it over the keeper and it's saved as it hits his shoulder. Corner but Huesca got really lucky that time.
68'   Carvajal with a nice ball out to Benzema. He gets stood up and it's out for a throw for Real Madrid. 
65' Modric off for Isco. Applause for the Ballon d'Or winner.
65'   Offside from Ferreiro. Sloppy from the home side as they try to build an attack.
64'   What sort of a corner was that Ferreiro with the cross and that's another one of those wayward ones caught by the wind.
63'   Into the mixer and that's another corner.
63'   Ball inside to Melero. How did he get so free there. He was a mile onside. Corner in the end.
61'   Ramos drives forward and plays it into the path of Bale. He strikes a lovely shot towards Jovanovic and causes the save. Benzema offside from the rebound.
61'   And it flies over everyone once again. Huesca have been using the wind well to their advantage but a couple of really wayward crosses by them.
61'   Cucho Hernandez with a cross from the left now too. The wind catches that one. 
60'   Ferreiro with another cross but that's way over the head of Avila. 
59'   Bale to Carvajal and Huesca win it back. 
57' Valverde replaces Ceballos.
57'   Bale puts Etxeita under pressure but they both miss it and then it falls to the back post where there's a hand ball.
57'   Real Madrid under the cosh here. Ferreiro with the right-footed shot and it's saved by Courtois. Another corner. 
56'   Melero pulls one back and Varane blocked it. Nice spell of possession again from Huesca. Shot comes in from Avila and Melero, his own teammate blocks it.
55'   Lucas in the center. Really poor effort with his right and it's easily blocked.
53'   Corner for Huesca and a shot eventually comes in from Avila and it's saved by Courtois. Real Madrid take off up the field again. Lucas inside to Benzema but that's intercept, Real Madrid back on the ball with Ramos.
52'   Another ball out to the left. Ferreiro out there but the wind catches it and sends it out for a throw for Real Madrid.
50'   Modric with the cross. Cleared by Huesca but Llorente gets it back to Odriozola and it's back in Madrid's possession.
49'   Yet again in from the left and Modric clears and gathers. He plays it to Benzema and he tries to square to Bale, who has joined the attack at speed. Out for a corner.
49'   Really good start from Huesca. Another really dangerous cross from the left. Headed out by Madrid.
47'   How did he miss that? Melero with an open goal and he somehow headered wide. Cucho with the cross and Melero heads wide.
46'   No changes for either side to start the second half. Just the one forced change so far.
46'   We are back underway. 
45'+1'   HALF-TIME!
45'+1'   Just one minute of added time and it flies by with some tame possession in the middle.
44'   Llorente recovers after Odriozola coughs up the ball with a sloppy pass. He kicks it off the Huesca player and it's a goalkick. Frustrating end to a lively move by Huesca.
43' Yellow now for Etxeita as he catches Bale's ankle late. The last few minutes have lacked momentum with loads of fouls for either side.
41'   Modric with the foul now. He catches Moi Gomez too as he gets his legs caught up in his. Chats to the ref about what it was for and is obviously not convinced by his response.
39' There's a yellow on Ceballos as he jumps in Moi Gomez. 
38'   Varane clearance turns into a pass. Ceballos is offside as he wan't really expecting it.
37'   Modric wins it back and he plays it to Benzmea on the left. Throw for Real Madrid.
37'   They work it short and Vazquez is bundled over. No free and then Vazquez with a foul to slow Huesca's attack down.
36'   More pressure from Real Madrid now. They've had a couple of crosses that came to nothing and just supressing that rising Huesca challenge. Corner now as Vazquez sends another cross in that is blocked.
32'   Really nice ball in from the end line by Bale as he clips it towards three white jerseys. Huesca just about get it away though as they were all lining up to hit that.
30'   Cucho Hernandez versus Dani Carvajal Part II. Cucho gets revenge with a foul on the defender.
29'   Benzema loses out as Real Madrid break into enemy territory and Miramon makes it back in time. He can't save the throw though.
29'   Dangerous cross, headed clear.
28'   Modric fixes the referee's spray behind his back and we have action again. Free for Huesca.
26' Carvajal cuts Cucho Hernandez off and catches him with an elbow to the face. Yellow for Carvajal.
25'   Bale once again. Nice left-footed strike and Jovanovic makes the save. Corner as he just tips it over the crossbar.
24'   Cucho Hernandez' touch lets him down as Modric takes advantage and breaks up the field. Jovanovic gathers.
23'   Launched into the mixed zone! Headed out. 
23'   Pulido leaves Vazquez for dead and Huesca bring it back up the field. Avila with the cross. The home side really troubling Real Madrid. Llorente puts it out for a corner.
20'   Huesca with another move forward. Miramon the left with Modric as a travelling companion. 
18'   Another clearance by Jovanovic that is caught by the wind and Avila can't reach it.
18' Aguilera off for Melero.
18'   Huesca will have to make a change here. Aguilera is injured and signals to the bench that he can't continue.
17'   Corner and it doesn't make it beyond the front post. Really poor corner as Kroos brings it out from the back.
17'   Slick move sees Courtois pull off an excellent save to deny Avila.
16'   Jovanovic calmly plays it out to Miramon. Huesca with a chance.
15'   Varane with a nice combination with Odriozola and he's fouled.
13'   Huesca with loads of possession early on here. Real Madrid pushing them backwards though. They force a poor clearance by the keeper and Real Madrid back on the ball.
11'   Odriozola inside to Llorente and it's back to Courtois. Cleared by Real Madrid but Huesca put pressure on and win it back. Throw for the home side.
10'   Ball into the box as Courtois gathers it.
8' Llorente with a ball down to Odriozola. Bale at the back post and he buries it! GOAL! Poor goalkeeping but a nice cross and strike.
7'   Lucas Vazquez on the ground now as he took a blow to the face. He looks to be okay though.
7'   Ball makes its way to the back post and it is headed just wide. Wow! That was close. 
5'   Lovely move by Huesca and ball in to Rivera as he wins a corner. Ferreiro spins Lucas and gets free to play the ball through.
5'   Nice spell for Huesca on the ball. Really windy conditions and a ball forward draws to the left and catches everyone out but the home side win it back.
4'   Chimy Avila in behind the back four and Ramos wants offside. He doesn't get it and Avila wins himself and Huesca a throw.
3'   Cross by Odriozola now. Blocked but Real Madrid win it back. 
2'   Corner is cleared and Huesca attack. Foul on Llorente but Huesca win it back. Llorente gets revenge with a stray foot on Moi Gomez.
2'   Benzema chases down a loose ball and Jovanovic rushes off his line and puts the ball out for a corner with his feet.
1'   Real Madrid on the ball to start. Carvajal gets the ball to start on the left. 
1'   We are underway at El Alcoraz. 
    Ramos and Etxeita lead the teams out of the tunnels. Chilly day up north! 16 degrees. 
    Huesca goalscorers are light on the ground this season with Alex Galler, 3, missing out today. The only other player to score more than one is Etxeita. He has two and starts! Cucho Hernandez could catch fire if given the supply but with only one goal this season, he is cutting a frustrated figure up top for the newly-promoted side.
    This is Modric's first game since officially being named as the best player in the world! 
    Another start for Courtois too, with Keylor Navas basically saying he was leaving Real Madrid in the summer recently.
    Marcelo trained all week but misses out today and Alvaro Odriozola will play at left-back in his place. He has adapted well at RB when put there in place of Carvajal but left-back might be a different situation.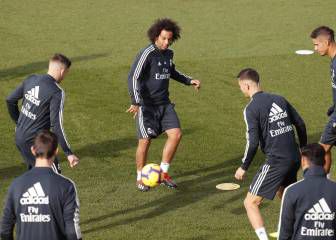 Isco left on the bench once again as the more functional Lucas Vazquez is preferred. Llorente has impressed massively in Casemiro's role and it is really difficult to see him being tested too much today again.
    Huesca's Alcoraz was not ready for LaLiga football when they were promoted and they had to build on in the summer. Here is a look at the new ground!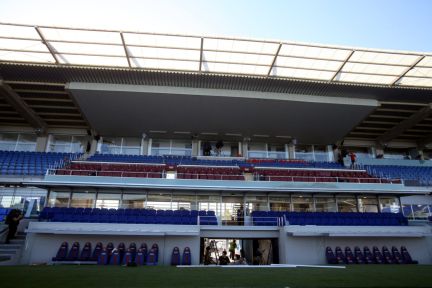 Huesca: Jovanovic, Miramon, Insua, Pulido, Etxeita, Ferreiro, Moi Gomez, Aguilera, Rivera, Chimy Avila, Cucho Hernandez.
    Real Madrid XI: Courtois, Carvajal, Ramos, Varane, Odriozola, Llorente, Ceballos, Modric, Bale, Vazquez, Benzema.
    Hello and welcome to our live coverage of Huesca vs Real Madrid for the first time in LaLiga. Kick-off is at 16:15 CET.
Huesca vs Real Madrid live online: preview
For the first time ever in LaLiga, Huesca will play Real Madrid. The hosts are struggling at the foot of the table but Real Madrid will be hoping to take advantage of Sevilla dropping points against Valencia on Saturday and Atlético's draw with Girona last weekend. They have a new lease on life under Santiago Solari with new faces and a new vibrancy, which will only increase if they can get three points to the basement dwellers.
Huesca are without Alex Gallar, Luisinho and Carlos Akapo, meaning left-back will be an issue for them. Since changing their manager, Huesca have been slightly more competitive but with little luck on their side. They have drawn two of their last five but are winless in eight since Francisco Rodriguez took over from Leo Franco. In the last five games, however, they have only failed to score in one of them as they push opponents
Real Madrid are still without a couple of key pieces in their midfield puzzle. Casemiro and Kroos remain out with Ceballos and Llorente stepping in and stepping up to the roles in their stead. Left-back is slightly more precarious with Marcelo and Sergio Reguilon missing out. Odriozola will be displaced from his usual right-back position with Dani Carvajal starting on the other side. Meanwhile, Lucas Vazquez is expected to keep his position instead of Marco Asensio with Bale and Benzema partnering him in attack.