The draws took place in the UEFA HQ of Nyon today as we discovered the Champions League Round of 16 fixtures along with the Europa League Round of 32.
All eyes were on Nyon this morning as UEFA conducted the draws for both Champions League Round of 16 along with the Europa League Round of 32.
Three Spanish sides remain in Europe's top competition as Barcelona drew Olympique Lyon, Real Madrid are pitted against Dutch side Ajax and Atletico face a tough task as they drew Serie A champions Juventus.
The draw for the Europa League saw Valenica pitted against Glasgow Celtic, Villarreal face Sporting, Sevilla face a tricky task against Serie A outfit SS Lazio and Real Betis travel to Normandy to face Stade de Rennes.
All dates and kick-off times are expected to be confirmed by UEFA during the course of the day.
UEFA Champions/Europa League: Round of 16/32 draw: live
Here's the full Europa League Round of 32 fixtures: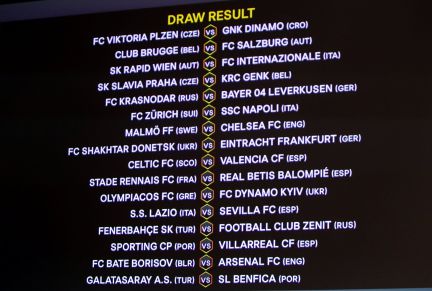 LaLiga sides draws: Sporting CP v Villarreal / Celtic v Valencia / Lazio v Sevilla / Rennes v Betis 
Stand out ties.... Shakhtar v Eintracht.... Sevilla v Lazio and Valencia v Celtic  
Final games feature: Galatasaray who face Benfica 
Fenerbahçe-Zenit / Sporting CP v Villarreal / BATE v Arsenal 
Next tie: Olympiakos with the Pireaus based outfit pitted against D.Kyiv. We move on with Lazio who face Sevilla 
Next tie is Celtic and they face Valencia. Stade Rennes next out and face Betis
Next tie is: Malmo and the Swedes will play....Chelsea. We move on with ....Shakhtar and the Ukranian side face Eintracht Frankfurt
Tie 5 is : Krasnodar with the Russian side facing Bayer Leverkusen, game 6: FC Zurich who play Napoli  
Game 3 pits, Rapid Vienna-Inter with the fourth tie seeing: Slavia Prague face Genk 
First side out is: Viktoria Plzen who face Dinamo Zagreb. Next tie: Brugge-FC Salzburg
Dangerous sides in Pot B are: Lazio, Sporting CP, Shakhtar, Celtic, Galatasaray....  
All 4 Spanish teams are in Pot A of top seeds (Sevilla, Betis, Valencia & Villarreal).
Ricardo Carvalho and Celia Sasic are on hand to draw the balls this morning
Giorgio time as the UEFA General Sec. runs through the draw process. No teams from same nation can face each other.... No teams from same Group stage can meet and the usual political issue of no sides from Russia facing Ukraine opposition. Zenit/Krasnodar - Dinamo Kiev/Shakhtar. 
The strapline for this year's Europa League is "Together to Baku"
All set with the various bowls brimming with the balls of the 32 participants... a quick UEFA video showreel plays showing the best of the Group stage and we'll be back with Pedro and Giorgio. 
Big anthemic tune with anthemic "Whooo ooo" chorus, it can only mean the Europa League anthem .... Pedro Pinto on call again as we discover the draw for the Round of 32 
We're set for an imminent Nyon return to learn the ties for the Europa League Round of 32 
Emilio Butragueño: "We are current champions. When Real Madrid play a Champions League game, every rival knows what that means".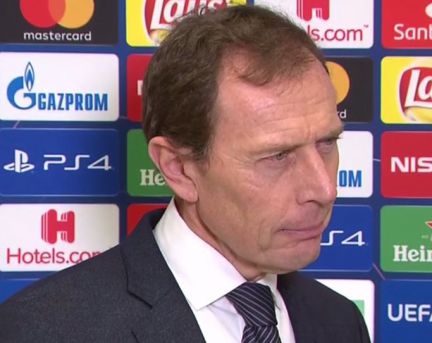 Europa League betting: To win the competition: 1) Chelsea 2) Napoli 3) Arsenal with Sevilla in fourth place according to Europe's leading bookmakers
Will Mourinho still be in charge to oversee Man United's game against PSG? Rumours of an imminent sacking are rife this morning after the "Red Devils" crashed yesterday 3-1 at Anfield.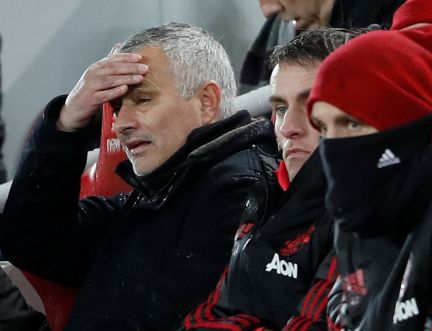 The Europa League final this season takes place on May 29th in the Azerbajani capital.
We move from the Road to Madrid to the Road to Baku... Matchdates for these games is Feb. 14 and 21
Big names populate the Europa League last 32.... Chelsea, Napoli, Inter, Arsenal, Celtic, Benfica among the favourites (apart from the Spanish representation)
So, the main hall in UEFA moves to the Round of 32 of the Europa League. Four Spanish sides involved: Sevilla, Villarreal, Betis and Valencia. 
....and another graphic illustrating the Round of 16, this time by the hands of Lina in the AS Creative Dpt.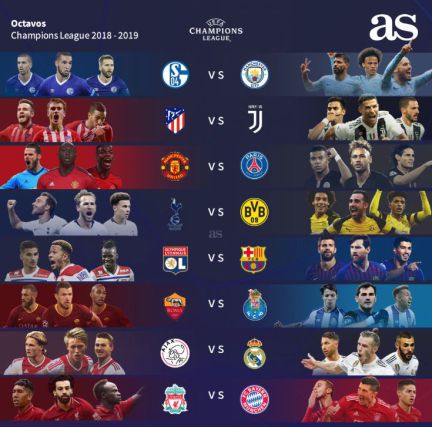 March 15 is our next Champions League draw date appointment in Nyon as the quarter and semi finals will be drawn at the same time. 
The draw as it appears on the big screen in the main Nyon hall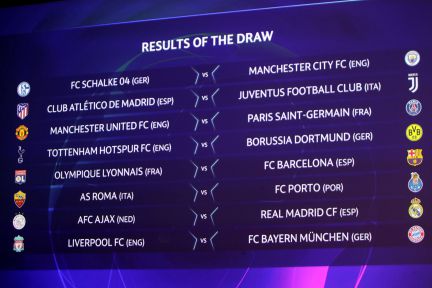 Don't forget, these Round of 16 games are scheduled for: Feb 12/13 and 19/20 (first leg) with return fixtures on March 5/6 and 12/13. We anticipate to have the definitive ko starts and dates later this afternoon so fans can then start to book their transport. 
Pick of the draw on reflection.... possibly Man United v PSG, Atleti v Juve is an attractive tie too ... Liverpool v Bayern.... Spurs v Bundesliga leaders Dortmund.... all ties to be honest have their own interesting angles..... 
Liverpool face Bayern Munich .... 
4 teams left...next out is Ajax, the Dutch side are set to face Real Madrid 
Game 6: Roma and the Serie A men will face Porto 
Game 5: It's Lyon and the Ligue 1 men face FC Barcelona 
Game four sees: Tottenham with the North Londoners set to face Dortmund 
Next out .. Manchester United.... with Mourinho's men to face PSG  
Next tie sees.... Atleti with Simeone's side set to face Juve 
The draw is about to start...... and the first side out is .... Schalke 04 and the German side will face Man City
UEFA just going through the semantics of the draw process with no sides from the same nation allowed to face one another as is the case with teams from the same group stage.  
Biggest trophy in domestic world football......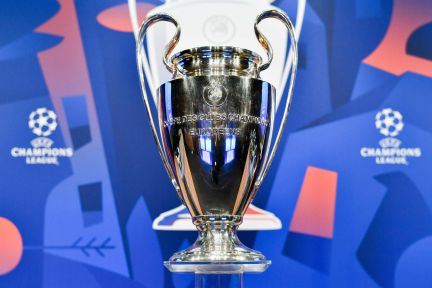 Today's UEFA MC, Pedro Pinto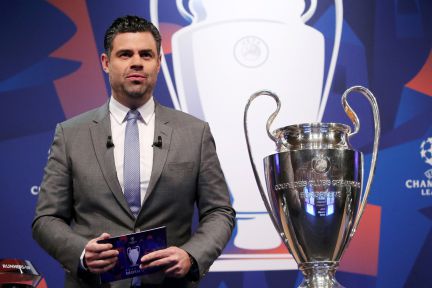 Il Capitano is in the house in Nyon this morning ....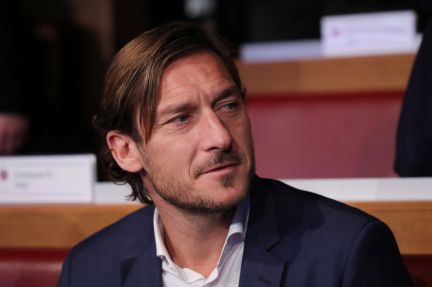 Luis Garcia (ex Atleti and Liverpool) player is on hand to assist in the draw process this morning
Reminder: The Round of 16 games are scheduled for: Feb 12/13 and 19/20 (first leg) with return fixtures on March 5/6 and 12/13.
 It's Giorgio Marchetti time as the affable UEFA General Secretary talks us through the draw process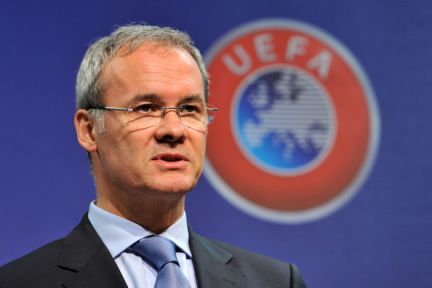 A quick UEFA video plays showcasing the best goals from the qualifying rounds....Some belters there !
We're live in Nyon with Pedro Pinto our MC this morning. Remember folks, first up Champions League Round of 16 draw, followed by Europa League Round of 32 at 1300 CET.
Given the laws of probability it seems inevitable that we'll have at least one Premier League vs LaLiga side matchup.
Spanish analyst Julio Maldonado reckons that the Spanish teams need to fear Liverpool and his view is that Schalke 04 are the easiest side to face in the Round of 16 draw. 
A pic of the draw stage taken a short while ago in Nyon. 2 minutes to go now !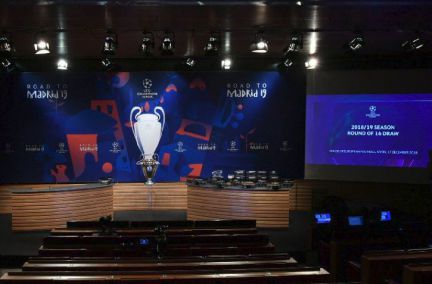 Will Atletico failing to beat Bruges last week and finishing second in their group see Simeone's men suffer in the Rould of 16 draw? The Colchoneros are desperate to reach the 18-19 final at their own stadium.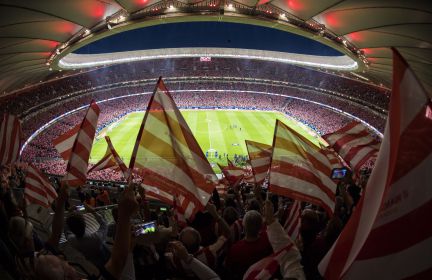 Highest scoring side in the Group stage .... PSG with the Ligue 1 side bagging 17.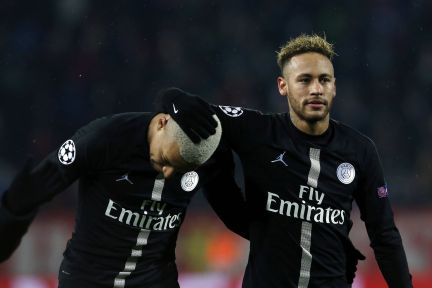 Would love to see Rod Stewart on ball selection duty this morning in Nyon. Possibly our favourite cup draw ever !
One image we won't see in Madrid is this .... Zidane posing with the famous trophy....Could Real Madrid make it 4 in a row ? I've heard Atleti fans claiming that they would: "burn the Wanda, rather than have Real Madrid win the competition in their stadium" !!!!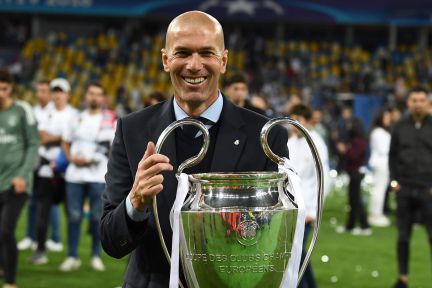 Last minute preperation taking place in the main hall in Nyon as the Champions League trophy glitters centre stage. Road to Madrid 19 creative images donning the backdrop to the setting. Just 15 to go now...
Who are the rank outsiders for this season's competition I hear you ask .....German side Schalke 04 hold that honour with a win for the Bundesliga side on June 1st now paying odds of 151/1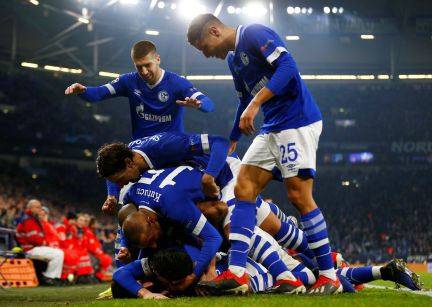 All roads in the Champions League this season lead to Madrid with the Spanish capital hosting the final on June 1 at the Wanda Metropolitano. Here's the official match poster for the final.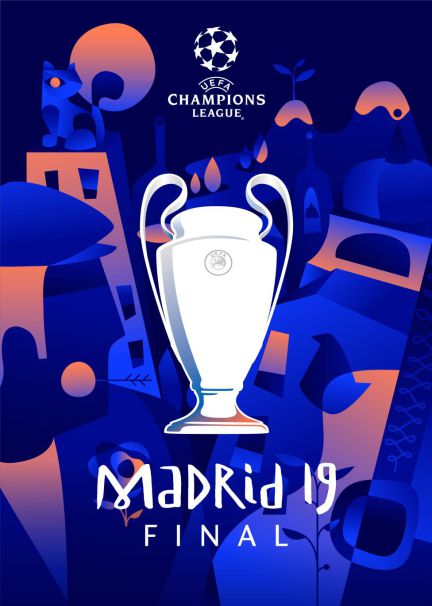 The Round of 16 games are scheduled for: Feb 12/13 and 19/20 (first leg) with return fixtures on March 5/6 and 12/13.
As far as the bookies are concerned, Manchester City remain firm favourites to lift their first Champions League title in Madrid on June 1st. Barcelona and Juve complete the betting podium with holders Real Madrid languishing in 6th/7th place with certain leading betting houses.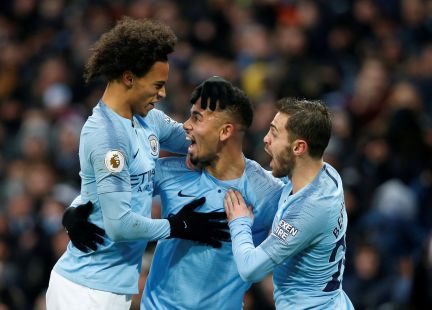 Here's the graph (data from Mister Chip) on the probable rivals in the Round of  16 


  According to a study of possibilities: Real Madrid are likeliestto draw Schalke (as are Barça) with Manchester City the likely Atleti opponents with a 28% chance of being paired with Cholo Simeone's men. 
The Europa League sees four sides involved: Sevilla, Villarreal, Real Betis and Valencia who drop from the UCL.  
Seven Spanish teams still involved: Champions League: FC Barcelona, Atletico Madrid and holders Real Madrid
Just a recap of this morning's "menu": 1200 CET we're live in Nyon where we expect the first ball in the Champions League Round of 16 to be drawn at approx. 1215. At 1300 CET it's the turn of the Europa League where we learn the fate of the 32 sides still involved in the competition.
At 1200 CET, it's the Champions League with the round of 16 draw. At 1300 CET it's the turn of the Europa League as we discover the round of 32 fixtures. 
Good morning and welcome to a big morning of European draw action.....
UEFA Champions League: Round of 16 draw: preview
Sixteen candidates remain in contention for the biggest prize in European football as the draw is set to take place this morning for the round of 16 match-ups.
Two pots are in place with pot A featuring group stage winners: FC Barcelona, Bayern Munich, Borussia Dortmund, Juventus, Man. City, PSG, FC Porto and holders Real Madrid.
These sides will be pitted against one team from pot B: Ajax, Atlético Madrid, Liverpool, Lyon Manchester United, AS Roma, Schalke 04 and Tottenham.
At this stage of the competition, no sides from the same UEFA nations can face each other and teams from the same group stage cannot be pitted together.
The UCL draw will be followed at 1300 CET by the round of 32 Europa League draw and we'll have that live also.