Manchester City 2-1 Liverpool: Sane winner cuts deficit
An enthralling encounter at the Etihad Stadium ended with The Reds losing their unbeaten run and the Cityzens moving four points behind in the title race.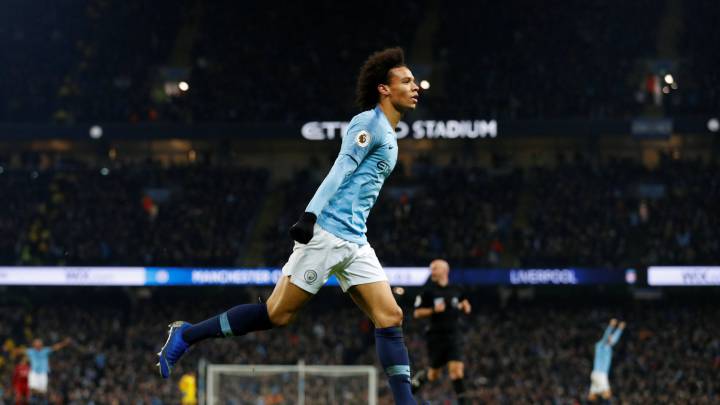 Manchester City vs Liverpool: match report
Well, that was fun! Before the game both managers praised their main title rival, claiming they were the best in the world, or the country. Over the piece, City probably deserved to win but there was little between the two, both of whom should still be seen as serious contenders for not only their domestic competition but also for the Champions League.
City started strong, Liverpool then balanced things up. The pattern of play was as many expected, the home side looking for the goal they needed, the visitors aiming to catch on the break. Things could have been so different and it was a game defined by small margins. A slick move between Liverpool's famed front three ended with the ball less than a centimetre and a half from triggering the goal-line technology. Then Agüero did what he keeps doing to The Reds, a powerful shot, close and tight to Alisson's near post.
Liverpool had to go for it and a few minutes of pressure on City's goal lead to the equaliser. Trent Alexander-Arnold switching play to the back post; Robertson putting it back across goal, and Firmino heading in. There was a feeling right there that Klopp's side would go on and get a second as the flip in confidence kicked in. Instead though, Sane finished off with a pin-point low strike in off the post.
And that was the winner. The level of quality and intensity that is a joy to watch. Two managers that have a healthy respect for each other, and two sides that could be fighting till the trophies are handed out in May. It should be fun to watch.
Manchester City vs Liverpool: live feed
Thanks for joining me for what was a clear battle between the best two sides in England. Liverpool's unbeaten run has gone but they'll be delighted to have daylight between themselves and the chasing pack in January. City will have renewed belief that they can claw back The Reds' advantage over the coming weeks....and Spurs remain in the mix. It's all to play for!
Peeeeeeeepppp!! It's full time and City have cut the deficit at the top of the Premier League to four points. 
90'+5'   Ederson clears a dead ball straight out and Liverpool have one last chance...
90'+4'   Agüero picks up a loose ball and goes for goal from his own half, not causing any trouble. More balls then lifted in hopefully to those in the City box but it's cleared on each occasion.
90'+2'   Liverpool building more and more pressure but unable to get a shot away. Time is running out. 
Five minutes of added time.
90'   Into the final minute and few fans have left the stadium early. Sane breaks again but as Shakiri wins the ball back he gives it to Lovren who decides City should have another goal...twice! The first gift is saved by Alisson, the second flies just wide.
89' Bernardo Silva booked for a high kick.
88' Kompany off for Otamendi (Walker had already replaced laporte)
87'   Liverpool defintely piling on the pressure in search of an equaliser. They know that losing 2-1 or 3-1 is irrelevant but 2-2 would be so valuable.
Sturridge on for Wijnaldum
85'   Guardiola raging about that last play which resulted in a chance for Liverpool. He believes play should have been brought back for a foul. The ref trotts over to calm things down.
84'   CHANCE!!! Salah released and gets a shot away from the left channel. Ederson blocks away and it's a Liverpool corner. High pressure
81'   That pressure had City hearts in their mouths as the ball bounced around in front of Ederson's goal but then Sterling gets the best of Robertson (first time in the game) on the breakaway. He releases Agüero who rounds Alisson to slot home but the big keeper does excellently to get back and block.
80'   The Reds taking more control here as City sit deeper and soak up the pressure...
78'   Both sides have suddenly started a much more direct approach, searching out runners a phase or two ahead of them. Fabinho has been a positive addition to the visitors' midfield.
76'   Again Alisson, Van Dijk and Lovren decide to play keep ball in and around their own area as they wait for an opening to build. Brave with blue shirts descending.
74'   The onus is back on Liverpool who, it must be said, continue to look a threat when they have the ball. That goal was the tenth Klopp's defence has conceded in the league this season.
Man City 2-1 Liverpool (Sane)
72' GOOOOAAAAAAALLLL!!! City are back in front. Sane found Sterling just outside the area and as the impressive German steps into the area he swings a left boot and then watches as the ball strikes the far post and then rolls across the right side of the goalline. Small margins. Great finish.
70'   It has to be noted that despite Kompany's oft-quoted aging legs, he's class. Fernandinho too is showing his quality. 
68'   Liverpool's tails are up, space appears to be opening up too, but it's anyone's guess what this result is going to be.
67'   Free-kick to City. Can they get right back? Lifted into the crowded area but it is well away.
Man City 1-1 Liverpool (Firmino)
65' GOOOAAAALLL!!!!! Firmino levels it up after some sustained pressure from the visitors. TAA over everyone to the far post, Robertson somehow is there and drops it across goal to the Brazilian to head into an empty net.
63'   CHANCE!! Ederson goes walkabout as a Liverpool throw a free-kick onto the edge of the area and it then falls to Firmino who steps away from two defenders and fires in. Kompany blocks and it's cleared.
61'   Both sides are still intent on playing out from the back. Nerves of steel it would appear. The balance of play though is still just favouring City.
58'   Just like in the first 45, City's blistering start is then cancelled out somewhat by Liverpool building some play. A decent shot from distance from TAA had a few in the stadium concerned but then Sane breaks against the young Englishman and Danilo finishes the move with a shot just wide. Interesting state of affairs out there.
57' Fabinho on for Milner. Fresh legs in that intense midfield tussle for Klopp.
55'   TAA decides he's had enough and strides forward through the middle of the park. It looks dangerous but the move fizzles out. 
52'   More pressure from the hosts, as Liverpool start this second half sluggishly. Sterling goes down looking for a penalty but it was just strength from Robertson who continues to win that battle. Then Fernandinho shoots from distance...one you'll not see in the highlights reel.
50'   Mané set away into space but his cross is safely into the hands of Ederson. 
48'   Lovren gets the better of Agüero this time but then City have The Reds defence worried as they win the ball back in the final third. Eventually cleared but City are out wanting to calm some nerves quickly.
47'   Sterling wins a free-kick off Mané after he escapes the Van Dijk press. The reaction from big defender shows just how much he despises making any type of mistake.
City get it going
That's the teams coming out. Settle back in...
We've also seen a half packed with moments of high quality skill, especially under that pressure talked about. The rapid, intricate combinations from the visitors has unlocked City at times, and will be a point of discussion for Pep. The other area he is likely to mention is the joy they've had - albeit less than they are used to against lesser opposition - when setting Sane loose down the left. Lovren, for one, is being tested.
As expected, much of Liverpool's danger came on the break, and Klopp will be focusing on a number of positives from that first half as the lads munch down their modern version of the orange quarters. There are few teams better equipped to deal with being pressed but even the talent in sky blue was being harried out of possession on numerous occasion by the hard-working Reds.
There are some murmerings of the little Argentine going down easily in the box in the move that lead to his goal (claiming a penalty but being waved onto his feet by the ref) although that is unlikely to have changed what then happened. 
Half-time | Man City 1-0 Liverpool
45'+2'   One last chance for the visitors as they loft the ball into the mixer. The header back across goal almost falls for a shooting opportunity but the danger dies down and the referee purses his lips...
45'+2' Second booking for City. Laporte halves Milner who reaches the ball just before him.
45'+1'   We start the two minutes of injury time. The Reds have tried a couple of balls into the front men's feet but both have fallen just behind the intended target.
44'   The home fans are in good voice now (actually they have been all night) as City look to keep the pressure on. Liverpool though are quick to get some more possession and look for openings. We'll see if the goal changes any of the structure to the game.
Man City 1-0 Liverpool (Agüero)
41' GOOOAAAALLLL!!!! Agüero fires into the roof of the net from the tightest of angles, the power and close proximity of the strike taking it past Alisson before he can get his arms up.
40'   Sane has Lovren on toast there as he sprints around the outside of him but the ball across is punched away strongly by Alisson. Sterling then can't control well to get a shot away and the danger looks to have been cleared...
38' Card for Wijnaldum who nicks Sane on the run, sending him flying into Henderson.
37'   TAA skips past the press and sets Salah scampering off down the right. Strong, masterful defending from Kompany sorts that out though.
35'   Sterling vs Robertson part III. The Scot comes out on top again. Liverpool then try to build down the left but good pressure forces Mané into a mistake.
34'   Corner delivered into the penalty area and a foul by Bernardo Silva allows a few seconds to breathe.
33'   Agüero and Sane again link up well down the left, the German again getting a cross in. Van Dijk sticks a boot through it and its out for a corner.
31' Kompany joins the card count with a dangerous looking challenge on Salah. No major injury but the flying tackle had minimal sign of the Belgian being in control of his limbs.
30'   As we reach the half-hour mark there are still no goals and few chances to speak about (other than the most obvious). High-tempo and very competitive. Great, eh!?
28'   Great ball over the heads of Robertson and Sterling allows the City winger to control and pull back across the area for David Silva. He quickly controls and shoots but there are enough bodies in his way. Mané then hits long and wide for Salah to chase onto...but too wide.
24'   The ball looked to have gone out for a Liverpool throw but City play to the whistle and Agüero feeds Sane into the left channel. The German's low cross appears to be rolling towards an advancing forward but a red-socked boot gets there first.
22'   City have moved the whole play forward since that fortunate escape. Maybe they see that incident as a sign that today is their day.
20' Lovren into the book after a late challenge on Agüero. Guess who City may target from now on...
Wow! The replay shows that the ball was around a centimetre from being over the line!
18'   CHANCE!!! And what a chance. Mané hits the post after a sweet move between Salah and Firmino, and then Ederson saves(!) the clearance from Stones which almost bounces over the goal line but for a last ditch clearance as Salah pounced.
16'   The game has balanced out from the opening flurry by the home side. Ederson is being used as an out for City players under pressure and Liverpool are getting more of the ball in the midfield.
14'   City drop a couple of lifted balls into the area around the edge of Alisson's area, both cleared several metres by Lovren. From the second, The Reds get an intricate build-up through the middle until an excellent sliding tackle from Silva stops Mané from doing anything further.
12'   Sterling picks up the ball on the right wing and faces up to Robertson for the first time. He shimmies to go past the Scotsman but, as he's done all season, the defender wins the duel. 
10'   Mané knocked to the ground there by Silva and the free-kick awarded is not enjoyed by the fans. The ref must be expecting this 'critiquing' though.
8'   Alisson gets the ball played back to him a couple of times in quick succession as Liverpool try to take the sting out of City's play. That then allows them to break down the right and the ball in from TAA (Trent Alexander-Arnold from now on!) takes a deflection into Ederson's arms. First decent move from the league leaders.
6'   A break in play here as Robertson gets a knock to the head. The ref stopped City from developing their play due to the injury - much to the disgust of the home players and fans.
5'   There's a good pace about the hosts' play in the opening minutes, giving their visitors no time on the ball. It's a little frantic from The Reds who are yet to gain any type of control.
3'   Leroy Sane getting plenty of the ball in the early exchanges and makes a clever run inside Alexander-Arnold. His ball across goal is collected by Alisson. Noisy crowd here!
2'   A slow pass back to Alisson sees the goalkeeper take his time on the clearance and, under pressure, slices it out for a City throw. Nothing interesting comes from there though and Liverpool win a goal kick.
1'   Immediately the blue shirts swarm all over Liverpool and force them into a mistake. City collect the ball and try to move things forward.
Liverpool get us going...
Hugs between the respectful managers and it's almost time...
We saw the teams announced an hour ago and the question remains how City will line up. English defender John Stones could be deployed at full-back, rather than his usual centre half.
The teams are heading out onto the pitch, players looking pretty relaxed, all things considered, but many of them have been in bigger games than this, to be honest.
  City's slip in their attempts to retain the title saw them lose to Chelsea, Crystal Palace and Leicester. What must be remembered is that they have not played particularly bad in any of those games, but football is not a sport that the best team almost always wins (unlike say rugby or basketball). There have been plenty of matches in which Klopp has gone home knowing they could have dropped more points but got away with it. Don't believe any hype that this title race is over...and that applies even if Liverpool maintain or extend their advantage.
These two lads know a thing or two about games between the cities of Manchester and Liverpool.

As we get closer to kick-off, the players have taken to the field to warm up. Salah may be going through his usual paces alongside his teammates but Jürgen Klopp has his eyes on what City are up to. 

With all the hype that has surrounded this game - not to mention much of the season to date - you could be forgiven for forgetting that Tottenham Hotspur are currently sitting in second place in the Premier League. And their in-demand manager has said what he thinks about the outcome of the so-called 'big two' of the moment.
A quick look back over a couple of Guardiola's player choices. Former Real Madrid full-back Danilo is given a start over Kyle Walker. Fans who regularly watched him in the white of the European champions may raise an eybrow or two about him being asked to keep tabs on the likes of Mané and Salah, but Pep and City's coaches have been working hard to get him up to the right level for this type of contest.
Klopp's choosing to start with the side that came out in Kiev a few months ago to face Real Madrid in the Champions League final. Oh, there's one small, tiny, almost insignificant change to that XI. Alisson is playing in goal instead of Karius!
So, De Bruyne on the bench but Sterling does start, despite some comments made about his performances against his former side (see preview below). Mahrez is dropped from the last game out, adding some interesting options for Guardiola to use if things aren't going his way.
One thing that Klopp mentioned was regarding the tactics and resources he has at his disposal. "We have to use our full, complete toolbox. If we do that, we have a chance." Let's consider that a little further. The high press for Liverpool has proved as valuable a tool as any over 2018, and in the second half of last season it was what allowed the goal-scoring feats of Salah in particular. This season, there has been a less gung-ho approach and that has been a factor in them only conceding eight goals in 20 games. Coming into this game with a seven-point lead on City, many expect the counter-attack to be well-used by Klopp...although the risk of sitting back against the quality against them could prove fatal.
Stay with me here as I'll be keeping you posted of team news, noise from inside the respective camps, and much more that is happening across social media and beyond...
So much is expected from this game, with the reigning champions hosting the current league leaders, the side that most people feel is the only likely rival to take the title away from the Cityzens.
Hello and a very warm welcome to our live coverage here on AS English of the Premier League game from the Etihad stadium in Manchester where Manchester City face Liverpool. Kick off is at 20:00 local time (21:00 CET)
Manchester City vs Liverpool: match preview
Champions vs Challengers. Guardiola vs Klopp. De Bruyne vs Salah. Ederson vs Alisson. Unbeaten run over. Title in their hands...
There are so many narratives that can be chosen for tonight's mouth-watering clash at the Etihad Stadium. Liverpool take the trip up the M62 to the home of the current champions, a team described by The Reds' boss as 'still the best in the world', knowing that a win would make them clear favourites to lift this season's Premier League title. Fans of the Anfield club don't know what it is like to lift that trophy, after all, their last top flight triumph came in 1990, before the new format existed. Conversely, winning back-to-back Premier Leagues has proved just as elusive, but City have the hunger to make that a reality. Remove the thoughts of either of these feats being acheived - there will still be 17 games to play after tonight - and the stage is set for a blistering 90 minutes. Let's try and just enjoy that and leave the post-game hyperbole for later.
Manchester City team news
Pep Guardiola took a season to sort out his assault in England following huge success in Spain and Germany. After that, he took the division by storm, setting records as his City side romped to the title in his second year. Flowing, attacking football, utilising the attributes of all 11 players on the pitch has been on of the defining features of the team. A high, co-ordinated press often forces opposition players into mistakes, or hurried clearances, and once possession is theirs, danger is always threatened.
The biggest decision about the City team will be over Kevin de Bruyne's fitness. The Belgian is said to be close to a place in the starting XI but taking a risk on such an important player will be weighing on Pep's mind. Another player who would be expected to line-up in a mega-clash like this would be English winger Raheem Sterling, who has been in great form. Some commentators have suggested, however, that due to his disappointing performances in past games against his former employers, he could be left on the bench. Until a recent blip in results, whatever side Guardiola put out did the business, and with such depth at his disposal, there can be no excuses.
Liverpool team news
The Reds are setting records of their own this season and Guardiola has described them as the best team in Europe right now. Clearly it is in his interests to say such a thing but those that have studied Jürgen Klopp's side closely this season would argue that, while impressing at times, they don't appear to have found a consistently high level of performance, in the way City did in the first half of last season. The defensive confidence that Alisson and Van Dijk - added to complement the attacking talents of Firmino, Salah and Mané - have had a profound effect, only eight goals being conceded so far this term. But it is only in recent games, along with a few sporadic exceptions, where the striking efficacy of last season has been seen.
The flying full-backs of Andy Robertson and Trent Alexander-Arnold have been key to Liverpool's impressive start to this campaign, driving forward to support (or at times lead) the attacks, but having the pace and determination to cover back as required. Because this team has not suffered a loss thus far in the league, little has been made of the injuries that Klopp has had to manage. Joe Gomez was a rock alongside the big Dutchman at the back, but had to be replaced. Lovren and Matip have filled in. The midfield has been mixed and matched depending on availability, form and the tactics depending on opposition. Jobs have been done, with everyone bought into the plan. There is not a Reds fan on the planet that wouldn't have accepted getting to this point in the season with only a single loss at the home of the champions. Ahead of this game, though, dreams are starting to form.