We can't anticipate total perfection from VAR
Let's be clear, VAR is not 100% perfect. It's a system that can spot 'geographical' actions from a game from a side facing camera(s) and have a decision overturned or rectified given the circumstance. That said, as AS collaborator Nacho Tellado recently showcased on the 'El Chiringuito' television show, there are still grey areas when mapping these freeze-frames that lead to off-side decisions. LaLiga looked the other way after the claim was made, alleging that there were a sufficient amount of strategically placed cameras to be able to detect and decipher these marginal decisions. But it would appear that concern surrounding the system is that VAR only geographic and not geometric where the constant movement of players needs to be taken into consideration.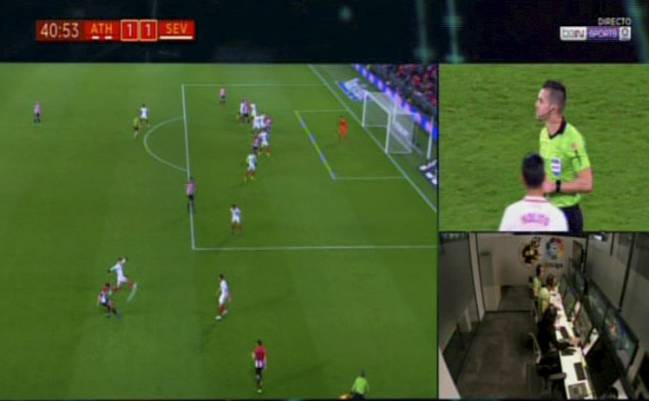 VAR booth
It's difficult for any referee in the heat of the moment of a game of football to spot every single action which leads to the decision making process with players obstructing the line of view. Now match officials have another layer of support in the individuals who inhabit these booths that we now see at all LaLiga clubs reviewing every action in the course of the 90 minutes of play. These four individuals are responsable in assisting the referee should they deem that he has not picked up on a key decision. One of the keys for the VAR officials is when to advise the match referee that a decision needs to be reviewed.
Error
So in essence, what we currently have in the game is a double act in terms of referees. The individual on the pitch who officiates the game the 'old fashioned' way accompanied by the support team in the booth. Do these two parties agree a style of officiating before the game? Are those in the VAR anxious not to be seeing to interfere too much with the administration of a game? These are answers I guess we'll pick up along the way as the system begins to root itself as part and parcel of the game. The system certainly has it's teething problems that's for sure but plenty of decisions have correctly been overturned that would have stood without the use of technology. The problem now arises when we've had a blatant error and few are able to accept this as an inevitable part of the system.