Huesca put in loan request to Real Madrid for Andriy Lunin
Leganés, where the Ukrainian goalkeeper is currently on loan, claim they know nothing of Huesca's plans. Letting Lunin leave would hinge on whether they brought in a new keeper.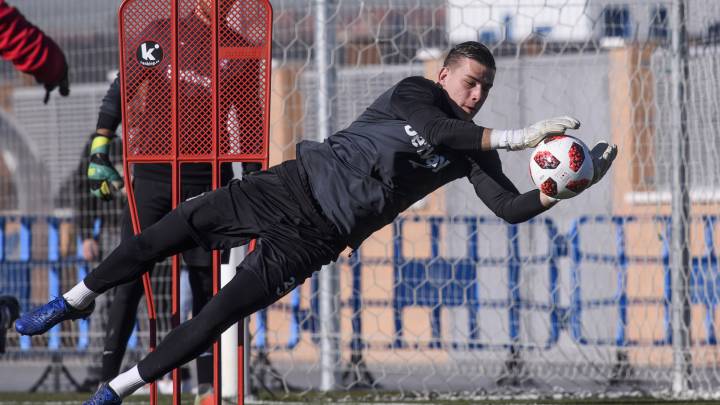 Huesca have presented Real Madrid with a loan transfer request for Andriy Lunin. The 19-year-old Ukrainian goalkeeper is halfway through his loan spell at Leganés but has hardly featured. To date, he's played just three full games (two in the Copa del Rey and one in LaLiga) and a very brief, four-minute appearance against Girona. In total, 274 minutes of playing time. Sources close to the operation have verified Huesca's petition to AS.
However in Leganés, club officials know nothing about Huesca's petition. They have heard nothing from the player, or his father - who is alo his agent. Leganés insist that contractually, they would not be under any obligation to return the keeper back to Real Madrid if the parent club makes such a request.
So Huesca would only be able to pull off their strategy if Leganés sign a third goalkeeper. They are scouring the market for one - firstly, to replace Jon Ander Serantes, who is set to move to Japan to join Avispa Fukuoka.
Settled in Leganés
Back in November, Diario AS reported that Real Madrid were thinking about bringing Lunin back early from his loan - not to incorporate him into the first team squad, but to send him out on loan to another club where he would gain more experience. That idea gathered momentum running up to Christmas until the player made it clear that he would prefer to stay at Leganés. He likes the town, he feels comfortable at Butarque, he has an excellent working relationship with goalkeeping coach Joseba Ituarte and he's a short drive away from the capital. In all in, the positive outweigh the negatives.
Mauricio Pellegrino openely amitted that Madrid had enquired about Lunin, telling the media before last week's meeting with Espanyol: "There are many sides to be considered. For example, Real Madrid, who as his parent club, are the ones who decide whatthey feel is best for them and the player. Then there is the player's desire to play. The lad's happy and he's progressing. But keeping everyone happy is difficult. I'd like him to continue with the team because at the moment we have two good goalkeepers but later we will need to reinforce the goalkeeping position. If we do decide to bring in another keeper, what are we going to do with this lad who's eager to play?".
Extending Lunin's loan to two years

Pellegrino went on to confirm that he has been in contact with Real Madrid about the possibility of extending Lunin's loan by another year: "To put his mind at ease, it's a matter we will discuss with the player. We've spoken about that option but there's nothing official yet. We're only at the start of the New Year and we'll see what happenes. I'd like him to stay with us for another year, of course I would".
Huesca meanwhile are desperate to sign a new keeper and whoever they bring in will be guaranteed a first choice place until the end of the season. One player they had in mind was Athletic Club's Álex Remiro but the change in the president's office in Bilbao has renewed hopes that the keeper might agree a new contract and continue at San Mamés. With all of that in mind, Huesca have turned their attentions to Lunin.