Coutinho's fragile spirit concerns Barcelona
His character and sensitivity are not ideal when adversity sets in and Coutinho's agents willingness to create polemics concern Barcelona.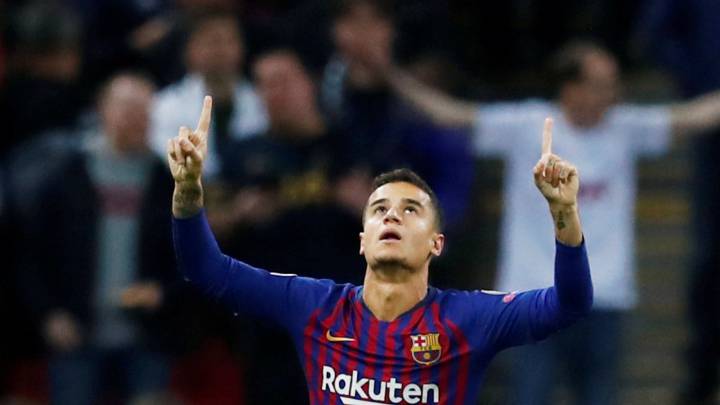 One of Philippe Coutinho's favourite songs, as he told Barça TV after he arrived at the Camp Nou is one called Tà Escrito by Revelaçao. In it, the band sing: "If you find trouble during your life, you have to wait for your moment, sometimes happiness takes a while, your time will come." It could hardly be more fitting for his current situation at the club.
The player is known for being much loved in any dressing room he has stepped into but one who struggles to overcome adverse situations. It is impossible not to recall an episode in September 2017 when he broke down in tears after scoring a goal for Brazil against Ecuador when Liverpool would not let him join Barcelona. After the game, Neymar, who had justed finished his stint at the club, spoke about a player with "a massive sadness" for not being allowed to move to the Camp Nou.
His departure from Liverpool was also a traumatic experience. Despite his emotional farewell letter in which he assured Liverpool fans that he would continue to walk with them and said he could never express how grateful he was for everything they gave him. He was left out of the squad with a mysterious injury at the time given his fragile state of mind surrounding the potential of a Barcelona move.
After a relatively smooth start to life at the club, his last two months, which have coincided with his one year anniversary as a Barça player, could not have been more difficult for the player. At €160 million, the most expensive signing in the history of LaLiga, he can not break into the starting line-up and when he did, against Levante, he could hardly hide his upset even after he scored a late penalty. For a player with low self-confidence, his lack of importance in Valverde's plans is really hurting the Brazilian.
Coutinho's inner circle starting to make noise
A player with a quiet demeanour, a calm and settled private life, his agents are the most toxic aspect of his inner circle. Kia Joorabchian and Giuliano Bertolucci have already let Barcelona know that the player is disappointed with the situation and the have started to create a fuss. Kia Joorabchian's good relationship with the Daily Mail is well known and, curiously, it's the English paper that has published reports of Barcelona interest in Willian (another client of Joorabchian).
Barcelona, for their part, see Coutinho as a player with great potential within their plans and they remain confident he can be a success at the club. The current situation, however, does not look like changing barring an unexpected change of mind by Ernesto Valverde. And the fragility of Coutinho's confidence mixed with his agent's willingness to shake things up is concerning.
That same song that Coutinho lists as one of his favourite also says: "Lift your head and keep the faith, your sadness will disappear, you have to be confident that a new day will come and your moment will arrive." That remains to be seen.