Ceballos sinks his former club with late free-kick
Luka Modric gave Real Madrid the lead before Sergio Canales equalised and Dani Ceballos won with a late free-kick to give Real Madrid all three points.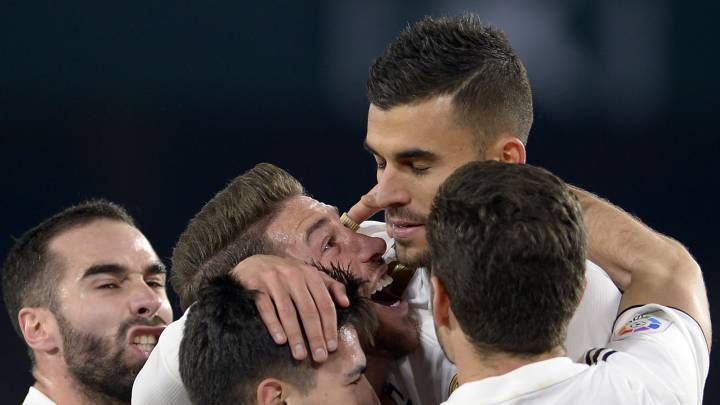 Real Betis 1-2 Real Madrid: match report
Real Madrid left it late to beat Real Betis and the winning goal came from a controversial source but Santiago Solari won't mind given his length list of absentees.
Without a win in the league in 2019, Real Madrid travelled to the Benito Villamarin with seven players either injured and suspended and with Vinicius nursing a flu. They left in the same circumstances but with an extra three points in their LaLiga account thanks to a late Dani Ceballos free-kick.
Solari opted for a 3-5-2 with Isco remaining out of the team and with Marcelo dropping to the bench. It certainly worked in the first half with their pressure causing problems for Real Betis.
Luka Modric scored from a deflected Dani Carvajal shot, which jolted Real Betis to life after 13 minutes. That, ironically, worked perfectly for Real Madrid as they countered with intensity and intention for the remainder of the half and with Vinicius ready to set off at a moment's notice, it kept Real Betis on their toes.
Sergio Canales had an effort that he whipped wide, possibly their best of the half, but they could not trouble Keylor Navas or the scoreboard.
Real Betis came out with a renewed sense of purpose and dominated possession and chances for 99% of the second 45. They pressed Madrid high and continued to throw crosses into the box mixed with some attacks in the center to keep the visitors on notice.
The goal eventually came through Canales, his third effort of the night, as he poked the ball between the legs of onrushing Keylor Navas.
It looked like Betis would push on and score a second but that equaliser did wake Madrid up even if they weren't quite sure how they wanted to attack. Betis continued to put them under pressure on the ball as they kicked it forward to Vinicius in the hope of him turning a punt into a goal.
William Carvalho pulled Casemiro down with 88 minutes gone and after some debate, it was decided that Dani Ceballos would take the free. He struck it clean but Pau Lopez left the left of his goal gaping as he took a step to the right as it was kicked.
And Real Madrid had done the unimaginable. With just 27 percent possession, they snatched the victory away from a deserving a deflated Real Betis.
The victory does not close the book on what happened on Sunday night and the performance invites more questions than answers but Solari can worry about that on Monday after a rough start to his year.
Real Betis vs Real Madrid live online: updates and commentary
90'+4' Game over as Real Madrid win it.
90'+2'   Brahim dives in and concedes a corner for Betis.
90'+2'   Corner for Real Madrid. Ceballos to take and he words it short.
90'   Four minutes added on.
89' Ceballos scores. He curls it through the wall and it's home. 
89'   Ceballos is going to take this one, it looks like. He's the only one over it. The whistles begin.
88' Loren coming on for Sanabria.
87'   Casemiro fouled by Carvalho after Real Madrid win the ball back and counter.
85'   Ball crossed in from the right and Tello absolutely wallops it well wide on the volley.
84'   Brahim into Carvajal and it's sent up into the air. Vinicius miscontrols the ball and Pau Lopez starts again.
83'   Real Betis trying to bring it out from the back and that's a poor pass. Real Madrid win a throw.
82' Valverde off and Brahim Díaz on. Another lose weekend for Isco.
81'   Corner sent in and headed away. Pau Lopez gets it and tells his side to calm down.
80'   Another corner. They move the ball down the right and Nacho slides in. 
79'   Vinicius with a flick on to Carvajal and they lose out on the attack. Dangerous one too.
78'   Navas grabs the cross.
78'   Another corner. 
76'   Corner sent in and out for a goal kick. Some relief for Real Madrid who are under increasing pressure.
76'   More pressure from Betis. Another corner.
75'   Ramos slides in and puts it out for a corner with Canales chasing him.
74' Ceballos on for Real Madrid. Reguilon goes off.
73'   Ball sent in over the top by Joaquin and it's to nobody. 
73'   Ramos being whistled now every time he touches the ball.
72'   Absorbing game.
72'   Another dangerous cross and Ramos puts it out.
72'   Betis break now. They get slowed down but they keep possession.
71'   Real Madrid improved again. Foul on Reguilon after recieving it from Ramos.
69'   Vinicus versus Barta. They are having a right good go at each other. The referee tells the two of them to calm down and they both walk away still talking.
67' CANALES! Goal. He finishes it.
67'   Looked like Carvajal was keeping him onside. But it's gone to VAR and we will have to wait.
67' GOAL! Canales. But it's gone to VAR.
66' Francis off for Tello.
66'   Ramos clears but this Betis pressure is unrelenting.
66'   They go to VAR but that was never a handball. Referee rightly calls for a throw in the end. Not even sure many Betis players were calling for that one.
65'   Shout for a hand ball on Nacho in that play earlier. Would have been very very harsh.
65'   Another good ball across the right and it's out to a Betis player as they continue on the ball. 
64'   Real Betis really forcing it now. 
62' Yellow for Fede Valverde. He pulls back Lo Celso on the wing. Fairly clear cut too.
60'   Guardado with a lovely volley. So, so close. Would have been an absolute beauty too.
58'   Vinicius down injured after taking a heavy blow in an earlier collision.
58'   Joaquin with a dangerous ball across the box. Reall dangerous but nobody on the end of it. 
56'   More nice possession from Betis but Vinicius attacks now. Cristo loses out.
54'   Modric pulled down by Lo Celso after a nice spell of possession that ends with a Real Madrid counter attack.
53'   Casemiro with another foul on Joaquin. No card.
52'   Vinicius chases down a through ball and Pau Lopez gathers. Vinicius catches him but apologises and they shake hands.
52'   Vinicius loses it to Bartra. Betis on the attack again.
51'   Cross sent in and Carvajal catches the Betis player flying through the air. Ref waves it away.
49'   Really patient from Betis. No chances yet though. Sent in from the left eventually and Betis win a corner as it goes off Ramos.
48'   Another nice move from Betis that sees Joaquin pick it up on the left. He plays it back inside to Lo Celso. Betis really threatening here.
47'   Lovely pass by Joaquin. It's into the path of Canales and he strikes it low and into Navas body. Another nice move by Betis.
47'   Corner sent in and it's headed up and into the arms of Pau Lopez.
46'   Vinicius with a nice touch on the ball to win it back. Good defensive work from him.
46'   We are back underway at the Benito Villamarin.
Benzema replaced by Cristo.
Teams emerge back onto the field.
Cristo coming on for Real Madrid.
45'+1'   Referee blows for half-time.
45'+1'   Corner sent in and Real Madrid down to 10 at the moment.
45'+1'   Benzema's finger is dislocated. Looks really sore and he is in some pain. Not clear if he can continue.
45'+1'   Benzema down injured and he looks really uncomfortable. Sore one on his ankle as he asks for assistance.
45'   Corner for Real Madrid as Benzema is crunched by Bartra.
44'   Another nicely worked move but it lands to Canales and he shoots with his right. Well wide when he probably should have kept it.
44'   Real Betis have really improved. Cross comes in and Varane clears. 
42' Ramos booked. Another foul one after another and that's a yellow. He takes Lo Celso down after he kicks the ball past him.
42'   Free kick in a dangerous position. Canales drives it wide. Not far off maybe but Navas was never worried by it.
39'   Another foul by Casemiro on Guardado. Or was it Ramos. Referee does not produce a card so it must have been Ramos.
39'   Throw for Real Betis. 
38'   Betis applying pressure now. Guardado flicks one towards goal and that's cut out. They attack again and that too is cut out. Madrid on the break. 
37'   Betis want a penalty. Ball comes of a defender but not sure how much he knew about it. Referee says no penalty. Play continues. Real Betis on the ball.
37'   Varane heads the corner wide. He rises highest and glances it off target.
36'   Vinicius is so dangerous. Corner after a nice run by him.
35' And then Modric is booked for an awkward looking challenge on Joaquin.
35'   What a chance as he moved forward.
34'   Valverde clean through. He can't get a shot away before Barragan stops him with a wonderful tackle.
34'   Betis with a sneaky free kick. It doesn't work though. 
32'   Foul on Joaquin and Casemiro is going to get away with this one. Referee tells him he is very lucky not to be carded.
31'   Another counter. They have men over too. Benzema into Valverde's path and he takes it too close to the endline before a shot. It's blocked for a throw.
30'   Real Madrid with a sharp counter. Carvajal into Benzema's path and he cuts back to Vinicius. 
28'   Betis playing their typically risky strategy out from the back. They win a corner this time but Real Madrid know there will be chances if they keep that pressure up!
27'   Joaquin with a cross looking for Barragan but that's over everyone's head. Betis improved in the last couple of minutes but still no efforts on goal as Navas is well protected.
26'   Lo Celso shoots fairly hopefully at the end of a nice spell of possession for Betis. Miles wide in the end. 
24'   There's another tackle on Canales that the fans want whistled as a foul. Nacho the man who he was battling with. No free before Modric gets the ball outside the box and drives a shot over the bar.
23'   Nope. Cleared by Real Madrid and Vinicius chases it down. He puts Francis under pressure and forces him to concede the throw.
23'   Maybe the home side can create something from this. They haven't been able to build anything in open play. 
22'   Casemiro with a foul on Guardado. 
21'   Bartra gets mixed up and isn't happy as Real Betis lose the ball high up the field. Benzema gets it before Carvalho kicks it out of a white jersey. Lucky one for Betis.
21'   Vinicius with the cut inside. He shoots with his right but Pau Lopez saves that one easily enough.
20'   Benzema picks the ball up really deep as Ramos plays it to him. He helps Real Madrid progress it though before they get turned around again.
18'   Joaquin with the foul on Vinicius as Real Madrid win the ball back.
18'   Real Betis with plenty of the ball but no real chances so far. 
18'   Modric with a high challenge and Betis fans really not happy. Referee says he got all of the ball though.
17'   Another attack for Betis but that cross is blocked again.
16'   Vinicius with the cross to Reguilon. He strikes it but not cleanly as it bounces out to Vinicius again. He's caught in an offside position though.
13'   It's gone to VAR but not relly sure why? It is indeed given at the end.
13' GOAL! Carvajal shoots and it's blocked but it falls to Modric and he buries it. Lovely finish.
13'   Barrasgan with oceans of space down the right and he squares. Cut out and Real Madrid attack. Benzema strikes and it's blocked too.
12'   Not sure what Carvalho was doing there. 
11'   Carvalho with a diagonal ball to nobody. 
10'   Barragan crosses. It lands on Casemiro's chest and Real Madrid attack. Reguilon crosses and Benzema catches Mandi with an arm to the head. Out for a throw as it beats everyone. Accidental clash in the air.
10'   Game settling down now and Real Betis on the ball. It's a 5-3-2 when Real Madrid are out of possession.
9'   Sanabria caught offside again. Ramos plays him off. 
8'   Real Madrid with the ball in the penalty area but Betis win it back and in two seconds they're on the attack. Really slick move forward.
6'   Sanabria runs into Ramos and no free. Betis fans want one but it would have been harsh. As intense as expected in the opening few minutes here.
5'   Hops off someone's head and out for a throw.
5'   Ramos takes it and it hits the wall. 
4' Vinicius with a run down the middle of the field. Guardado booked for that one after his earlier effort on Carvajal.
4'   He isn't happy as Sanabria left a foot in on him. He didn't catch him but a bit unneccessary is what Navas was saying.
3'   Sanabria put through now and that one looked like it was offside. Ramos tried to play the trap but it didn't work. Back-up plan Keylor Navas off his line to claim it.
2'   Ball across the field and Varane fouls Sanabria. Real Betis back in possession.
2'   Cabales to Guardado and he loses out to Carvajal before fouling him. Fairly straight forward one there for the ref's first call of the night.
1'   Real Madrid pressing Real Betis really high up the field. Carvalho gets it and Madrid back off as he keeps it really well.
1'   We are underway in the game of the weekend in Spain! 
    Incredible singing from the fans as the teams line up and shake hands. This one is going to be fierce. It could all crumble in front of Solari with his attempts to match Setien's 3-5-2.
    Two teams in the tunnel and getting ready to emerge onto the turf at the Benito Villamarin and listen to one of the very best hymns in Spanish football. 
    Solari would not answer a question on Isco and said "there are 24 players and I'd love all of them to play more. The worst thing is naming a squad and having to leave players out."

    You can't say Solari is sitting on his hands in an effort to turn Real Madrid's fortunes.
    Marcelo had been singled out for his poor performances in recent weeks. He also reportedly admitted to his poor form in a team meeting and he has paid the price today against Real Betis. 

    It's the first LaLiga start for Fede Valverde tonight too. He plays in midfield and has moved ahead of Dani Ceballos.
    Meanwhile, as it stands, Barcelona are 13 points clear of Real Madrid. They're beating Eibar 3-0 at the Camp Nou.
    It looks like Santiago Solari will play a back three with Varane, Ramos and Nacho drafted in to try and match Real Betis. He has switched his still to match Setien with Reguilón and Carvajal on the wings. Marcelo has been dropped too as his poor season continues.
    Real Madrid XI: Navas, Carvajal, Varane, Nacho, Ramos, Reguilón, Modric, Casemiro, Valverde, Vinicius, Benzema.
    Real Betis XI: Pau López, Barragán, Mandi, Bartra, Francis, William Carvalho, Guardado, Canales, Lo Celso, Joaquín, Sanabria
    Benzema enjoys himself in Seville! 

    The good news for Real Madrid is that Vinicius is in the squad. The bad news is that they are so reliant on an 18-year-old.

    The stats really aren't great for Real Madrid in LaLiga. They're throwing in the towel again and find themselves 10 points behind the league leaders half-way through the league. The 17 points they trailed Barca by last season could be eclipsed this year.

    Hello and welcome to the live online feed of Real Betis versus Real Madrid from the Benito Villamarin. Kick-off from sunny Seville is at 20:45 CET and we will have team news and all the stats and info as we build up to the game!
Real Betis vs Real Madrid live online: preview
Real Madrid look to change their fortunes in LaLiga at the Benito Villamarin on Sunday night with a draw and a loss in their account to start 2019. Real Betis, for their part aren't much better off with a loss to relegation embattled Huesca last weeks. They are both on the cusp of Europe though with Real Madrid trying to squeeze into the top four and Betis lurking just outside the Europa League place.
Real Betis are without Junior Firpo, who has been linked with a move to Real Madrid having grown into a shinging light under Quique Setien. Sidnei and Wilfrid Kaptoum are also out with Takeshi Inui on international duty with Japan. They have just signed young phenom Diego Lainez but he doesn't make the bench having just arrived from Mexico.
Setien was asked about Real Madrid's poor form at his press conference but conceded that even a poor Real Madrid side is better than average. "Even playing badly they still put three past an opponent [Leganés] that made life difficult," he said.
Vinicius is in the squad but whether he starts or not remains to be seen. He missed the two training sessions prior to the trip to Seville with a flu but his high fever has reduced significantly over the last 36 hours and he might still start. Isco looks like he will start too with suspensions and injuries carving an opening in attack for him. Lucas Vazquez is suspended and Gareth Bale, Marco Asensio and Mariano Díaz are all injured.
Solari's midfield is weakened too with no Marcos Llorente or Toni Kroos. He is also without Thibaut Courtois but Keylor Navas is not much of a downgrade and he will be keen to convince the Argentine he is worthy of more chances than he has been offered recently.