Bahrain break Indian hearts with late penalty
India looked good in the first half and needed just a draw to progress in the Asian Cup 2019 but they fell to a late Rashed penalty as their dream fades.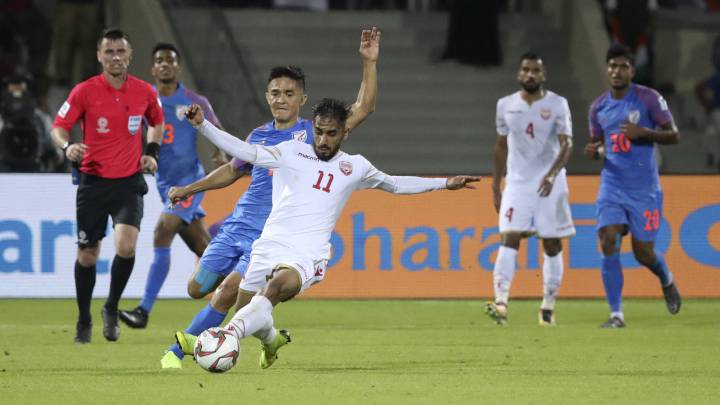 Check out the full schedule for the AFC Asian Cup Round of 16 fixtures
India vs Bahrain live online: updates and commentary
90'+4' This is it. India send a ball in and that's it. Bahrain are through and India are out.  A late penalty.
90'+4'   Into the last minute.
90'+3'   Just two minutes left.
90'+1'   Still level in the other game. 
90'+1'   Heartbreaking stuff for India.
90'+1' Rashed scores. He sends the keeper the wrong way.
90'   India concede a penalty. Pronay Halder dives in on Shamsan. Booked too.
89'   Corner in and headed out at the front post.
89'   Great ball inside. Sandhu comes out and fists away. That was dangerous but it's a throw. Another cross comes in and Jhingan puts it out for a corner. Bahrain building and threatening again.
88'   India with an attack and Borges drives a shot over the bar. They have had two attacks in the last minute, which is more than they have had in the last 30. Are Bahrain getting tired? 
87'   Borges wins it and then India lose out. Ball into Husaini and he plays it to Yusuf. He strikes and Sandhu gathers that.
86'   India win a free in the middle as they try to counter attack. 
86'   Another corner. India under all sorts of pressure.
85'   Save from Sandhu. Nice glancing header comes in from Husaini. Then a volley comes in and it's blocked for a corner.
84'   Corner for Bahrain as Borges puts it out. Bahrain still looking for the owner.
83'   We have an injury now as India's captain is on the ground. 
82'   India, Bahrain and Thailand still in with a shout. Thailand foal against UAE and they're through, likewise if Bahrain score here. If it stays as it is, India go through.
81' Husaini with the strike on the left. That's well wide in the end. 
80'   Thapa will add a little but more presence in the middle. 
79'   Thapa is on now and off goes Narzary. 
76'   Yusuf shoots now. Saved by Sandhu this time. Bahrain are running out of ideas and they are getting tired. They've punched themselves out.
76'   Yusuf shoots now. Saved by Sandhu this time. Bahrain are running out of ideas and they are getting tired. They've punched themselves out.
74'   they play it to him and India charge him down and put it out for a corner.
74'   What will they do. Rashed is the specialist and he will take it.
74'   Five Bahrain players standing around this. 
73'   Backpass alert. Ball kicked back by Bose. Ref gives indirect free-kick. Not sure it was as he didn't really mean to kick that back. 
71'   Bahrain hit the post. India are going to lose this if they can't figure this out. Cross comes in and it's headed down low by Marhoon. India looking around there. They got lucky.
70'   Another free for Bahrain. Ready to be sent in.  Too close to Sandhu who cheats forward and grabs that one.
68'   Yusuf back on.
66'   This could be a massive blow. Yusuf, the super sub off th bench, is down grabbing his ankle and replays show he did go over on it.
66'   Singh slides in on Yusuf in the penalty area. Lovely tackle as it's out for a corner.
64'   Free comes in but that won't work. 
64'   Free for India.
64' Counter-attack comes in as Singh charges up the field. Al Shamsan slides in and that is a foul. Yellow card too but what an effort as the defender burst a gut getting back to slide in. 
63'   India need to do something here or they will concede.
63'   Free for Rashed. Bahrain have a chance here. The left-footed strike comes in and it curls into Sandhu. 
60'   Oh so dangerous! Best chance for Bahrain.Al Aswad with the effort from outside the box and it is dipping but not enough.
59'   Marhoon at the back post. Jhingan slides in and gets the ball. Getting closer. Marhoon making an immediate difference.
57'   India clear another attack. They can't get the ball to their feet though as Bahrain continue to push forward. 
56'   We have another change for Bahrain. Manager Soukup is signalling to bring on someone.
54' Madan being replaced by Marhoon.
54'   India on the counter. Chhetri plays the ball to Singh and he is caught by Al Hayam.
51'   He kicks it out and Madan is fouled. Chance for Bahrain to whip it in from the left. It is sent in and India clear. 
51'   Bahrain with a goal kick and Shubbar's own teammates are telling him to get a move on. He doesn't realise he is in a hurry! 
49'   Jeje, the Indian sub, looking dangerous so far. Some nice touches for him. Can he be the difference?
49'   Corner for Bahrain after some poor communication from India. They have looked wobbly at the back at times tonight. Corner is cleared into the air and Madan with a volley that is well wide.
46'   We are back underway and immediately we have an offside. Al Rohaimi ruled off but not sure he was.
  Teams back out on the field. One change for the second half as Jeje Lalpekhlua comes on for Kuruniyan.
45'+2'   That will do it for the half! Game swung wildly there between dominance for Bahrain and then India before Bahran finished much stronger. Nervy moment for Constantin's side.
45'+2'   Corner for Bahrain. We are nearly at the break and the header down low by Ali Juma and it's blocked out and India clear. Ball back in from Bahrain but whistle for offside.
45'+1'   Two minutes of added time.
45'   They might get a briefing of what is happening there at half-time and become more aggressive but for now, they're just trying to get to the half. Bahrain are improving here as the half-time whistle approaches.
43'   If Thailand get a winner, then India need their own winner! 
43'   Really dangerous cross from Dhiya but nobody on the end of it. It's out for a throw for India. 
43'   Al Rohaimi with a foul on Jhingan. He grabs him around the neck when he realises he won't be able to go around him.
41'   Thailand have equalised against the UAE. All of a sudden, India a little bit more worried. They don't want that and would prefer that Thailand were out of the equation.
41'   Bose kicks it out for another corner as Bahrain attack. Whipped in and Sandhu grabs it but not after a little fumble.
39'   A flick on to Al Rohaimi but he can't get to it before Sandhu smothers it. 
37'   Chhetri is said to have put an arm on Al Shamsan's back. He says he absolutely did not but the referee isn't listening. Free to the defender as another India attack comes to nothing. Chhetri impressive so far though. He's a real livewire.
35'   Corner is worked short and Dhiya is offside. Linesman got that one wrong though, it looks like.
34'   No way through for them but they win it back. India surround the Bahrain attacker and Bose heads out. No communication from the keeper and he didn't need to head that out. Corner for Bahrain.
32'   Still no breakthrough here for Bahrain, who need it more than India. They're on the attack now though.
29'   Al Shamsan with a foul on Chhetri. Time for Bahrain to slow things down. India definitely the better side here.
27'   Some lovely build-up play by India. Ball out wide to the left and inside to Chhetri. He can't control it and Bahrain survive with a goalkick.
25'   Dhiya with the effort. Dribbles to Sandhu, who basically walks to the ball and picks it up. Bahrain snatching at their chances.
25'   He does swing it in but it's caught by the keeper. Fairly handy in the end for Shubbar.
24'   Slide on Bose by Madan and that's a sore one. Free for India. They'll swing this one in. It's Borges. 
24'   Nervy start from India is dissipating as they grow in confidence.
23'   Referee blows his whistle for a foul as the ball arrived.
22'   That's a corner. Narzary absolutely drives a shot low and it takes a deflection for a corner. India improving.
20'   Another pass in behind as Singh wins it back and he Chhetri tries to feed it to him. Overhit again.
20'   India have only had two attacks but there is an air of expectation when they do move forward.
20'   Ball through to Chhetri and he races onto it but can't gets anything on it as it drifts over the endline.
19'   Another knock for an India player. Al Rohaimi catches Jhingan and he grabs his header after a good challenge. He brushes himself off and has to go off the field having recieved medical attention.
19'   Bahrain have dropped off too though and it's all happening around the middle of the field.
17'   Launched up the field but India still can't get the ball and create anything. 
15'   Cross in this time and Dhiya gets a head to it. He just loops the header over the bar though.
15'   Another Bahrain attack brought to a halt due to an offside. India playing with fire by stepping out but they've caught Bahrain out a number of times so far.
14'   India's first proper move in attack. They are growing into this game.
13'   Nice move down the left by Narzary and a cross. It's headed out and sent back in to Kuruniyan. He gets a head on it but that's up into the air. 
11'   Just a glimpse of Anas on the bench and he is certainly not happy as he stares off into the middle distance.
10'   Early ball again into Al Rohaimi. He's offside again and there's no doubt about that one.
9'   Slide in on Ali Juma, up from left-back, and he loses out. Goal kick for India. They need to calm things down here as it's been all Bahrain so far.
8'   Bahrain looking really dangerous here. Into the penalty area again but India get bodies back and clear the danger.
7'   Bahrain have a goal. Rashed is ruled off before he finishes quite nicely it must be said. Not sure if the ref got that right. It was definitely close but it's a free for India.
6'   There's another strike from Dhiya this time. Sandhu saves this one.
4'   Bahrain on the ball now and India win it back. But they can't keep it. Shot comes in from Aswad and Sandhu gets a fist to it. He punches away but it's only as far as a Bahrain attacker. Strike is well wide. 
4'   India might have to do this the hard way.
3' He will be replaced by Salam Singh.
3'   And Anas will go off. He is distraught as he hangs his head.
2'   Anas is going to have to be subbed off. Stephen Constantine dealt a blow here and he will have to remove his centre-back with what looks like a muscle injury. Teammates telling him to go to ground so play has to stop. Free sent in and it's over everyone.
1'  We are under way and remember a draw for India will do. Bahrain need a win with just one point so far.
    Countdown is on! 5....4...3...2...1... Action!
    The teams are on the field. And we are ready for action. We will keep you updated on all other scores in the Asian Cup too so stay tuned! 
    Sunil Chhetri will equal former captain Bhaichung Bhutia's record of highest appearances for the country at 107 each today. Milestone.
    World rankings watch. India are ranked number 93 and Bahrain are number 113. 
    Borges is slightly more defensive than Thapa so let's see if that is a tell in how India plan to play this game. 
    Borges replaces Thapa in midfielder for India. That's the only change from the side that beat Thailand 4-1 on January 6th.
    Here is how the two teams will line up this afternoon.

    Keep an eye on Gurpeet Singh for India: "Coming into the tournament, Singh was regarded as being one of Constantine's most important players. The goalkeeper has a good reputation but not had many opportunities to show his abilities so far in this competition, with India generally well-drilled at the back. He might come under a little more pressure on Monday against a desperate Bahrain."
Indian dressing room. They're ready to make history.  win for India would guarantee them a place in the knockout stages for the first time in their history, having failed to do so in the previous two tournaments they qualified for (1984 and 2011). 
    Hello and welcome to our live online coverage of India versus Bahrain in the Asian Cup. Kick-off is at 17:00 CET and we will have team news and build-up coming your way...
India vs Bahrain live online: preview
India head coach Stephen Constantine is "over the moon" his team are on the verge of booking their historic progression to the Asian Cup knockout phase, calling such an achievement "massive for Indian football".
The Blue Tigers attracted acclaim for their impressive 4-1 win over Thailand in their Group A opener, only to lose 2-0 to hosts the United Arab Emirates after that.
Nevertheless, that victory over Thailand leaves India in a great position heading into their final group match against Bahrain, as they sit second to UAE and looking almost certain to qualify.
A win will guarantee India only finish as low as second in the group, as they have a better head-to-head record against Thailand.
India have never been past the first round of the Asian Cup, and Englishman Constantine recognises his team are on the brink of making history.
"The more you have to fight for, the more you have to lose," he told reporters. "Against UAE, Bahrain were the better side and against Thailand, they were a little unlucky and I hope they are unlucky against us.
"Bahrain are a good team, they are very well organised, they've got some quality players and they will need to win this match, so they will try to attack us, but we will be prepared for that.
"We've done a tremendous job in the last four years. Especially the backroom staff. We have a team behind the team. I'm over the moon that we are on the verge of qualifying for the last 16 and that's massive for Indian football."
Bahrain have picked up just a single point so far, in a draw with UAE, meaning only a victory on Monday will see them get through to the next round.
Such a position at least forces their hand against India, knowing they have to go all-out for a win, and coach Miroslav Soukup is hoping to make the most of any hint of complacency from Bahrain's opponents.
"We must win the next game against India," Soukup said. "We have conceded two goals after the match against Thailand. I hope everyone plays better than the way we did against Thailand.
"India have it much easier than us. It's OK if they lose 1-0 tomorrow, they already have three points, but I really hope after the game we qualify into the next round.
"We must always trust our players. Our defenders and strikers are really good. We had a good preparation before this tournament and I want my players to show more courage on the field, especially inside the penalty box."
PLAYERS TO WATCH
India – Gurpeet Singh
Coming into the tournament, Singh was regarded as being one of Constantine's most important players. The goalkeeper has a good reputation but not had many opportunities to show his abilities so far in this competition, with India generally well-drilled at the back. He might come under a little more pressure on Monday against a desperate Bahrain.
Bahrain – Abdulla Yusuf Helal
With Bahrain needing to take the three points, Soukup might be persuaded to hand a first start of the tournament to Yusuf Helal. The attacker, who is enjoying a good season in his coach's native Czech Republic with Bohemians, can offer real impetus and a slight change might be what is needed considering the team have scored only once so far.
KEY OPTA FACTS
- Bahrain beat India 5-2 in their only previous meeting at the Asian Cup, in the group stages of the 2011 tournament. It is Bahrain's biggest win to date at the tournament.
- A win for India would guarantee them a place in the knockout stages for the first time in their history, having failed to do so in the previous two tournaments they qualified for (1984 and 2011).
- Bahrain have won only one of their last six Asian Cup games (drawing one and losing four), failing to score in half of these matches.
- India have lost five of their last six Asian Cup matches (winning one), conceding an average of 3.2 goals per game (19 in total).
- Bahrain have conceded in each of their last 20 Asian Cup games – double the longest current streak of any nation (10 – Kuwait and Hong Kong).