Stalemate in Dubai as Iran march on as Group D winners
A tense and highly contested match in Dubai was only lacking in clear-cut goal scoring chances as 'Team Melli' progress to the last 16 as Group D winners.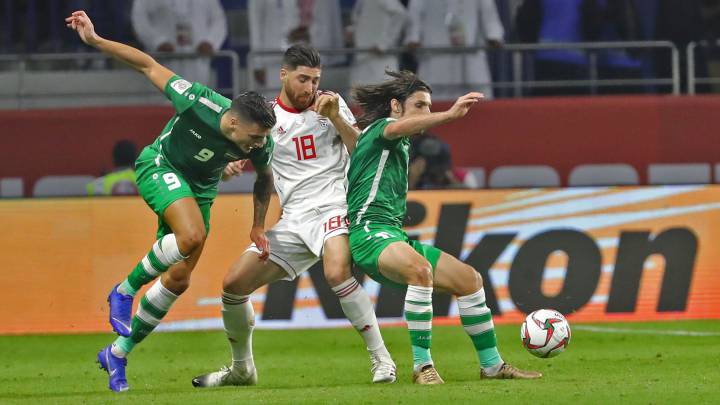 South Korea vs Qatar: Bento calls for clinical quarter-final performance
Check out the full schedule for the AFC Asian Cup Round of 16 fixtures
Iran 0-0 Iraq: as it happened
Thanks for your time this evening as we conclude our live coverage from Dubai. An entertaining contest full of tension and spark but lacking clear goal scoring chances. Iran the better side in the first 45' with Iraq in charge for the second period.   
The final Group D table looks like this:

In Al-Ain Vietnam disposed of Yemen 2-0 to stake a claim for one of the "Best 3rd" placed teams slots available. 
FT in Dubai: Iran 0-0 Iraq 
90'+2'   Tariq awaits the delivery but it's deflected for a corner for Iraq....Ball still alive as the ref calls time. 0-0 both sides progress with 7 points but it's Team Melli who top Group D and (in principle) have the easier path.   
90'+2'   Free for Iraq as men in green pile forward...  
90'+1'   Iran looking to see out the game and progress as Group D winners. Iraq by virtue of finishing second embark on a more complex path playing the winners of Group E (Qatar or Saudi Arabia). 
89'   Free for Iran for dangerous play as Team Melli fans find their voice again. Time to be added 4-5' ? It's in the end just 3 ! 
88' Tiredness clearly a factor now as passes get misplaced. Iran will be content just to run the clock down. 
87' Possession stat: 48/52 (%) Iraq still ahead in the possession stakes. 
85'   Into the final 5' we go ... Can Iraq get the goal that would see them top Group D?  
 Beiranvand has been so solid for Iran transmitting such confidence for the Team Melli rear-guard. 
84' The Iraq storm seems to have blown over after a spell of 15-20 minute domination. 
84' Iran 11-7 Iraq (shots) 
83' Free for Iran.... deep and aimed at Azmoun who fails to get over the ball and heads over.
Card for Adnan (Iraq)
Chesmi off for Iran with Dejagah his replacement
78'   Torabi fires a speculative shot but fails to secure pace and accuracy on the strike 
Ali off for Iraq Dawood on 
Card for Ahmad Ibrahim (Iraq)
75' Best chance of the nice as Beiranvand tips over from a deft Abbas header. Excellent play from Iraq 
73' 15' to go.... a combination of poor final balls coupled with solid defending from both sides are the keys to the current 0-0 scoreline
Iran change: Torabi on for Ghoddos 
73' Big last 15 plus minutes for both sides with securing table top position vitally important. 
71'   Pressure from Iran with the ball fizzing about in the box. Three half chances for Team Melli as Iraq defend stoutly. Another strange decision from match official Irmatov as he awards a free-out for Iraq when it appeared the decision should have been awarded the other way.
Change for Iraq: Ali off and Abbas his replacement
69' Just over 20' to go...49-51 possession (%) in favour of Iraq now.
Tariq down after a rugged challenge from Iran player Amiri who is carded.  
65'   Iraq down to 10 men briefly. Ali strikes but hits the ball straight at the Iran keeper. Iraq do need to create more as the clock ticks down   
Vietnam  now go 2-0 up against Yemen. 
63' Faez Atiyah getting medical attention 
62'    Change for Iran: Taremi on with Jahanbakhsh off 
60'   Iraq are the side that do need to take the game to Iran as a draw is sufficient for Team Melli to top Group D
Iran now resorting to long balls which are being easily dealt with by the Iraq rear-guard. Time for a change for Iran ? 
59'   Credit to Iraq coach Srečko Katanec for his change and half time team talk with the Lions of Mesopotamia arguably in control now.   
Glasgow Rangers are the leading European side sounding out Iraqi striker Ali. The young forward has been quiet so far tonight though as the levels of expectation on his young shoulders increase.
Beiranvand's throw-outs are incredible !!!!!!!!
54'   Good from Iraq as the forge looking to find Ali. Decent spell for the Lions of Mesopotamia with the change working well. 
52'   The tempo is back to where we were at the start of the first half...high octane stuff as Iran win a freekick which Ghoddos takes. Iraq clear their lines and move the ball around at the back. The noise levels have increased too !
49' Beiranvand does well intercepting a fine cross with Ali waiting to pounce. 
49'   Another call for a spot-kick for Iran as the ball bounces and ricochets onto the arm of a Iraq defender. Ref. yet again having none of it as play goes on.
48' There was a change for Iraq at the interval. Yasin off for Iraq with Bashir Resan on in his place.
47' Early pressure from Iran as Carlos Quieroz watches on pensively from the dug-out.   
46' ...and we're underway ... remember Iraq need to win to top Group D, a draw will see Iran progress as winners. Second does mean meeting the winner of Group E (Qatar or Saudi Arabia).   
Both teams are back on the Al Maktoum Stadium surface with no changes for either side at the break. Iraq with the second period kick-off.
Action shot from the first half.  Iran's defender Seyedmajid Hosseini (L) vies for a header against Iraq's forward Mohanad Ali Kadhim Alshammari 

46'   We're back in Dubai as we await the arrival of the sides for the second period. 
Here's how Group D currently looks at the interval in both games:   

HT: Iran 0-0 Iraq
That's the whistle for the break. Frantic stuff here in Dubai despite little in terms of clear goal scoring chances. Plenty of tension and passion on display from both sides with Iran having the better of the early stages. The "Lions of Mesopotamia" edging into the action as the game progressed.      
45'   Improvised effort as Iraq strike, ball easily gathered by Beiranvand who launches a fine counter with a massive throw.  
45'   Iran penalty call again as Team Melli players allege a hand ball from Hadi. Ref. says "no" and we'll have 2 minutes of time added.  
44'   Iraq do look bright on the counter attack with Ali and Yasin causing danger. A minute left in Dubai.  
Vietnam have gone ahead in Al Ain and currently sit third in Group D. 
41'   Ghoddos touches the ball and a wall of boos ring out from the Iraq fans following the preious rash tackle.  Ball falls to Jahanbakhsh but the no. 18 rifles well over. 
Another card as Ghoddos leaves his studs in...Poor challenge and that could have been a straight red. Hadi still getting medical attention. 
38'   Ali heads, goes wide but the flag was up. 
36'   Tempo has now dropped a little from the octane stuff we had in the opening 20 minutes. Iran still dominating proceedings but niether side yet to carve out a clear cut scoring chance. 
35'   Iran fans making the bulk of the noise now ... Yasin fires a daisy cutter but nothing to trouble Beiranvand in the Team Melli goal
First card of the night as Attwan clashes into Amir and goes straight into the ref's book. 
32'   Azmoun stays down after colliding with an Iraqi player. The 24-year-old seems okay as we resume play.
Vietnam and Yemen still 0-0 in the other Group D game in Al Ain. 
30'   30' possession stats: 55-45 (%) in favour of Team Melli
29'   Corner for Iran as Ghoddos drives a well struck right footed shot which is deflected. Play held up as Hassan is on the turf after a collision from the corner. 
27'   Speculative drive from Iran as Ebrahimi goes down in the box and immediately appeals for a spot kick ... nothing doing for the match official.
25'   It's all Iran at the moment with Ali a spectator for Iraq. Just one shot on target so far in Dubai tonight and that came from the side in white.
21' The Amiens player strikes right footed but the wall does a fine job and clears the ball.  
21'   Dangerous free for Iran as Ebrahimi is bundled by three Iraq players. Decent chance for Team Melli here ...Ghoddos to take ...   
20' Pressure from Iran as they win a series of corners, a brief lull in the noise from the fans. Tight marking from the men on green on Iran target man Azmoun. 
19'   Mohanad Ali gets his head on an overhit ball as Iraq probe.
18'   Iran slightly in control so far with Iraq looking bright on the break. Can both teams maintain this high tempo? 
16'   Fantastic desire and intensity being shown from both sides. Despite places assured in the last 16, there is no quarter being given tonight in Dubai. 
13' Yasin appeals for a corner for Iraq but the match official awards a goal correct (incorrectly). 
11'   Iran win a free-kick in a dangerous area .... soft call but pressure here for Iraq as Ghoddos drives into the wall. Azmoun almost makes it one-nil for Iran pulling the ball wide.   
10' possession stat: Iran: 54-46 Iraq (%).
8'   Nice work from Mhawi as he breaks down the right hand side but intercepted by the men in white. No let-up from the fans as the ref. has a word with Chesmi as the Esteghal player commits a foul.
7'   Free-kick after Amiri handles for Iran. Comes to nothing as Iran work the ball wide with intense pressure and pressing from both sides.    
5'   Cagey start from both sides with Iran enjoying the bulk of early possession.  
3'   A draw is enough for Iran to top the group whilst Iraq need a win. Qatar-Saudi Arabia await the runners-up of Group D in the Round of 16.  
Tremendous atmosphere at the Al Maktoum Stadium with fans of both sides making plenty of noise.
1'   Plenty to play for despite both teams having already progressed to the Round of 16.
The countdown to kick-off begins ..... and we're off ... Iran get us underway....
Iraq in green, Iran in white with all three Iranian players on a card on the bench. 
Earlier on today at the Asian Cup, South Korea and China closed Group C in first and second places respectively with Kyrgystan bagging three points and 3rd place with a win over the Philippines national team coached by Sven-Göran Eriksson. 
For Iraq, keep an eye out for Mohanad Ali, only 18 years of age but has already bagged 8 full international goals for Iraq in just 13 appearances for the national side and generating interest from many top European side. 

Sardar Azmoun from Rubin Kazan is our man to watch for Iran tonight.  

Plenty of  "Usood Al-Rafidain" (Lions of Mesopotamia) fans in the ground too as kick off looms

"Team Melli" fans making themselves heard at the Al Maktoum Stadium

Apart from the obvious pride in defeating a local rival in the West Asian Clásico, topping Group D will also see Iran or Iraq face the 3rd placed side in Group B/E or F. An easier proposition on paper to the alternative of finishing second and facing the winner of Group E (Qatar or Saudi Arabia). 
Hello and welcome to our live coverage of the 2019 AFC Asian Cup Group D clash as Iran face Iraq in Dubai with a 17:00 CET start  / 20:00 (UAE time)  
Iran vs Iraq: preview
Group D reaches conclusion this evening as Iran and Iraq face each other in Dubai in one of the Middle East "Clasicos". Top place in Group D at stake in the 2019 Asian Cup but this game will mean more to the supporters of both participating nations with tension between both countries always a talking point. The political aspect of the game was something both managers tried to play-down in their pre-match press conference.
Iraq coach Srecko Katanec: "I admit that the side is not the finished product but we're confident of winning against Iran. We need grow together more as a team, to be more compact, and I know of many things that we need to do to improve. We are a good team, I have good guys and good atmosphere now (ahead of) tomorrow's game and I hope we will win."
Iran's Carlos Queiroz: "We are excited for the game tomorrow because I am sure it will be a great game for both teams and for the fans of Iran and Iraq. So let's enjoy and have some fun," said the Portuguese manager, adding "what happened in the past doesn't win and lose games. It doesn't have any influence on our state of mind in this game, we're just here to enjoy good games and respect the team that's in front of us".
Vietnam play Yemen in the other Group D match with a simultaneous start.