Neymar
Neymar to miss both Man United games in Champions League
Brazil's national team coach was in Paris speaking, along with the medical specialist, about the injury situation of PSG's star man.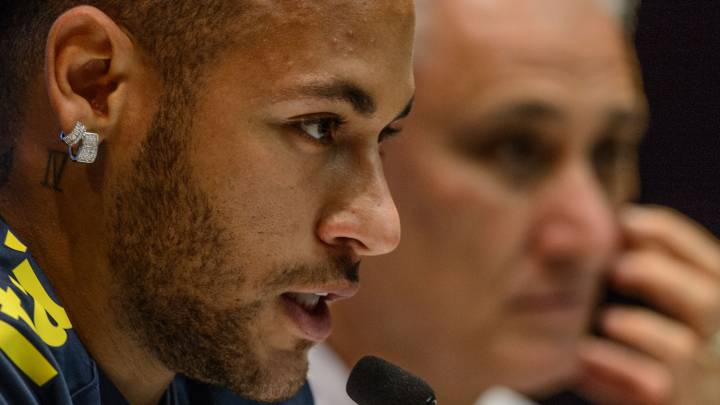 Neymar has suffered once again at PSG, with the same injury that almost kept him completely out of the World Cup in Russia last year. And that fracture of the fifth metatarsal of the right foot is now a concern of not only his club but also to his national team, Brazil.
Tite pushes for Neymar care
The interest in the star forward has brought Brazil's manager, Tite, sporting director, Edu Gaspar, and the team doctor, Rodrigo Lasmar, to Paris as they closely follow the emerging situation of their captain.
"PSG have taken a conservative approach towards the injury," stated Tite during a press conference in the French capital.
"They [PSG] called Dr Lasmar, and other specialists are going to come," he continued. "Only then will they decide about what to do with his foot. It seems right to me that there is caution at this moment."
According to local newspaper L'Équipe, there are discrepancies between what PSG and those in the player's personal camp believe about whether Neymar should be operated on or not. The Ligue 1 club's medical team consider that surgery is inevitable, while Brazil would prefer more conservative treatment, avoiding the operating room altogether. According to AS sources, however, the final decision on this will lie with his club.
Dr Rodrigo Lasmar, who operated on Neymar after the previous injury, arrived in Paris on Monday to evaluate the situation and put forward his opinion on what procedure would be best for the striker. Tite, of course, has already ruled him out of Brazil's upcoming friendlies at the end of March.
"Neymar will not pay the price at the cost of his health," his manager said. "I will lose my job, but I'm not going to put the responsibility onto his shoulders by calling him [while injured]."
Neymar out of Man Utd tie
AS sources close to the situation say that whether or not the operation goes ahead, Neymar can expect to be out for at least two months, meaning he will not be available for the Champions League match against Manchester United.