Qatar hit UAE for four and reach first ever Asian Cup final
Boualem Khoukhi, Almoez Ali, Hassan Al Haidos and Hamid Ismail were all on target as Qatar thrashed the hosts in Abu Dhabi.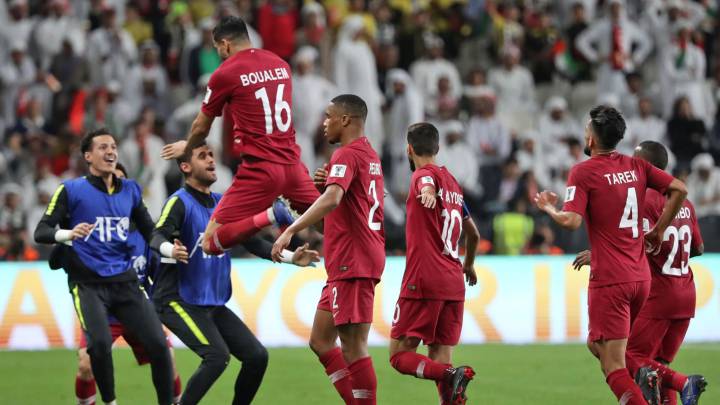 Update: The UAE have filed a formal complaint with the Asian Football Federation alleging Qatar fielded an ineligible player.
Qatar 4-0 UAE: Asian Cup live, as it happened
Many thanks for your company today. Qatar march on.... 16 goals scored and 0 against... Japan start Friday's final as favourites but who would bet against this solid Felix Sanchez outfit.
A night to forget for UAE who were outplayed and outclassed by a professional Qatar side. A poor end to a decent home tournament for Al-Abayad.
Khoukhi, Ali, Al Haidos and sub Ismail getting on the scoresheet today as Qatar set up an intriguing final on Friday against 4-time winners Japan.
FT: UAE 0-4 Qatar 
That's it here in Abu Dhabi. UAE slump out with Qatar winning 4-0 in an impressive display from Felix Sanchez's men    
Ismail scores his first goal for Qatar to add to the misery for UAE
Qatar make it 4!
90'   Time just tunning down now and a win for Qatar to delight their 48 fans here at the Mohammed Bin Zayed Stadium in Abu Dhabi
Afif off and Hamid Ismail on for Qatar
90'   Re. Ramos consults VAR in a red card review. A possible elbow from UAE player and yes, it's a red for Ahemd for a fould on Al Hajri
89'   Last minute of the 90. Every credit to Qatar, a solid and professional performance from the men in maroon. Felix Sanchez getting the best of his well drilled side and Al-Annabi worthy winners here in Abu Dhabi today.  
Card for Alaaeldin, just been on the pitch for less than a minute !
87'   Mabkhout with a chance for UAE ....rises well but heads wide
86' Change for Qatar: Ali (goal scorer #2) and Alaaeldin his replacement.
84'   An eerie silence now envelops the Mohammed Bin Zayed Stadium as the home fans sense their Asian Cup 2019 tournament has come to an end. The end of the line too it would appear for coach Zaccheroni. 
So it's Qatar 3-0 UAE with just 8' remaining
Missiles now being fired onto the pitch now from the home fans... Not good scenes ! 
Goal Qatar .... Al Haidos finishes on a one on one....Great finish 
80'   As we stand ... Japan v Qatar on Friday . 
76'   Pressure from UAE as Qatar seem comfortable with the high balls lofted into the Qatar box. It will take something a little special to break though this solid Qatari defence.  Asian Cup 2019: Qatar Goals for 14 / Goals Against 0!
75'   15' to go. Zaccheroni far from happy with what he's seeing .... The changes have made a difference with both Matar and Khalil creating danger for the men in white but time is running out for Al-Abayad. 
73' Qatar under pressure here ...another UAE corner as they forge for a goal that would put them back in the tie
71'   Al Sheeb tips over again as Khalil heads on target... Matar instrumental in the creative play from the home side
71'   Less than 20' to go .... Can UAE claw their way back into this contest?
69' Abdulrahman on (Nasir off) as UAE take the corner..fisted away by the keeper...Matar has been excellent so far for the men in white .... 
68'   It's gone quite here in Abu Dhabi. Al Sheeb only been properly tested on one occasion so far in this game. The UAE game-plan is a little too predictable as Matar breaks and is thwarted by the Qatar defence 
Change for UAE imminent with Abdulrahman posied to make an entrance
66'   Ref. Ramos has been excellent today..letting play flow and not daunted by the home support.  
63'   Afif breaks into the box with the goal gaping...Great tackle from Ahmed to deprive the Qatari striker of getting a shot off. A third goal for Qatar feels closer to the UAE opener as we stand. 
60'   Afif breaks away and lacks any support as Boudiaf is carded for Qatar.
60'   Qatar looking comfortable as a sense of frustration breaking out now for the home fans. Zacceroni looking frustrated on the bench as his side are failing to create the danger that his side need to deliver to get back into this contest. 
58'   Just up to the hour mark with the latest possession stat at: Qatar 50-50 UAE (%) 
55'   Play held up and Matar carded for a foul on Afif. First card of the night here in Abu Dhabi. 
54' Ali Ahmed Mabkhout with the strike as UAE appeal for a penalty kick following the corner...nothing doing for the Mexican match official. Excellent pressure now from UAE with Matar making an impression.    
51'   Great strike for UAE as Al-Sheeb is forced to tip over....
No. 15 Al Hamadi makes way for Khalil. The Shabab Al Ahli Dubai player looks less than impressed with Zacceroni's decision.
50'   Poor first touch from Matar as Khalil looks poised to entre the action for UAE.
48'   Good build-up from Qatar, the side really are excellent at moving the ball around from the back to a forward position. It's just that final ball that let Al-Annabi down on occasion.     
Abdulrahman the player subbed for Matar incidentally
A goal for the home side could really make this contest interesting. Al Sheeb in the Qatar goal yet to be really tested it has to be said.
Matar on for UAE, a local here for the home fans earning his 127th international cap. 
46'   Qatar set to get the game underway ... 45' ahead to discover who will join Japan in Friday's final.
Pre match mosaic from the home supporters 

Qatar's Boualem Khoukhi celebrates scoring the first goal if the game at the Mohammed Bin Zayed Stadium (Abu Dhabi) 

Tension obviously high in the ground today with much talk about the political back-drop to the match. If only the politicians stuck to politics...... 
Qatar's defensive record at this competition is quite remarkable. 5 and a half games now and the "Maroons" yet to ship a goal. Testament to the solid work of Sanchez and his technical staff (and of course the players on the pitch). 

HT in the second semi final: Qatar 2-0 UAE. What can Zacceroni's men offer in the second period? Can Qatar make history and clinch a final place? Stay with us for the second 45' and all will be revealed.   
Faces of frustration from the fans here at the Mohammed Bin Zayed Stadium as the Mexican ref. calls time on the game.
45'   1 minute of time to be added here in Abu Dhabi.
Two men in white over the ball..... Mabkhout to take ... and the ball is thudded straight into the wall. Poor from the Al Jazira player   
43'   Al-Sheeb yet to be really tested in the Qatar goal as UAE fail to link together with wayward passes letting the home side down. The "whites" win a dangerous free just outside the Qatar box as Pedro fouls Nasir.   
Home fans at the Mohammed Bin Zayed Stadium (Abu Dhabi) today

41'   Afif breaks and has the pace to outrun the UAE defender. The No. 11 takes a heavy touch and easy for Essa to gather.  
39'   What can Al Abayad produce now? The home side need to strike back quickly. That Ali goal has hushed the home support here in Abu Dhabi.
Goooool. Qatar 2-0 UAE (Ali with his 8th tournament goal)
36'   Top scorer Ali has been so quiet for Qatar today... just as I say that he fires Qatar 2-0 up with a cracking right footed effort.  
34'   Into the final ten we go. Qatar in front and the game has now become slightly scrappy with Zaccheroni looking anxious as Qatar almost let in a UAE striker with a terrible back-pass. 
32'   Dangerous free for Qatar...  Khoukhi to take ...deflected and Qatar win a corner. Afif poised to take ... A few missles have been lobbed at the Qatar No. 11 and a home player is forced to tell the fans to cease throwing items. Danger averted as UAE head clear.  
29'   The ball is flicked wide from Ali Mabkhout...could the Al Jazira striker have done better there ?
29'   UAE have responded well to the goal playing in a more agressive manner now as the win a free-kick in a dangerous area of the pitch. Nasir upended with Al Ahbabi to take. Takes a touch from Pedro and UAE win a corner.   
25'   Good from UAE as Al Hamadi gets a clean header off but sadly for the home fans its straight at Al-Sheeb in the Qatar goal. 
Felix Sanchez possibly happier now after the goal than this early pic would suggest !

End to end play leading to the goal as Qatar broke and the No. 16 fired a tame effort and one that Essa will want to forget as he let the ball drift through and into the back of the net.
Boualem Khoukhi fires Qatar ahead. 1-0 here in Abu Dhabi after 22'
We  have a goal .... a howler from the keeper....Qatar ahead 
21'   Free for Qatar, a long way out after Afif was caught. The No. 11 himself takes the kick short 
18'   Plenty of the chants from the Emirates fans are similar to the chants that one can hear at the Santiago Bernabeu week in week out ... a coincidence or have the UAE fans been inspired by the Madridistas? 
16'   Good call from the ref. as it appears that Al Hamadi (UAE) was tripped but in fact tripped himself. Better play from UAE now but they fail to convert the positive play giving the ball away cheaply.
15'   Alberto Zaccheroni could be in charge for the last time to day for UAE with strong rumours suggesting the Italian coach will leave the Emirates position after the conclusion of the competion.
The "away" end at the stadium tonight... 48 Qatari fans present according to sources

12'    Al Hajri strikes from long range and forces a save from UAE keeper Essa. Qatar starting to grab a foothold on the game as UAE seem happy to defend deeply.
Today's match official by the way comes from Mexico and is the 35-year-old Cesar Ramos.
10'   Possession stat after 10': Qatar 47-53 UAE (%)
8'   Patient start as both teams look to shake off early game nerves. Still the final ball from both teams lacking in quality. 
5'   Nervy start for both sides with plenty of mis-placed passes, Qatar enjoying the bulk of the early possession. 
Impressive sight in the Mohammed Bin Zayed Stadium with most fans decked out in traditional white. Great noise levels too from the home supporters.
2'   Afif seems to be okay for Qatar after an early knock. Boos ring out each time the side in maroon advance. 
No Qatar fans in the ground today given the well documented tension between both nations. A partisan crowd I think you'd call today's support at the Mohammed Bin Zayed Stadium.
Qatar host the 2022 World Cup and Felix Sanchez will also be taking his side to this sumer's Copa America in Brazil.
Here we go ... 5-4-3-2-1-off we go ... UAE get the action underway....
Coldplay on the PA as is the tradition pre-game. We're just minutes away from the countdown.....Both sides just 90' away from a place in Friday's final.
It's a muggy 26C today in Abu Dhabi with 0% chance of rain despite the cloud cover. 

UAE are the outsiders with the bookmakers with a win for the "Whites" at 4/1. A Qatari win pays out at 2/1.
Fans packing into the Mohammed Bin Zayed Stadium  in Abu Dhabi as kick off looms.

The Al Abayad will be also in their classic white shirts  

Qatar will be in their traditional maroon shirts today. 

Qatar's impressive performances at this tournament has been based on a solid and disciplined defence. The "Al Annabi" have bagged 12 goals on their way to the semi-final with 0 conceded.
UAE reached the Asian Cup final in 1996 where they fell to Saudi Arabia on penalty kicks. Can the host nation advance in front of their own fans? 

Qatar have reached the quarter final on two occasions (2000 and 2011). This side are poised to make Qatari footballing history with a place in the Asian Cup final just 90 minutes away.   

The political tension between both nations is one of the back-drops to today's semi-final: "The game itself is arguably one of the most high profile Asian football matches in history," said Simon Chadwick, professor of sports enterprise at Britain's Salford Business School. "The regional feud has drawn attention, but so too has the progress of the teams playing in it. Today is an opportunity for both to show their talents."
In Qatar's way this afternoon stand UAE, a side led by Italian coach Alberto Zacceroni. The Italian won the Asian Cup during his tenure as Japan boss back in 2011. 

Spanish coach Felix Sanchez has done a terrific job with the "Maroons" taking the national side to their furthest stage ever at a Asian Cup. Can they make history today and seal a place in Friday's final ?   

Hello and welcome to our live coverage of the second semi-final in the 2019 Asian Cup as hosts UAE face Qatar. The action gets underway in Abu Dhabi at 1500 CET/1800 UAE and 0900 EST. 
Qatar vs UAE: preview

Qatar-UAE: key Opta facts
– This will be the fifth Asian Cup meeting between Qatar and UAE, with their other four encounters coming in the group stage – UAE losing the first two contests and winning the last two, including a victory in 2015.
– Qatar have never beaten the hosts in an Asian Cup tournament (D1 L2), drawing 1-1 against Vietnam in 2007, losing 1-0 to China in 2004 and 4-0 to Kuwait in 1980.
– The Asian Cup has seen hosts qualify for the semi-finals in successive tournaments (Australia 2015 and UAE 2019) for the first time since 1992 (Japan) and 1996, when UAE hosted the tournament and got to the final.
– Qatar have reached the semi-finals of the Asian Cup for the very first time, having been knocked out at the quarter-final stage in both 2000 and 2011.
– After scoring seven goals, having seven shots on target and 10 shots in total in the 2019 Asian Cup group stage, Qatar's Almoez Ali has recorded just three shots with one of them on target and failing to score in the two knockout stage matches.
– UAE's Ali Mabkhout has scored nine goals in Asian Cup tournaments; only Iran's Ali Daei (14) and South Korea's Lee Dong-gook (10) have scored more in the competition's history.
Players to watch
Qatar – Almoez Ali
Free-scoring forward Almoez Ali has slowed since firing seven group-stage goals, failing to find the net so far in the knockout round. However, if Qatar are to win the tournament, he will surely have to deliver again.
UAE – Ali Mabkhout
The UAE's equivalent marksman is Ali Mabkhout and, by contrast, he has two in his last two matches. After a winner against Australia, he will be targeting another famous strike on Tuesday.
Qatar-UAE: pre match comment
Felix Sanchez (Qatar): "In any competition, you have pressure as you need to get the right results. The team, I believe, has coped very well with the situation so far. Of course, all of us know there is added pressure because it is the semi-final.
"But I think we are feeling confident rather than under pressure ahead of the match. It is a very big game for us and we are very pleased to be in the semi-finals of this very important tournament.
"Hopefully, against UAE, we are going to play to our strengths and try to do our very best to continue in the competition."
Zaccheroni (UAE): "We had some difficulties in the first group stage games, as well as in the round of 16.
"But we are evolving and our performance in the last game [against Australia] was very good. I am therefore confident that we will be able to beat Qatar with a good performance."