UAE claim Qatar fielded ineligible player in semi-final defeat
After being beaten 4-0 by Qatar in the Asian Cup, the host nation is seeking redress from the AFC over Sudan-born goal-scorer Almoez Ali.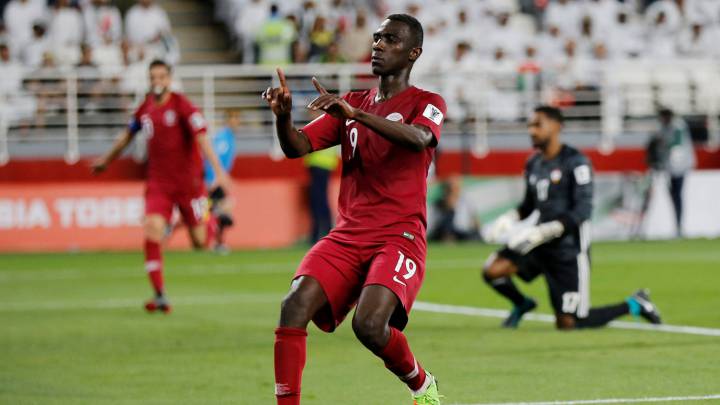 A day before the 2019 Asian Cup final between Japan and Qatar, defeated semi-finalists UAE have lodged a formal complaint with the Asian Football Confederation (AFC) claiming that Qatar fielded an ineligible player in the host nation's 4-0 loss on Tuesday.
UAE's allegation surrounds Almoez Ali, who was on the score-sheet in the semi-final, and Bassam Al Rawi, who did not feature in the last four due to a suspension.
Forward Ali, 22, was born in Khartoum, Sudan and defender Al Rawi, 21, in Baghdad, Iraq.
The AFC has confirmed it has received UAE's complaint that both players are ineligible for Qatar, despite them coming through the junior international sides and having never represented their countries of origin at any level. Al-Rawi even provided the winning goal in the last-16 encounter at this year's tournament against his birth nation.
Qatar coach Sánchez: "We are only focused on the final"
Article 7 of the FIFA regulations state that "a player who changes national team must confirm that one of his parents or his grandparents was born in that country or that he lived continuously for at least five years after reaching the age of 18 on the territory of the relevant association." The Asian Cup competition regulations also note under Article 21 that member associations must ensure that all players "hold the nationality of its country and are subject to its jurisdiction."
Qatar coach Félix Sánchez refused to be drawn on the allegations ahead of his side's date with the Blue Samurai on Friday: "We are only focused on the final. Anything else that isn't related to football is not on our minds."
The political backdrop to the game between UAE and Qatar – the latter is subject to a blockade by UAE and other Gulf states including Saudi Arabia and Bahrain – spilled onto the pitch during the match when Qatar's players were pelted with bottles and shoes, a grave insult in the Arab world, by UAE fans.