"I promised Cholo over three years ago that I'd play for Atléti"
Ahead of the Champions League Round of 16 tie between Atlético Madrid and Juventus, striker Morata took time out to talk to AS.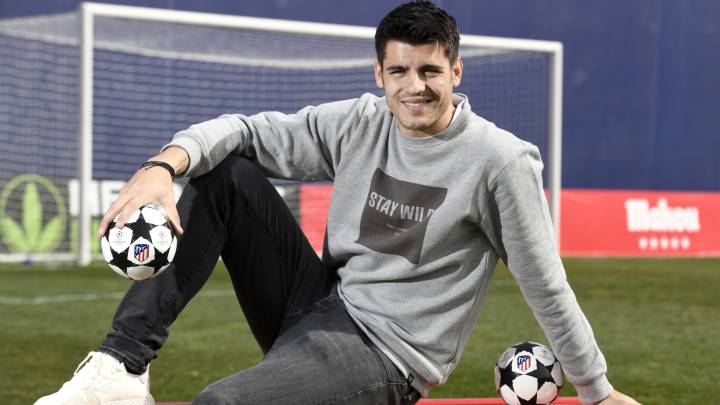 How has your return to Atlético been?
Very good and all is going well. To be honest I didn't need that much adaption time here as there are plenty of people who I already know at the club. The rest of the squad have been great with me too. We're second in LaLiga and determined to fight for the title and now we face Juventus in the Champions League with a chance for us to show who we are. Juve are an excellent team but we'll give all we have.
There have been a few negative comments from Atleti fans but in general you've received a warm welcome...
There are some that are annoyed with me. I had offers to play for other teams and many of my team-mates know that small sacrifices I made in coming here. Now, my priority is to win and why not think that we can aspire to win everything. It's not out of the question.
Atlético have lost all three Champions finals they've been involved in and in each way with a cruel twist. Irrespective, the club and fans maintain the desire to succeed in this competition. As someone who's won the Champions League, what advice would you give to Atleti fans?
I know that the Champions League means more here than it may do at other places. Firstly we need to overcome Juventus and they are a strong side. Our initial task is deliver a solid first leg performance as we know that it won't be easy in Turin.
Would you celebrate if you score against Juventus?
How can I not celebrate my first goal with Atlético? Having said that, maybe I'd avoid doing so in Turin as a mark of respect but scoring my first goal in an Atleti shirt would mean so much to me
Juve have Cristiano in their ranks...
True, but they have also reached finals without him. We know they are a great team and it's not going to be easy. But we're Atlético and we´ll do all we can to make sure this is a tough tie.
Bonucci jokingly said that he'd be breathing down your neck on the pitch...
I hope that is the case. Firstly I need to be on the pitch and he can do what he wants. It will be a good sign.
Champions League
*Update 20 de febrero de 2019
How was your relationship with Cristiano at Real Madrid?
I never had any issues with him. Maybe we shared different viewpoints on certain things but we never had any problems. I hope he has an off-day in these two ties! Sometimes we used to discuss things not related to football, things like family, he's a good guy.
Many Atleti fans are dreaming of a attacking trio with yourself, Griezmann and Diego Costa...
The most important thing is for the team to win and I'm not bothered if we play with three or four strikers, the results are what counts, it's not about wondering who can play or not. The media tend to focus on major headlines but sometimes it maybe someone playing in the last twenty minutes of the game who makes the difference and seals the tie.
With Luis Enrique in charge of the national team, how do you feel about playing for Spain again?
It's time for a fresh start. My initial task is to work hard and start finding the net for Atlético. If I do so we stand the chance of winning more games and if that's the case then I'll stand a better chance of an international recall.