Vinicius now threatens Coutinho
Barcelona's struggling Brazilian now has his place with the national side under threat, with the Real Madrid man and others such as Arthur looking to take his spot.
Philippe Coutinho has been untouchable in the Brazil side since Tite took over. The coach first convinced him to play wide on the right, the opposite of his favoured side. The reason was clear: his preference was to keep Neymar in his natural position and so he persuaded Coutinho that he could have an important role from that side and still have the chance of getting goals. Coutinho accepted and in the build-up to the World Cup he connected relatively well with Neymar and Gabriel Jesús. As the tournament drew closer, Tite floated the idea of playing Coutinho in the midfield position he was used to playing at Liverpool. Coutinho accepted that role too without a complaint. At the World Cup he scored his debut goal in the tournament in Brazil's opening match, a 1-1 draw with the Switzerland and was named man of the match in the 2-0 win over Costa Rica where he also scored.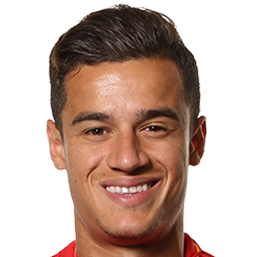 Coutinho no longer guaranteed his place with Brazil
But things are no longer so certain for the Barcelona man. At first glance his place in the  Brazil starting XI still seems assured for now, but the reality is his spot is under threat both at 'home' and from further afield. The arrival of Arthur is putting his place as a midfielder in danger, while further forward Willian and now Real Madrid's Vinicius are lining up to take his place.
With the Copa América on the horizon, Coutinho continues to seek out the form that's abandoned him this season. Having arrived from Liverpool and excited to be realising his dream of playing for Barcelona, his half-season last year was excellent. But it hasn't carried on into this season. The 4-3-3 which in principle should favour him and give him the possibility of playing in either position hasn't benefited him. Diffident and unassertive, he's yet to start really playing. He's lost his place in the Barcelona side to Dembélé and needs to produce some decent football to maintain his status with the Brazilian side. The two Clásicos are a perfect opportunity to show why Barcelona spent so much money on him.