REAL MADRID
Vinicius continues on the same path as Neymar

Vinicius has been called up by Tite to the Brazil national team squad and he could debut at 18 just like his idol, Neymar, did in 2010.
Vinicius continues reaching milestones in his career at a staggering pace. He has already become a starter at Real Madrid where he arrived last summer and he has just been called up to his first national team squad. Tite called the young attacker after watching him several times in white in the last few months. If he was to debut in the coming game on 23 March against Panama in Portugal, he would do so at 18 years, eight months and 11 days old. His idol, Neymar, did it just two months and six days younger.
28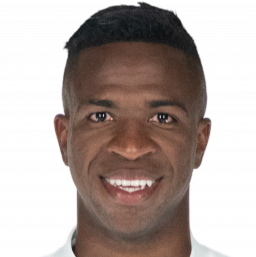 Tite, who sent his son to watch Vinicius recently for another report on the young phenom and is looking to find a replacement given the injuries to Neymar and Dougles Costa. He has two options to give the 18-year-old minutes against Panama on 23 March or against Czech Republic in Prague on 26 March.
Vinicius would be the 14th youngest debutant for Brazil
If he does make his debut in either of those games, he will be the 14th youngest player to ever play for Brazil. And he is in esteemed company alongside Ronaldo, Pelé, Vava, Carvalho Leite, Marcelo, Coutinho, Diego, Dória , Humberto, Neymar, Pato, Carlos Alberto and Lucas Moura. It's getting closer to the Copa America in the summer and if he impresses, he could be a starter in the team by then.
Los 15 debutantes más jóvenes con la selección brasileña
| | |
| --- | --- |
| Jugador | Edad debut |
| Ronaldo | 17 años 6 meses y 6 días |
| Pelé | 17 años 7 meses y 23 días |
| Vavá | 17 años 8 meses y 4 días |
| Carvalho Leite | 18 años y 25 días |
| Marcelo | 18 años 3 meses y 24 días |
| Coutinho | 18 años 3 meses y 25 días |
| Diego | 18 años 4 meses y 15 días |
| Dória | 18 años 4 meses y 29 días |
| Humberto | 18 años 5 meses y 12 días |
| Neymar | 18 años 6 meses y 5 días |
| Pato | 18 años 6 meses y 24 días |
| Carlos Alberto | 18 años 7 meses y 4 días |
| Lucas Moura | 18 años 8 meses y 14 días |
| Adriano Correia | 18 años 8 meses y 17 días |
| Adriano Leite | 18 años 8 meses y 29 días |