Man Utd stun PSG
Two first-half Lukaku goals from PSG mistakes and a late Rashford penalty awarded by VAR saw the Frenchmen fail in Europe again.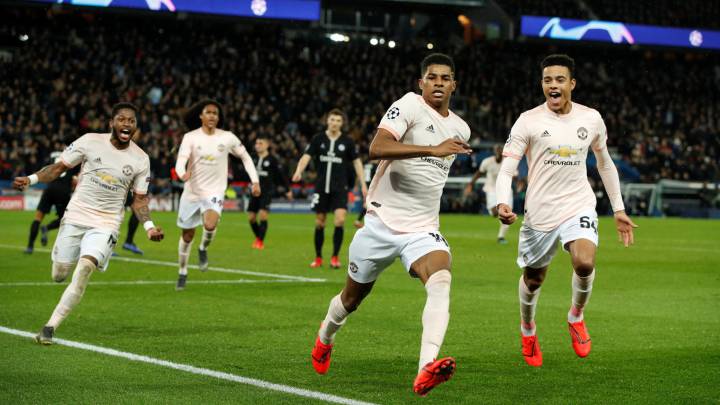 PSG 1-3 Manchester United: report
Manchester United qualified for the quarter-finals of the Champions League after a 3-1 victory in Paris as the French side continue to innovate when it comes to losing late and painfully in the Champions League knockout stages. This version of their demise included two defensive mistakes and a VAR penalty to seal the deal in injury time.
It was a bizarre game at times with PSG dominating the ball and the game as though they needed to score. Manchester United, until late in the game, sat back and invited Paris onto them. They spurned chance after chance though as United were more efficient with their attacking if that's how you chose to look at it.
It started in the second minute when Kehrer played a pass back to Thiago Silva, who was slow to react, as Lukaku intervened to round Buffon and slot home from a right angle. If United's hope consisted of little more than a spritz at the start of the game, there was reason to believe after that opening goal that PSG would revert to back their old ways. United knew it and PSG had a feeling too.
Directly after the goal, it only served to wake up the drowsy home side as they peppered De Gea's area with crosses, shots, through balls and efforts to disrupt United's back line.
They levelled matters when Juan Bernat turned home a wayward Mbappe shot that he repackaged and sold as a pass. It looked like United's luck was out, the early goal a freak occurence and PSG the better side ready to take their place in the quarter-final once they had seen of an injury-riddled United side for the 78 minutes that remained. But PSG's inability to convert more than just one despite dominating was a harbinger for what was to come.
Rashford whipped a shot at Buffon's front post as the Italian scurried across, got his body behind it, but couldn't wrap his gloves around it. Another freak occurence? Perhaps, but United were back in the game and that uneasy feeling started to settle around the Parc des Princes again.
PSG dominated the second half too as Solskjaer emptied his bench with teenagers Tahith Chong and Mason Greenwood making their debuts at 19 and 17 years of age - the latter becoming the youngest player to ever appear for the Red Devils in the Champions League.
It was a first half sub for Eric Bailly that would change the course of the game though. Diogo Dalot drove a shot towards goal as the game ticked into injury time and Kimpembe's hand caught the ball on its path towards goal.
The referee awarded a corner before taking the advice of his VAR assistants and checking the incident on the pitchside monitor. After a quick look, he returned only to award the spot kick.
Marcus Rahsford stepped up and battered it home with confidence to give United a 3-1 lead and the overall advantage in the tie. PSG struggled to get the ball forward but it was all in vein as United saw of their meagre challenge to retake the lead.
It's PSG's seventh time to be eliminated in the last 16 as they continue to invent ways to mess it up when it matters most. They have spend more money on transfers than small nations' gross domestic product but can't get into the last eight of Europe's best but continually fall just when it looks like they are ready to feast with the big boys.
The stats will tell one story, namely that PSG dominated the ball and probably deserved to win, but Ole Gunnar Solaksjaer's side delivered when it was needed as they march into the quarter-finals of Europe's elite competition.
PSG vs Manchester United live online: match updates and commentary
90'+9' GAME OVER!!!!
90'+9'   It's sent in and blocked. PSG out. 
90'+9'   Free for PSG. Has to be the last chance. 
90'+7'   PSG pushing for it. Bernat to Verratti and it's whipped in. Marquinhos goes down as he bundles into Shaw.
90'+7'   How long is left? Into the seventh minute of extra time. 
90'+5'   Chong wins a throw. We are deep into injury time. 
90'+5'   PSG with a chance and De Gea punches away. 
90'+3' GOAL! GOAL! GOAL! GOAL! Rashford buries it.
90'+3'   GOAL!!!!!!
90'+1'   He has given it for the handball.
90'+1'   PENALTY!!!
90'+1'   VAR! There could be a hand ball here for a penalty. Kimpembe with the hand ball. 
90'   Corner. Dalot with the shot as it takes a flick off an arm. Dalot wants a free. 
86' Mason Greenwood on for Ashley Young in search of the goal! 
85'   What a mistake from Bernat. He tries to flick the ball out after it's sent to the back post. Dalot is lurking. Out for a throw. 
83'   Mbappe makes a bit of a mess of the 1 on 1. De Gea comes out and puts him off as he slips at the wrong time. Follow-up shot was from Bernat as he hits the post from a tight angle. 
82'   Meunier with a cross and it's cut out. Chong breaks and then fouls. PSG with the quick free and they're happy to throw it around. 
82'   Mbappe with a stepover and it's out for a .... goalkick! The ref decides and Mbappe isn't happy. United need to go for it here. 
81' Pereira off for Chong.
79'   Meunier down the right and Luka Shaw gets in to block it for a corner. 
77'   United drive forward but lose it again. They need to throw caution to the wind here.
76'   Di Maria and Mbappe break. Not the two players you want countering against you. Di Maria plays it to Mbappe but his touch lets him down badly.
75' Paredes with a foul on Pereira as he goes through the back of him. Booking for that.
73'   Lukaku tries to take down a long ball but PSG clear. United win it back and they try to bring it into the penalty area.
73' Draxler off for Meunier. 
72'   Mbappe sends one across the box as Alves arrives but United cut it out again.
70' Kehrer off for Paredes.
69'   Draxler's hamstring is gone. He signals to the bench that he needs to be changed.
68'   Lukaku somehow keeps the ball despite being surrounded by three PSG players. He sends it out to his right but that's a tough one to pull off. Cut out and PSG back in possession.
66'   Mbappe crosses and Smalling cutas it out. Mbappe has been a peripheral figure in this game so far. 
65'   Free for United as Dalot breaks. It was Pereira caught by Kimpembe. 
64'   United need to get a move on or this will go in the category of a mora victory if you can even call it that. They're being dominated. 
62'   Draxler down the right. He runs it out over the endline before he can cross.
61'   Marquinhos hits the ground as McTominay battles with him for the ball. 
59'   Di Maria tries his luck from range. De Gea saves it easily at the near post. PSG very keen to get that goal to kill this one.
58'   Lukaku comes back on in the end but slowly.
57'   Lukaku looks like he can't continue as he limps off. 
56'   Lovely little flick by Mbappé but Di Maria had strayed off. Right decision.
56'   OFFSIDE! Di Maria chips it over De Gea but he's offside.
52'   Just before that, Alves was bundled over in the penalty area with Smalling trying to get to the ball in the air. No penalty though. 
51'   PSG back in possession now as Verratti looks for Mbappe with a through ball. Too much on it.
50'   De Gea launches up to Lukaku and he keeps it. United now with a little spell on the ball.
49'   Smalling all the way back to De Gea as United get the ball for a rare stint. 
47'   PSG keep it and a cross comes in but missess everyone.
47'   Mbappe on the left looks for a little bit of room but he can't find it and he turns around. 
47'   PSG have started this side much better than United. 
46'   We are back underway at Parc des Princes.
United had just 30% of possession in this first half. 
Cavani out on the fielfd getting a few touches at the break. 
45'+1'   That's all for the first half in Paris! Intriguing game.
45'   Rashford takes the ball in the penalty area but two PSG players there to repel him as the ball is sent back to Buffon.
45'   Just one minute added time! 
44'   Mbappe breaks up the field but the ball gets lost under his foot. PSG keep it but the attack loses its momentum.
41'   Dalot with a lovely run - stepover included - as he rounded Bernat. He pulled it back and it clipped a PSG defender before resting in Buffon's arms. Almost a United third.
39'   Rashford hits the ground holding his face. He appears to have collided with Kehrer's head. A bit of a dive from the attacker.
38'   Alves clips one towards Mbappe from the right but it bounces in front of him and up over his head. Into the arms of De Gea.
36'   So, so close! United break again from a Young free as Rashford gets free in the box. He shoots and it's just wide.
35' Dalot is coming on for Bailly. He is wincing but not sure if he's injured.
33' He does clear and Di Maria takes him out of it. Yellow for the winger.
33'   Lovely move by PSG and the cross is sent in as Di Maria strikes. He catches it lovely but it's blocked and McTominay goes to clear.
30'   Two mistakes from PSG and two goals. United have had just 8% possession. 
30' BUFFON with an absolute howler. Gifts it for Lukaku as he fumbles a show and United need just one more. 
28'   Rashford gets a half a yard to shoot and he sends it towards goal. It bends out away from Buffon's range and it's wide.
25'   Ball out to Di Maria again as Bailly is left watching it float over his head. Corner.
23'   PSG have over 200 passes so far and United have only 24. 
23'   Di Maria to Bernat as they team up again to cause problems. Cross comes in and Mbappe tries the acrobatic effort. He misses the ball completely and United win a throw. 
22'   PSG absolutely dominating this one. United can't get a kick.
21'   Di Maria picks it up outside the box after some nice interplay. He shoots and it's just wide. 
20'   Another attack that results in a shot from the left. Bernat this time and De Gea beats it away.
19'   A look at Neymar in the stands looking relaxed.
17'   Verratti spinds clear of attention and whips one out to Bernat. Too far for the raiding full-back but not a bad ball down the line.
16'   Mbappe breaks down the right. No-look pass from Alves and he strikes into the side netting.
14'   Di Maria skips past a challenge and sends one to the back post. It pops up just lovely for Dani Alves and he slams it over the bar. He looks up to the heavens after that one, possibly keeping and eye on his shot as it goes supernova. 
12' GOAL! Mbappe sends the ball across the goal and Juan Bernat sneaks in to knock it home. 1-1 just like that. That goal was coming! 
10'   Alves sends the ball across to Mbappe, who is in the six-yard box. Cleared by Smalling but another warning shot from PSG.
7'   Ball whipped cross the goalline and out of danger. United starting to suffer a little bit now. This might be how Solskjaer planned it too though.
6'   Di Maria with a cross as PSG start to pour it on a little bit now. Cleared by United and another cross headed away too. PSG dominating the ball.
4'   Pereira and Dani Alves, two Brazilians, getting into it now. Alves not happy with the treatment from the United player. Ref calms them down and we are back in action.
3' GOAL! GOAL! GOAL! Kehrer with a pass back to Silva and Lukaku rounds the keeper and scores. What a start. Exactly what the neutral needed.
2'   United are in a 4-4-2. We were wrong! Well, I was wrong. Bailly is right-back.
1'   We are underway. Di Maria clipped by Fred as he hits the ground and grabs his shin. Free for PSG. 
    Four PSG players on yellow cards. Juan Bernat, Julian Draxler, Thilo Kehrer and Marco Verratti all one yellow away from a suspension.
    The two teams emerge onto the field. United's jerseys look like they've been washed with a rogue red sock. 
    Neymar is out tonight but he is in no doubt that Mbappe will become the best in the world.

    Solskjaer says they go into this game knowing all XI of his players starting are full internationals.
    Just fifteen minutes to kick-off. 
    Solskjaer knows a thing of two about comesbacks and he has called for the spirit of 99 tonight from his players.

    Solskjaer showing off his tactical flexibility with what looks like a 3-5-2. 
    PSG XI: Buffon, Kehrer, T. Silva, Kimpembe, Bernat, Marquinhos, Verratti, D. Alves, Draxler, Di Maria, Mbappé.
    Manchester United XI: De Gea, Young, Smalling, Bailly, Lindelof, Shaw, Pereira, McTominay, Fred, Lukaku, Rashford
    Hello and welcome to out live coverage of PSG vs Manchester United with kick-off at 21:00 CET.
PSG vs Manchester United live online: preview
After Tuesday night's shock with Real Madrid being knocked out by Ajax, Manchester United will be eyeing their own upset after suffering defeat at the hands of Tuchel's man at Old Trafford two weeks ago. On that occasion, Angel Di Maria stepped up to the mark without Neymar and Edinson Cavani to accompany Kylian Mbappé up front. Manchester United suffered two injuries in that first half and their outlook hasn't improved with Paul Pogba suspended and more injuries including a six-week layoff for Alexis Sanchez.
PSG have Cavani back with the squad but he won't play any part until later in the competition provided they make it out of the United tie unscathed. Neymar is excited for his return, which is also drawing closer, and says this PSG can win the league. The plaudits for his teammate, Mbappé continue to pour in and many suggest he is now the second best footballer in the world and Neymar saying he is set to become one of the world's very best. Tuchel declared Di Maria 'a gift'after that first leg and he will be needed again in place of his missing teammates. Juan Bernat, Julian Draxler, Thilo Kehrer and Marco Verratti are all one booking away from a suspension and while Cavani might sit on the bench, it would be a surprise if Tuchel used him.
Ole Gunnar Solskjaer has improved Manchester United immeasurably and he says he would rather win 4-2 that play for a 2-0. They need a historic win to ensure passage to the next round and there won't be much time for sitting back. Antonio Valencia, Matteo Darmian, Phil Jones, Nemanja Matic, Jesse Lingard, Juan Mata, Ander Herrera and Anthony Martial are all out with injury while Pogba is suspended and Ole Gunnar's options are limited.