Neymar yearning to play football again
The PSG player has been out since late January with an injury and he's miserable.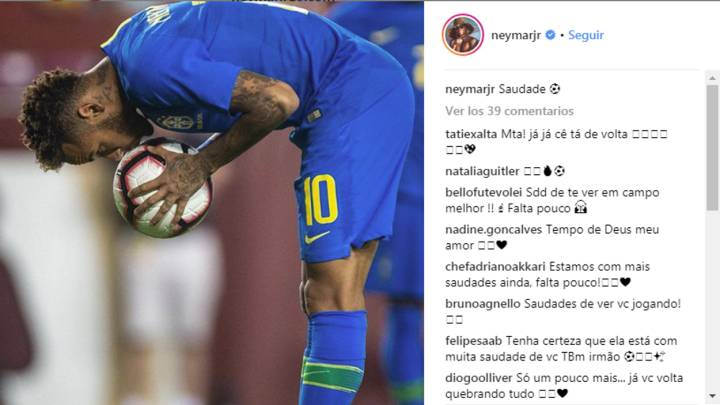 Neymar has been out with a foot injury since 23 January and the PSG player is missing football, as a post on Instagram demonstrates only too clearly. "Saudade" wrote the Brazilian star on his account, alongside a photo of him kissing a ball before taking free-kick during a match for his country. Saudade in Portuguese means missing, longing or yearning for something.
Neymar: Football is my life
"Football is my life, it's something that makes me so happy, being on the pitch makes me forget a lot of things because out there I enjoy myself, you can't put a price on the pleasure of doing what I like best" the Brazilian has said previously about his sport, which is clearly not just his profession but also one of the loves of his life.
Neymar's message on Instagram received an outpouring of support, affection and wishes for a speedy recovery for the player, with more than 720,000 likes, including those of teammates Kylian Mbappé and Edinson Cavani.
PSG for their part are waiting until the player is fully recovered. Coach Thomas Tuchel admitted in a press conference that Neymar struggles with not playing and that he's "very sad".