'Abidal has already spoken with Griezmann' - Catalan press
Antoine Griezmann may have chosen Atlético Madrid over Barcelona last summer, but the rumours are growing that he will 'rectify' that.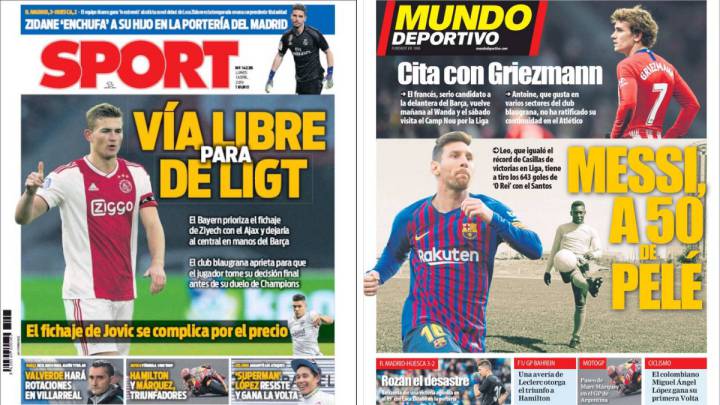 "Appointment with Griezmann". This was the headline on the front cover of Mundo Deportivo on Monday, as they continue to stoke the fire of a possible signing of the French striker for Barcelona.
Griezmann to Barça gathers steam
According to the Catalan sports daily, Eric Abidal, technical secretary at Barça, has already spoken with the world champion with the goal of securing his signature. One of the big transfer dramas of last summer was, of course, the club's failed attempt to win over the Atlético Madrid man, who refused Bartomeu's offer as a finale to his mini-documentary, La Decisión.
Mundo reports that the Frenchman is now regretting having taken that decision and is thinking about rectifying it with a move to the LaLiga champions-elect after this campaign comes to an end. This is not the message the player himself gave to his club. It would, however, see Barça pay 150 million euros to take him from the capital.
For this outlay, along with the already agree fee for De Jong, some of the current squad will need to be sold, especially if De Ligt is to join his compatriot for another sizable price. And it is precisely this element that takes over the cover of Sport, which states that the Catalan side has the advantage over rival suitors Bayern Munich in relation to the Dutch defender.
The front pages also dedicate some space to Lionel Messi, who is now 50 goals behind Pelé's record, following his derby brace. L'Esportiu refer to the Argentine as the 'Martian of the decade', citing the player who has reached 40 goals a season in his last ten years.