The Dutch midfielder, who will be leaving Ajax for Barcelona this summer, revealed his reasons for rejecting a an attractive move to Spurs last season.
Frenkie de Jong will complete his move from Ajax to Barcelona at the end of the season. Barça have invested in the talented 21-year-old midfielder, who had no shortage of offers with many of Europe's top clubs eager to sign him. The player has revealed that he was tempted to accept an offer from Tottenham last season, and has explained in an interview with FourFourTwo magazine, the reasons why he decided to turn down Mauricio Pochettino's proposal in favour of a move to Camp Nou.
21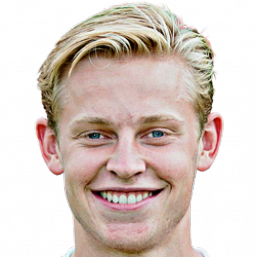 Bad timing
De Jong explained that he felt he need to prove himself at his club before accepting a new challenge from a club abroad and added that he has only recently returned from injury when Spurs' offer landed on the table. "The moment wasn't right. I wasn't finished at Ajax, as I hadn't yet played a full season in my own position. I was also injured in that period, so I was thinking, 'Not yet'. I felt I should stay for another year at Ajax, or perhaps longer", De Jong told FourFourTwo.
Tempting offer
The Dutch midfielder said he had to weigh up all of the pros and cons about joining Mauricio Pochettino's team and having the chance to triumph in the Premier League"I considered their offer long and hard. I see Tottenham as a very stable club, and they are only getting better. They give young players a chance and I see Mauricio Pochettino as a manager who really improves young players. I like the kind of football they are playing. I think it would have suited my game."
Barcelona is beautiful
De Jong admitted that his heart has always been set on playing at Barcelonaand that Catalan club went out of their way to make the operation go thorugh as smoothlessly as possible: "I'd always wanted to play for Barcelona. The money they were prepared to pay Ajax showed me how serious they were. I felt I had to grab the opportunity, because maybe it wouldn't come around again. Of course, a big transfer fee doesn't mean I'll automatically play from the start. But everything about Barcelona is beautiful. My family agreed I had to go for it. I'll do everything in my power to succeed there".