Valverde convincing Zidane
He has played in four of the five games for Real Madrid since the return of Zinedine Zidane to the bench, and he's heading for a big 2019/20.
Fede Valverde is delighted with the arrival of Zidane and Zidane has been convinced with Fede Valverde. This is clearly inferred from the formations selected by the French coach since he returned, especially in the last two, and Athletic Bibao lie ahead.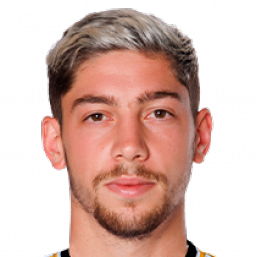 Valverde is Zidane's man
The young Uruguayan, still just 20 years old, started and played the full 90 minutes in the league games against Eibar (2-1) and Leganés (1-1). Prior to that he had already been given a quarter of an hour against Celta Vigo (2-0) and Huesca (3-2). The only game he has missed was the 2-0 defeat against Valencia. That gives the player a total of 208 minutes of the 450 possible, or 46%. A rather impressive uplift after only featuring in LaLiga for 234 minutes before the change in management, that's across 27 matchdays.
Lopetegui didn't appear to think he was ready, and he was very much a fringe player under Solari. Zidane, however, believes he has spotted a player who can flourish in the famous white shirt.
And the French coach believe this so much that he is determined to give him a chance in his squad for the 2019/20 season. Los Blancos' midfield is expected to go through a major change this summer, with several names (Ceballos, Marcos Llorente, Isco, Brahim...) still with an uncertain future, and new ambitions, like Paul Pogba, lined up.
His performances against Eibar and Leganés back up Zidane's opinion of Valverde. With 109 successful passes out of 123 (89%); 13 of 21 individual duels won (62%), and 19 balls recovered (the most of the team in those two games), he is staking his claim. He may not yet offer much threat to opposition teams in terms of getting forward and supporting attacks, but his defensive organisation in the middle of the park is something that his coach values.