LALIGA
Real Madrid - Athletic Bilbao: hat-trick hero Benzema gives Madrid comfortable win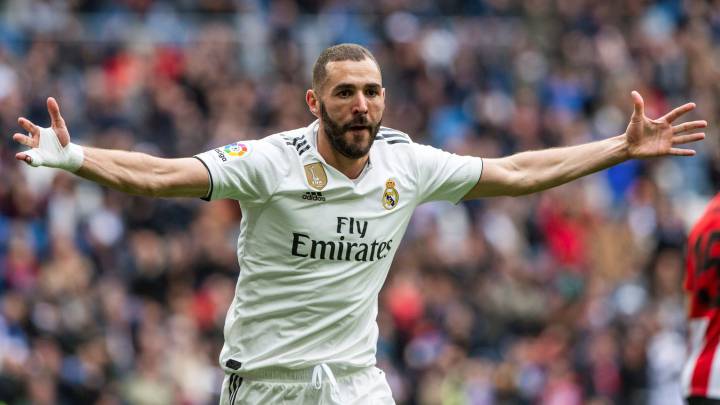 Karim Benzeman netted three second-half goals against Athletic to restore the gap with second-placed Atlético Madrid to four points.
Real Madrid vs Athletic Bilbao: match report
Real Madrid comfortably saw off Athletic Bilbao at the Santiago Bernabéu thanks to a second-half hat-trick from Karim Benzema, who has now scored eight of Los Blancos' last eight goals.
After a rather uneventful first half, in which Madrid were on top but only had two shots on goal, Benzema opened the scoring just one minute after the break with a headed goal assisted by Asensio -- the Spaniard playing a pin-point cross in from the left following a quick counter attack started by Dani Carvajal. It took 30 minutes for the Frenchman to net his second – again scoring with his head after Modric gave the perfect corner delivery from the right.
Athletic star man Iñaki Williams was off colour on the occasion but almost clawed one back for the visitors. And it took a fine save from Navas to keep his close-range header out of the net.
Four minutes later and one minute into injury time, Benzema had his third, capitalising on a major blunder by Athletic keeper Herrerin, who came dashing out of his box to collect a long ball played from deep. But the Leones number one made an absolute shambles of it, allowing substitute Gareth Bale to quickly latch onto the loose ball. The Welshman played a short pass to Benzema, who coolly side-footed it past Herrerin as he desperately tried to scramble back towards his goal.
And that was to be the last action of the game, as Madrid ran in 3-0 winners, restoring the gap with second-placed Atlético Madrid to four points. The two Madrid clubs have no chance of catching leaders Barcelona at this point and are just left to battle it out for second place to claim bragging rights in the capital. Athletic, meanwhile, suffered a set back with the Bernabéu defeat but remain in the running for a top six spot to secure Europa League football next season.
Real Madrid vs Athletic Bilbao: as it happened
93' Peep, peep, peep! And that's the end of the game. After a pretty uneventful first half, Benzema found the net on three occasions in the second half to give Madrid a comfortable victory. 
91' GOALL MADRID! Benzema with a hat-trick! Herrerin came dashing out of this box to collect a long ball but he makes an absoulte shambles of it. Bale latches onto the ball, gives a short pass to Benzema, and the Frenchman cooly sidefoots it past Herrerin as he desperately tried to run back to his goal.  
89'   What a chance for Bale! He finds himself one on one with Herrerin and tries a cheeky little dink over the Athletic keeper, but it's just over. Nice idea but the execution needed to be perfect. 
87'   What a chance for Williams! He drives his header towards the turf from close range by the far post, but Navas does well to save it. 
85'   And Brahim immediately creates a chance for himself, taking the ball round Lekuke on the edge of the box before driving a low shot from a difficult angle on the left. Herrerin saves.  
83' Brahim Diaz comes on for Asensio, who set up Benzema's first goal.
  Benzema has now scored seven of Madrid's last seven goals and that was number 29 this season. 
76'   GOAL REAL MADRID!!!! It's Benzema again! And it's his head again! Modric delivers the perfect corner from the right. The Frenchman is the first to it and he heads past Herrerin by the far post. 
74'   Williams collects the ball in the box. He switches the ball onto his left foot and shoots but it's blocked. The 24-year-old has been poor today. 
Replays show team mates Lucas and Casemiro seemingly in a heated argument a few minutes ago. The former has just come off, maybe he can cool down with a cold shower. 
70' Two changes for Madrid: Bale and Isco - on; Kroos and Lucas go off
65'   Athletic have a corner on the right. Muniain swings it in but it's headed away by the Madrid defence. 
61'   Kroos delivers a corner from the right but Herrerin jumps up to collect it. The Athletic goalkeeper coincidentally shares the same surname as Madrid legend Agustin Herrerin who passed away during the week at the age of 86. 
56'   Benzema strikes from distance on the right! But it's just wide of the far post. 
  Benzema has now scored six of Madrid's last six goals, and brings his total goal tally to 28. 
54'   Asensio delivers, the ball bounces out to Lucas who tries a first-time volley, but it's blocked. 
53' Iñigo Martinez goes in the book for chopping down Modric on the right. Madrid with a chance to put in a cross from the free kick.
47' GOAL REAL MADRID!!!! Madrid break quickly after Iñaki Williams had a golden chance for Athletic. Carvajal tackles the Athletic striker before he has a chance to shoot from close range and dashes forward before playing the ball to Kroos. Kroos pushes it wide to Asensio on the left, allowing the Spaniard to deliver a pin-point cross to Benzema. And under no pressure, the Frenchman, heads it home.
46'   And Athletic kick off the second half. Let's hope for a more eventful second period than the first.  
Athletic are back out on the pitch, Madrid now emerging from the tunnel as the second half is about to get underway.  
Shots in that first half: Madrid two, zero on target; Athletic one shot and one on target. Says it all really...
46' Peep, peep! And that's the end of the first half. Madrid have been better but far from great. A lot of empty seats at the Bernabéu and so far the season ticket holders who have not showed up today will not be regretting their decision. 
44'   Benzema and Lucas link up in the box but neither can get a shot off. Eventually Lucas is tackled by the byline and it's out for a corner, from which Madrid do nothing. 
42'   First shot on target for Athletic. Raul Garcia connects well with his head from a corner in from the right. It's on target but straight at Navas. 
39'   Decent chance for Athletic. Ball comes in from the right but it's just a little too high for Cordoba by the far post.  
38'   Athletic finally enjoying some possession and trying to build something. 
31'   Thirty minutes gone here and it has been uneventful. Madrid have been better and looked threatening but not much for the highlight reel as of yet. 
30'   Casemiro crosses from the right and aims for Benzema, who is just beaten to it by the head of Alvarez. Replay shows he was offside anway. It was a fine ball in from Casemiro though.  
29' Madrid have their second corner, which immeditately results in the third. Again Kroos delivers and again it's headed away.
27'   Chance Madrid! Marcelo had a chance to take a swipe after Asensio plays a lovely dink to tee him up in the box.  But the left-back has mishit it. A let off for Athletic. 
25'   Kroos delivers but it's dealth with by the visitor's defence. 
25'   First corner of the game falls to Madrid.
23' Madrid are just lacking that killer instinct to capatilise on the chances they are creating.
19'   Madrid are looking threatening but so far Los Leones have managed to keep them at bay.  
15' Another booking for Athletic, this times it's Berchiche for an elbow on Lucas. The Madrid attacker went straight to the floor and is holding his face. His team mates are incensed.
13'   Marcelo, Asensio and Lucas link up on the left. After some nice one-touch passing Marcelo has a go from the left corner of the box. It's a decent effort but the ball just sails over the bar. Madrid have looked spritely, while Bilbao haven't had much of the ball.
12'   11 minutes gone here and neither side has yet to have a clear chance.
10' Kroos plays it wide to Marcelo. The Brazilian has time and space to put a decent ball into the box, but he's well overcooked the cross. Poor from the left back, who has been generally poor recently. 
7' Asensio breaks quickly on the counter, beats one defender and tries to play the ball into the path of Benzema, but the ball is sweeped up by the Athletic defence. 
4' Varane and Casemiro form the bread in an Iñaki Williams sandwich. The Athletic player goes tumbling to the ground. He is the danger man alright and Madrid are letting him know he's not going to have an easy ride. 
4'   Excellent defending by Vallejo to dispossess Raul Garcia, who was threatening down the right.
3' Early booking for Cordoba for a late challenge on Carvajal.
2'   Casemiro is fouled by Raul Garcia in the middle of the pitch
1'   Marcelo tries to release Asensio down the left flank, a decent ball but the Spaniard has been flagged for offside. 
1'   Madrid get the game underway!
A minute's silence for  Madrid legend Agustin Herrerin who passed away during the week at the age of 86
  Fifteen minutes to kick off at the Bernabeu, where Athletic have not won in 14 years! 
Here is Athletic's team, three Iñigo's in there. Iñigo son! 
Zinedine was candid in the press conference ahead of this game, saying he was "burned out". "My mind is here but my energy is on next year," explained the French coach.

The Athletic captain's armband is a thing of beauty...
Fan favourite Vinicius returned to training with his team mates after his six-week injury lay-off. The young Brazilian was not selected for today's squad but is expected to be fully fit for Thursday's game against Getafe. 

Real of course have nothing left to play for this season so the final few games are only relevant on two fronts (or three, if you count finishing second in LaLiga). One, Karim Benzema is out to beat his own personal record of 32 goals in a single season for Madrid and two, for Zidane to decide who will stay and who will go this summer. After the season they've had, and despite the Frenchman's protestation to the contrary, it will probably be quite a clear out. 

Hello and welcome to AS English's live coverage of this afternoon's game between Real Madrid and Athletic Bilbao from the Santiago Bernabéu.