The Barcelona defender recounted the experience of marking the Egyptian to RMC Sports. Lenglet lost a tooth for his efforts in Wedneady's semi-final against Liverpool.
Clément Lenglet faces a trip to the dentist for his efforts marking Liverpool Mohamed Salah's in Wednesday's Champions League semi-final first leg. Lenglet had a torrid time during his shoulder to shoulder battle with the Egyptian and was booked towards the end of the first half after going in late in one of them. As the match wore on, the Barcelona central defender gradually settled into his position and ended up putting in a decent game.
15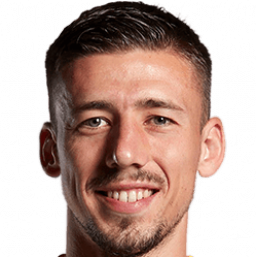 Lenglet crowns great night
"I had to adapt to make such I was always within distance of Salah", Lenglet told RMC Sports. "I had to make sure I didn't give him enough space to play deep balls into the area but at the same time, I needed to be sufficiently close to him to tackle him when necessary. It got better after the first 20 minutes but these sorts of encounters are always very difficult. After a while it got easier to gauge the distance I needed to put between us to keep him with his back to goal for as much as I could and until one of my team mates arrived to give me a hand when he was about to turn".
Different kind of toothless performance
Lenglet, who formed the central defensive partnership with Gerard Piqué in the first leg against Liverpool, revealed that there was a price to pay for keeping Salah and company at bay in Camp Nou - he lost a portion of a tooth during the game - not in his run-in with Salah but probably during a collision with team mate, Sergi Roberto: "I lost a piece of tooth, but it's nothing serious. I'd be quite happy to always lose bits of my teeth as long as keep winning..." he chuckled.