LIVERPOOL 4 - 0 BARCELONA 0 (4-3 agg.)
Liverpool: Quick-thinking ballboy plays a hand in Origi winner
A sharp-thinking ballboy played in a key role in Liverpool's decisive goal at Anfield, giving Trent Alexander-Arnold the ball while Barcelona's defence were napping.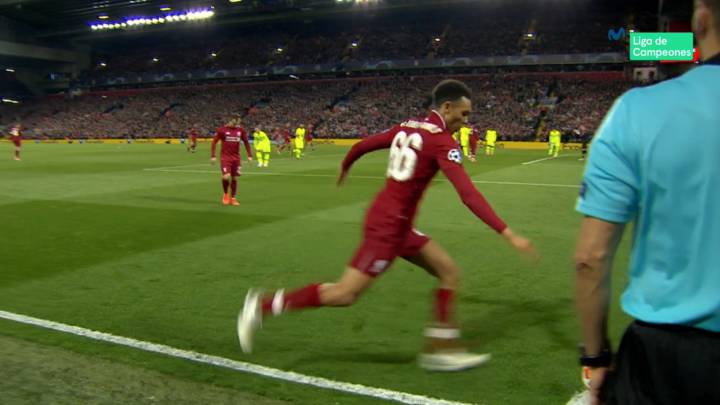 There were 12 minutes of regulation time left at Anfield in the Champions League semi-final second leg between Liverpool and Barcelona, with the tie level at 3-3 on aggregate when the home side won a corner at the Kop end. Trent Alexander-Arnold took a few steps back to make his run-up to take the corner and while waiting for his team mates to arrive in the area, he noticed Barça's defence chatting among themselves and not in position. The Liverpool full-back took the kick quickly - catching the visitors' defence napping and with Divock Origi unmarked and free to sweep the ball past Marc-André ter Stegen to make it 4-0 on the night, 4-3 on aggregate.
Alexander-Arnold told BT Sport's Des Kelly as Liverpool celebrated on the pitch after the final whistle: "I think it was just instinctive but it was just one of those moments where you see the opportunity and obviously Div was switched on enough to finish it off – he's a top player, he scored two goals for us tonight. Everyone will remember this moment".
Barça forward Luis Suárez admitted after the game that his team had defended the corner "like a kids' team". But in England, local media have pointed to a razor sharp-thinking and quick-acting ballboy, who played a crucial role in the decisive goal.
The Liverpool Echo and former Liverpool captain Graeme Souness, now working as a pundit on Virgin Media Sport, noted the ballboy's quick reponse. "[Barça's defenders] have all turned their back on it. That is criminal, criminal for a professional footballer. As for the heroic ballboy, they should give him a season ticket and two tickets for the final," Souness cheered while one observer on social media suggested Liverpool FC should consider "naming a stand after the lad". Merseyside-based journalist Simon Hughes tracked down the unsung hero of another famous comeback - a night which will be written into Anfield folklore. Without 14-year-old ballboy Oakley Cannonier, it might have turned out very differently last night...