Away goal gives Esperance upper hand in CAF Champions League final
A 79th minute headed goal from Cheick Comara gave ten man Wydad some hope after being outplayed for much of the first leg by current holders Esperance Tunis.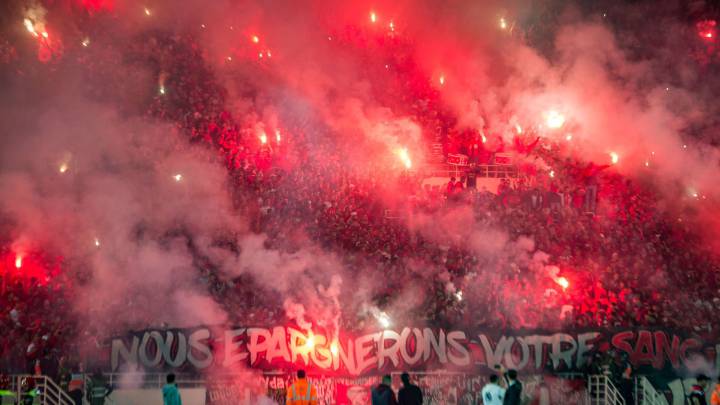 Wydad-Esperance: CAF Champions League final (first leg): as it happened
A pulsating second half to compensate for a poor first 45' with Esperance holding the upper hand via the away goal. Wydad will be encouraged by their response and the tie is very nicely poised for the second leg in Tunisia next Friday.  
FT: Wydad Casablanca 1-1 Esperance Tunis 
90'+5'   Grisha calls time on the action.....1-1 in Rabat ....All to play for in Rades next weekend (Friday)
Hamdou Elhouni on/Youcef Belaïli (change EST)
90'+4'   EST push ...and win a freekick for a late challenge ...Ayman El Hassouni carded for his efforts.... 
90'+3' WAC are through but Mohamed Ounajem blazes over with the goal gaping ....
90'+2' Credit to Wydad... have actually looked a better team with 10 men ! 
89'   5' of time to be added... expected more after the VAR incident and changes
89'   Into the final minute we go ....
A much, much better second half in a 45' minutes full of action and drama...
87' Sameh Derbali tries his luck from long range and forces a fine stop from Yassine El Kharroubi
Beguir on, Kom off for EST
86'   WAC go close after a lofted ball just fails to find a Wydad striker ... Abdelatif Noussir
85'   The WAC fans are in fine voice now .... a 1-1 draw is no bad result for the Moroccan side given that they've been down to ten men for the bulk of this second half. 
Moez Ben Cherifia cared...time wasting
The goal came from the first decent free kick of the night ... a flick and the Ivorian was on hand to head home ... Big goal for WAC
WAC draw level as Comara heads ten man Wydad level.... WAC 1-1 EST the Prince Moulay Abdellah Stadium erupts
79'   WAC win a free kick ... Can they deliver ? Yes they can .... Goooooooooooooooool...WAC draw level.... Comara heads home
77' Esperance go close as the ball is deflected for a corner for the Tunisian side 
Change for WAC Badr Gaddarine makes way for Ayoub El Amloud 
75' WAC on the ball as we head into the final 15'.  
Ghailene Chaalali gets a shot off for Esperance... the effort just lacked direction....Esperance dominating now as 10 man Wydad tire 
72'   Less than 20' to go here in Rabat...
70' Haddad does well for Wydad and wins his side a corner... 
70'   Another goal for Esperance would be a disaster for Wydad... Should the Moroccan side go for the equaliser or hope to keep the score at 0-1?
69' Danger for EST as WAC once again fail to avail of a dangerous dead ball situation.
68' Card for Derbali (EST) ...late tackle 
65'   Missles being hurled from frustrated WAC fans heading in the general direction of the linesman  
The 10 men of Wydad showing a little more bottle now 
El Karti off, Jabrane on for Wydad
  WAC change: El Hassouni on for the Moroccan side, Barbatunde off
Decision .... it's not a penalty... Chest the verdict ....Great use of VAR it has to be said !
difficult to see.... each angle offers a varying suggestion ... who'd be a CAF Champions League match official !
Tough call for the ref... has the ball struck Khalil Chemmam on the arm or chest ?
Ref waits for a call in his ear as WAC fans chamt "penalty, penalty" ... 
55' Incredible scramble in the EST box...big call for handball from Wydad.... Ref seems set to look at his monitor....big moment in the game
53'   Red and yellow smoke envelops the area where the Esperance fans are gathered.... the Sang et Or supporters sensing a vital win against the ten men of Wydad 
50'   10 men WAC on the back foot now ...
Brahim Nekkach is off...2nd yellow... Distaster for WAC.... terrible challenge from the Wydad No. 6 
47'   WAC win a free...quickly taken but well dealt with by the EST rear guard... Wydad will need to be far more creative to find away past this well organised Esperance side. Too many times the Moroccan side try and loft a ball over the EST back-line.... WAC win a corner... 
46'   Esperance get us underway here in Rabat for the second half
The teams take to the pitch again. Esperance with that vital away goal ...what can WAC come back with ?  
Anyhow... the incident is in the past. WAC need to up their game and firstly create scoring chances and then convert. Moez Ben Cherifia in the Esperance goal has had little to do for the bulk of the game.
WAC fans complaining of an Egyptians and Tunisian conspiracy !
On repeated viewing, the handball given against El Haddad is possibly harsh.... 
HT: Wydad 0-1 Esperance
A poor half which lit up in the final five minutes after the EST goal and then VAR ruled out goal for the home side
Whistle sounds and it's the break.... 
Big call from the ref but on reflection, probably got it right..... 
Tension as the WAC players protest
Goooooooooool in Rabat. WAC draw level as Ayoub El Amloud fires Wydad level making a great run to slot home ..... (hang on ....VAR being consulted) No goal....ruled out for hand ball.... As you were #WACEST
Goooooooooooooooooooool. WAC strike back .....1-1
Major blow for WAC buit poor defending was to blame .... 
45'   2 minutes of time to be added
WAC 0-1 EST (45')
Esperance go ahead in Rabat as Fousseny Coulibaly fires into the WAC net. Big away goal for the current champions.
Goooooool Esperance go ahead.....
43' Khalil Chemmam takes
Danger for WAC as Badri gets medical attention after the reckless challenge....   
42' Card for WAC's Brahim Nekkach for a late challenge on Anice Badri
40'   EST do look good on the break as Dari has to clear with Lokosa set to pounce on goal 
38'   Plenty of complaints being aired about the match official.... Can't see that... as so far as Mr. Grisha has handled the action quite well.
36'   Ismail Haddad aims to fire of a left footed effort as his attempt is blocked by am Esperance defender... Haddad is still down on the Rabat turf...  Khalil Chemmam with the key block for Esperance.
35'   10' remaining in the half.... Game being throttled by the obvious tension of the occasion
33'  Moez Ben Cherifia forced into action getting dwon well as the ball is deflected into the Tunisian's arms   
Limited flow to the game so far with constant free-kicks breaking any rhythm to the action 
WAC almost get a breakthrough but the header from the WAC striker fails to trouble Moez Ben Cherifia and drifts wide 
30' Possession after 50': WAC 50%-50% EST 
Another card for EST, Dari booked
Dangerous free kick for EST ... as ref Grisha is unhappy with something .... 
Another card for EST's Ghailene Chaalali, another rash challenge as Ounajem slightly overacts...
25'   WAC-EST (0-0)
24'   Two WAC players over the ball ...Ayoub El Amloud takes and gives the ball to the EST defenders... Poor from the WAC player
Dhaouadi one of the EST players not already on a caution
23' First card of the night goes to Esperance's  Chamseddine Dhaouadi
20'   Play held up as an Esperance player gets attention. Difficult to see the action now with the volume of smoke.... Yet to have a shot on target from either side.
Smoke wafts across the pitch again as more flares go off from the WAC supporters.
Tension on the Rabat pitch as Walid El Karti goes down under a meaty challenge from two Esperance players.
Wydad Casablanca 0-0 Esperance (after 18')
15' 15' in and Esperance win a corner. Anice Badri looking good tonight for EST.... 
Mr. Grisha already having a word with Ben Cherifia in the Esperance goal as he feels the keeper is taking a little too much time with the goal kicks
12'   Neither keeper called into action so far this evening ...Very cagey start here in Rabat. 
11' Whistle ringing out which can only mean that Esperance are in possession.
7'   Brief panic for EST as Wydad pile forward and the men in red and yellow manage to clear their lines. The Moroccan side imposing ever so slightly now with Esperance sitting deeper.
4'   WAC win a dangerous freekick after Esperance captain Khalil Chemmam fouls ... Ismail Haddad takes but Esperance clear with no issues.
3'   Nervy start from both sides as they both feel their way into the game.
Whistles ring out every time a EST player gets the ball.....
1'   WAC get us underway ....
Away goals do count in the tie so a goal for the Tunisian side vital in Rabat tonight....but what an atmosphere here in Rabat as smoke wafts across the pitch.... 
What a scene....flares burn on both 'curvas' with WAC fans in great voice....
The teams are on the pitch... Wydad in white with Esperance in the red and yellow striped shirts with black shorts. 
So, kick-off in Rabat just minutes off with a packed stadium and 90' of what's set to be a passionate affair coming up .....it's Wydad Casablanca vs Esperance Tunis....
Mr. Gehad Grisha (Egypt) is the match official in charge in Rabat tonight

Wydad Casablanca have lifted the trophy two times with the most recent win coming in 2017... 1992 was the previous glory.  
Esperance are current holders of the CAF Champions League and have won the competition on 3 occasions (2018, 2011 and 1994)
Tonight's venue in Rabat, the Prince Moulay Abdellah Stadium holds 52,000 spectators. 

Less than 100kn from Casablanca to Rabat with thousands of WAC fans making the journey southbound to support their side. The Mohamed V stadium in Casa' is currently under repair.
The 1-0 win in 2011 was enough for EST to lift the trophy after a 0-0 in the first leg.   
Games between both sides in the CAF Champions League have been tight affairs with Esperance holding the upper hand with three draws betwwen both teams and Esperance winning a key game in the 2011 final with a 1-0 win.   
 No starting place for EST striker Taha Yassine Khenissi who was struggling with fitness all week. 
Esperance, Tunisia's CAF Champions League holders, start the tie as favourites on the back of a 10-game unbeaten run as the "Sang et Or" attempt to become only the fourth club to retain the CAF Champions League in more than half a century.
Hello and good night, morning, evening wherever you are in the world and welcome to our live coverage of the first leg of the 2018-19 CAF Champions League final as Wydad Casablanca face Esperance Sportive du Tunis in Rabat. Kick off in Morocco is at 00:00 (CEST).
Wydad-Esperance: CAF Champions League final (first leg): preview
Two giants of African football come head to head tonight in Rabat as the 2017 winners Wydad Casablanca face current holders Esperance Sportive de Tunis in the first leg of the CAF Champions League 18-19.
Rabat's Prince Moulay Abdellah Stadium is the venue for the biggest game in domestic African football with Casablanca's Mohamed V Stadium currently undergoing refurbishment.
This will not be the first CAF Champions League final meeting between the North African giants with Wydad looking to avenge the 2011 win when the Tunisian side overcame in a 1-0 aggregate win.
Both teams top their respective domestic leagues with Wydad top of the Botola Pro with two games remaining in the campaign as Esperance top the Tunisian Ligue 1 table a comfortable eight points ahead of second place Etoile de Sahel.
Ahead of the first leg both coaches spoke about the final analyzing each side's prospect:
Faouzi Benzarti (Head Coach, Wydad):
"We believe in our chances to win the title. We have good players and we are mentally and physically ready to fight. It is a derby match, and it will be decided by simple details. We have worked so hard on these details.
Generally, the matches between teams from the two countries are difficult, especially if it is a final. I think we have got good relations; the game will pass in good conditions.
Esperance have a strong team, I respect and appreciate them. They have a group of outstanding players, who have played together for several seasons. They know me well, they know my style, and I know them well."
Mejdi Traoui (Assistant coach, Esperance)
"It's a derby and you know how difficult it is. Wydad play well and are strong at home, but we believe in our players who are ready to defend our title. It all starts here in the first leg game.
Very simple things can be decisive in a championship's final. We have to concentrate, and we are here to repeat what we did in 2011 when we beat Wydad".