Ramos: Reyes "an innate talent" and "one of the greats"
Real Madrid captain Sergio Ramos attended the funeral of José Antonio Reyes and spoke about the "brotherly" affection the pair shared for each other.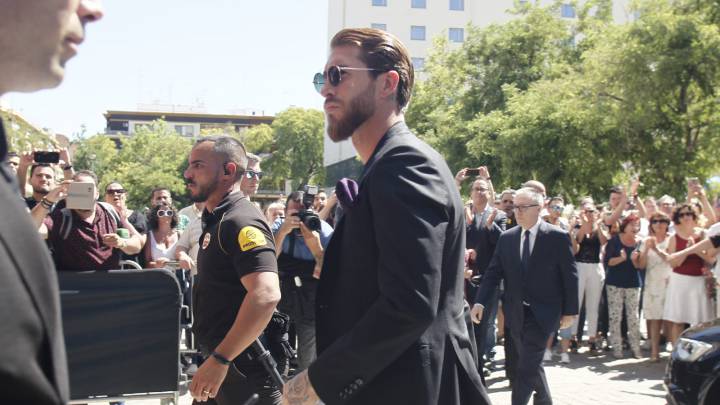 Real Madrid sent a delegation to pay their respects at the funeral of José Antonio Reyes in Seville, which included Florentino Pérez, captain Sergio Ramos, Raúl and institutional relations director Emilio Butragueño.
Former Real Madrid, Arsenal and Sevilla midfielder, Reyes was tragically killed in a traffic accident in his hometown of Utrera on Friday night. And at the funeral this Sunday, Ramos spoke to reporters about his ex-Spain team mate, saying that the pair shared a "brotherly" affection for each other.
Ramos' statement on Reyes
"To talk about Reyes is always to talk about happiness and he deserves to be remembered with that smile. He was an innate talent, one of the greats and that talent cannot be equaled, we will remember him with that sympathy that he conveyed inside the dressing room," said Ramos.
"We coincided with Spain. We had a very good nucleus of Andalusians with Joaquin, Juanito… He was always joking. Problems didn't affect him because he treated them with incredible humor. We always had brotherly respect and affection for each other. Saying goodbye to a close relative is very hard. We will come to terms with this slowly. He has a family with many children and it is a very painful blow."
Before the funeral, Ramos had taken to Twitter to express his grief upon hearing the news on Saturday: "Broken. Destroyed. I have no words. All the love to the family. We will always remember you friend! RIP brother."
Perez: "Reyes was loved all over the world"
Madrid president Pérez also shared his thoughts on the deceased footballer, saying: "Reyes was loved all over the world, he was at the heart of all the teams, not only in those that he played for but all of those where he was known. It is a terrible loss of a player so young and of so much importance. All I wish is if for the family to have encouragement and strength."