2
Roger Martínez 70',
Duván Zapata 85'
Colombia beat Argentina in Copa América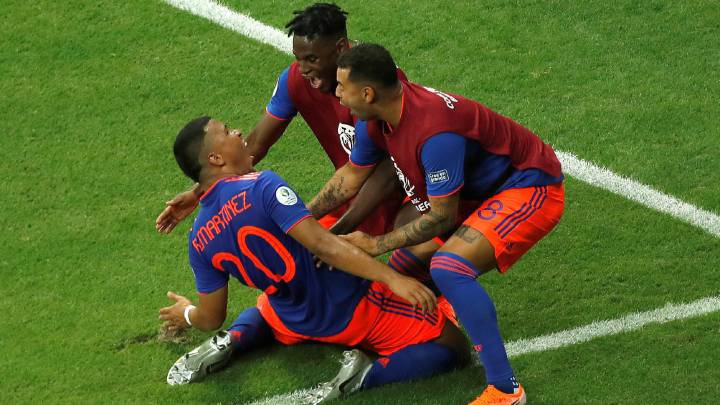 Argentina vs Colombia: live!
Last chance for Argentina to get one back.
Lerma booked for catching Messi with an arm to the face. Lucky as he really swung around and caught the striker in the face.
Argentina with the ball now but it's all over for them here in this game.
Lo Celso effort hits the side netting. Just 2 minutes left of injury time.
Ball sent in and Ospina saves the shot that falls to Paredes.
Another free for Argentina. Messi to take this but way to far out surely.
Paredes a mile out. Ospina grabs it. No chance.
Surely does it now for Argentina.
Lo Celso tries his luck as he curls it over. Well over to be fair and he knows that was a decent chance.
James takes. Headed out and then cleared.
Roer Martinez hits the ground under a challenge from Lo Celso and he stays there. Free for Colombia eventually.
Corner for Argentina. Saravia wants a penalty for handball but it wasn't.
Falcao off, as he hands the captain's armband to James, and
Duvan Zapata comes on.
Ten minutes left for Argentina.
Colombia holding the ball up as they try to figure out Argentina and force them into a mistake. Crossed in and headed out. Colombia in no hurry as they win a throw.
He does shoot as he tries to catch Ospina out. He drives it low and into the keeper's arms.
Messi is fouled again. Lerma launches himself into a challenge with him and it's a free. Too far out to shot for Messi but he might send it in to a teammate.
Aguero with a glancing header as Pezzella swings it in. Goalkick.
Messi plays it to Rodrigo de Paul and he gets spun around but no free.
GOAL! GOAL! GOAL! Roger Martinez with the curling finish. What a strike that was. He cut in from the right and drove it past Armani.
Messi versus Sanchez and the defender wins the race and see the ball out for a goalkick. Messi tried his best but Sanchez way too strong.
Guido Rodriguez off for Guido Pizarro.
So close. Otamendi forces a save from Ospina and it pops back out to Messi. He heads it wide.
Dangerous ball in and it's headed out by Tesillo. Corner for Argentina.
Messi to take a free that Aguero won. Way out on the right.
Cuadrado off now for Jefferson Lerma.
Messi gets his leghs kicked from under up. A melee in the middle of the field.
Lovely corner too but Argentina get it away. De Paul shoots and it's saved by Ospina before Messi follows it up with an effort that flies over the bar.
Rodrigo de Paul has made all the difference here. He wins a corner for Argentina. Messi walks over to take.
Argentina much better in the second half.
Argentina with a nice spell now as Messi pushes through and ends up with a lovely nutmeg and then he loses out. Nutmeg on Sanchez, in case you were wondering.
Another yellow. It's Saravia booked now for that fairly late effort on Barrios.
De Paul crosses in but Sanchez with a forceful header away. Argentina a little more convincing so far but still no chances.
Falcao wants two free. He gets neither. Through ball from James and he looked offside but Otamendi muscled him out of it to the ground.
There was one change at the break actually. We are just getting word now that Di Maria was replaced by Rodrigo de Paul.
Cuadrado with another free. Paredes just bulldozes him into him.
Decent effort. Paredes from downtown. He forces Ospina into a dive but it was always going wide.
No changes for either side.
Scaloni surely has to make changes at the break? Maybe Dybala off the bench? Or Lautaro Martinez and a change of system?
Plenty of danger coming from Colombia's right hand side. Medina and Cuadrado linking well. A couple of nice cutbacks but Falcao and co. haven't been able to finish.
This is also not the worst description I've seen. It's been scrappy and Argentina are really bringing the game down with their niggly fouls.
Three minutes of added time in actual fact. Colombia coolling off now but they're still the better side.
We will have two minutes of added time at the end of the first half.
Into the last minute of the first half.
Cuadrado crosses. Armani grabs it.
Argentina trying to hang on until the break here.
Tesillo back to Sanchez and out to Mina. Colombia slice through Argentina again and they cross but Argentina get it away before winning a free.
Colombia pushing for that opener and Argentina continue to struggle.
Another lovely move by Colombia. Ends with a Falcao effort. Medina down the right and cuts it back. Bocked! Argentina just hanging on.
Really scrappy match continues. James stands over a free now. About 45 yards out and he whips it in. Falcao gets something on it but he loops it over the wide.
No, he has nothing because the referee gives the go ahead for the goal kick.
VAR! Not sure why but James might have a corner?
Colombia try down the right as Medina cuts in. He loses it and James picks it up before shooting. A mile over the bar and he sheepishly looks for a corner but it's not coming.
Another chance. James sends it to Falcao and he pokes it towards Martinez. Argentina recover and kick it out for a corner. It comes to nothing but Colombia hold onto the ball.
But Argentina are dominating the ball in the middle. They can't find a way through though.
Messi having to drop deeper and deeper.
Messi with a push on the back of Barrios. A frustrating start to the game for him.
Colombia with a very nice spell.
Messi loses it again. They're playing him perfectly so far. Surrounding him when he gets the ball and not fouling.
Martinez again pushing for that opener. Out for a throw this time.
It was a forearm, or elbow, to Paredes face. He gets a yellow instead.
Messi gets it and immediately surrounded by three players.
Lovely curling pass in by James and Martinez is too aggressive trying to get to it. Saravia is the man pushed and fouled. Referee whistles.
Martinez just on the field and he drives a shot towards goal after Falcao holds it up well. Deflected wide.
Paredes the latest to foul Cuadrado. Hand to the face this time.
Roger Martinez replaces Muriel.
Muriel won't be able to continue.
Otamendi kicks the back of the leg off Cuadrado and then charges in on top of him. Very aggressive. Free for Colombia.
Colombia on the ball now as Medina takes it down and plays to Cuadrado. Colombia making Argentina do the chasing.
Argentina with the better start but they need to be careful of that Colombia counter.
We are back underway and Ospina is fine.
Ospina is injured now. An eventual couple of minutes for him. He's grabbing his ankle.
What is Ospina at? He rushes off his line and nearly gets caught out. Aguero was offside anyway.
Lo Celso runs straight down the line and leaves a couple of players in his wake before being pushed in the back by Uribe. Free for Argentina. They want a card but no chance.
Messi picks up the corner as it breaks to hm. Argentina putting serious pressure on Colombia but James wins it back and Colombian fans cheer now.
Really dangerous ball into Messi. He takes it down and wins a corner. It's swung in and Mina heads out for another corner on the other side. Paredes to take.
Colombia playing very deep. Sitting back and there are boos ringing around the stadium.
Cuadrado turns Paredes upside down as he roots the ball out from under his feet. Paredes up on his feet and confronts the Juve player. Free for Argentina.
Argentina win the ball back after an early spell from Colombia. Sounds like Argentina fans are definitely outnumbering Colombians tonight.
The two teams huddle together for the last time. Pep talks done and we are ready for action.
And now the Argentinian national anthem rings around the Arena Fonte Nova.
The Colombian national anthem starts. A jaunty number.
Teams are in the tunnel and they make their way onto the field.
Lo Celso has been linked with a move away from Real Betis this summer and he starts tonight in a fairly star-studded side. His star is definitely on the rise.
Colombia XI: Ospina, Medina, Mina, Davinson Sanchez, Tesillo, Cuadrado, Barrios, Uribe, Falcao, James, Muriel.
Argentina XI: Armani, Saravia, Pezzella, Otamendi, Tagliafico, Lo Celso, Rodríguez, Paredes, Messi, Aguero, Di Maria.
Hello and welcome to coverage of the Copa América as Argentina face Colombia in Arena Fonte Nova. Kick-off at 12:00!
.