4
Lodeiro 5',
Cavani 32',
Luis Suárez 43',
Arturo Mina 77'

0
Uruguay make short work of Ecuador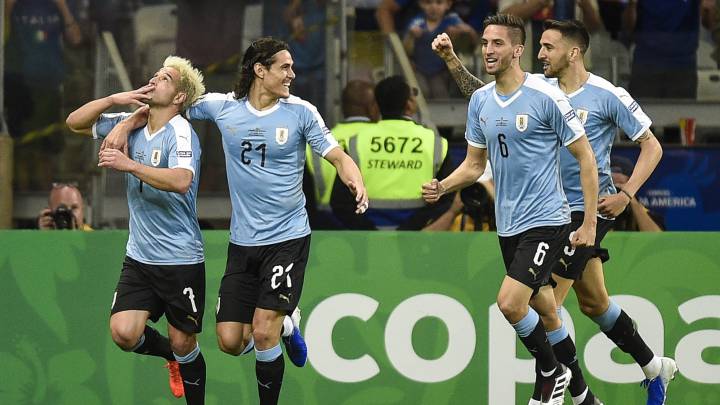 Uruguay vs Ecuador: Copa América live!
Corner for Uruguay as that one catches the wall.
Free for Uruguay now as they look to finish this one off in style.
Four minutes of added time.
Suarez nearly knocks it home. He slides in and it falls to him again as he fires over.
Into the last few minutes here.
GOAL! GOAL! GOAL! Too easy for Uruguay. 4-0 and it will be given to Meza as an own goal. He looped it over Dominguez.
That will go to VAR but it's onside.
OWN GOAL! Another one. But it's ruled out again. Godín the man offside.
Suarez races clear and Dominguez rushes off his line. The keper gets there first but only just. Out for a throw.
Lovely chipped ball down to Cavani but it's too heavy for him.
Perreiro is on now and Nandez is taken off.
Yellow for Gimenez as he takes down Valencia.
Ecuador with a rare attack. Ends in nothing though.
Meza arrives out from the back and Nandez ends up down on the ground with a fairly meaty challenge. He's back up as Uruguay attack again.
Suarez walks over to take the corner and thr ref says it's not. He isn't happy.
Cavani catches Meza on top of the foot. A bit of agro to follow upbut nothing serious as the ref sorts it out.
Ecuador slightly better in this half. They have a clearer vision of what they're trying to do at least.
GOAL! Cavani taps it home from the corner. It's offside though. He had spun off his man and backheeled it home but he was indeed off.
We are back underway for the second half.
Ibarra is replacing Preciado for the second half.
We have four minutes of added time. Ecuador players is down injured as Caicedo gets medical attention.
Looked like Cacers who got a head to it and Suarez poked it home. Game over before it really ever began.
Lodeiro to take another corner.
This half just petering out. Uruguay owning the ball. Ecuador need to make some adjustments for the second half but they are severely limited after that red card.
There's no penalty there.
Offside on Uruguay. Suarez on the ground inside the area, or at least dangerously close to it, as the referee takes a look at VAR.
Nice ball but it's out to Suarez. He crosses and Ecuador half-clear it again. Gimenez plays to Suarez and he loses it in the penalty area. Ecuador get it away finally but Uruguay are straight back down their throats.
Lodeiro to take this one.
Suarez to take a corner. Into the front post and it's out again by Caicedo.
Ecuador really hurt by that red card. They have no out ball now and are struggling to get anything control in the middle.
Bentacur caught by Intriago on the heel. Foul.
Laxalt into Cavani and the pass is slightly off target. Ecuador get it away and Uruguay win a throw.
Luis Suarez with a lovely pass into Nandez' path. He fakes with his right and onto his left. Rolls it straight to Dominguez.
GOAL! Cavani is not to be denited again. Lodeiro heads into Godín and he heads down to Cavani. His aerobatic effort finds the back of the net.
Cavani rejected again. Ball in from Nandez. Cavani saves it. Corner for Uruguay.
Cavani to Laxalt and he sends it in. Ecuador deal with it and start their own attack. They're severely limited though as Uruguay are such an experience team.
Free for Ecuador. Some pushing and shoving in the penalty area that the referee sorts out. Muslera grabs it.
Mena taken off for Velasco after that red card.
Laxalt whistled for a foul on Mena.
Corner sent in and Lodeiro again involved. He curls it over at the near post.
Uruguay driving forward again. Ball inside from the right and Cavani catches it lovely. It is hit byt Valencia on the way into the bottom corner and Dominguez rejects it. Corner!
Uruguay with a goal advantage and now and extra man too. Suarez sends the free in but Bentacur sends it over.
RED CARD! He takes back the yellow and gives him a red. Quinteros is sent off for an elbow to the face of Lodeiro.
He is taking a really long look at this.
The referee actually gone to check to make sure it was a yellow and now a red. No surprise if this was a red.
Quintero gets books now. This game is just a series of fouls and cards and injuries. Lodeiro down holding his face.
Laxalt down now holding his face. He did take an elbow to the face by Caicedo. And the referee didn't give a free?
Gets played back and then launched towards goal. Muslera grabs it.
Caicedo to take the throw for Uruguay.
Suarez hits the ground holding his face. He got a hand to the face by Meza. Fairly tame really.
Lodeiro gets himself booked for a dangerous challenge.
Ball down to Mena and Gimenez is with him for company. Kicked out for a throw by the Ecuadorian.
A very choppy start to this game. Ref calls play back to take another free as the ball was rolling.
GOAL! GOAL! GOAL! But it's ruled out. Lodeiro with a perfect pass inside but Cavani was offside earlier in the play. The header glanced home by Nandez. A pity because that was a lovely finish.
Ecuador have improved after a very wobbly start.
Cross into the box and Enner Valencia is the target. Muslera punches it against his head and it's out for a corner.
Another Ecuador goalkick.
Vecino taken out of it by Mena and Uruguay have a free.
Ball sent into the back post to Suárez as he heads it back towards goal where Cavani is but Ecuador get it away. Decent start from Uruguay.
he says play on eventually and now we have action with an Ecuador goalkick.
Corner for uruguay and Cavani wants a penalty for a handball. Referee goes to VAR.
The turf here, whch looks fairly cut up, held the ball up as it went back to Muslera. Would have been quite the mistake.
Ecuador launch it up the field and there's a mistake from Uruguay. Played back to Muslera and it's nearly jumped by Valencia.
Uruguay on the attack early. Suárez throwing himself about and wins a throw.
Achilier and Godín up for the coin toss. They exchanges handshakes and we are nearly ready for action. One last pep talk from both captains and we are indeed ready.
Very affectionate embrace between Hernan Gomez and Oscar Tabarez on the sideline earlier.
The Uruguayan national anthem gets us started.
Uruguay have 128 goals in their starting eleven tonight. and Suarez and Cavani have 112 of them. 26 scored by the other nine.
Óscar Tabárez managing his 148 game for Uruguay tonight during this spell. He previously managed them in the 90s. The 72 year old took over in 2006.
Godín and Gimenez won't be playing together in defence for Atlético anymore but they're anchoring the backline tonight.
Uruguay XI: Muslera, Caceres, Godín, Gimenez, Laxalt, Nandez, Bentacur, Vecino, Lodeiro, Luis Suárez, Edinson Cavani.
Ecuador XI: Dominguez, Quintero, Mina, Achilier, Caicedo, Intriago, Orejuela, Mena, Antonio Valencia, Preciado, Enner Valencia.
Hello and welcome to our live coverage of Uruguay vs Ecuador! Kick-off coming your way at 00:00 CEST.
.