Real Madrid's Rodrygo: "There was never any question of Barça"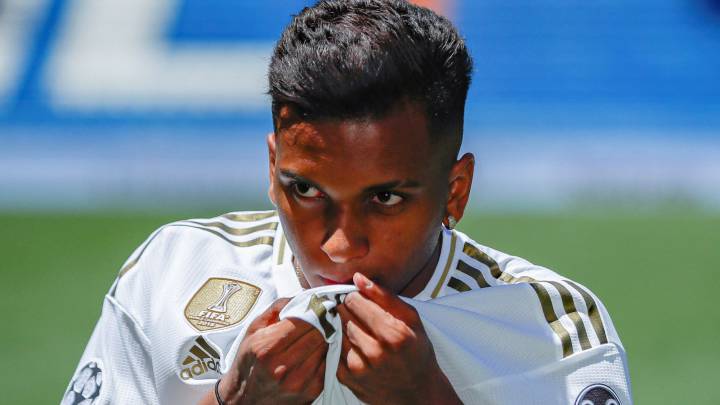 Rodrygo presentation: as it happened
And that's it! Thanks for joining us. We look forward to seeing Rodrygo in action next season.
Was the deal signed and sealed in 20 minutes, as the story goes? "It was," Rodrygo confirms. "There was no issue and everything was in place so it was very quick."
Would he like to be the Neymar of Real Madrid? "No, I want to the be the Rodrygo of Real Madrid." Well batted, young man.
Is he ready to make the step up? "I am ready all the time, I'm still young and I have time but I'm ready and I'm always prepared for whatever I'm needed for and I hope to give the fans plenty to cheer."
Is he better than Vinicius, asks a saucy journo.... "Nope." Some of these questions....
Who is he most looking forward to playing with at Madrid? "All of them! Marcelo, Benzema, Vinicius.... everyone!"
The Neymar question... would Rodrygo like Neymar to join him at Real Madrid. Media training kicks in... "He's a great player but he's at another club I can't talk about Neymar."
Will he consider a loan if he doesn't get into the first team straight away? "No, I'll play at Castilla if I have to at the start with like Vinicius."
Cheeky ask.... did he consider signing for Barça, who were also interested? "Absolutely not, everyone who knows me knows that I have always supported Madrid, there was never any question."
Rodrygo is now explaining how the presence of Marcelo, Casemiro and Vinicius will help him adapt and that it's more and more common for players to leave Brazil at an early age due to the infrastructure and facilities in Europe, but that it's not about money, but dreams.
Does he need to improve his goalscoring record like Vinicius, or has he got a nose for the old onion bag? Rodrygo replies that all players have to strive to improve and that he scores a few but he intends to score many more and improve as a player as time goes on.
He's asked what sort of player he is... "a forward, quick and tricky, like a lot of Brazilian players. I prefer to play on the wings, mainly the left, but I have no preference where I play."
Every club has it's pressures, Rodrygo says, but he has chatted with Vinicius and been told to be patient and wait for his chance. He says he's young and there's plenty of time ahead of him.
Oops, he switched to Portuguese.... we're a little rusty but he's saying that he's looking forward to working with Zidane, a legend of the game and a "great coach."
Does he see himself playing for the first team next season or for Castilla? All the best players are at Real Madrid, Rodrygo replies, and there's going to be a lot of competition. He'll play wherever he's asked to.
It's a dream of course, since he was a kid, and he's looking forward to getting stuck in.
What does it mean to Rodrygo to be a Real Madrid player?
El Buitre welcomes the youngster to the club and says they're suitably excited to have him there.
Here we go, Emilio Butragueño and Rodrygo appear in the press room.
Forms signed, shirt handed over, now we will wait to see what Zidane has in store for the 18-year-old in his first season at Madrid.
Rodrygo getting a few words of advice from Roberto Carlos in the dressing room... he knows a thing or two about Real Madrid, the current ambassador for the club.
They've fnally let him back down the tunnel. Another swift change and we'll be hearing from Rodrygo in his first press conference as a Madrid player.
How many balls are they expecting him to hit into the stands? He'll crock himself at this rate...
Yup, there it is! Badge kissed, honour met, Florentino appeased.
He's hitting the crowd just fine with the free balls now, and there's a huge cheer as he hits the back of the net for what Real fans hope will be the first of many. Obligatory selfie with the crowd. But will he kiss the badge....?
A few keep-ups, the old several headers routine... keeping it simple. Not a bad idea, the old nerves have made a few people look like mugs at these things before.
And here's the man of the moment, the Madrid anthem blares out, Rodrygo poses for the photo call, now let's see what tricks he pulls out of the bag....
Just an aside as we await Rodrygo... if you've skived off work to go to a Bernabéu presentation you've got little chance of not getting spotted... that camera-operator is relentless.
The shirt, lovingly prepared, which Rodrygo will be donning in just a moment to go and hoof a few balls about on the hallowed turf.
Zidane will be looking forward to moulding the youngster, who can play on either wing, as an attacking midfielder or a striker at a push.

And here's the first shot of Rodrygo with his shirt. Might just be the angle but did they only have XXXL knocking about in the shop?
The photo shoot commences. He'll be off for a quick change in a moment and then introduced to the fans waiting outside in the stadium.
And here come's Rodrygo... speaking in Spanish! Fair play. He thanks all of his family and Santos for everything and says he's looking forward to giving it all for Madrid, and then looks jolly relieved to wrap it up with a Hala Madrid. He'd been practicing that in front of the mirror this morning....
Rodrygo's father, who was a right back in his day, still looks like he could do a job...
And then with a flourish, Florentino welcomes Rodrygo as a Real Madrid player, achieving his "childhood dream."
A bit of a wordy intro from El Presi, who greets everyone in the room practically by name, then launches into the usual stuff about future challenges, the philosophy of the club, Madridismo and the legend of Madrid etc...
And here comes Florentino....
Now we're seeing Rodrygo in action for the Brazil under-20s, where he wears the number 10...
And Rodrygo has now made his way into the room. Cue a video of the young scamp showing off his skills as a kid and a montage of his best goals for Santos.
Rodrygo's partner and what we can only assume is his kid have also been introduced to Florentino, and now they're making their way into the media room where we'll hear a few words. Meanwhile, Rodrygo is admiring all the silverware in the hallway.
And there's the shirt! Sans number, as was the case with Hazard. There'll have to be some movement before they get numbers assigned.
The handshakes are finalised and Rodrygo is a Real Madrid player! He's handed a mini-Bernabéu in a box as a welcoming gift.
Rodrygo is currently signing his contract, which runs up to 2025, alongside Florentino Pérez, after which he'll be presented to the crowds inside the Bernabéu.
The 18-year-old has played alongside Vinicius for the Brazil youth sides and Real fans will doubtless be itching to watch them unleashed on LaLiga next season.
"It motivates me to go to Madrid. It's one of the biggest clubs in the world. For the sheer size of them, it is scary, but it's a good fear. It motivates me even more and it means I have to show why they have confidence in me to sign me," Rodrygo said as he departed Santos last week.
The Bernabéu is filling up as we await out first glimpse of Rodrygo in a Real Madrid shirt...
Real's total income from sales this summer? Zip, nada, nul points.

Madrid's summer spree so far (there may well be more to come) has consisted of Eden Hazard, for a fee of 100m possibly rising to 140m, Militão, who cost about 50m from Porto, Mendy, a 48m acquisition from Lyon, and Luka Jovic, who arrived from Eintracht Frankfurt for 60m.
The presentation is scheduled to take place at 13:00 CEST, with we imagine the standard format of shirt and Florentino, followed by a few keep-ups and a knock about on the turf and then the Brazilian's first press conference as a Madrid player.

Real Madrid are set to unveil another Brazilian youth international on Tuesday following the arrival - and subsequent first-team nailing performances - of Vinicius Junior last summer. Madrid paid Santos, the home of Pelé and Neymar among other Brazil greats, 45 million euros for the 18-year-old, who will hope to have a similar impact on the club as his compatriot when he is handed his chance by Zinedine Zidane.
Welcome to AS English's live coverage of Real Madrid's presentation of 18-year-old Brazil youth international Rodrygo Goes, who arrives in the Spanish capital to complete his move from Santos to the Liga club for a fee of 45 million euros after spensing last season on loan at the Brazilian side. Rodrygo becomes Madrid's fifth offcial signing of the summer after a record spend by Florentino Pérez that has seen Eden Hazard, Éder Militão, LUka Jovic and Ferland Mendy sign up at the Bernabéu.