1
Mohamed Youcef Belaïli 48'
Algeria see off Senegal with second half strike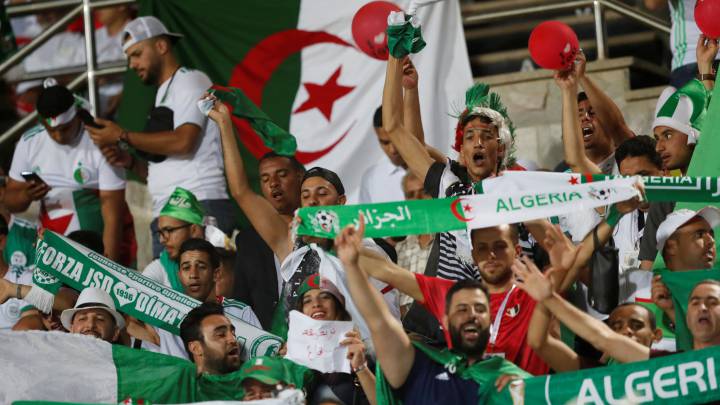 Senegal vs Algeria: as it happened!
One last chance for Senegal. Corner. Mané heads it over.
Wague tries to break inside from the right.
Three minutes of added time at the end of the second half. Senegal still trying but that equaliser continues to elude them.
Corner but it's headed out and Senegal can't do anything after winning it back.
Free sent in and Boundedjah nearly sends it crashing into his own net. It comes off his shin and flies over the bar.
Cross into the box and touched down by Niang as Mbohli grabs it and falls to the ground. Algeria hanging in there.
Another half a chance for Senegal but they can't get the shot away. Algeria break and it's caught by Mendy. Senegal start again but they can't get anything going. Niang sends one across goal and it's cleared. A few white shirts lurking there. Algeria survive another scare.
Bennacar puled down by Ndiaye as Algeria look to get forward.
Mané yet again but his low cross, that was more of a pass, is picked up by Mbohli.
Mané cross. Headed down by Niang and saved. Handy one for the keeper.
Best chance of the game for Senegal. Sabaly absolutely lets fly. It's saved by the keeper and Diagne heads the rebound wide.
Mané still trying to make something happen. He crosses and Mandi blocks as they win another corner.
Referee says it's a goalkick. Why?
Papa Ndiaye wins a free. All Senegal now at the moment. Cross sent in and Guedioura heads out for a corner.
Corner for Senegal and it's a free. Niang pushed a defender, I think? Unclear as to what that whistle came for.
Mané goes down in the box. Looked like a penalty but the referee says no. How did the referee not see that? Two defenders caught him.
Mahrez very nearly makes it 2-0. He runs forward and avoids a tackler or two. He hits it on the bounce and that's just wide. Not sure Mendy had a chance if that was on target.
Senegal could be here for a week and they still won't score, it feels like. Just aimless cross into the box that are overhit.
Free is wasted as it's sent out to the right, crossed in and headed out.
Mané fouled as he drives forward. Benlamri already booked and avoids his second card.
Senegal with more intensity now but they're coughing the ball up too easily in attack and looking prone on the counter.
Atal absolutely clattered by Sabaly as he drives forward.
Sabaly fouls Mahrez now as they to break.
All a whole lot of nothing for Senegal so far. A couple of flashes from Mané aside, they have been poor.
Papa Ndiaye drives forward and cuts inside on his right. Ball sits nicely for him but he drives it over the bar.
Injury for Diatta as Senegal get ready to make that change. Unclear if it's him who will go off.
Algeria on the attack again. Ball falls to Bounedjah after Mahrez loses control of it. He drives it wide.
Movement on Senegal's bench. They'll make a change.
Worked short and then sent in but that's way over Koulibaly's head.
Mane with a dangeros run into the box as he shows off his electric speed. Mandi arrives to cut him off and put it out for a corner.
Foul on Bensebaini as he pushes Keita to the ground. He really doesn't think that's a free but he pushed the attacker. Free for Senegal as it's whipped in. Kpulibaly rises highest and heads over. He didn't catch it properly at all and sends it over with the top of his head.
Koulibaly with a perfect tackle on Atal as he gets the ball but the Algerian falls on his standing leg. He's back up but that looked really sore.
Senegal haven't created enough so far and that has to change now.
BELAILI! GOAL! Feghouli cuts it back and Belaili takes a touch before slamming it into the back of the net. Algeria lead.
First effort of the second half falls to Feghouli and he curls it wide. Mendy was left standing there. Decent chance!
Another free. Another delay. Mané fouled by Feghouli.
We are back underway for the second half. No changes for the second half for either side!
Referee blows for half-time.
Algeria improving now as Bounedjah strikes after a mistake in the middle from Senegal. He strikes and it's saved for a corner.
Mahrez with a lovely free in and it's onto the head of Bounedjah. He misses as Mandi was arriving behind him. He might have had a better chance to get it on target. Another chance gone for Algeria.
Another foul. Papa N'Diaye pulled back by Mahrez this time.
Another free for a hand to the face of Belaili. This is the scrappiest game ever. Half-time can't come soon enough because it has descended into a collection of frees.
Nice corner and Mendy grabs it. Belaili getting involved again as he catches the keeper in the face. He is lucky not to get a yellow there probably.
Mahrez ball into the box and it's out for a corner to Senegal.
Belaili on the ground now holding his face after going to ground after a Koulibaly push. Ref has a word with the pair of them and tells them to grow up.
Another yellow. For Keita this time as he fouls Atal. That was a very, very tame yellow card.
Bennacer fouled by N'Diaye. Algeria slow it down and get ready to take the free.
Senegal always looking to play forward. They're fun to watch when they get going but another attack breaks down in the middle.
Senegal the team trying to play it on the ground as Mendy, the keeper, gets blocked by Belaili. Ball flies out for a throw.
It might be quicker to alert you when there is no free.
Throw now for Senegal as Belaili can't control the ball down the channel.
So many frees in this game. Senegal move at such speed that they are clattering into Algerian players and prone to being fouled themselves.
Corner for Algeria and it's whipped in. Mendy grabs and backs into the post. He wants to start a quick counter but opts against that choice.
Belaili and Koulibaly doing battle. The attacker a bit aggressive as he pushed his man aside. Free for Senegal.
Quick free from Algeria and the keeper's a mile off his line. We nearly have the first goal. Belaili kicks it over him and Koulibaly saves the day! This one is really heating up now.
Keita hits the free at the wall and that's an awful effort.
Just outside the box is where the free is given. Not sure what Atal's issue is there as he pulled down the attacker.
It is and Algeria really aren't happy as Atal is booked. He caught Mané and he was on the counter in a dangerous position.
Senegal's press workes this time as Mané gets hauled down. That probably should be a yellow card too.
After a long break, Mané fires the free over. That was a waste.
Benlamri booked for a nasty looking challenge on Papa N'Diaye. His ankle is really injured there after the defender lunged in.
Senegal on the counter now. Keita on the ground in the penalty area but the free isn't given for that, which looked like a dive.
Bennacer caught by Keita now as he swings a kick at his shins. Algeria getting more into this game.
Mahrez with the free. Looked primed for a curler over the wall but Belaili sends it low and under the wall. Saved by Mendy.
Kouyate booked for a handball. Algeria with the ball in a dangerous area as Bounedjah strikes and the defender catches it with his hand.
Mahrez the target from the keeper's kick-out. Sabaly's heel clipped as it floats over both of them. A thumbs up from Mahrez to his keeper but it wasn't great.
Badou Ndiaye fouled in the middle of the field. Senegal far more powerful when driving forward from midfield but they haven't created too many chances so far. Their movement is really good though. Ball whipped in looking for Diatta and it's way over his head.
Belaili tries to wriggles his way through a crowd in the box. It's put out for a throw.
Senegal do get a free in the end. It's out on the right and it's whipped in. Headed up into the air and Mbohli grabs it.
The ref blew the whistle there and it seemed like it might be a penalty but it was the attacker that was in the wrong.
Senegal give away a free. It's a lovely ball into Niang in the penalty area and he is holding off the defender and grabbing his shorts.
Through ball down to Bounedjah. There was no way he wasn't offside though. He was about 10 yards ahead of the striker.
N'Diaye seems to have hurt himself as he swung a leg at that shot. He's off getting treatment but his knee doesn't look to badly hurt. He's ready to come back on.
Mane with a strong run down the left and into the penalty area. He sends it across goal and N'Diaye has a shot but that's half-blocked. Ball bounces up kindly to M'Bohli and he grabs it after parrying it to himself.
Foul on Niang as Mandi pulls him down.
Ball into the box and Senegal deal with it before Wague brings it out. Throw in the end for Senegal.
Long ball down to Keita and it's seen out by Bensebaini after he fails at the first attempt to clear. Goa kick.
Senegal on the ball to start but they can't take the ball through Algeria's midfield.
We are underway. The game of Group C has just kicked off.
Teams on the field now and a rather colourful display of flags on the field. National anthem for Algeria first.
Last time these two teams played each other was in the 2017 African Cup of Nations when they played out a 2-2 draw in the group stages. Senegal would go on to get knocked out by Cameroon in the quarter-finals.
Both sides had 2-0 victories in their first Group C games. Algeria beat Kenya and Senegal beat Tanzania.
Algeria on the other hand, have won it once in 1990 and haven't been back to the final since!
Cisse said this last summer. He got a contract extension and is looking to guide his side to glory at this summer's AFCON. It would be their first ever victory in the tournament. The closest they ever got to winning it was in 2002 when they lost to Cameroon after extra time in the final.
So Mané and Mahrez do battle again after their two club teams, Liverpool and Man City went toe to toe last season in the Premier League. They're the creative hubs of their respective teams and plenty of the burden falls on their shoulders.
Senegal XI: Mendy, Kalidou, Kouyate, Mbaye, Sabaly, Ndiaye, Diatta, Alioune, Mané, Wague.
Algeria XI: Mbolhi, Atal, Bensebaini, Mandi, Benlamri, Gueidoura, Feghouli, Bennacer, Mahrez, Belaili, Bounedjah.

Aliou Cisse, Senegal's manager, said that there is no 'anti-Mahrez' plan tonight. He says he won't be going out to stop any of their best players. He says they are good players and that's it, there won't be a structured plan to prevent them from playing. Cisse has his own really good players with Sadio Mane and Cisse says "he is one of our leaders and he is ready."
Hello and welcome to live coverage of Senegal vs Algeria in the African Cup of Nations. Kick-off coming your way at 19:00 CEST.
.