04

03
Brazil beat Paraguay on penalties to reach Copa semi-final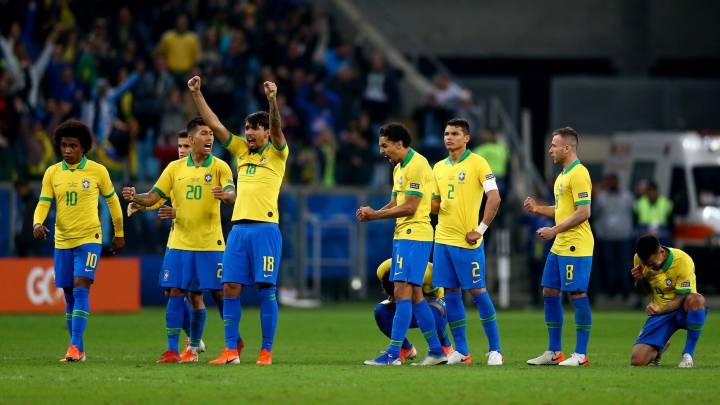 Brazil vs Paraguay: as it happened
Roberto Fernandez goes the wrong way! GABRIEL JESUS SCORES! Brazil in the semi-final.
Gabriel Jesus to take the last one. If he scores, Brazil win.
Now Derlis Gonzalez sends one wide too.
He misses! He misses by a long way too. He sends it wide of the post. Keeper gone the wrong way.
Rojas absolutely buries it in the top corner! That was an absolute rocket. Even if Alisson was in front of it, it would have gone through him.
He slots it into the bottom corner. Nice penalty. Keeper went the right way again but he tucked it home. Safe and sound!
Valdez scores. 2-2 but Brazil still hold that advantage after Alisson's save.
He strikes! Fernandez gets a hand to it but he can't keep it out. SO CLOSE!
Marquinhos to take the next one.
He shoots with his left and he slots it home. Sends Alisson the wrong way.
The Newcastle United attacker was very good in the first half tonight, died out in the second because of Brazil's dominance.
Almiron to take now for Paraguay.
Willian with his right foot. He sends the keeper the wrong way! GOAL!
Willian up now as Roberto Fernandez walks into goals.
Alisson saves the first penalty! He guesses the right side and dives to his right.
Paraguay the first to take.
Coutinho shoots. Loops over after a deflection. That was agonisingly close.
This one seems destined for penalties.
Paraguay attack. Escobar shoots and it's blocked for a corner.
Seven minutes of added time.
Willian hits the base of the post!
William cross flashes across goal. Nobody there to meet it.
There will be about 7 minutes of addedt time after the two VAR incidents.
Coutinho heads on and it's saved by the keeper.
Paqueta with a cross that's headed out. Comes back out to him and he's fouled. Every Brazil player except for Alisson up in the box now for this one.
Yellow for Arthur after the referee checks VAR.
Arthur's elbow being checked now as the referee goes to VAR.
Paqueta on for Dani Alves.
Arthur caught Gonzalez with an elbow to the face earlier in that play. The number 10 went down in a heap.
Coutinho to Arthur and he plays out to Everton. He cuts in on his right and he absolutely launches it about a mile wide.
Goalkick for Paraguay now as Brazil continue to push for that opener.
More changes for Paraguay as Sanchez goes off. On comes Escobar. Paraguay shutting up shop.
William to Coutinho and he shoots but sees his shot blocked. Falls to Everton and he strikes wide. Took a nick and it's out for a corner.
Hernan Perez off for Rojas.
Everton making the difference here. Crosses it in and it falls to Jesus. He pulls his shot wide. Great chance.
Ball launched into the penalty area as Alisson grabs it.
Tite going for it. He really doesn't want another penalty shoot-out.
Everton with a lovely turn of speed and he crosses. Cleared and Arthur tries to curl one home. Punched out by Fernandez.
It does seem like it's only a matter of time now though.
Still no way through for Brazil and they haven't really come close since the sending off.
Brazil all over 10-man Paraguay now. It will most likely continue in this fashion for the rest of the game too.
Arzamendia goes off as a sacrifice and Valdez comes on.
Alves goes close. Just wide!
It's actually not a penalty. It's a red card and a free just on the edge of the area.
The referee gives Balbuena a red card and a penalty for Brazil.
The referee does indeed head to look at the VAR screen. That looked like a certain penalty.
Coutinho to take it. The referee just checking with VAR, I think, but that should be a penalty.
PENALTY! Firmino pulled down as Gabriel Jesus plays him through Balbuena runs across him and takes him out of it.
Brazil counter as Firmino loses control and Coutinho can't help him out. Game has opened up a bit now for them as Arthur has a strike. He launches it over but it wasn't bad.
Everton tries to wriggle through a couple of defenders. Has to settle for the throw. Coutinho has a shot at the end of the play and Fernandez grabs it.
Firmino goes in the book for standing on the foot of a Paraguayan trying to kick the ball. Sore one.
We are back underway for the second half!
Alex Sandro coming on for Filips Luis at the break.
Paraguay have hurt them in the past! Those memories are not gone anywhere.
Plenty suggesting Brazil have a case of the jitters.
Teams back on the field and we are nearly ready to restart!
Everton with some lovely skill as he skips by a challenge in the box. Falls to Alves and he doesn't shot first time and doesn't get a second time. Paraguay clear.
2 minutes added on at the end of this half.
Booking for Filipe Luis as he fouls Piris. Looked quite tame really.
Coutinho arrives on the right and he drills a shot low from a tough angle at Fernandez. Saved!
That's without Brazil ever really threatening too much. They're dominating though.
They manage to avert the danger but it's all Brazil at this point. Half-time can't come quick enough for Paraguay.
Alves with a nice through ball to Coutinho. Paraguay clear but only as far as Gabriel Jesus. More danger for Paraguay to deal with.
Gabriel Jesus caught by Alonso now after he lays off the ball. Ref has had enough of the fouls.
Casemiro and Neymar in the stands. Both out injured.
Gabriel Jesus caught on the counter after an Almiron cross is cleared. Piris the man on the wrong side of the law and he gets himself a yellow.
Ortiz fouled by Firmino. He climbs up on his back in search of the ball and gives away the free. Paraguay straight in front of goal and they clip it into the box.
First yellow of the game for Arzamendia. Alves takes off and gets chopped down by the defender. Deserved booking.
Corner sent in but headed out. Paraguay straight back up the field. Gonzalez with the ball at the back post. What a save that was.
Derlis with a run into the box and he loses control before Brazil recover and it's out for a corner.
Alves with a really tame cross. Paraguay try to start a counter and they have to settle for a throw. That suits them.
Paraguay just launch ot forward and lose it again. Brazil finding their footing here.
Coutinho into Firmino's path. His first touch is heavy but he still has a chance. Paraguay recover and that chance is gone.
Water break for everyone.
Ball crossed in as Coutinho gets a knock to the head. Referee slows things down and asks if the Barça player is okay. Drink of water later and he looks fine.
Jesus again with the run down the right. Doesn't cross this one. He drives it backwards and if there was anyone arriving to connect with that, it could have been dangerous.
Referee tells him to calm down. Replay shows there was nothing in that. If those are given as penalties, there'd be 25 penalties a game.
Dani Alves pops the ball, first time, into Gabriel Jesus. He falls forward and we are going to have a VAR check. Was he pushed in the back?
Jesus crosses and Paraguay clear. Comes straight back down and Gabriel Jesus sends it in again. Same result.
Perez fouls Filipe Luis after Brazil win it back. Late push in the back but little else.
Almiron is a real livewire for Paraguay. Hernan Perez tries to cross from the right this time and he slips.
Coutinho to Allan but he's picked off. Almiron takes off and he's fouled by Gabriel Jesus.
Arthur hauled down by Gonzalez now. Brazil looking for a way through. Paraguay sitting and pouncing with precision. Quite solid at the back too.
Paraguay back on the ball.
Almiron tries to make his way inside from the right. He hits the ground but absolutely no free there and might be lucky not to get booked for a dive.
Good pressing from Paraguay now as they win it back. An important part of Berizzo's game is the press so Brazil won't get anything too easy tonight.
Good little spell now by Brazil after a nice start from Paraguay.
Some slick football from Brazil. They lose it but they look like they're up for this one. Buzzing around the field and loads of movement from them in attack.
Gabriel Jesus fouls Junior Alonso. Quite sneaky from the attacker as it looked like he handled the ball as well. He tells the referee that he was wrong but I think he was right.
Dani Alves gets a talking to. He jumps into a tackle with Gonzalez getting their first. The Paraguayan falls awkwardly.
Filipe Luis down the left and he sends it across the field. Jesus picks it up and plays to Everton. He tries his luck but it's another save by the keeper.
Another Paraguay attack but no shot this time. Brazil strike themselves on the break. Alves into Firmino's path and he pokes one towards goal. Good save by Fernandez.
Gabriel has the crowd off their seatsas he takes off down the right. He comes back and Brazil lose it. Shot comes in and it's blocked byt Alisson does well to save it from going out for a corner. Quick start to this one.
Marquinhos takes the ball out from the back.
High pressure from Paraguay to start off. Alves put under pressure and they concede a throw. First shot of the game for Almiron. He drives a shot wide.
We are underway for the first half!
Now it's time for Brazil's. No messing around with this one. Straight into it:
If the pledge of this equality
we managed to conquer with strong arm
In thy bosom, O Freedom,
our chest defies death itself!
Paraguay's national anthem, a slow burner, just got into gear! A very jaunty finish indeed.
Brazil have scored eight and conceded 0 goals so far! Paraguay scored three and conceded four. With Paraguay as the underdogs, the cut-up surface might help them but given Berizzo's style, that might not be the case.
Brazil are really keen to avoid another penalty shootout especially against Paraguay.
"I'll never feel calm in a penalty shootout," he said before the game.
"They personalise success or failure and that's not fair. I don't know how but they should find another way."

Real Madrid are scouting Miguel Almiron at this year's Copa, who starts tonight for Paraguay.
Brazil XI: Alisson, Dani Alves, Marquinhos, Thiago Silva, Filipe Luis; Arthur, Allan, Coutinho; Everton, Jesus, Firmino.

Eight-time winners of the competition Brazil have been eliminated at this stage by the same opponents in their last two knockout-round involvements, both times on penalties. They're looking for revenge tonight.
But Tite confirms that Allan starts. He said he named him as a starter in an effort to boost his confidence.
Hello and welcome to our live online coverage of Brazil vs Paraguay in the Copa América. The game takes place in Arena do Gremio with kick-off at 02:30 CEST.
.