Real Madrid-Barcelona: how their potential new attacking quartets measure up
Barcelona's potential four-piece made up of Messi, Suárez, Neymar and Griezmann scored 120 goals last season; 38 more than Madrid's new Hazard-Jovic-Benzema-Vinicius quartet.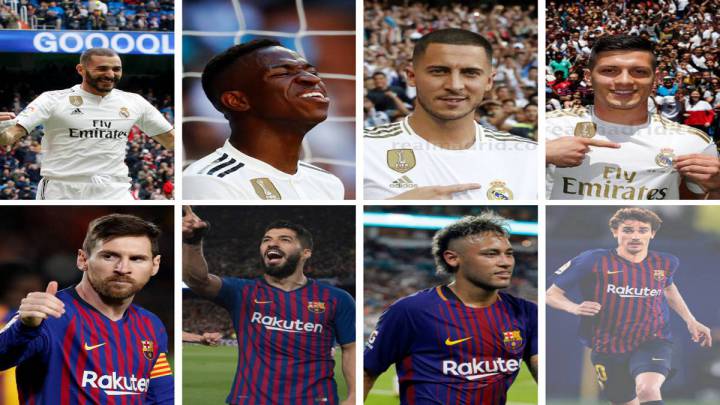 Regardless of how Ernesto Valverde would line them up and how well they would understand each other both on the pitch and in the dressing room, the Messi-Suárez-Neymar-Griezmann quartet would undoubtedly be a goal-making machine.
In total, Messi (51 goals), Suárez (25), Neymar (23) and Griezmann (21) scored 120 goals with their respective clubs last season. That's 38 more than the than Real Madrid's new Benzema-Jovic-Hazard-Vinicius quartet. Of course, it's difficult to know how those numbers will be affected now that they will be playing together, but it is still a significant difference.
Take Griezmann out of the picture and the numbers are still impressive. The Neymar-Messi-Suárez trident scored 364 goals (in addition to providing 211 assists) in their three seasons together at Camp Nou. 'The Three Amigos', as they were christened by the British press, together always managed to exceed well over 100 goals per season.
After scoring 122 goals in the 2014-15 season (when Suárez didn't play until late October), they exceeded that record and bagged 131 in 2015-16. With Neymar somewhat off colour, they dropped down to 111 goals in 2016-17, after which the trident was broken up. But with Neymar's return and the addition of Griezmann, that potent trident could become a devastating quartet.
Real Madrid's reaction
After suffering badly last season following the departure of Cristiano Ronaldo, who averaged 50 goals per year (450 goals in nine seasons at the Bernabéu), Madrid has reacted this summer with the signings of two goal scorers: Luka Jovic, who scored 27 for Eintracht Frankfurt last season, and Eden Hazard, who netted 21 for Chelsea.
They are joined by Benzema, who managed to achieve his second-best ever goal tally for Madrid last season with 30 (in 2011-12 he reached 32 with the help of Mourinho and playing alongside Cristiano and Higuain), and Vinicius, who only scored four goals but is expected to make serious progress on that front after a year of acclimatization.
With Jovic and Hazard, Madrid have added serious strength to heir firepower but could still remain far behind Barca in the goal stakes if the Catalan club consolidate their attack by incorporating Griezmann and Neymar.
That 38-goal difference between the two quartets represents a handicap particularly when it comes to down rotation that is so vital in the battle for the league title for which Zidane desperately yearns – a league title which Madrid has won on just two occasions over the past eight seasons.