Luka Jovic says he was born with a talent to score goals
Real Madrid's new striker, Luka Jovic, has an article written in The Player's Tribune, where he reflects on among other things, his natural talent.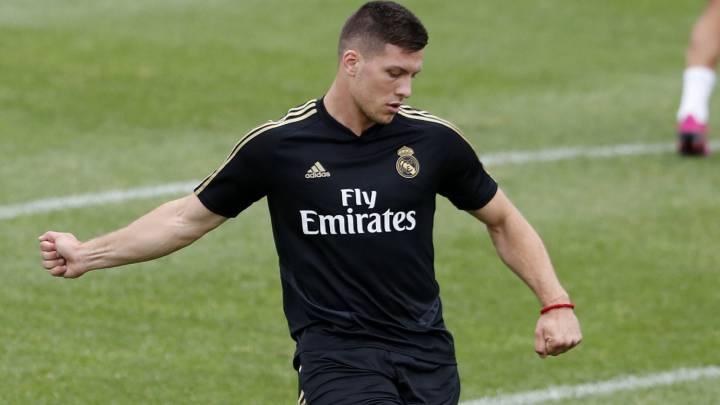 Luka Jovic, Real Madrid's new striker has a piece written in The Player's Tribune in which he talks candidly about his life growing up, his career to date, advice he's been given, and his dreams.
It is a really enjoyable read - here's the link to that and the rest of the content on the website for sport stars - and below are a few excerpts to whet your appetite, especially for Real Madrid fans eager to see if the 21-year old can fulfill the expectations that are on him...
Luka Jovic: a striker with a dream
'Sometimes I think I was just born with it,' Luka starts, as your mind starts to guess where he may be taking this line of thinking. 'Everyone in this life has certain talents,' he continues, 'and I think mine is scoring goals.'

Boom! There you have it. It's clear he's a young man with confidence. He knows, surely, that those opening words may be the only ones that some fans will read, or at least remember. Those are the headlines. Those are the expectation setters. Those are what he needs to deliver for an insatiable crowd.
Of course, any sensible reader will keep reading, wanting to understand where the confidence came from, and more depth lies within his monologue.
'I don't know how I ended up playing as a striker,' the player reflects, 'but as far back as I can remember I've always been obsessed with scoring. When I was a child, I used to have these two VHS tapes of all the goals from every single World Cup up to 2006, I think. I remember being mesmerized by Roger Milla from Cameroon at the '90 World Cup, and of course Ronaldo — the Original Ronaldo.
'I was obsessed with how he did that step-over dribble against goalkeepers. I remember it being so fast, like a magician's trick, and I would practice how to do it at home. Ronaldo would play football with such ease, almost as if he was at 30%, and I thought it was incredible. His style and confidence left a mark on me.'

Benfica and Frankfurt contrasts
After talking about his very first steps as a young footballer - and the incredible sacrifices his family made for him - he goes on to explain how the sport he loved would take him to Red Star Belgrade at eight, with a dream of scoring in the Eternal Derby. He comments: 'For people outside of Serbia, maybe you don't understand. Red Star is different in a way I can't properly describe.'
Growing up in that environment, he says, gave him the confidence to never be scared of anything.
From lonely tears in Lisbon to his meteoric rise in the Bundesliga with a club that will always be special to him, Jovic appears to be taking it all in his stride. His next step is to arrive with his incredible confidence at the Santiago Bernabéu, where he will hope, no expect, to show off the talent he was born with.