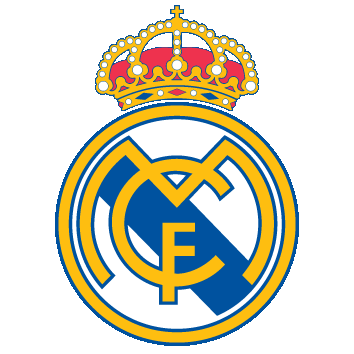 1
Red Bull Salzburg 0 - 1 Real Madrid: Hazard finally finds his wings at the Red Bull Arena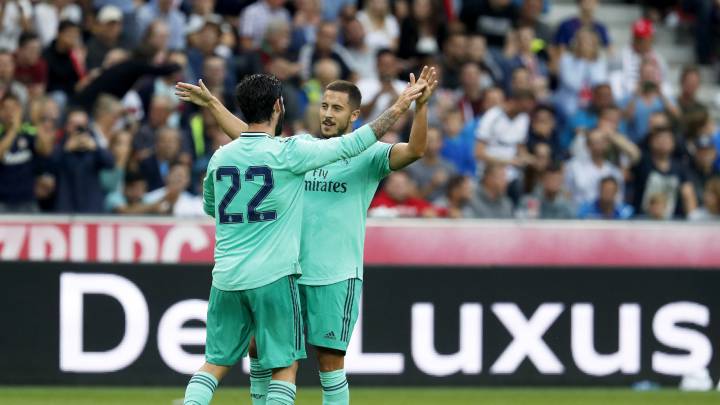 The ghosts from Real Madrid's early pre-season nightmares are slowly being banished, as Zinedine Zidane's side recorded their second consecutive victory against Salzburg at the Red Bull Arena in Austria.
It may have not have been as emphatic as the 5-3 win over Fenerbahce last Wednesday, but Madrid saw themselves through thanks to a fine goal from Eden Hazard, who put in an impressive performance up front with Karim Benzema before he made way for fellow new signing Luka Jovic around the hour mark.
The Belgian's first Madrid goal will be one for him to remember: After Benzema released him on the break down the left, Hazard dribbled forward to draw his defender, before cutting inside and curling a shot from distance into the right corner to give Madrid the lead after 19 minutes.
And Zidane's side managed to hold onto the slender lead for the rest of the game, after both sides had several chances in a rather even competition. Salzburg came close to equalizing soon after Hazard's goal. But Japanese winger Minamino, unmarked and just five yards out, managed to put the ball wide of the near post when it would have been easier to score.
Madrid looked dangerous on the break throughout and put together a few stunning passages of play in a game that will be mainly remembered for the performance and debut goal of Eden Hazard.
Zidane will hope for more of the same from the ex-Chelsea man in Madrid's final pre-season game against Roma on Sunday, before his side get their LaLiga campaign underway against Celta Vigo the following weekend.
Peep, peep, peep! Salzburg can't take advantage of the corner and the ref blows it up. Madrid win 1-0 thanks to Eden Hazard's 19th-minute goal.
Salzburg have a corner which will be the last play of the game.
Great free kick strike from Junozovic. It was bound for the left corner but Courtois does well to save.
Chance Madrid! Kroos plays Jovic in. The Serb takes the ball cleanly beats one defender and strikes the ball from a difficult angle. But Stankovic saves. Lovely football from Jovic.
Vinicius has a chance to shoot inside the box after Madrid break fast from their own half. But he's taken too many touches and the Salzburg defence manage to block the shot.
Salzburg pressing for an equaliser here.
Lucas, Vinicius, Odriozola come on for Benzema, Carvajal and Isco.
Kross is fouled again, this time by Austrian Farkas. No love lost for the German from this Austrian side. He goes in the book for his efforts.
Varane releases Isco down the right flank but his first time cross is poor, as has his overall performance.
What a chance for Salzburg!! Madrid lose the ball in the middle of the park and Salzburg break quickly. Daka has only Courtois in front of him but he panics and tries to dink a chip shot over the Belgain keeper from distance, but it sails over. He should have kept going.
Salzburg change: Kohn on for Kristensen.
It's Varane this time with the foul and he gets a yellow card for his efforts. Salzburg have a free kick on the left, from which nothing results.
Salzburg have been putting in a few niggly fouls in these opening few minutes. Marcelo has a word with Koita about the last one on Kroos, maybe reminding him this is just a friendly.
Madrid play the ball out quickly from the back and try to release Hazard. But the Belgian is flagged for offside.
Madrid get the second half underway!
Two changes for Madrid: Nacho on for Militao; Fede Valverde on for Casemiro.
The teams are back out on the pitch for the second half. Madrid lead thanks to Eden Hazard.

How good it feels to net your first goal for Real Madrid. And what a beauty it was.
Peep, peep! And that's half-time. Madrid lead 1-0 and are in control here. Hazard has finally shown some of the quality that Florentino Peréz paid 100 million euros for and nets his first goal for the club. A sign of things to come over the upcoming season, Los Blancos will hope. He and Benzema have connected well up front.
Militao tries to round one defender on the left flank but puts the ball out. He's had an underwhelming first appearence so far but with Madrid yet to concede, he, Varane and Ramos can consider it a job well done so far.
Chance Hazard!! Benzema again plays him in. The Belgian skips around centre-back Ongune with ease and is one on one with Stankovic. But he can't direct his shot past the Salzburg keeper. The ex-Chelsea man has finally found his feet for Madrid. He's been great so far. He and Benzema have linked up well as the two front men.
Let off for Salzburg! Madrid get a chance to break after Casemiro plays a long ball to Benzema on the right. The Frenchman plays a quick ball to Isco in the box, who tries the one-two to tee up the on-rushing Benzema for a shot. Isco's pass though left a lot to be desired.
Madrid have had more than 70 percent of the possession in the first 30 minutes but to be fair to Salzburg they've made more chances.
What a miss!!! Salzburg should have equalised! A low cross comes in from the left, and Minamino, from five yards out, unmarked, and with an open goal in front of him, has somehow managed to put the ball wide of the near post. It would have been easier to score!
Goal Hazard: Madrid get a chance to break quickly and Benzema pushes the ball forward to Hazard on the left. The Belgian dribbles forward, cuts inside to beat one defender before driving the ball into the right corner from 20 yards out. Golazo!!
Goal Hazard!!!!!!! An absolute beauty!!
After the home side dominated the first 10 to 12 minutes, Real Madrid seem to be getting into their stride now.
Chance Madrid! Hazard delivers a pin-perfect cross to Benzema who is six yards out. The Frenchman takes one touch and shoots but Stankovic does brilliantly to save. He needed to hit that first time.
Chance! Haaland disposseses Varane in Madrid's third and quickly slots an easy ball forward to Minamino, but the Japanese winger scuffs his shot. He should have done better.
Sergio Ramos is down holding his head after a aerial collision with Samassekou.
Salzburg full-back Ulmer puts a decent ball into the box from the left but it's just too far ahead of Haaland and Koita and the ball drifts towards the opposite touch line before Marcelo collects.
First shot on goal for Madrid: Casemiro strikes from distance but it drifts wide of the left post.
Zidane has gone for a 3-4-3 formation here: with Militao, Varane and Ramos at the back; Marcelo and Carvajal as wing backs; Casemiro and Kroos sitting behind Isco, Hazard and Benzema in the front line.
Ramos is very late in a challenge on Minamino and immediately apologises to the Salzburg winger.
And Salzburg get the game underway.
The teams are coming out of the Red Bull tunnel at the Red Bull Arena. We're almost ready to go here.

The most expensive player on Salzburg's team is Mali international, Diadie Samassékou, who has been linked with both PSG and Dortmund this year.
While Madrid have had a disappoiting pre-season so far, picking up just one win in five, Salzburg have already got their season underway and have won their first two league games under new coach Jesse Marsch.
Hazard starts but the Belgain has yet to show the kind of form that persuaded the club to make him the attacking cornerstone of their new-look side. As such, head coach Zidane is understood to be considering the option of testing out an all-new system at Red Bull Arena tonight: a 3-5-2 formation that would free Hazard up from all defensive responsibilities.

Here is the Real Madrid line up: a strong-looking side.
Hello and welcome to our live coverage of RB Salzburg vs Real Madrid. It's 40 minutes until we get underway at the Red Bull Arena and you can follow the build-up with us here in the meantime.
.